Now is the right time to invest in energy-smart improvements around the house to make sure it's ready to handle things like unforeseen power disruptions due to extreme weather, snowstorms, and other "unforeseen" surprises. 😉 Your imagination and your wallet are both screaming, "Go big or go home!". So, what are some of the major projects to consider tackling this Winter and Spring — to prepare for unforeseen extreme weather, grid power disruptions, and other emergencies?
Backup Power Generator for Snowstorm-related Energy Disruption Emergencies
via
Generac
If you cannot afford to go completely green and cannot afford to be without power for any length of time than a conventional standby power generator and automatic transfer switch is the answer to ever-present grid failure (think California and beyond). Your two main considerations are strength and endurance. Units can be installed from 7 kilowatts of power (about $2,500) up to 20 kilowatts and more to power an entire house (about $5,500), plus the cost of installation and building permits/site plans.
Note that an outside backup power generator will require professional installation because of the electric and fuel connections. Further, as the unit will be sitting outside your home, you will need to get a building permit from your local building board. The application for a building permit will likely require a site plan. Here's how we can help: 24hplans has team of highly trained, professional architects and drafters who can prepare any kind of site plan in the shortest amount of time possible, so that you can easily get obtain that building permit and get on with your project. Use the promotion code: 24hplans-20off to get a 20% discount off any package. — Please note this is a limited time offer, exclusive to the readers of our blog. This offer is not being advertised anywhere else.
Personal Wind Turbines – Talking about Energy Independence
By Bergey
Is your region susceptible to winter storms that can leave you without power for days on end? Maybe it is time to begin your move off the grid with a small wind turbine.
These all-weather energy generators are increasingly becoming consumer-friendly and provide clean, emissions-free power for homes and small businesses. Put away those images of massive towers and rotating elephantine arms – personal wind turbines can be installed on property as small as an acre.
Begin by checking with your local zoning ordinances to determine if personal wind turbines are permitted. Once you have the go-ahead determine the size turbine you will need.
A typical home requires a 5-10 kilowatt generating capacity that will come from a turbine about 18 feet in diameter. Depending on your topography the turbine can be mounted on a tower anywhere from 30 feet (ten feet less than a telephone pole) to 140 feet high to pull from winds at least 12 miles per hour.
Expect to pay between $20,000 and $35,000 (before tax credits) for a professionally installed wind turbine, but if your wind situation is favorable a turbine can be installed for as little as $10,000 to $15,000. The normal payback period will be between six and thirty years, factoring in such variables as electrical usage, local rates, and government tax credits of 26% pertaining to the full installation cost. Local state and city incentives may also be available.
For smaller-sized projects, you can get a smaller wind turbine ranging in size from 1000-Watt to 5000-Watt from a place like Home Depot which carries Da Vinci line of personal wind turbines by Ramsond, for example.
Sustainable Energy Federal Tax Credits: Small wind systems qualify for a 26% Federal Tax Credit, making them an even more affordable investment.
Permitting and Planning
When contemplating a wind turbine or other structure on your property, it will often require a site plan submitted with your local building permit application. No longer is it necessary to rely on the costly and time-consuming skills of a professional surveyor. Drafting specialists like 24hPlans.com can save you time and money by preparing a conceptual site plan from property sketches, so you can get your building permit for any project approved with no fuss and hassle.
Insulation in housing goes back to the days of mud chinking in log houses. These days, a modern insulation technique is radiant barriers composed of highly reflective material. These can be installed in attics and especially useful in hot climates to reduce heat build-up in summer. Since they are installed in attics, winter is the ideal time to tackle this project when the working space is bearable.
It is imperative that the radiant barrier panels be as perpendicular to the heat source as possible and certified installers are typically your best option. Outfitting a 1,000-square foot house with the help of paid installers will run about $2,000-$3,000. Radiant barriers can also be installed in conjunction with thermal insulation (very important if you live in colder climate) to provide increased cost savings and comfort in winter and summer, as well.
Programmable Thermostats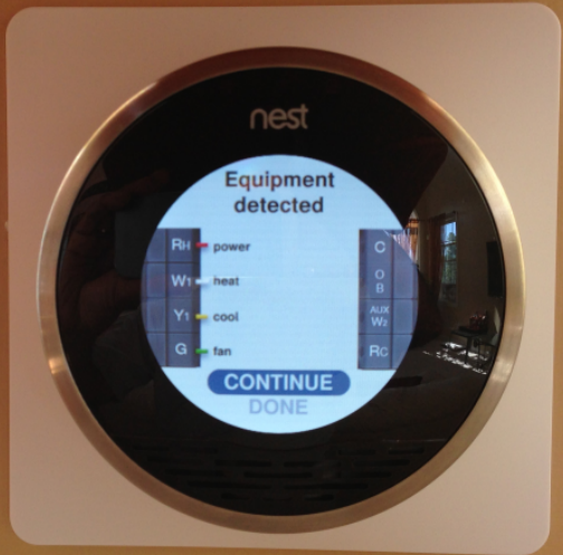 Nothing roasts a bill payer faster than paying for energy that is wasted. It is estimated that homeowners can keep an extra 10% of their money by not heating houses when no one is in them. The solution is a programmable thermostat.
Many of these devices can store half a dozen commands to account for the comings and goings of an entire family during the course of a day. These can also be manually overridden whenever schedules change.
Even more sophisticated programmable thermostats can be controlled via your Wifi connections or with your smartphone. The cost will run from a few to several hundred, depending on the sophistication of the unit. Installation can be a DIY job, but if you aren't comfortable around electricity bring in an hourly handy person.
Entry Doors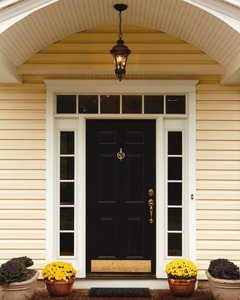 When you were air-sealing your entire house this fall did you remember your front door? Weatherstripping may not be enough to control the heat suck of this critical portal into your living world.
Even if the front door does not spend all winter opening and closing it may be costing you heating dollars. Old doors do not fit as snugly as new installations and a replacement could provide a quick return on your investment.
Wooden doors can be beautiful but modern steel and fiberglass doors are much more energy efficient. Most people prefer fiberglass for a replacement door which resists wear and tear better than steel – they can also be painted and stained for that wood-like appearance.
Entry doors are front and center on your house façade and there is a wide range of price points and the cheaper doors will often look the part. A totally revamped entry door complex can cost into the thousands of dollars.
Whole-House Vacuum
You are stuck inside all winter and you are probably smelling things you haven't noticed before in the stuffy house. This is the time of year to install a built-in-vacuum system with inlet ports that will relegate your platoon of vacuum cleaners in your closets to the recycling center.
With a central vacuuming system all you need to do is insert lightweight vacuum hoses to quickly clean and freshen rooms – no more lugging around heavy cleaning units and tripping over electrical cords.
The hoses range from 25 feet to 50 feet and you will need a port for roughly every 500 square feet of floor space. Expect to pay between $1,500 and $2,500 to have a central vacuuming system retrofitted in your house or office. And add another $500 for retractable hoses so you never have to carry any vacuum from room to room. This is the ideal winter improvement for allergy sufferers.
HVAC Electrostatic Filters
Do the dust bunnies in your house look more like Jimmy Stewart's Harvey? Maybe it is time to consider installing electrostatic filters which are integrated into your house's HVAC ductwork. They electrify the indoor air with a high-voltage current to remove particles that slip through the fiberglass fibers at your furnace.
These positively charged air filters will last forever but the plates around the units need a regular dampening down. With these whole-house pollution fighters on the job you can say goodbye to pet dander, pollen, dust, smoke, and other irritants in the air. They do generate ozone inside the house which can be an irritant to lungs so investigate thoroughly before springing for the $750 to $1,250 to put electrostatic air filters on the job.
Steam Shower
After a cold day outside is there anything you want more than to jump into a hot steam bath? All it takes is a sealed shower linked to a steam generator to transform your bathroom into a steam room. An existing shower stall can be adapted to the purpose or a new prefabricated fiberglass unit installed.
Hooking up that generator requires expert wiring and all the floors, walls and ceiling in the bathroom must be vapor-proofed and a high-powered bathroom fan to whisk away humidity must all be installed so this is a project best left to professionals. Expect to pay between $7,500 and $15,000 for the generator system, but your clogged sinuses and aching muscles will be thanking you for winters to come.
Skylights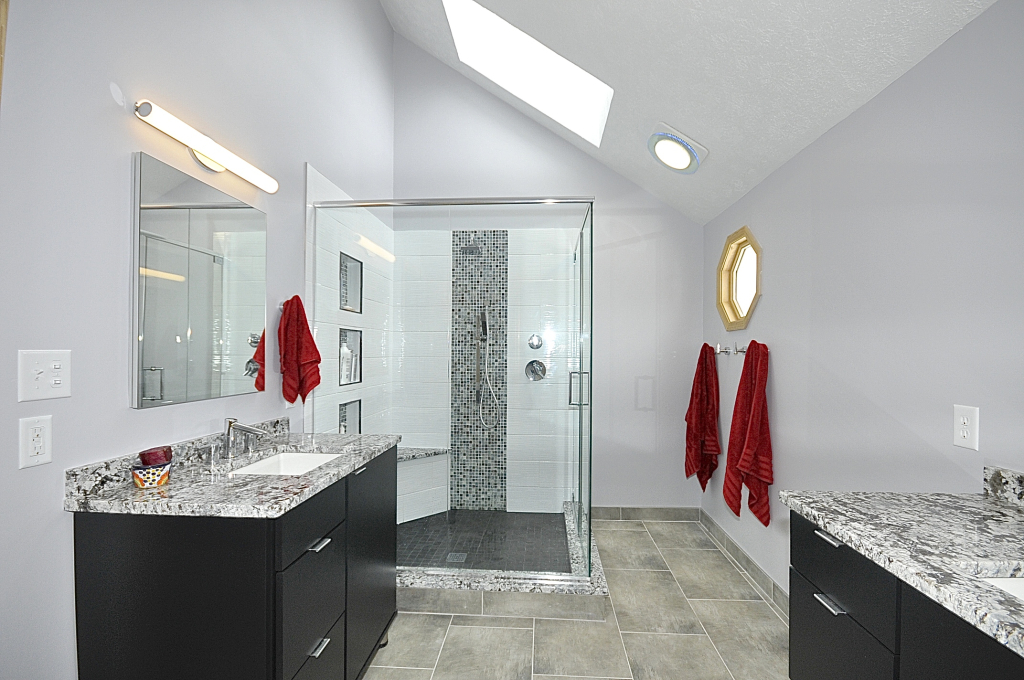 Nothing is more depressing about winter than the dark dreary days. One after another after another. So how about a skylight or two to perk up your house's interior spaces? Simple skylights with insulated glass can be installed with glazing for around $1,500 to $3,000. But you can add all sorts of extras like solar-powered shades and rain sensors that will open and close in bad weather. It's best to install a new skylight during roof replacement to avoid the extra expenses. During a roof replacement, a new skylight can be installed for as little as $1,000, depending on the model and roof design.
As skylight complexes grow more complicated the cost will escalate into the thousands of dollars but can be recouped in an easing of heating and cooling bills. Once you get going, try a skylight to illuminate a bedroom closet in the morning.
Fireplaces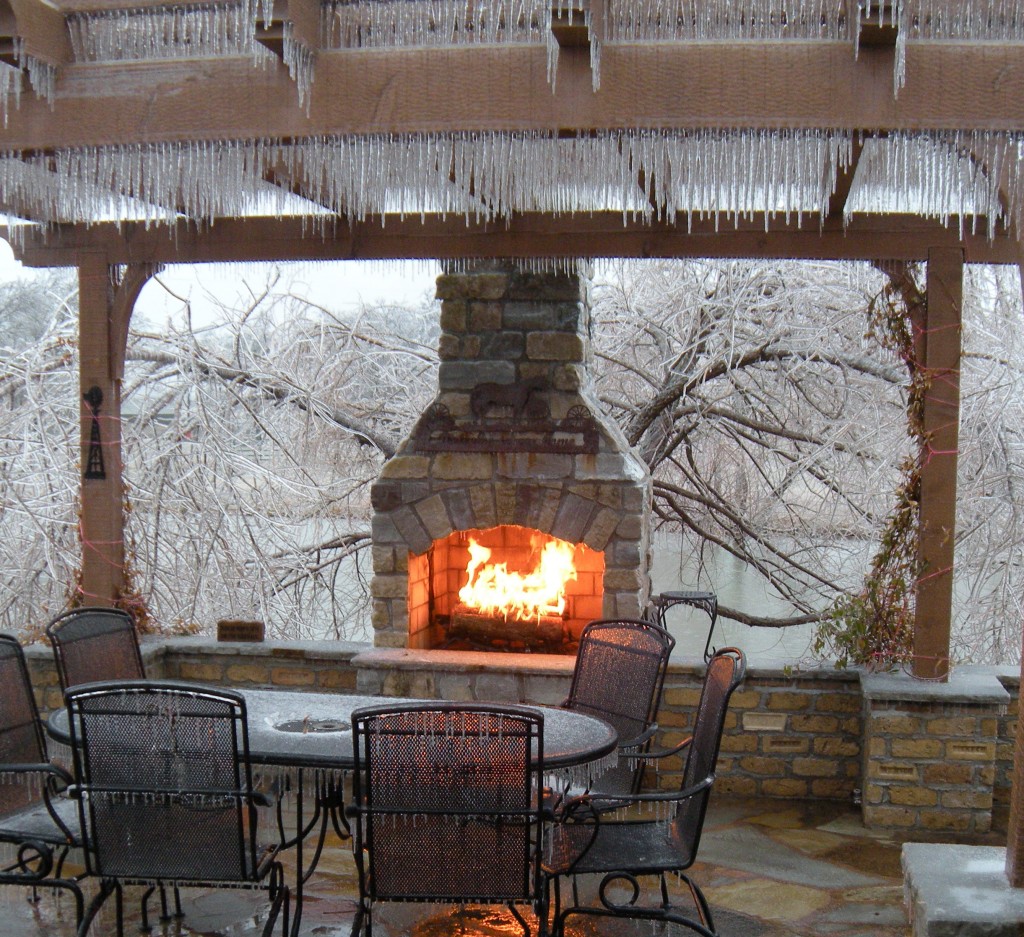 What says winter better than a cozy fireplace? These days, thanks to direct venting, an extravagant chimney system is not a requirement to add a fireplace to your home. Christmas card-worthy stone hearth and mantel set-ups will cost as much as $30,000 and up, but you can also keep the stone mason on the sidelines and cobble together a gas-burning fireplace with drywall surrounds for about $2,500. So, let's stay warm and toasty this winter!
Note: Here's how we can help: 24hplans has team of highly trained, professional architects and drafters who can prepare any kind of site plan in the shortest amount of time possible, so that you can easily get obtain that building permit and get on with your project. Use the promotion code: 24hplans-20off to get a 20% discount off any package. — Please note this is a limited time offer, exclusive to the readers of our blog. This offer is not being advertised anywhere else.