Are you in the process of planning a home addition or major remodeling project for your home? If so, it's imperative to know ahead of time just how much a new addition or a particular remodeling upgrade will cost and what value/property appreciation it will contribute to your home.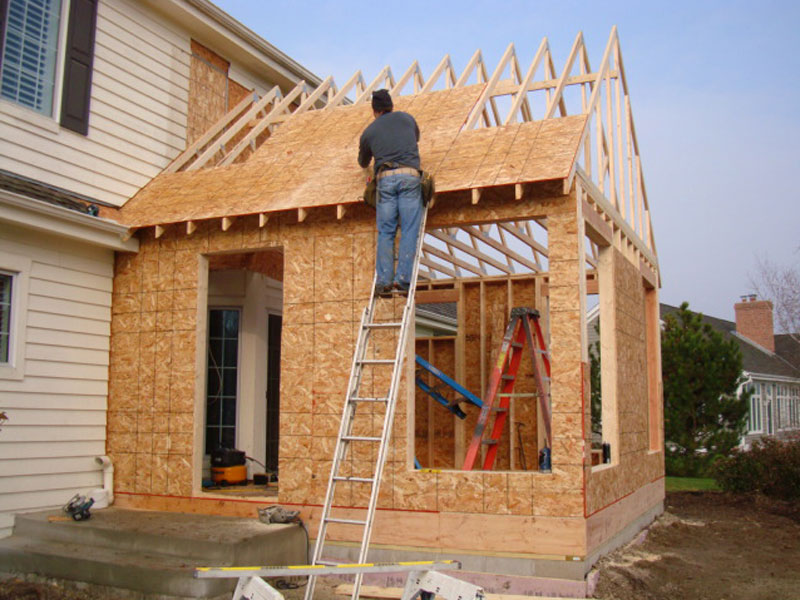 By RNB Design Group
Here is a list of the top 10 ideas/inspirations to make your home feel newer and comfier by adding space and amenities that you and your family are sure to love! 🙂
1. Enjoy the Outdoors with a Three-Season Room
A screened-in porch or three-season room is another addition that can help enhance the use and enjoyment of your home. Imagine entertaining your friends in the great outdoors without fighting mosquitoes and other pests. — This addition is another relatively inexpensive way to increase your living space at a reduced cost. You don't have to worry about insulation or even drywall. Frame in windows with screens instead of glass to allow in fresh air.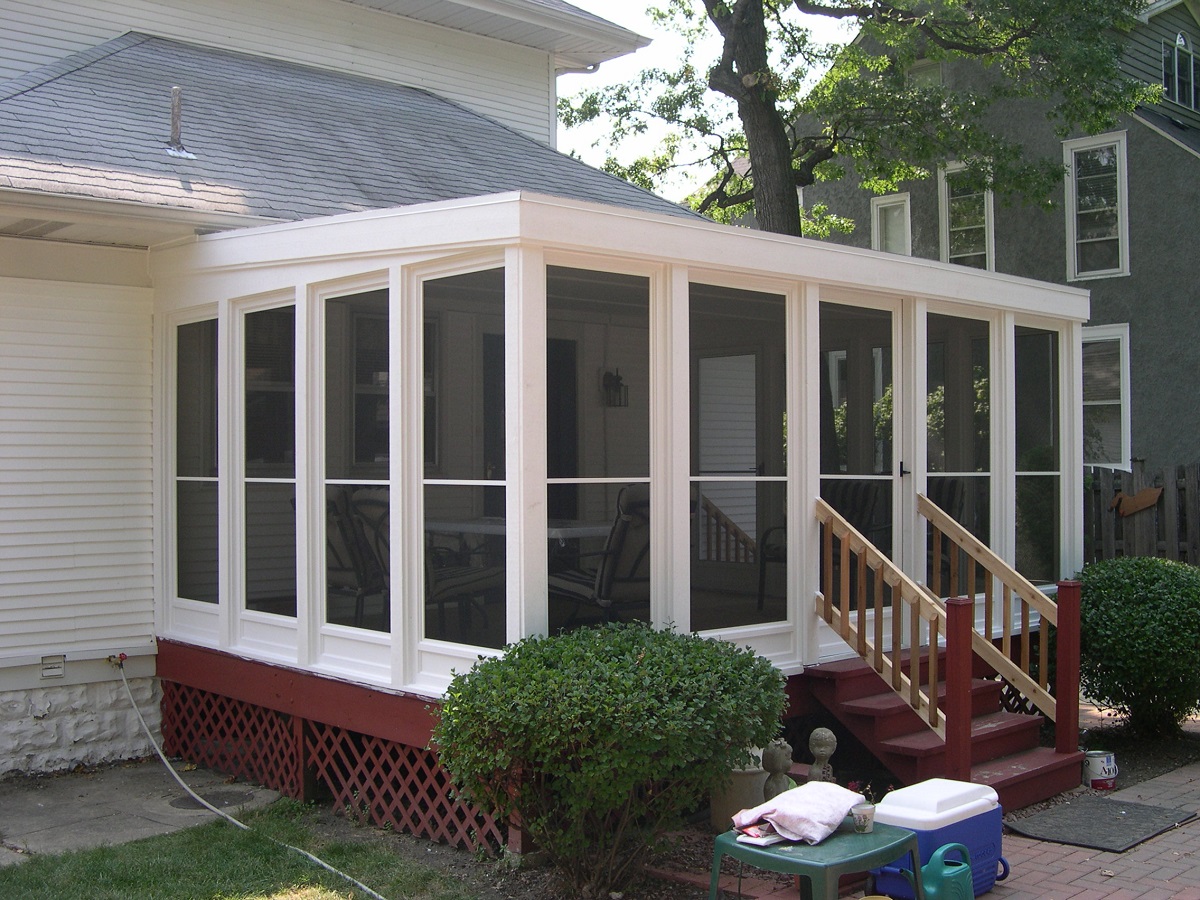 By Better House Inc
You can use indoor/outdoor carpeting and you will need to add electricity, but this is a relatively inexpensive project. A bonus for choosing this addition is that you can decide to finish the room later and turn into a four-season room.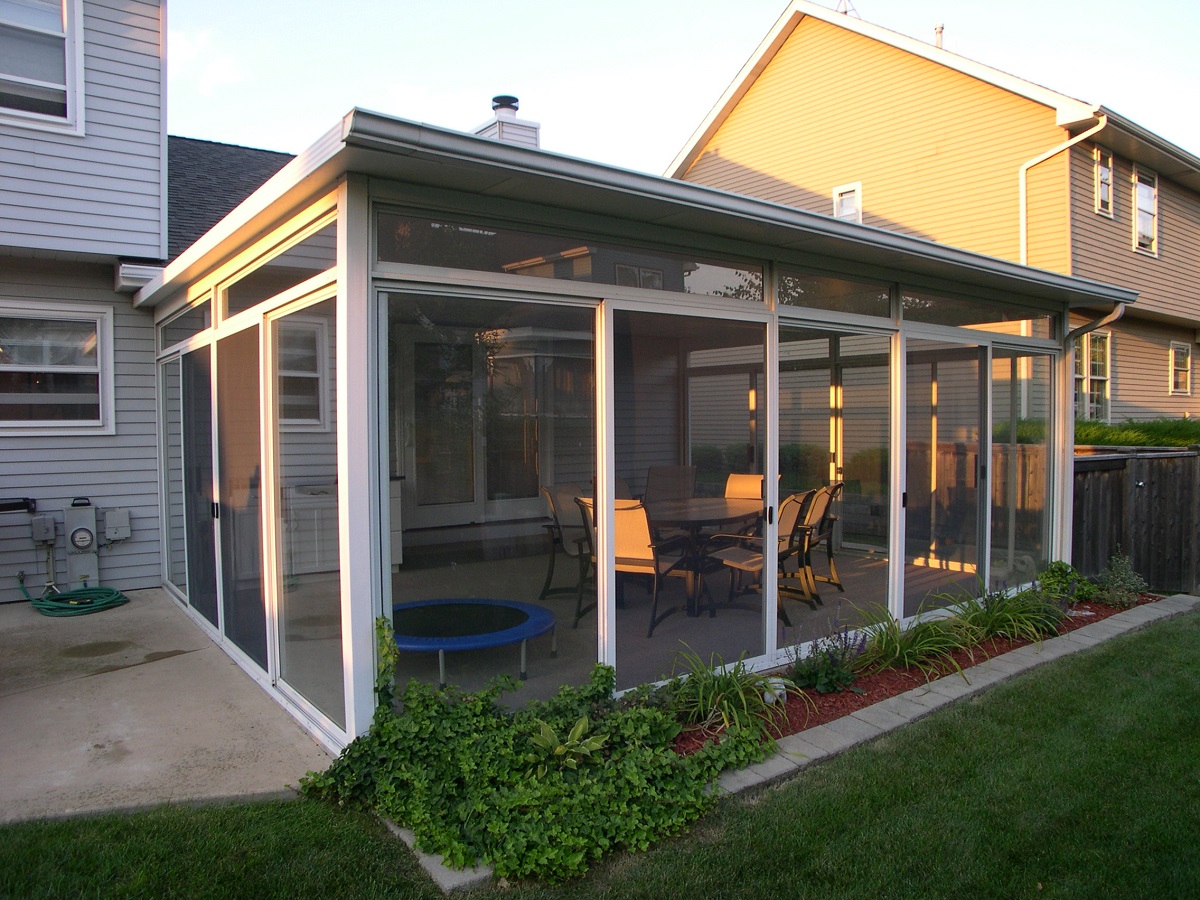 By Better House Inc
This is a project where price varies widely, depending on the size and design. For a basic room, costs start as low as $5,000. If you want to go all out, you can expect to pay as much as $60,000 or $75,000, especially if you include windows instead of screen and make your three-season room one for all-year.
The one caveat with a fully-blown-out all-year sunroom or a four-seasons room is that you will only be able to recoup about 50 percent of your investment should you decided to sell your home.
Thus, a sunroom addition only makes sense if you don't plan on selling your home anytime soon. 😉
2. Convert Your Garage into a Master Suite or the Ultimate Guest Suite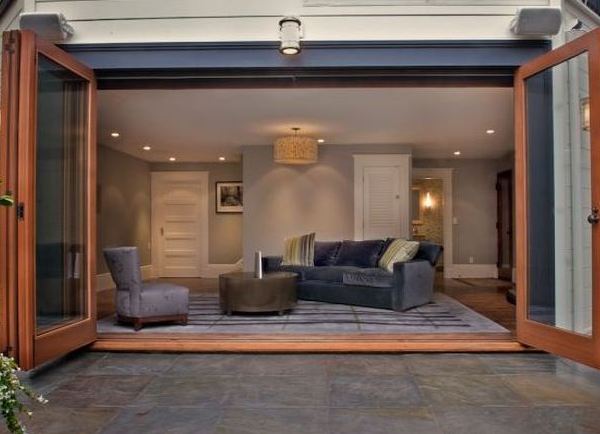 By Candy's Dirt
If you live in an area with moderate weather, you may find a better use for your attached garage.
Even if you get cold temperatures or snow, you may decide to convert your garage and build a detached one later. Converting a garage into living space is easy and affordable for many homeowners.
You have a foundation and four walls and even electricity already in place. You just must add insulation, drywall, and a floor.
You'll probably need to increase the number of electrical outlets and extend central air conditioning and plumbing for the new space.
However, the amount of square footage for an average garage gives you enough room to create a luxury master suite, including bathroom.
Split-bedroom homes are popular in many areas with the master suite at the end opposite of other bedrooms for privacy.
Another option is to use this space for a guest suite or mother-in-law apartment if you don't have a basement. The average two-car garage is about 600 square feet, which gives you a lot of room to work with.
Pricing for a garage conversion can range from around $7500 on up to $10,000 or more, depending on what you want done.
Removing the garage doors and installing a new wall or French doors to make the space look like a part of the home will increase the costs, but it will also enhance its value.
3. Install an In-ground Swimming Pool or Spool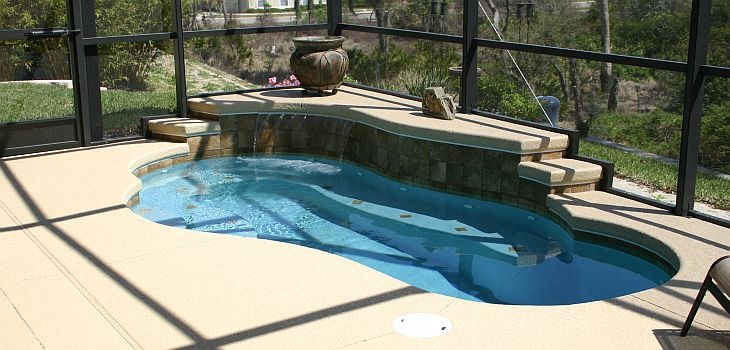 By Jackie's Pools
Be the home to host pool parties with your own in-ground swimming pool. You can select the size that fits your area and the shape to suit your style.
With numerous options available, you can select the right depth and design of your new pool and install additional features such as a hot-tub or an outdoor shower to enhance your space.
When considering the cost of this addition, you must plan for the ongoing maintenance as well as the initial price of the installation.
Regular maintenance is necessary to keep your swimming pool operational, and you'll need to think about closing the pool for the season and opening procedures for the next summer.
If you don't want to have to do the work yourself, you'll need to compare costs for this service. Just for the installation, expect to pay between $25,000 and $75,000 depending on the size and design of the pool.
One of the ways to reduce some of the initial expenses, as well as save some highly valuable time during the planning and permitting phase is to get an online site plan drafted to obtain a building permit from your city-hall.
In most cases, you aren't required to have a certified plan, meaning that you do not have to hire a land surveyor — something that could cost you between $1000 to $1500 for most projects.
In fact, a virtual team of experienced architects and drafters can take your parcel information and create a customized site plan with photo-realistic renders for a fraction of the cost of a certified site plan.
4. Create the Ultimate Outdoor Living Space
If you like to spend time outside, you might as well turn it into more living space. Go beyond a few chairs and a table to create a luxury area you enjoy spending time in. Many outdoor decks and patios have fully functional outdoor kitchens with an oven and refrigerator along with a grill.
Modern outdoor living spaces come in all styles and with many kinds of amenities, from high-definition televisions to surround-sound audio systems to elegant waterfalls.
Price depends on how elaborate you want to go for this project. Costs can range from less than $4,000 to over $11,000 for midrange project, with $7,600 figure being the average.
5. Adding a Second Floor
When you don't have room to expand out, you might want to consider moving up. A second-floor addition could be the right move if you live on a small lot and require additional living space.
A second story is a major expense, but it can add a lot of square footage to your home. Some people may choose to limit the addition to part of the home or just over the garage.
A house must be structurally sound enough to hold an entire extra story. Therefore it's critical to obtain a building permit from your city-hall and have your local building inspector approve the addition.
It's also important to consider your neighborhood during the early planning phase with your architect/designer or builder.
If you build a second story that puts your home out of character from the rest of the homes in the neighborhood, you won't get the money back from your addition when you decide to sell your property.
Prices for this project start at $100 per square foot and can go as high as $500 per square foot for more complex designs. You'll also have to make sure it meets local codes and regulations for height before you begin your project.
6. Installing PV Solar Panels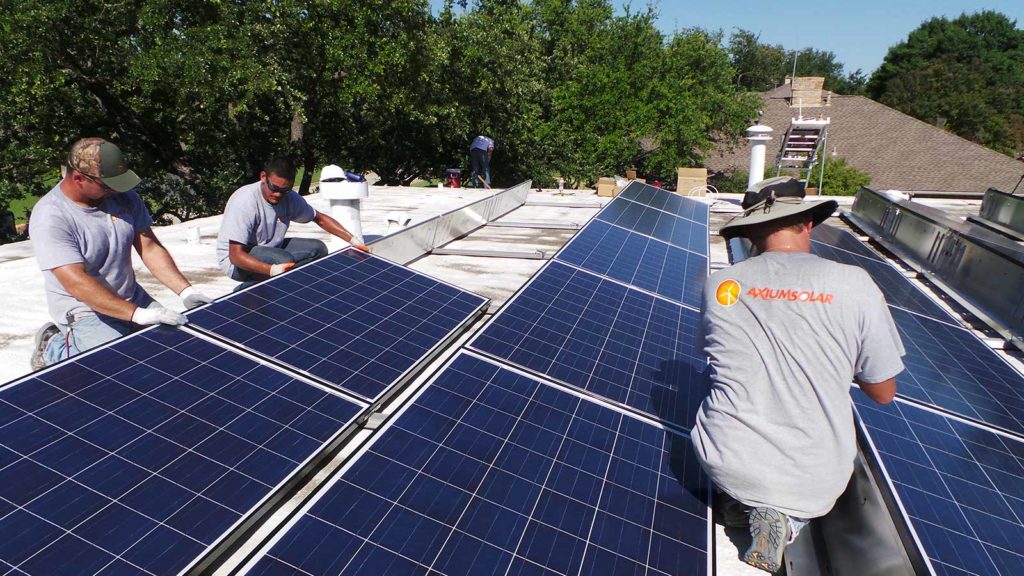 via GeekBeat.tv
Another major project with a potentially large payoff is installing a photovoltaic solar power system on the roof of your home.
If your roof (or one of its sides) happens to face south, with sufficient exposure and plenty of room for the solar panels, then you can get a lot of bang for your buck by generating your own electricity and selling the excess electrical energy to your local utilities for credits. — Talk about smart way to lower your electric utility bills. How cool is that! 😉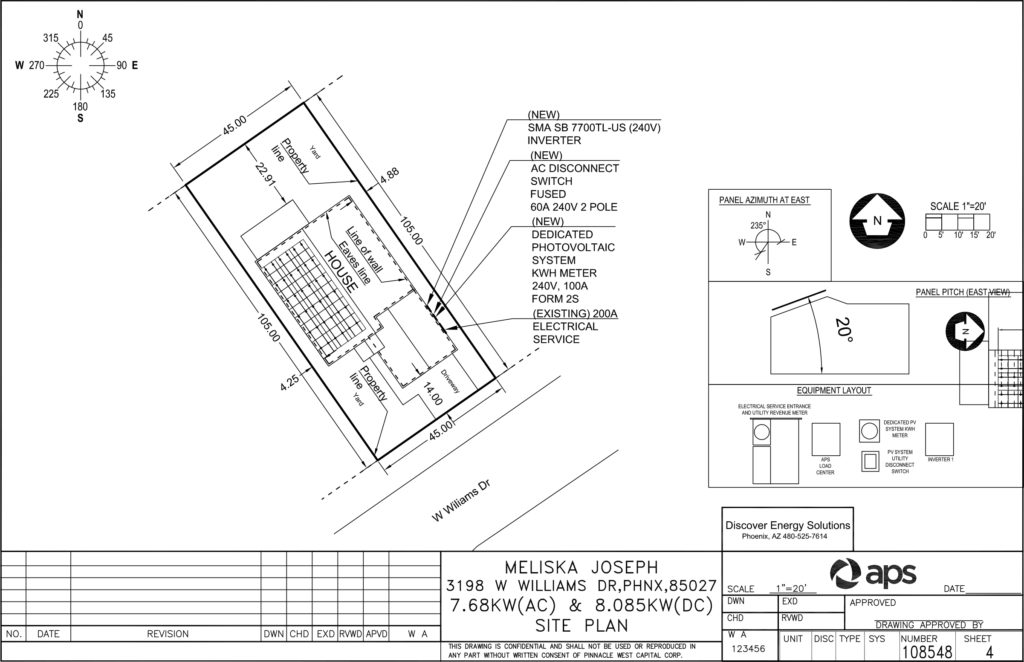 Now, as far as the implementation goes, rather than going with a large solar leasing company like the former SolarCity, currently Tesla, which by the way will surely over-charge you for their products and service (while you will be signing off all the tax credit benefits from the job to Elon Musk!), you can actually find a quality local installer who will install the system on your behalf, while you will be the one benefiting from all the tax credits, and you won't have to pay the premium charged by SolarCity just because they can get away with it…
Yes, SolarCity is greedy, and that is a fact reflected by how much they charge per watt of their solar generating capacity regardless of the size of the system. They also charge way more than most other players in the field. 😉
Thus, you may be wise to consider other alternatives to SolarCity or go with "owning the system" rather than "leasing" altogether. For instance, you can get some of the top-quality PV solar panels from SunPower, plus their reps can help you find a local installer who is approved or certified to install their products. They have a leasing program, too, you just must decide to yourself which one makes the most sense for your situation.
Why you should go with a Standing Seam Metal Roof vs. Asphalt For your Solar Roof
If you do plan to go the solar route, you may also want to consider replacing your existing roof and installing a standing seam metal roof first, so that you don't have to drill any holes in your existing roof.
We are firm believers in timing your "going solar project" with the installation of a new roofing system. This way, you won't have to worry about your roof leaking, once the solar panels get installed.
The bottom line is that you can reduce your monthly electric utility cost and know you're doing something good for the environment.
In some cases, you may have so much roof exposure that you may be able to eliminate your electric bill entirely! 🙂 Otherwise, a smart implementation of a PV solar power system on your home's rooftop can greatly reduce your dependence on the electric grid.
The initial cost can be a great deterrent for many people, with prices ranging from $16.000 to $30,000 for materials and installation. For many homes, part of that cost can be offset by a utility company. Local utilities may be willing to pay around half of the price, which could make your out-of-pocket expenses lower.
7. A Chef's Kitchen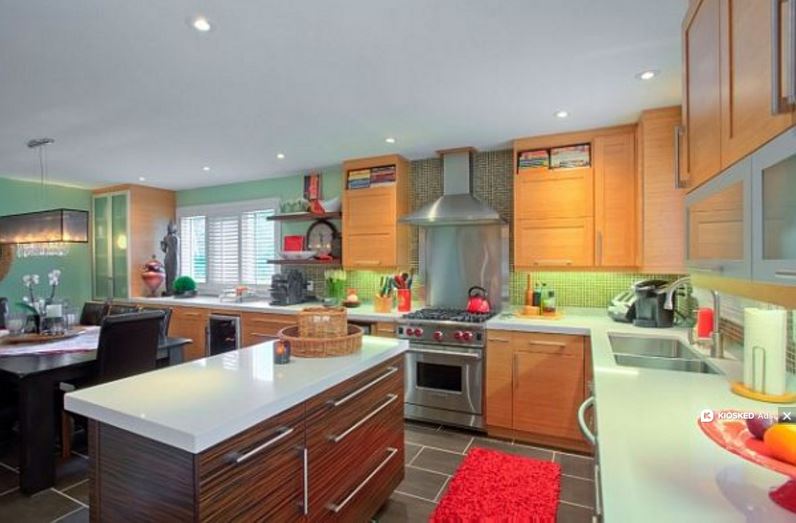 By Decoist
If you love to cook or entertain, a big open kitchen is almost a necessity. Your home may come with an ordinary or even tiny kitchen, but that doesn't mean you're stuck with it. A kitchen extension can give you the place of your dreams.
Extending the kitchen out by just three feet can give you a lot of extra interior space. A new exterior wall can be built along the outside wall of the kitchen.
For example, say your kitchen is 11 feet long against the exterior wall. By moving it out just three feet, you add an additional 33 square feet of space, enough to add cabinets or turn your room into an eat-in kitchen.
This is one of the more affordable ways of adding space in your home.
Price will vary based on the exact design of your home. For a larger project that extends 20 feet along one wall of your home and adds 10 feet in width, you can expect to pay up to $30,000. This is one project you can build off your budget. Once you know how much you must work with, you can decide how far the extension will go.
8. Build a Dormer for More Space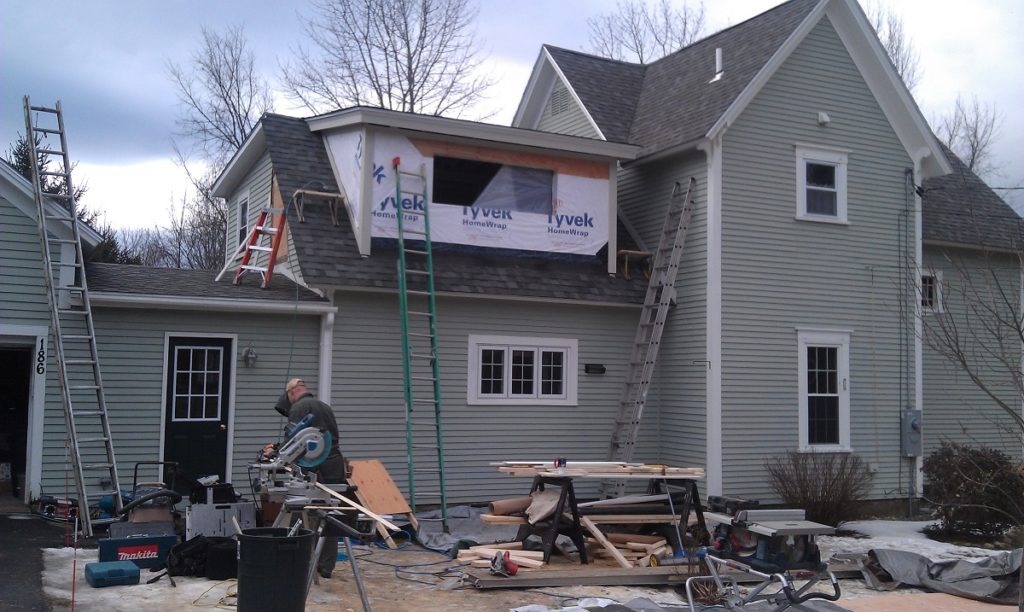 By Allen Remodeling
Add a dormer onto the first or second story of your home to bring in more natural light and add more space. This is a creative solution that enhances the curb appeal of your home while being cost-effective.
While many people associate dormers with Cape Cod homes, they can also fit in with ranch-style houses or other architectural designs.
Don't expect this process to be cheap, though. Working with the existing structure to ensure it is protected while adding some extra space can add to the expense. However, this can be an efficient way to increase the square footage if you're limited by zoning regulations.
Expect to pay as much as if you were adding space on the ground floor at $50,000 – $100,000. Small dormers of 150 feet can cost around $20,000. The costs include new framework, flooring and walls, doors and windows, and electricity.
9. Adding a Second Bathroom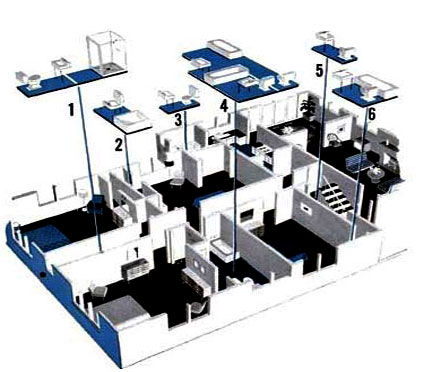 For anyone living in an older home, adding a bathroom can be one of the best investment choices they make.
Turning a 3-bedroom 1-bath home into a 3-bedroom 2-bath home will greatly increase the sale-ability of the property as well as its value.
Some homeowners aren't as worried about adding a bathroom as they are about expanding a current one. That cost will be about half of the expense of an addition.
According to Remodeling Magazine, the average cost of a mid-range bathroom addition is about $49,000, while renovation of the existing bathroom is $21,000
In an addition, you will build on to the existing house a room that can range from 10 feet by 10 feet to 17 feet by 10 feet or even larger.
Most people build the new bathroom off the master bedroom to create a master suite. However, it can be built off any part of the house that makes sense to have a bathroom.
The cost of an addition includes framework and foundation, as well as all the interior amenities for the bathroom. You would need to add in a shower, toilet, sink and possibly a tub, along with flooring, electrical and plumbing.
If you just want to extend a current bathroom and make it larger, you wouldn't have as much expense. You'd just have to figure out which other area of the home to reduce.
Many people choose to remove a closet to enlarge a bathroom while others completely reconfigure the house by taking out an extra bedroom or reducing the size of the family room or dining room, depending on the location of the existing bathroom.
10. Getting a Bonus with a Bonus Room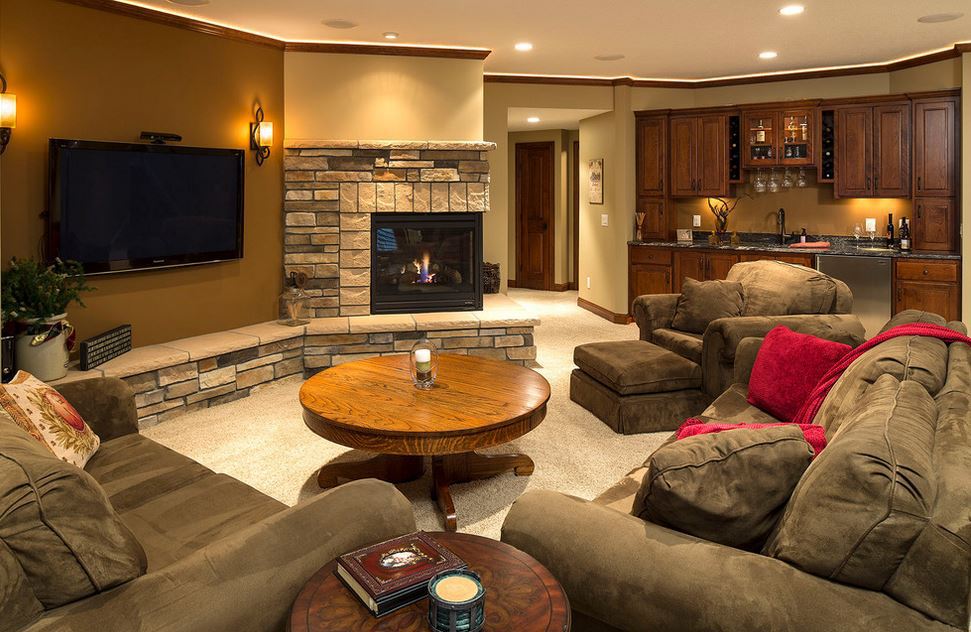 If you have an unfinished basement, you can turn it into a fun space. Make it a family room, game room or a media room if you have kids. A man cave is a fabulous idea for couples or a guest suite if you don't have a lot of extra space for out-of-town visitors. You can come up with dozens of uses for an extra room if you have the bones for one.
The benefit you get with having an unfinished space to convert is you don't have to lay the foundation. Your expenses will be lower than if you were starting from scratch. However, you will need to get a permit to finish the existing space even if you have the outside walls already in place.
Prices for this project vary widely, depending on the existing space and how you want to convert it. You'll need to add flooring, drywall and insulation, as well as expand electricity, and heating and air conditioning into the room.
If you add in a bathroom, your plumbing costs will increase the overall price. Expect to pay $5,000 at minimum and as much as $20,000. If you go with more elaborate designs and amenities, the prices could go even higher.
These ten major additions can all add value to your home if you plan to resell it in the future or enhance your current living space. Make sure you get accurate estimates and know all that is required before you begin any large-scale remodeling project.
Note:
24hplans has team of highly-trained, professional architects and drafters who can prepare any kind of site plan in the shortest amount of time possible, so that you can easily obtain that building permit and get on with your project. Use the promotion code: 24hplans-20off to get a 20% discount off any package. — Please note this is a limited time offer, exclusive to the readers of our blog. This offer is not being advertised anywhere else.