Every real estate transaction produces thick ream of documents completed beforehand or signed at closing. Is a plot plan one of the required docs? Will a plot plan satisfy the mortgage lender about the property's size and features and that there are no encroachments that could lead to costly liability later? Are there other uses that make a plot plan attractive?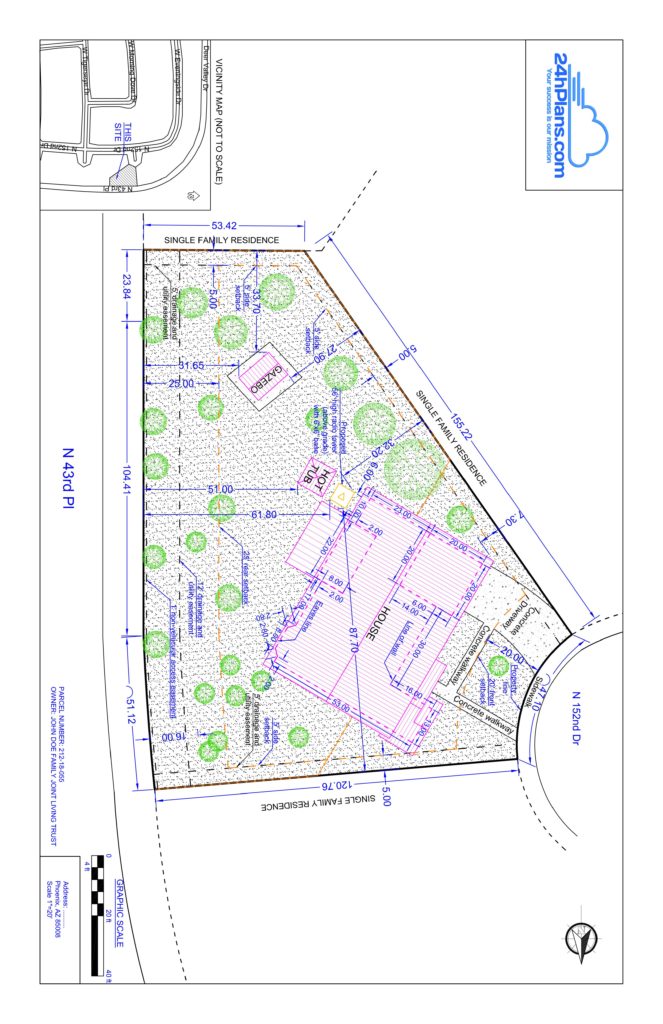 To answer these questions, this guide discusses:
What a plot plan is and what information it includes
How a plot plan and land survey differ
Plot plan pros and cons
Where to get a plot plan
A plot plan might be necessary and will certainly be useful when selling property or getting a mortgage. The benefits come at an affordable price.
Plat Plan Basics:
For this discussion, it's helpful to know that a plot plan is the same thing as a mortgage inspection plan. In other words, the plot plan gives the lender an accurate view and understanding of the property it is providing a mortgage for. A third common term for the document is site plan.
A plot plan is a drawing of your property made with CAD or similar software. It serves as a general description of the property. Depending on its specific purpose and level of detail needed, a plot plan might include:
Information: True-north arrow, property boundaries and dimensions, the legal description, setback distance requirements, easements and flood zone (if applicable)
Man-made structures: The footprint of the home and detached buildings, deck or patio, pool, driveway and sidewalks, fences, a well and septic drain field location
Natural structures: Ponds, streams or dry beds, wetlands, large trees and slopes
Because of the important information included on site plan drawings, they are accepted by banks and other lending institutions and by municipalities everywhere for approving development plans and issuing building permits.
Plot Plan vs. Land Survey
A legal land survey is prepared using complex and precisely accurate equipment such as a Theodolite total station for measuring angles and distances, GPS/GNSS scanner and similarly sophisticated tools.
A plot plan is developed more simply using visual estimations (eyeballing distances) or distances determined with a tape measure or measuring wheel. If aerial or drone images are available, they can be useful in creating a site plan. The information obtained is merged with details available on the recorded deed at the Register of Deeds office and the legal property description. This enhances the plot plan's accuracy and usefulness.
A land survey is meant to be precise to the inch; a plot plan is considered usable when accurate to within a foot or two for most distances other than setbacks, which need to be very precise.
Note: A setback is the distance off the property line that a dwelling or other structure must be.
Pros and Cons of Getting a Plot Plan for Real Estate Transactions:
These pros and cons will help you decide if a plot plan, aka mortgage inspection plan, is sufficient for your purposes or whether a legal survey would be better.
Pros:
Accepted by most lenders when providing clients with a mortgage on a home or piece of property
Before the sale, gives potential buyers an accurate understanding of the property and its elements
Shows that all structures meet local building code setback requirements
Can show easements, flood zones, wetlands and other areas of the property off limits to development
May assist buyers in locating additional information about the property recorded with the city or county
Accepted by municipalities for most development and permitting purposes, and that's important should the property's buyer want to make alterations to the property in the future such as adding a deck, building an addition or installing a pool
Costs 3% to 10% of what a legal survey costs, depending on the size and complexity of the property
The only negative:
Uncertified plot plan cannot be used to identify, prove or dispute legal property boundaries
Where to Get a Site Plan?
Certified site plans can be produced by engineering firms that provide land survey services, but that's usually overkill and very costly ($1,000-$3,000 is common).
A more cost-effective and just as reliable approach is to order a plot plan from 24hPlans. The plan will have the level of detail you want, simple to complex, for potential buyers as you market the property.
Buyers can then use the plan when applying for a mortgage from their lender or afterwards applying for a permit to develop or alter the property. In their mind, it's one less hassle they must deal with (even though obtaining a plot plan is really a simple process).
Affordable and Useful Alternative to Certified Plans
Do you need a plot plan at a real estate closing? If the mortgage lender wants one, then yes, it will be necessary.
Even when not required, you can see that a plot plan has many useful purposes in marketing the property and assisting a buyer in making the most of it for their purposes.
Next Steps:
24hplans has team of highly-trained, professional architects and drafters who can prepare any kind of site plan in the shortest amount of time possible, so that you can easily obtain that building permit and get on with your project. Use the promotion code: 24hplans-20off to get a 20% discount off any package. — Please note this is a limited time offer, exclusive to the readers of our blog. This offer is not being advertised anywhere else.