If your old roof is starting to show the sings of excessive wear and tear like excessive moss and algae growth, cracked, chipped, or curled shingles, excessive loss of stone granules and bold spots, then it's probably a good time to consider some replacement options before the old roof begins to leak, causing extensive damage to the rest of the house.
Flat and Sloped Roofs
There are two types of roofs that most residential homes have: low-slope or flat and sloped or pitched. Some homes might have a combination of the two, with a steeper roof protecting the main house or structure, while the low-slope or flat roof is covering a garage, a porch, or a sunroom.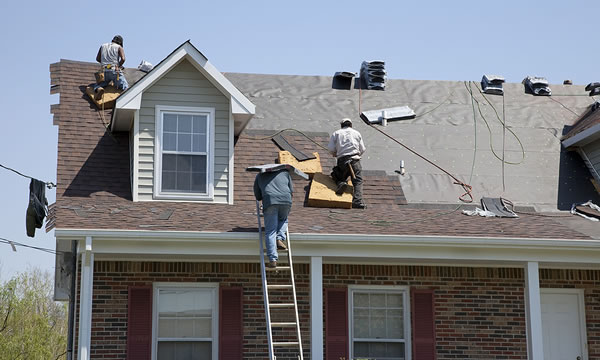 via DMB Construction
While combination roofs are very common, most homes with a sloped roof will typically have asphalt shingles as the main roof covering. In fact, asphalt roofs are estimated to cover over 75% of all residential roofs in the US.
Most flat roofs, on the other hand, will usually be covered with an EPDM rubber membrane, a predominant material in residential low-slope roof applications. But EPDM rubber is not the only option for flat roofs. In fact, there are better-performing and longer-lasting alternatives like PVC and TPO membranes. PVC membranes are especially popular on the West Coast where IB Roof, a Eugene Oregon based manufacturer is based.
For steeper roofs, the most popular option is mid-range 30-year architectural shingles. Other options include cedar shakes, tiles, metal shingles, shakes, and tiles, stone coated steel tiles, and standing seam metal roofs.
Architectural fiberglass composition shingles are the most affordable and ubiquitous residential re-roofing option with a realistic expected lifespan of 15 to 25 years. Metal roofs, on the other hand, can last anywhere from 30 to 50+ years when installed by a well trained and experienced crew.
While an asphalt shingle roof can deliver a solid value for the money, fail due to age and damage done by the sun's UV rays, wind, hail, snowstorms and ice dams.
Most metal roofs will last considerably longer than shingles, but when they do fail, it's usually at a flashing point such as a leaky chimney or skylight, or the paint begins to peel, especially with the older non-Kynar 500 metal roofs that were finished with polyester paint.
How Much Does an Asphalt Roof Cost compared to Metal?
While most mid-range asphalt shingle roofs can be installed for $5.00 to $8.00 per square foot, depending on the project and where you live, a metal roof like interlocking metal tiles or standing seam (a great option for penetration-free solar integrations) will often cost double the cost of asphalt, anywhere from $10.50 to $18.50 per square foot, depending on the type of metal roofing system, project difficulty, and where you live.
If you are looking for a value roofing system and are not easily swayed by key roof attributes like longevity, material sustainability and home energy efficiency, then getting a midrange architectural asphalt shingle roofs form one of the reputable manufacturers like GAF, Owens Corning, CertainTeed, Atlas, IKO, Tamko, or Malarkey, will provide a viable roof protection for most homes.
Can Asphalt Roofs Withstand Hurricane-grade Winds?
For areas with high winds, there are value-priced options like GAF Timberline HDZ shingles rated for 130 MPH winds out of the box, even with the standard installation. This product compares closely with Owens Corning Duration shingles rated for 130 MPH winds with a 6-nail installation method for hurricane zones.
Tip: It's highly recommended that you use at least three system components like starter shingles, roofing shingles, and ridge caps from the same manufacturer to get the manufacturer's extended warranty coverage.
Premium roofs like metal shingles and standing seam are available in a wide variety of metals and alloys including aluminum, coated steel (typically G-90 steel or Galvalume), and zinc, which is one of the longest lasting roofing options.
There are also some ultra-premium roofing options like copper, but those are mostly used as accents around bay windows and porches, not as complete roofs.
Credits:
TrueGreenRoofing.com
For aluminum and steel roofs, it's recommended to opt for a Kynar 500 paint finish to achieve the best possible roof durability, longevity, and energy efficiency.
For stone-coated steel tiles, you have two options, G-90 galvanized steel and Galvalume (zinc and aluminum coating that is more corrosion resistant). Both options can deliver excellent durability and longevity and are highly recommended for hail-prone areas with frequent hailstorms that often damage conventional roofs like asphalt.
What Roof Offers the Best Protection from Hail
Source:
Boral Steel
Stone coated steel tiles are one of the select few roofing systems that are actually warrantied for Class 4 hail impact damage by the manufacturers. Most other roof products are only certified for Hail impact but don't have the actual manufacturer's warranty for you to count on, should the "unexpected" hailstorm destroy the shiny new roof.
Where to Get a Metal Roof?
Most metal roofs are supplied by a specialty metal roofing contractor who is doing the installation. Contactors work with building material suppliers and distributors who deliver metal coil for standing seam panels or metal shingles like Tamko Metal Works or steel tiles from one of the stone coated steel roofing manufacturers.
Tip: For best results, always have a specialist install a metal roof, not a regular asphalt shingle installer. The two systems are vastly different in terms of how they should be installed. As you may have guessed, a metal roof is a far more complex system to install so it should only be installed by experienced craftsmen.
What is the Best Material for Flat Roofs?
For low-sloped roofs, the best replacement options are single-ply membrane roofs PVC and TPO, and white colored EPDM rubber membrane for better energy efficiency. All these systems are single ply-membranes, which means they are relatively economical and easy to install (as opposed to multi-ply membranes like BUR), but their costs and expected lifespans are different.
For flat roofs, that have an old and leaky EPDM rubber membrane, most early leaks tend to develop due to failed seams. EPDM rubber is the least costly and most popular flat roof replacement option, but in places with freeze-and thaw-cycles, EPDM rubber membrane seams can often develop leaks over time due to pooling water that gets in between the seams during multiple freeze-thaw cycles.
If you live in a northern climate that experiences frigid temperatures, snow and ice, then getting a PVC or TPO membrane will deliver superior performance over the traditional EPDM rubber. Both PVC and TPO membrane roofs are hot air welded, so there are no glue and tape to worry about, as the hot air welding process forms a permanent bond between the seams.
Tip: It's important that a PVC or TPO membrane is installed by an experienced installer who knows how to properly weld the seams, etc. PVC and TPO will cost roughly 30% to 50% more than EPDM rubber roofing due to the higher cost of materials and accessories (especially for the more premium PVC membrane options like IB roof) and more specialized installation (hot air welded seams), but they will last longer and deliver a better overall performance, especially in places with freeze and thaw cycles over the winter months.
How Long Do Flat Roofs Last?
While most EPDM rubber roofs will last between 5 and 15 years. TPO roofs, on the other hand, can last between 15 and 25 years, while PVC roofs are designed to last upwards of 25-30 years.
Most PVC and TPO membranes come in white color designed for energy efficiency. EPDM rubber membrane can also be ordered in white color. Ask your installer for a CoolRoof rated roofing system when getting a new flat roof.
If you live in California, you will need to get a CRRC rated roof to comply with the stringent CA Title 24 requirements that apply to both steep or sloped and flat roofs.
How Much Does It Cost to Replace a Low-sloped Roof?
When planning for a flat roof replacement, you can expect to pay between $6.50 and $12.50 to professionally replace an old EPDM rubber roof. The cost includes the removal and disposal of the old membrane, assessment of the underlying roof deck and minor repairs, installation of foam insulation boards (up to two inches), and professional installation of a rubber membrane by a well-trained crew. The job would include all the necessary materials and supplies and a 5-year warranty from the installer.
PVC and TPO roofs will typically cost a couple dollars more per square foot than EPDM rubber membrane due to a more technical installation process (hot air welding) and higher material costs. Expect to pay between $8.50 and $14.50 to install a high-end PVC membrane like the one supplied by IB Roof on the west coast.
Why is there such a wide pricing range? The location of your home, ease of access, and project variables is what ultimately dictates the price homeowners pay per sq. ft. For example, on house might be a single-story ranch with easy access and a roof deck that's in good shape. Such a project would typically be priced at a lower end of the above price range.
However, if you have flat roof that's difficult to access like a 3-story or taller house/building, with a couple of layers of old roofing, the price per square foot will be higher due to greater investment of time and energy to replace such a roof.
Note: Getting a new roof is one of the major home exterior remodeling upgrades that require a site plan and a building permit.
24hplans has team of highly trained, professional architects and drafters who can prepare any kind of site plan in the shortest amount of time possible, so that you can easily obtain that building permit and get on with your project. Use the promotion code: 24hplans-20off to get a 20% discount off any package. — Please note this is a limited time offer, exclusive to the readers of our blog. This offer is not being advertised anywhere else.