Most average monocrystalline PV solar panels for residential rooftops offer efficiency ratings between 17% and 19%, with a typical power output ranging between 250 and 300 watts per panel.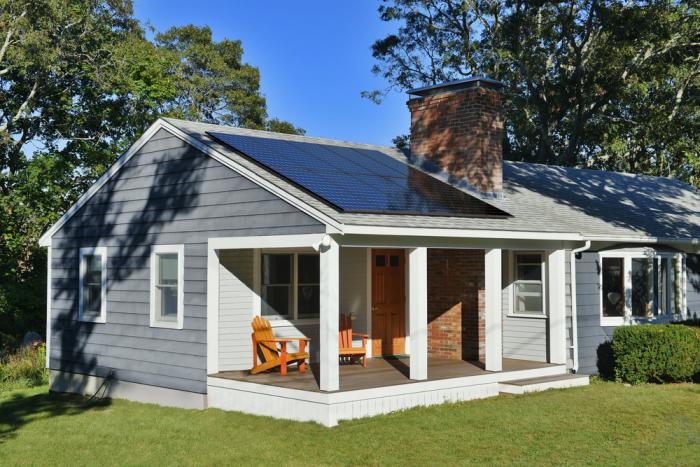 High-efficiency solar panels bring efficiency ratings between 20% and 23%, with a typical energy output ranging between 350 and 400 watts per panel.
Cost-wise, most midrange monocrystalline solar panels typically cost between 65 cents and 81 cents per watt, while high-efficiency panels can cost between $1.10 and $1.41 per watt for more premium options like the LG Neon R and SunPower Maxeon 3 panels for homes.
For those who cannot afford paying a few thousand dollars extra for a new PV system from SunPower, other high-efficiency panels like the LG Neon R and Panasonic EverVolt are the next best alternatives for the money.
While SunPower Maxeon 3 and LG Neon R panels are most often compared side by side, as both products are considered the most premium options, there are other great solar panel options to consider for top efficiency and energy output that won't break the bank.
Here are the top 10 high efficiency solar panel options to consider for residential installations:
| | Make | Model | Power | Efficiency | Cost |
| --- | --- | --- | --- | --- | --- |
| 1 | SunPower | Maxeon 3 | 400 W | 22.6 % | $550-$650 |
| 2 | LG | Neon R | 405 W | 22.3 % | $450-$550 |
| 3 | REC | Alpha | 405 W | 21.9 % | $400-$500 |
| 4 | Panasonic | EverVolt | 380 W | 21.7 % | $350-$400 |
| 5 | Jinko Solar | Tiger Pro 6Rl3 | 585 W | 21.4 % | $400-$500 |
| 6 | FuturaSun | Silk Pro | 440 W | 21.16 % | $400-$450 |
| 7 | Trina Solar | Vertex S | 405 W | 21.1 % | $350-$400 |
| 8 | Longi Solar | Hi-Mo 4 | 385 W | 20.9 % | $250-$300 |
| 9 | Q cells | Q.Peak DUO G9 | 385 W | 20.6 % | $300-$350 |
| 10 | Winaico | WST-375MG | 375 W | 20.6 % | $300-$350 |
When comparing different solar panel options, it's important to note that high-efficiency should be viewed not only through the lens of cost per watt, but also through the less-obvious lens of the annual energy generation degradation or the expected annual loss in solar generating capacity of a panel.
The more degradation of solar-generating capacity a given solar panel experiences per year, the less energy it will generate. A loss of more than 1 percent per year would not be good for long-term efficiency.
For example, while LG Neon R panels start with a slightly higher efficiency than Panasonic, LG panels' ability to generate solar electricity, will degrade at a slightly faster annual rate of .3% compared to .26% efficiency degradation rate for Panasonic panels. The difference in the starting efficiency and annual degradation between the two brands is rather small, however LG panels are more expensive.
If you are looking for a great overall value relative to price and long-term performance, high-efficiency panels from Panasonic may deliver better overall value for the money because they degrade at an extremely low rate of only .26% per year and cost less than the panels from LG and SunPower. For comparison, conventionally constructed solar panels can degrade by as much as .70% per year.
That said, premium solar panels from SunPower, LG, Panasonic, and other manufacturers will typically provide 90% or greater efficiency after 25 years of being in service, while less-expensive panels are typically only warrantied to provide 80% efficiency based on the initial output.
Pros and Cons of High Efficiency PV Panels
One of the benefits of high efficiency solar panels like SunPower Maxeon and LG is the ability to save space on the rooftop with limited space.
For example, to get a typical 6kW PV power system for your home, you would need to get approximately 24 of 250 watt conventional solar panels installed on your home's rooftop. If you happen to have a nice sizeable roof with great southern exposure, then conventional panels will likely do a fine job of generating solar electricity for your home.
However, if the space on your rooftop is limited then getting just 15 Maxeon 3 400 W panels from SunPower, will generate as much electricity as getting 24 conventional solar panels rated for 250 W, so you can have a 6kW PV system.
In other words when space is at a premium, high-efficiency solar panels are your best bet.
For rooftops that don't have the perfect exposure to the sun during daylight hours, high-efficiency solar panels can prove more useful and efficient, because solar panels like the SunRun Maxeon 3 can generate electricity with high degree of efficiency even when not having the most optimal solar exposure or on rainy and cloudy days.
Potential disadvantages
The initial upfront cost for a PV system comprised of high efficiency panels can be several thousand dollars higher than the cost of a system comprised of conventional solar panels. Compare the average cost of $3.06 per watt ($2.78 to $3.50 range) for conventional panels before the federal tax incentives vs. $3.10 to $3.35 per watt for LG Neon R panels, and $3.30 to $3.50 for SunPower panels ($2.97 to $3.67 range) before the federal solar tax credits.
Here is how that difference in price per watt can play out for a complete 6kW system before incentives and solar investment tax credits:
Conventional PV system: $3.06 * 6kW = $18,300
LG Neon R PV system: $3.25 * 6kW = $19,500
SunPower Maxeon PV system: $3.40 * 6kW = $20,400
However, conventional solar panels will degrade at a faster clip than high-efficiency panels, so overtime high-performance panels will be producing more solar electricity than conventional panels.
At the 25 year mark, the difference in the overall solar generating capacity can be 90% of the initial output for high-efficiency panels vs. only 80% of the initial output for conventional panels.
Bottom line: When evaluating high-efficiency solar panels, it's important to consider the initial performance and output, and the annual degradation rate.
Other factors to consider include the ability of a solar panel to perform well during different times of the day, as well as during cloudy and rainy conditions.
Tip: The ability of a solar panel to perform well under different environmental conditions will translate directly into the high efficiency in generating electricity for your home.
Pros and Cons of Solar Panels: If you are weighing the pluses and minuses of going solar, here is a nice overview to help get you started: https://www.24hplans.com/pros-and-cons-of-installing-solar-panels/
Important Note on Site Plans for Solar Deployments:
24hplans has team of highly-trained, professional architects and drafters who can prepare any kind of site plan in the shortest amount of time possible, so that you can easily obtain that building permit and get on with your project. Use the promotion code: 24hplans-20off to get a 20% discount off any package. — Please note this is a limited time offer, exclusive to the readers of our blog. This offer is not being advertised anywhere else.
References: