You can Brighten Up Your Garden With Electricity-Free, Solar Garden Lights; here is how:
Being able to make the most of your garden area, whether it is simply a small patio, or an extensive area of greenery and flowers, is something that most people would love to do! There is nothing better than relaxing and spending time with your family and friends in a beautiful garden.
Now you can use the sun to light up any and all parts of your garden at night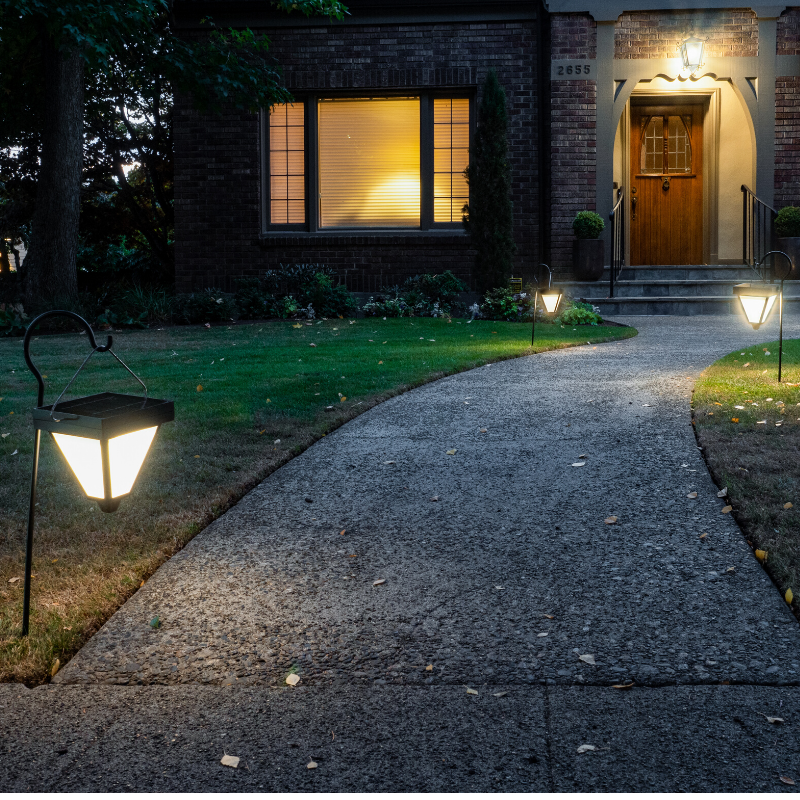 via modelgreenhome.com
Needless to say, running electrical wires to all parts of the garden can be a difficult and costly process, here is where outdoor, solar-powered lights can help you enjoy your garden even when the sun has set.
How Do Outdoor Solar Garden Lights Work?
The topic of solar energy is one which has often been debated, and while its use as a serious power source to help keep the country running may still be in dispute, using solar garden lights is a very good way to harness the sun's rays and to use natural and abundant solar energy to power these lamps during the evening.
Working like a small solar panel, the sun's rays are converted into energy by the cell during the day, and stored in a battery, and then during the evening the energy in this battery can be used to power a lamp, or a number of lights together depending on the style of the light in question.
Cost
You can buy solar garden lights at your local home improvement store for. The prices can range from $25 to $50 on average. For instance, you can buy a Portfolio 3-Light 12X Brighter Black Solar LED Landscape Flood Light Kit at Lowe's for about $40.
Benefits Of Outdoor Solar Lights
One of the best things about the solar garden lights is that they can simply be left alone during the day, and as long as there is some sunshine, then they will automatically start to charge up the battery, and have them ready for when the light itself needs to be used.
Also, this means that there is no need to worry about making sure that there are electricity cables running in the garden or that there are batteries in the house for other types of light, as the solar powered lamps will simply be charged up and ready to use.
What about poorly-lit Areas?
There is no doubt that for outdoor solar lights to work at their best, they do need to be getting some direct sunlight in order to fully charge the battery of the light, however the technology that is used in these lights has improved significantly to allow for energy generation even on cloudy days, and days with little direct sunlight.
In a worst case scenario where there hasn't been any sun light exposure for several days, most lights can still be powered by regular batteries.
Styles
When looking at the wide range of solar garden lights which are available, the most traditional and mainly the most popular ones are those that are in a glass lantern or jar, and tend to offer a more natural type of light than the standard electric lights. These do tend to be better for garden use, and make for a more pleasant atmosphere than a harsh white light might do.
However, there are of course plenty of other options with outdoor solar lights. Another popular one particularly in gardens with hedges are solar powered fairy lights, with the small bulbs on a cord much like Christmas lights, but are actually powered from a solar panel which can usually be placed so that it is not noticeable at night.
Once the technology for the solar garden lights became reliable, there are also more adventurous and clever uses being made of the lights, with many lights being built into garden ornaments such as statues or even lights in the shape of insects or animals which can be placed around the garden.
Choosing The Best Lights For Your Garden
The type of garden that is being considered will have a large impact on the type of lights that will be purchased, and also the type of people, whether they are children or adults will also be a contributing factor to the most suitable type of light to buy.
For instance, for traditional garden, lanterns or wall light can be used. These are usually quite subtle and stylish for most gardens and landscaping layouts. For larger gardens, up-lighters designed to highlight your best plants at night.
For a fun or child-oriented garden, there are many colored lights, or lights that resemble insects, animals or ladybirds that can be great additions to the garden. The outdoor solar fairy lights are also a good solution that can be very popular with children.
You may also be interested in the Inground Garden sprinklers: https://www.24hplans.com/ingorund-sprinkler-systems-costs-and-pros-cons/
Conclusion
For many people who have historically shunned the idea of using outdoor solar lights in their garden in favor of lamps or electric lighting, the option of solar garden lights is one which has become much more realistic and attractive as the technology has developed and become less expensive, and these days the lighting that is available is really an exceptional addition to most gardens.
Note: Here's how we can help: 24hplans has team of highly-trained, professional architects and drafters who can prepare any kind of site plan in the shortest amount of time possible, so that you can easily obtain that building permit and get on with your project. Use the promotion code: 24hplans-20off to get a 20% discount off any package. — Please note this is a limited time offer, exclusive to the readers of our blog. This offer is not being advertised anywhere else.