Tesla Solar Roof is currently on the version "V3" of its solar tile roof that was initially unveiled in 2016. Tesla's BiPV (building integrated photovoltaics) solar tiles are made of hardened glass containing photovoltaic solar cells for energy generation. The latest iteration of the Tesla solar roof unveiled in October 2019 came with a promise that it would not only cost less than the "previous unveils", but that it would also be easier to install, enabling Tesla to achieve 1,000 installations per week.
Fast forward to April 2021 when Tesla, as reported by Verge, has suddenly and drastically increased the price of its solar tile roof by roughly 30% to 50%, with some customers seeing even greater price hikes on the long-signed contracts.
On the Q1 2021 earnings call, Elon Musk has said the drastic price increase of the Tesla solar roof was due to (him/Tesla) making a "significant mistake" greatly "underestimating the complexity" and how expensive the installation of solar glass tiles on a complex residential roof can be.
The increase in price has impacted many homeowners who have already put down a deposit for a new Tesla Solar Roof. According to Bloomberg, even those who had already signed a contract became subjected to the price increases, leading to numerous cancelations and even lawsuits. Many of these homeowners have been waiting for years to have their solar tile roof installed by Tesla only to have the company slap them with the drastic price increase.
So, How Much Does a Tesla Solar Roof Cost After the Recent Price Hike?
The current price per square foot of Tesla Solar Roof is roughly 50% higher. Even the price of Tesla Powerwall batteries has increased by 30%, which has little to do with the actual complexity of the roof.
For, a typical house with a 2,000 square feet roof of average complexity, a new Tesla Solar Roof will cost between $60,000 and $70,000 to install before the 26% Federal Solar Investment Tax Credits. Adding a Tesla Powerwall battery to the solar tile roof will cost you an additional $10,500.
Thus, with a single battery storage bank, you are looking at approximately $70,000 to $80,000 for a new Tesla Solar Roof. The total cost includes system design, building permits, and connection to the local power grid by a licensed electrician.
That said, the actual estimate for a Tesla Solar Roof will depend heavily on the overall complexity of the roof including things like the number of chimneys, dormers, and valleys, the number of layers of old shingles, condition of the roof deck, etc.
For larger and more complex roofs, the upfront cost can easily exceed $100,000 for a new Tesla Solar Roof with multiple battery packs, before the Tax Credits and local incentives.
All in all, we estimate the current cost of a Tesla Solar Tile Roof to be between $30 and $40 per square foot installed. This price includes the removal and disposal of the old roof, installation of the Tesla solar glass tiles, and the accompanying Tesla Powerwall battery.
Tesla Solar Roof vs. the Cost of a Traditional Roof with Solar Panels?
According to RoofingCalc.com, a traditional roof like asphalt shingles can cost between $3.50 and $7.50 to install on a typical house. Most homeowners can expect to pay between $8,000 to $13,200 to install midrange shingles on typical 2,000 to 2,200 sq.ft. roof.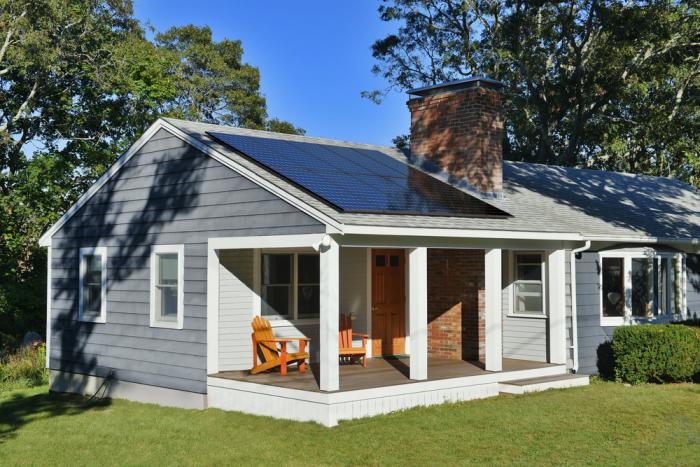 To install a 10kW PV solar panel system, it will cost approximately $28,000. Thus, the total cost of getting a new roof coupled with a 10kW PV system is approximately $40,000.
In other words, Tesla solar glass tile roof costs between 50% and 100% more than a traditional roof integrated with solar panels. The larger the roof size, the greater the relative and absolute difference in price between the two systems will be.
How Long Does It Take to Get a Tesla Solar Tile Roof?
The current estimated wait time is between 30 days to 6 months for Tesla to begin the installation. However, don't be surprised if it takes longer to get your new Tesla solar roof after you place the order, as Tesla has been pushing the wait times in the past while iterating on different solar tile roof designs since 2016/2017.
With the recently completed trial of the SolarCity Acquisition Lawsuit against Elon Musk at the Delaware Chancery Court, it's not clear what the ultimate fate of the Tesla Solar Roof will be, given that Tesla's Energy Division has been unprofitable thus far. As the trial concludes, there will likely be less pressure on Elon Musk to deliver on the promise of the Tesla Solar Roof, so the long-term future of this highly hyped product is still a bit murky and unclear at the moment.
Are there any compelling alternatives to Tesla Solar Roof?
Yes, there are some compelling solar tile alternatives to Tesla Solar Roof. In the US, the top solar tile options are available from Luma Solar, SunTegra, and CertainTeed Apollo.
Luma Solar tiles, for example, present a complete roofing system comprised of heavy 24-gauge galvanized steel tiles combined with monocrystalline solar cells. Luma solar tiles are extremely durable and rated to withstand category 5 hurricanes.
When evaluating which solar system will deliver the best value for the money, it's helpful to know upfront that you will be paying a significant premium with a solar tile roof. That said, if you are interested in a slick design, we recommend comparing the price and wait times for a Tesla solar roof to other options like Luma Solar.
Regardless of which option you choose, your installer will need to obtain a building permit and a site plan before the installation can take place. 24hPlans specializes in providing site plans for building permits including solar system designs.
24hplans has team of highly trained, professional architects and drafters who can prepare any kind of site plan in the shortest amount of time possible, so that you can easily obtain that building permit and get on with your project. Use the promotion code: 24hplans-20off to get a 20% discount off any package. — Please note this is a limited time offer, exclusive to the readers of our blog. This offer is not being advertised anywhere else.