Are you planning to elevate or raise the roof, add a dormer, or change the existing roof line on your property? If so, then read on to explore the costs, planning, and ROI on changing your existing roof architecture and design.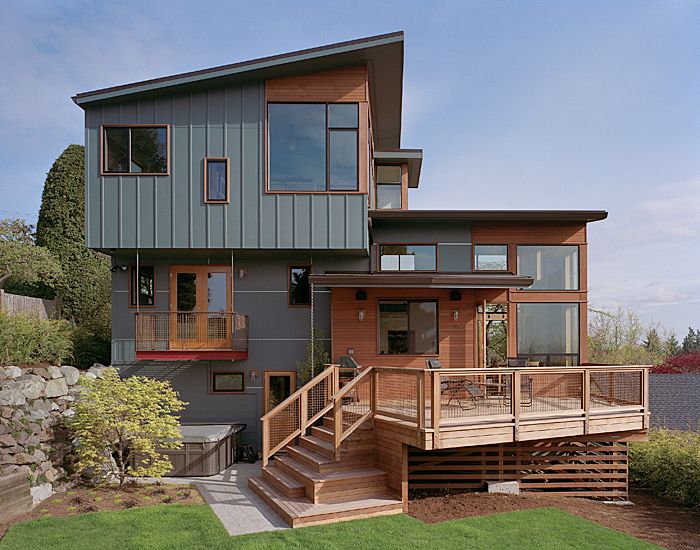 This guide covers the cost of raising a roof, adding a dormer or changing a roof line on your home when you want to:
Raise the roof to create more cubic feet of space beneath it
Raise the pitch of a roof from flat or low slope to something steeper for aesthetic and practical reasons
Add a second floor (new top story) covering part or all the home
Add a dormer to an existing top floor to change the look of your home, add light and gain headroom inside the dormer
We give brief details about how each project is pursued. Costs are itemized for those of you that like to know exactly where your remodeling dollars are going. If you prefer the "big picture," total costs are included after the detailed summary.
We also include the ROI, or Cost to Value return for these types of home remodels. This represents how much you'll get back of the money you spend. For example, if you spend $100,000 on a project and the ROI/cost-to-value is 60%, you can expect the sale price of your home to increase by about $60,000.
Of course, ROI doesn't affect how much you'll enjoy your home and has little relevance for those not planning to sell anytime soon.
Reasons to Raise the Roof or Change the Roof Line
Making one or more of the changes outlined here is common if:
You like where you live, but your home doesn't meet your changing needs or you want to improve its appearance
You prefer to design the space and finish it to your tastes
The changes can be made for less money than the total cost of upgrading to another home. Moving involves realtor fees of up to 8% on the home you sell, moving expense, the higher cost of the new home and possible remodeling costs to make it what you want it to be. Another option is paying a premium price for a home already remodeled.
Those are powerful incentives to invest in your current home instead of moving to a larger home. Let's go through the four options for changing your home's roofline – A top-floor addition, a dormer, making more of existing attic space and changing the pitch of the roof.
Part 1: Raised Roof Cost and ROI
For years, 8' ceilings were standard. Some older homes have 7' ceilings. Today, ceilings from 9' to 12' are preferred. Let's explore what it takes to raise a roof to extend interior wall space. Itemized costs are included for each step. The total costs and the return on investment (ROI), also called cost-to-value in the remodeling industry, for raising a roof is listed below.
There are six separate cost sections for raising a roof:
Planning and permits
Removing the exiting roof
Framing the extended wall and installing the roof
Roofing and siding
Finishing the space
Total Cost and Cost/Value ROI
Costs of Planning and Permits for a Raising a Roof
The new structure must be built properly to retain stability. This will include adding full-height studs to the wall and/or sheathing the exterior with plywood or OSB that bridges the existing wall and the new wall. — This eliminates what structural engineers cause a "hinge" in the structure, a place where the lower wall and upper wall meet with nothing to tie them together.
$250-$1,000 | Consulting a structural engineer or architect to design the new wall system to maintain its strength
$99-$500+ | Having a site plan made to submit to your local building or development department or to your homeowner's association to get permission or a building permit for the project. The site plan shows how your home will be modified.
Did you know? Well-devised site plans are an integral part of any building and construction permit application process. You can get a professional site plan drafted by 24hPlans.com. Use the following code: 24hplans-20off to get a 20% discount off any package. Note, the above 20% discount code is exclusive to the readers of this blog. It's not being promoted, mentioned, or advertised anywhere else.
$450-$1,000 | You'll need a building permit. The cost of the permit will be determined by what it covers, with construction (framing and finish) and electrical being the most common when simply raising the height of the walls/roof.
Cost of Removing the Roof
Stick-built roof structures, common in older homes, are usually demolished and discarded, though if they've been sheathed recently and the newer plywood is in good condition, it can be reused.
Truss-framed roofs can often be separated and lifted off the home to be reinstalled after the upper floor addition is built.
Another option is to remove the roofing material and the roof sheathing, and then take down the trussed individually for reuse. As you can see, there are many options based on your specific home remodeling plans.
Here are itemized costs based on what you do. Simply demolishing the roof structure is the cheapest way to remove a roof, but with little or no material saved, the cost of constructing the new roof will be higher. The opposite is true too – carefully removing sheathing and having the trusses removed with a rented crane or by hand for reuse costs more, but significantly lowers the cost of materials for the addition.
$4-$7 per square foot | Demolishing the roof structure and disposing of the material
OR
$6-$12 per square foot | Removing the roof sheathing and trusses for reuse
Cost of Framing the Extended Wall
Once the roof is off, the upper wall section can be built. This work must go quickly when rainy weather is a possibility because the home below is fully exposed to the elements. For this reason, a large crew is used, and a lift is employed for getting wall sections, trusses and materials into place for installation.
$14.00-$21.50 per square foot | Cost of framing the wall. The cost varies based on whether the walls are 2×4 or 2×6 construction and the method used to tie the existing and new wall sections together.
Cost of Re-roofing the Home and Siding the Exterior
Once the wall is extended, reused trusses or a new roof system can be installed and sheathed. Chimneys, vents and stacks, if there are any in the space, will have to be extended. Then, the roofing materials and siding can be installed.
$15.00-$20.00 per square foot | Installing the roof plus roofing and siding materials (costs are higher for brick siding and high-end roof materials such as tile and slate)
Cost of Finishing the Space
If the extended wall is just covered with drywall and painted, the cost will be low per square foot. If you add crown molding ($$), wood or faux stone wall covering ($$$) or windows for natural lighting ($$$-$$$$), the cost of finishing your wall addition will rise.
$5.50-$16.00 per square foot | Finishing the extended walls
Total Cost and ROI:
$48-$72 per square foot | Cost of raising a roof to extend interior ceiling height
Roof raising ROI: 47%-53%
The bottom line is that while raising your ceiling height can dramatically affect the appearance of your home, there isn't a high ROI because it doesn't add significant practical value to your home.
Part 2: Increasing the Pitch of your Roof – Costs and ROI
Flat and low-slope roofs are prone to leaks, and depending on the style of your home, might not enhance its aesthetics. Raising the roofline to increase the slope and add the visual appeal of a raised or cathedral ceiling solves both issues. If the home has gables, then they must be extended to fit the new roof line.
Since most of the costs are the same as those in Part 1, they're listed without detail:
$250-$1,000 | Structural engineer or architect fees
$99-$500+ | Site plan — Get one at 24hPlans.com
$450-$1,000 | Building permit
$5-$8 per square foot | Removing the roof structure
$14.00-$21.50 per square foot | Cost of extending gable walls
$16.00-$22.00 | Building the new roof structure
$15.00-$20.00 per square foot | Installing roofing and siding
$5.50-$16.00 per square foot | Finishing the extended gable walls
Total Cost and ROI
$60-$86 per square foot | Cost of raising the pitch of the roof
$74-$98 per square foot | Cost or extending wall height (Part I) and increasing roof pitch (Part II)
Increasing roof line pitch ROI | 50%-54%
This project doesn't return a lot of bang for your buck either. While it does improve the curb appeal of a home and reduce the risk of damaging leaks and expensive repairs, changing the roof pitch just doesn't have the same value as adding usable space such as a bedroom, bath, bonus room, etc.  
Part 3: Second Floor Additions/Upper Story Additions Cost and ROI
Adding a story to your home gives you multiple options for making use of the extra space. There is a lot of itemization in this section; total costs are listed at the end of the section. The return on investment (ROI), also called cost-to-value in the remodeling industry, for many popular second floor additions. We've covered some of the costs involved:
$250-$1,000 | Structural engineer or architect fees
$85-$500+ | Site plan — Get one at 24hPlans.com
$450-$1,500 | Building permit. The cost of the permit will be determined by what it covers, with possibilities being construction (framing and finish), electrical, plumbing and mechanical/HVAC. The size of the addition is also a factor – the more square feet of space to inspect, the higher the cost will be.
$4-$12 per square foot | Removing the roof structure, depending on whether the roofing material will be reused
Now, let's explore the additional costs of adding a second story.
Cost of Adding Structural Support for a Second/Upper Floor (If required)
Many homes, especially those built in the last few decades, can support an upper-story addition without significant structural changes. However, some homes do require strengthening before building the addition can begin. These two support items are if needed. The structural engineer or architect will make the determination, and your local building department will have to approve your plans:
$5-$10 per square foot | Adding foundation supports to the home. These might include expanding the entire foundation or adding support piers at strategic weight-bearing locations. Another or additional option might be to add support beams and posts in the basement that will allow the home's weight to be increased.
$1.00-$2.25 per square foot | Adding joists to the existing ceiling to support the new upper floor plus the roof.
Cost of Framing the Second Floor (or Higher)
If the roof is stick-built rather than a truss system, then ceiling joists will be in place. A deck will be installed on the ceiling joists, and the upper floor will be built on the deck. When trusses are removed, then ceiling joists must be installed before the deck is installed and the upper floor is added.
$20.50-$30.00 per square foot | Cost of framing an upper-level addition, a staircase to reach it and the roof structure. The cost is higher on the spectrum for a third story than a second floor and for additions with dormers, very steep pitches and multiple peaks and valleys. Reusing materials will produce a cost lower on this spectrum.
Cost of Re-roofing a Home and Siding the Addition
Once the walls of the addition are up and the roof deck is in place, the chimney, vents and stacks can be extended. Then, the exterior of the new floor can be finished with siding and roofing material.
$15.00-$20.00 per square foot | Installing roofing and siding materials (except high-end materials)
Popular Upper Story Additions and their Cost
The costs include:
Windows
Insulation
Electrical
Plumbing
HVAC
Lighting
Drywall
Painting
Flooring
Doors and trim
Bathroom and lighting fixtures, appliances, interior walls and other details needed to finish the space exactly the way you want it
Now, here are the square-foot costs of popular second floor / upper story additions when the cost of the finished interior is included:
$75-$150 per square foot | Bonus room/rec room/home theater/kid's playroom/home office addition – one room with an open floor plan
$100-$175 per square foot | Family room with one bathroom
$130-$200 per square foot | Bedrooms and one basic bathroom
$145-$225 per square foot | Guest/in-law apartment with kitchenette, bath and simple laundry
$155-$275 per square foot | Master bedroom suite with amenities such as a walk-in closet and jetted tub
These prices are for materials that are average to above-average quality. You can always spend more for premium fixtures, flooring, windows and other materials that drive up cost into the $300+ range per square foot.
What about home addition ROI? Here are the cost-to-value comparisons for these upper-floor additions:
Bonus room, etc. with mostly open space: 69%
Bedrooms, 1 bathroom: 71%
Guest apartment: 71%
Average master suite: 65%
Upscale master suite: 60%
Part 4: Dormer Cost and ROI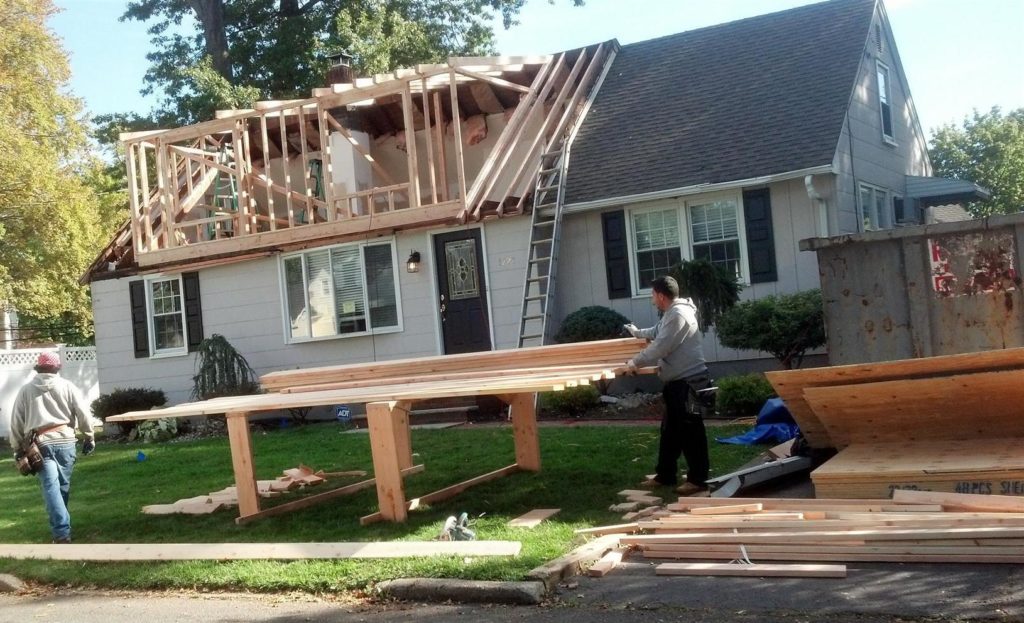 Dormers don't increase the square footage of the space, but they raise the roof above it, so the space is more usable. Popular uses of the space are as a sitting/reading nook, kid's play space, dressing area, small bedroom, walk-in closet, small office and storage area. Dormers also allow light into the space, provide a view and improve the aesthetics of a home.
A building permit is required ($450-$1,000), and you must have an architect design the plan for your dormer ($250-$500). However, foundational support probably won't be needed. At most, the architect might require adding a support beam beneath a very large dormer.
If you'd like to explore your options for dormers, this guide from RoofingCalc fully explains the ten types of roof dormers, their cost and pros and cons: https://www.roofingcalc.com/top-10-roof-dormer-types-and-costs/
Here's a brief itemization of construction costs per square foot. Complete dormer costs are below:
Removing roof material and cutting the roof deck: $3.25-$4.50
Framing the dormer: $19.00-$32.00
Siding and roofing materials installed: $15.00-$20.00
Finishing the interior: $50.00-$110.00
The higher cost per square foot to frame, side and roof dormers compared to additions is due to their smaller size.
Dormers: Average Total Cost and ROI
Where your dormer falls on the spectrum below will be based on the style of the dormer, the quality of the windows and the building and finishing materials used.
$90-$160 per square foot | Average total cost for dormers
52% to 58% | Average dormer cost to value
Dormers are a Top 10 home remodeling project on many lists. This explores other popular home remodeling ideas that could make your home more usable, enjoyable and valuable: https://www.24hplans.com/top-10-home-additions-plus-their-costs/
Note:
24hplans has team of highly-trained, professional architects and drafters who can prepare any kind of site plan in the shortest amount of time possible, so that you can easily obtain that building permit and get on with your project. Use the promotion code: 24hplans-20off to get a 20% discount off any package. — Please note this is a limited time offer, exclusive to the readers of our blog. This offer is not being advertised anywhere else.