Would you like to renovate your condo or home? There are two hurdles right out of the gate:
Follow the rules outlined in the Covenants, Conditions & Restrictions (CC&Reviews). It is the legal document spelling out what changes you can make to your condo or house (site condo).
Follow HOA guidelines for submitting a proposal, so they'll approve your project in a timely manner.
The Role of the HOA
You've heard the saying, "It's easier to beg forgiveness than get permission."
That won't fly with an HOA. Homeowner's associations are sticklers for compliance. It's one of their primary reasons for existence.
It is critical to follow the CC&Rs, described below, and to get approval for changes when necessary from the Homeowners Association.
The HOA is the final arbiter when interpreting the CC&Rs about what can and cannot be done with the property.
Fair warning: Every year, homeowners are sued by their HOA, and most of the time, the HOA wins. The suit usually ends up costing the homeowner a lot of money in legal fees and possibly even more if changes must be made to a completed project.
What's In This Guide
It begins with information about HOAs and their governing document.
Then we address common vs. individual property, and how that affects condo remodeling and exterior changes too.
Finally, the guide will help you get the HOA's approval, if needed, for a project that will make your condo more of the home you desire it to be.
HOA Covenants, Conditions & Restrictions: What Are They?
According to the legal website NOLO, "The CC&Rs are the rules of your neighborhood."
It is the legal document governing property use within a covenanted community. CC&Rs describe:
What you own vs. what is property held in common, and
What you can do with either type of property
The CC&Rs stipulate what kinds of renovations and changes can be made, and how you should proceed with them.
Within the Rules and Regs, you will likely find Architectural Guidelinesaddressing what changes to the architecture or structure of the condo or home can and cannot be made.  
Rules & Regulations, sometimes called By-laws.
The Rules & Regs or By-laws typically cover things not covered in the CC&R document. These might include matters like appropriate outdoor paint colors, decorations, pets, parking, use of common areas and other issues that impact all homeowners.
The Covenants, Conditions & Restrictions are harder to change than By-laws, and that's why they are separate documents. But both might have relevance to your proposed renovation project.
Read both documents before you start the planning stage. There's no use dreaming about and getting estimates for alterations that are not permissible.
Do you Have the Documents?
They are usually made available to potential buyers to review before purchasing a condo or home in an HOA. Copies are included with closing documents. If you no longer have them, your HOA should provide you with copies.
Questions? Who to Ask
If you have questions regarding the information in the documents, ask them to a member of the HOA board or the management company tasked with overseeing such projects.
Individual vs. Common Property
One critical factor defining changes that can be made to a condo and who decides them is ownership– What property is individually owned by you and what is owned in common. You'll find clear guidelines in the CC&R document.
The general rule for a condominium development with attached dwellings is that the structure including common walls is commonly owned.
What's inside is yours. You have much more freedom with what's inside than you do with what is common/outside.
The table below shows common ways of differentiating. However, we're not making any legal claim about this. Each HOA is different, so again, read the docs!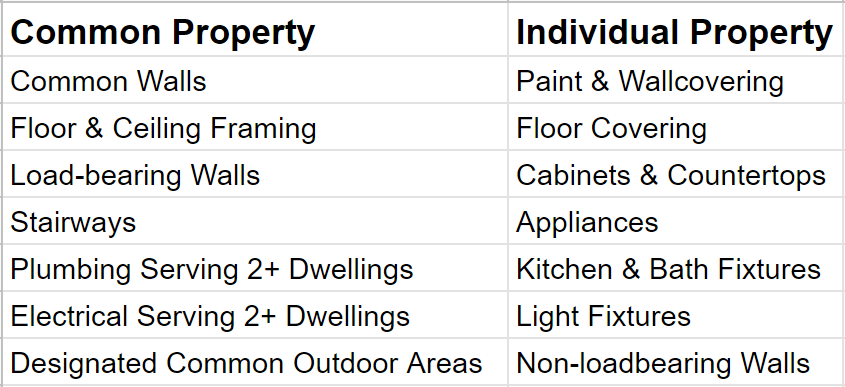 Do You Need HOA Approval for Condo Renovation?
The table above gives guidelines. In general:
Approval IS Needed For Changes to: The dwelling structure such as roofline or footprint, exterior siding and roofing, plumbing and electrical affecting multiple dwellings, doors and windows, use of open spaces for a deck, patio, shed, power generator, fence or pool.
Approval IS NOT Needed For Changes to: Interior colors, lighting, bathroom and kitchen countertops or fixtures and flooring.
Don't Assume: We encourage you not to assume that if it's outside and not part of the structure, you can alter it as you please. Or that if it's inside and in the "Individual" list above, there are no rules about renovations.
Those common assumptions lead to confusion and conflict in many HOA neighborhoods. Read the documents to be sure, and consult an HOA officer or someone in the property management office if you have questions.
Steps to Getting Condo Renovations Approved
While the paths to permission are similar for outdoor and indoor projects, there are a few differences.
Outdoor Projects: After you read the legally binding documents and have questions cleared up by those in the know, these are the general steps.
Plan your project to meet HOA guidelines. Stick to the exact specifications. For example, if a fence is allowed, make sure your proposed fence meets guidelines for height, length, material, color, style and placement on the property.
Get estimates from local fence contractors. The reason for this is that sometimes the cost exceeds your expectations, and you have to reduce the scope of the project. Or, of course, it might cost less than you expected, and you might want to do more. It's better to know this before submitting your proposal.
Have a Site Plan professionally drawn that can be used to show proposed alterations to the property. Site plans vary in detail.
To be approved by an HOA, your site plan, called a plot plan in some areas, should include:
1. Street locations and names
2. Directional arrow showing North
3. The engineering scale used (e.g., 1 inch = 5 feet)
4. Property boundaries with dimensions
5. Common areas affected such as green space and parking areas
6. Existing buildings and other man-made features
7. Distances of buildings and other improvements from the property lines
8. Proposed changes to the property
The last line is the key. What are you proposing you do with the landscape that either borders other property or can be seen by other homeowners?
Include details of the proposed changes, such as size and height of a deck or patio, height and length of a fence, location and size of a shed, dimensions of a pool and the security fence surrounding it.
Whatever project you're seeking permission to do, the more information you supply, the less hassle and time wasted.
Indoor Projects: Steps 1 and 2 are the same as above for Outdoor Projects. Follow the rules in the CC&Rs, and get estimates, so you can revise your plan if needed.
For step 3, a professionally drawn floor plan (aka, floorplan) will be required. The floor plan will show the proposed changes to the interior of your condo or home.
2D vs. 3D Site Plans
If your project is a pool, deck, shed, etc., then a 2D site plan offering the "view from above" is the right type.
When the project involves remodeling the exterior of the building – siding or paint (or both), roofing, doors & windows and similar, a site plan known as a 3D rendering or exterior rendering might be required.
It will show the home or condo after changes have been made. Some are photo-realistic and very useful.
As with site plans, both 2D and 3D floor plans can be produced. Some HOA committees might want both types to review.
Where to Get a Site Plan or Floor Plan
The most affordable path to a professional site plan or floor plan is to use a company like 24hPlans that specializes in producing these drawings.
The drawing will be accurately and clearly rendered at a fraction of the cost charged by architects and design engineers – and available within 24 hours on most occasions.
Follow HOA Guidelines for Submitting Proposals
The steps just given are common to most HOAs.
Your homeowner's association will give more detail about submitting a condo renovation proposal and what documents must be included with it.
HOA Approval: Yes, No or Maybe
The homeowner's association will need several weeks to a month or more to review and decide on your proposal.
If it follows the CC&Rs to the letter, then approval should be granted. That's a Yes.
If it errs in a significant way, your proposal will be denied. That's a No.
If the information is unclear or incomplete, then there will be more work to be done. That's a Maybe.
Once supplied, "maybe" often becomes "yes."
Once Approved – What Are the Rules?
There are rules about everything! Of course, they are for the protection and well-being of the community. You'll benefit from them when your neighbors undertake renovations of their own.
The Rules & Regulations is where you'll find information on how the work must be carried out. The level of detail varies but might include:
Only using licensed, insured contractors (and supplying copies of their license and insurance)
Pulling permits when required – and posting them in plain sight
Contractor workday limits, such as 8AM to 7PM
Where work vehicles must be parked
Where dumpsters and port-a-potties must be located
You get the point. Lots of rules and regs. Run afoul of them, and your HOA might (threaten to) fine you.
You'll also want to be a good neighbor and inform home and condo owners around you of what work is to be done and how long you expect it to take.
Get your Ducks in a Row
Distilling this information down, here's your path to successfully getting HOA approval for condo renovations:
Know what is allowed, so your project will meet the criteria.
Put your proposal together with a site plan or floor plan.
Have a list of specific materials to be used (and bring paint chips, flooring samples, a piece of decking and that type of thing).
Propose a general timeline, which contractors should supply when giving you estimates.
Give the name and credentials/documents of your chosen contractor, if you've chosen one.
And finally, get started early. For example, if you're planning an outdoor renovation, then submitting the proposal in winter makes sense. Wait until April, and there might be a backlog of proposals that can push back approval for months.
All the best on getting HOA permission for your project!
Note:
24hplans has team of highly-trained, professional architects and drafters who can prepare any kind of site plan in the shortest amount of time possible, so that you can easily obtain that building permit and get on with your project. Use the promotion code: 24hplans-20off to get a 20% discount off any package. — Please note this is a limited time offer, exclusive to the readers of our blog. This offer is not being advertised anywhere else.