To property owners and developers who ask, "how do I draw a site plan?," this guide answers with, "let us count the ways!"
There are a handful of DIY site plan options, and one of them is sure to be a good fit for you. If not, we've got alternative suggestions for letting an experienced drafter do the work for you.
This guide does four things:
We suggest where you might find an existing site plan for your property.
The post explains what information is needed on a site plan and where you can find it.
It discusses the most common DIY plot plan drawing options.
If you decide a DIY site plan isn't for you, we'll tell you where to find a professional site plan at an affordable cost.
What we don't answer, here are the basics, such as what is a site plan is and why you need one, explained here: https://www.24hplans.com/what-is-a-site-plan-plus-12-elements-of-plot-plan/
Does a Site Plan Already Exist?
There's no reason to reinvent the wheel, so to speak, if a site plan was made for the property during an earlier phase – perhaps the initial building of the home.
In our guide called Where Can I Get a Site Plan of My Property, we list the five most common places to locate one, if it already exists. https://www.24hplans.com/where-can-i-get-site-plan-for-my-property/
Here are the places you may want to check to see if the site plan for the property in question already exists:
In the closing documents provided when you purchased the property.
From the title company or bank that handled the closing or provided a loan.
Your county: Try the Registrar of Deeds and the Building Department.
The builder: If the home was recently built and the construction company is still around, it might have a site plan on file.
The seller or realtor involved in the sale.
A Site Plan Checklist
What is included in a site plan? Here's an overview.  For example, the City of Fairbanks, Alaska is representative of most cities in what the officials there require of a site plan/plot plan.
Contact your local city or county office for a site plan checklist. We'll add a brief explanation where needed.
Following the list are a few items that other cities and counties want to see on a site plan.
Scale at which site plan is drawn (for example 1"= 20'). The scale can be adjusted per the size of the lot and local requirements.
North arrow. A north arrow shows the directional orientation of the property.
All property lines and their dimensions. These items can be found on earlier site plans, a survey and other places discussed below. They are readily available, so no worries are necessary.
Location, type and dimensions of existing structures or a driveway including a house and garage, detached garage, shed, inground pool, retaining wall or other permanent structure.
Location, type and dimensions for proposed permanent structures, whether attached to the original home or detached, or driveways.
Setback distances (distance off the property line) of all proposed structures, since each community has required setback distances.
Buildable area of the lot inside required setbacks to show how much space is available for new development.
Names of adjacent road(s).
Well or water main location.
Septic tank and field or sewer line location.
Items not included in the Fairbanks list but required by some cities and counties include topography (topo – not often required) elevation and slope, wetland areas (rare), large trees and utility easements.
Where to Find Information Required for a Site Plan
Dimensions: Dimensions and possibly the location of utility easements, if they exist, can be found on several documents:
Property Survey
Property Tax Assessor's Map located where your taxes are collected or in the city/county offices
Tax Bill (In written form rather than drawn)
Subdivision Plat (available at the city/county office or from the developer)
Hiring a Surveyor (starting at about $300 and usually not necessary)
Structures: A previous plot plan will show the location of permanent structures. The Google Maps satellite function and services like Google Earth and InstantStreetView.com are useful, too, providing aerial satellite views and a 360% street view of the property.
Utilities: Free locating and marking of underground utilities including electrical, fresh water, sewer, phone and cable is available in most areas. This prevents costly damage during construction. Calling 811 should connect you to the free service.
Setbacks: If you don't have a previous plan and they are not shown on the survey, you might need to measure and determine setbacks and building dimensions, when required.
DIY Site Plan Options
Drawing your own site plan ranges from literal hand-drawing to using sophisticated software. Of the latter, there are free and paid options, online and downloadable versions for many.
How to Draw a Site Plan by Hand
Graph paper makes hand drawing a site plan easy. The Fairbanks, AK document gives this encouraging word, "A site plan need not be professionally prepared and can be hand drawn. With a little work, you can draw an acceptable site plan for your project."
Beware that not all local offices will accept a hand drawn plan, but it's worth finding out, if you're inclined to DIY.
The City of New Smyrna Beach, Florida lists 4 easy steps to drawing a site plan. To summarize:
The basics. Choose a scale for the graph paper such as 1 square equals 20 or 25 feet, and note the scale in a prominent place on the drawing. The squares are usually a quarter inch, so your scale might be ¼"=20'.
Then draw the lot lines and place the house, driveway, sidewalk and other permanent structures as accurately as you can. Measure and write in feet the closest distance from the house to the nearest lot line to show the structure (existing or proposed) meets local setbacks rules. Draw your North arrow.
Well and septic. Locate and draw in, if applicable, a well location and the location of a septic tank and drain field, aka leach field, existing or proposed. Note: The distance between the wellhead and drain field must be 75 feet or more in most counties.
Sensitive areas and trees. Locate and mark wetlands, sinkholes, flood plans and bodies of water, if any of these exist on the property. In New Smyrna Beach, like in many cities, large trees (6" in diameter or larger in NSB) must be noted. Measure the circumference at 54" off the ground and divide by pi, or 3.14, to get diameter.
Changes. Show where construction activity will occur – new home building, an addition, inground pool, driveway, etc.
If there is significant slope to your land and you have nearby neighbors, you might also need to show slope and the pattern of water runoff. This might be the largest challenge to DIY site plan drawing.
The Fairbanks guide shows a good example of a DIY site plan.
Using Software to Create a Site Plan
If you enjoy making use of technology and/or hand drawn site plans aren't accepted where you live, free and fee software is available for the purpose.
A search will produce a list of results to explore, but a few we found most useful are these:
RoomSketcher Site Plans (Free)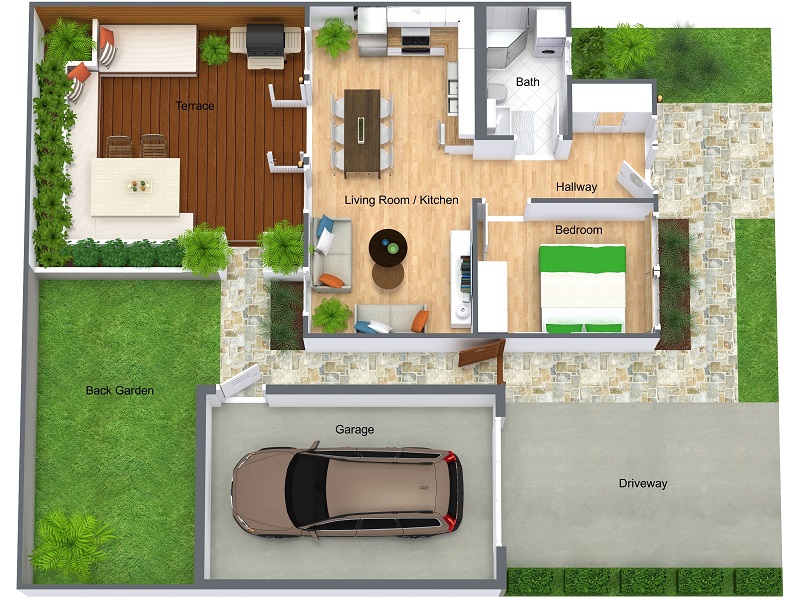 This site allows you to create 2D and 3D printable site plans on a PC, Mac or tablet. It starts with inputting measurements for property line dimensions to create the "framework" for the drawing. Measurements can also be supplied to space objects on the DIY site plan and to show setbacks, zone/structure sizes and total area calculations.
Click, drag and drop elements like structures, landscape items and other necessary elements. Text, labels and symbols can be added too. When the site plan is complete, generate and print it from the RoomSketcher software.
The 3D name, whether with the RoomSketcher or other services, can sometimes be somewhat misleading, since the plans are obviously are two-dimensional. However, using advanced technology, the drawings can have photorealistic depth like the 3D renders from 24H Plans.
Create a Free account
Wait for the RoomSketcher email to confirm your account
Download the RoomSketcher App
Start the App
Choose 2D or 3D Site Plans, and explore
The Free account allows you to create five projects.
SmartDraw (Free)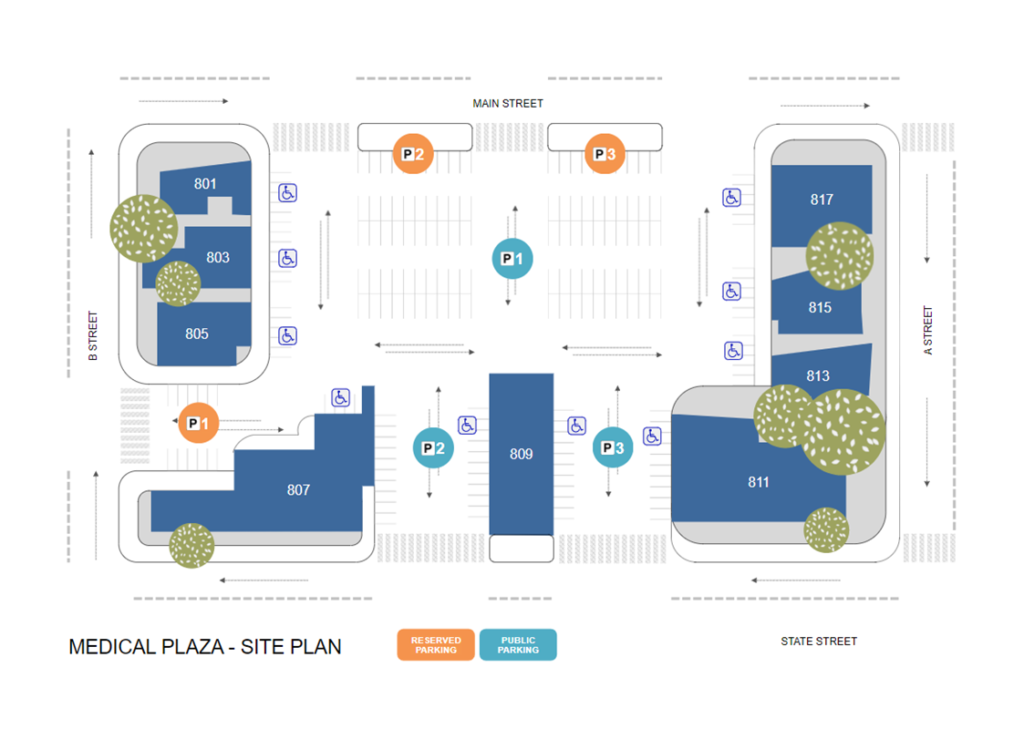 SmartDraw site plan software gets a 5-star rating from CNET. You have the option of using the online edition of SmartDraw, an advantage over RoomSketcher, or downloading an app or desktop edition.
SmarDraw offers integration with Microsoft Office and G Suite, and drawings can be saved to Google Drive, OneDrive, and Dropbox.
A disadvantage is that instead of being allowed 5 free projects, you're given a 10-day free trial period. If you don't complete your project during the trial, the cost is $9.95 per month.
Set up your free account
Download the software and/or work online
Generate your drawing
Print the drawing or export it to another supported format to Visio VSD or VSDX, Google Drive, OneDrive, etc.
Microsoft Visio
This isn't a free service, and plans aren't cheap, starting at $5 per month but with an annual commitment, so $60 minimum.
However, many individuals and companies already have access to Visio, and you can make site plans with Visio. See the lengthy step-by-step process here.
To summarize:
Choose File > New and search Site Plan. Find Site Plan in the results, and choose Create.
Use Tools to draw structures or insert a CAD drawing or copy and paste an existing Visio drawing.
Enter roads, landscape, symbols, text and other features.
Autodesk AutoCAD
A 1-year subscription to AutoCAD is about $1,700. But again, many companies and professionals already have AutoCAD, and a site plan feature is included.
The creation of a site plan with AutoCAD is a little more complex than with the other options listed above. This 9-minute tutorial on YouTube walks you through the process.
Getting an Affordable Professionally Drawn Site Plan
If none of the options above meet your needs, then having a plan drawn professionally is easier and more affordable than you might think.
An address is all it takes: You have to supply nothing more than the address of the property – or if it is vacant land, it's survey coordinates. Companies like 24H Plans take if from there using the most advanced technologies.
24H Plans Team: They are CGI artists and draftsmen specializing in site plans and similar drawings. The specialists use AutoCAD and other leading software options to create site plans of the highest detail, clarity and quality.
They Find the Information for You: Where does 24H Plans get the information needed? From county parcel maps, tax information, GIS and updated satellite images, along with other public records. There is no need for visiting your site.
Your Next Step to an Affordable Site Plan
Now that you know how to draw a site plan and understand your options, which works best for you?
If you're a natural DIYer, then trying one of the free options makes sense – SmartDraw or RoomSketcher. If you have access to Visio, see the page on how to draw a site plan on Visio, and give it a try. AutoCAD is a more complex tool that takes some experience to successfully work with. However, it is a highly accurate and robust tool. It's what the pros at 24H Plans use, but they've mastered AutoCAD and know how to get fantastic results.
While surveyors charge upwards of $1,000 for a professional site plan, the drawings start at less than $100 from 24H Plans – and the results are equal to or superior to what surveyors and civil engineers produce. Contact 24H Plans today, and give them your address. You'll have a professional site plan of premium accuracy and quality in less than one business day.
Note: Here's how we can help: 24hplans has team of highly-trained, professional architects and drafters who can prepare any kind of site plan in the shortest amount of time possible, so that you can easily obtain that building permit and get on with your project. Use the promotion code: 24hplans-20off to get a 20% discount off any package. — Please note this is a limited time offer, exclusive to the readers of our blog. This offer is not being advertised anywhere else.