In-ground pools significantly improve the value of your home. It's true that the cost of building one is nothing to sneeze at, but the fun and enjoyment value you get may be worth the investment for some.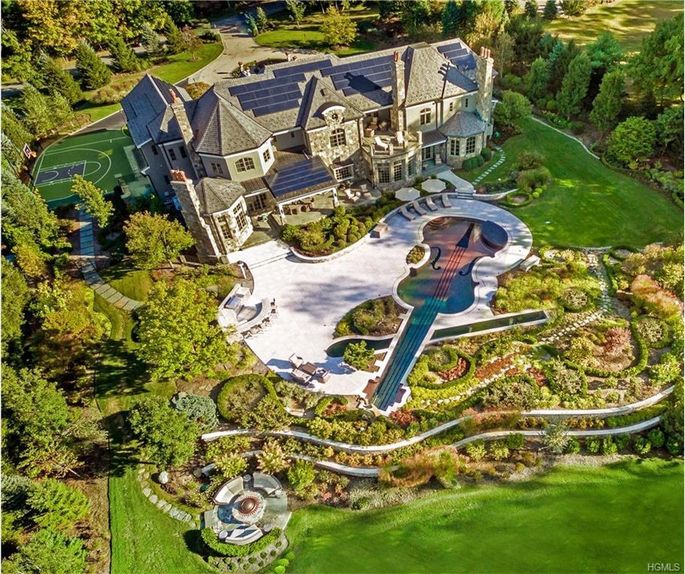 via Cipriano Landscape Design
What to Expect in Terms of Costs
As a rule of thumb, you can expect to pay about $50 per sq. ft. to install a typical in-ground swimming pool. The price goes higher if you want more depth. You also have to take into account additional costs related to accessories like pumps, heaters, ladders and filters, as well as cleaning tools, covers, and chemicals to keep the pool clean.
That being said, most homeowners in the US will pay anywhere from $17,000 up to $50,000 for an in-ground pool depending on its size, shape, materials, and extra features.
Still, the national average is around $25,000 for a 32′ by 16′ in-ground swimming pool. Fiberglass pools will cost more than vinyl-lined ones.
Concrete and gunite pools are significantly more expensive, with an expected price tag of $50,000 to $100,000 for an average-sized pool.
A concrete pool gives you more flexibility with design features. For example, you could build vanishing edges and tanning ledges. On the other hand, the lifetime costs are higher because Concrete Pools Need to be Renovated Every 10-20 Years. — Expect to pay $8,000-$15,000 for resurfacing and retiling.
Now that we established the cost to build an in-ground pool, let's see some awesome designs that you could build on your property.
Amazing Pool Designs and their Costs:
Violin shaped pool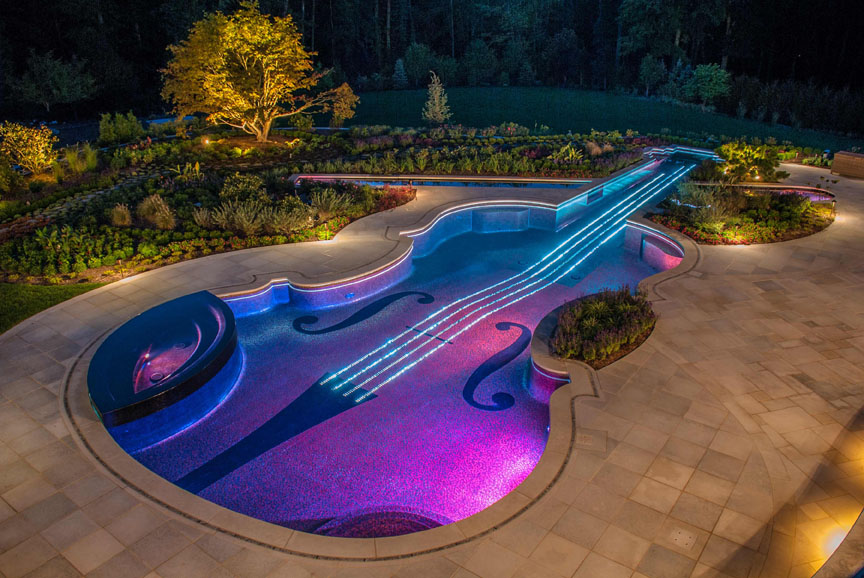 Image via NJ Custom Swimming Pools
It's only fair to open this list with a pool that exceeds all price ranges and expectations. This violin-shaped pool belongs to Jay Dweck, a man for whom money is not an issue, considering he was the head of equity strategies at Goldman Sachs. This pool costs $1.5 million and it was inspired by a Stradivarius that Jay Dweck once owned.
The pool measures 1,300 sq. ft. and the effects were created with 5,600 fiber optic cables that light up the strings.
The pool interior is finished with $500k iridescent glass tiles.
The lighting creates a beautiful artistic effect that makes the pool be more than just a violin shape of concrete in the ground.
Edge luxury swimming pool with waterfall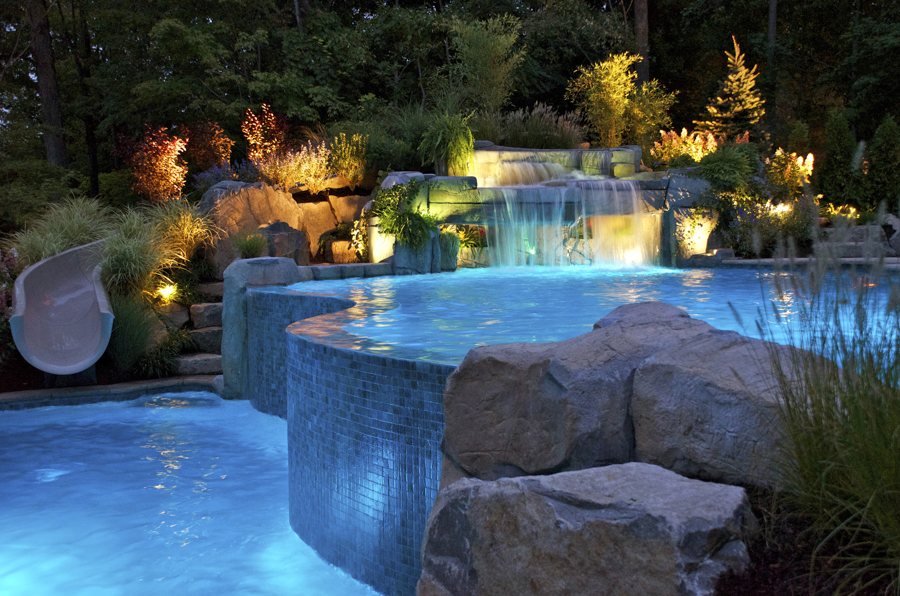 Image via NJ Custom Swimming Pools
Designed by the same firm who built the million dollar pool above, this one costs between $300k and $500k. It is built on 2 levels and it has a waterfall that mixes well with the surrounding landscape meant to recreate natural settings.
The purpose was to make a visual statement and to give you the feeling that you are swimming in the middle of the nature.
Multi level swimming pools are significantly more expensive than regular ones and they usually require more space. However, there is a way to go around this.
Instead of building a cascade like pool as in the picture above, you could build levels starting from the bottom of the pool.
The disadvantage is that you will have different depths but it's a cheaper option. Besides, it's useful if you have small children who could play in the shallow area.
Pool with water curtain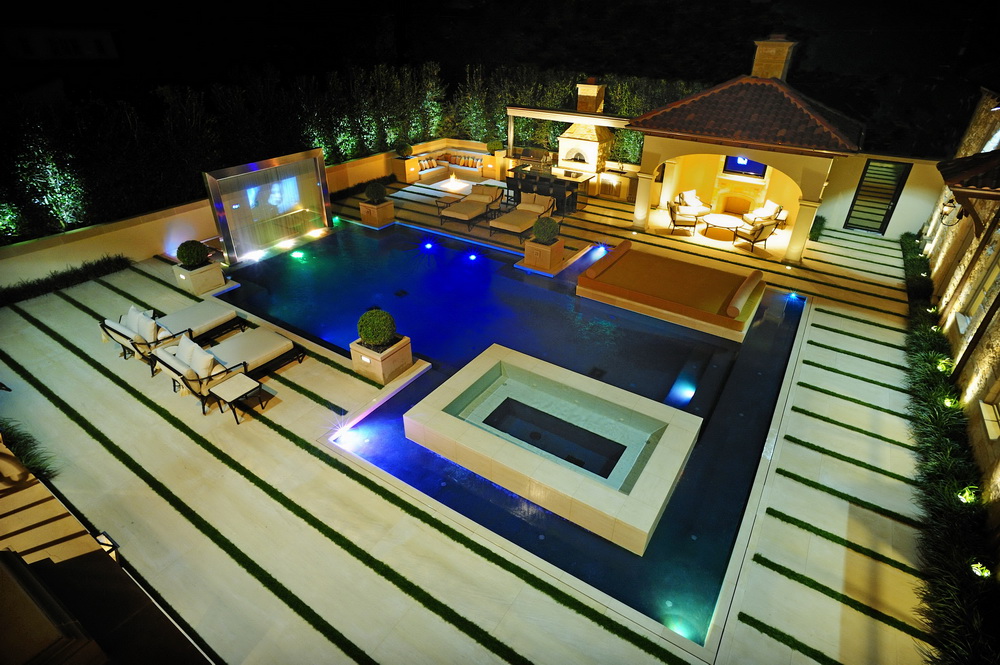 Image via Harold Leidner
The pool is shaped like a T and it's surrounded by a deck.
The rectangle that's closest to the viewer is most likely an integrated spa area. The water curtain you see at the far left side of the picture is the main innovation of the design.
If you take a close look, you will notice the projection of a video. This water screen is used for multimedia shows and laser projection to create a remarkable visual effect.
Swimming pool next to fire pit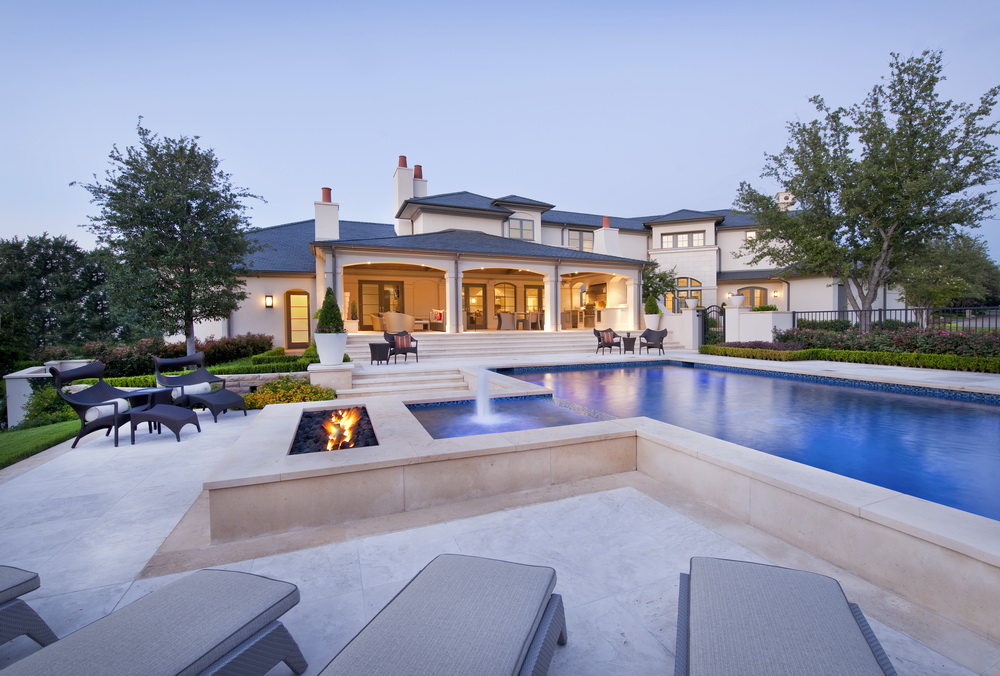 Image via Harold Leidner
The pool is long enough to do laps and it also has features meant for pure aesthetic reasons.
The fire pit for example, is obviously not meant to warm the area. Building a fire pit near a pool is a trend seen mainly in luxury mansions but it begins to spread to regular homes too.
It has an addition where a small jet goes straight up in the air.
The pool is surrounded by concrete walls with tiles on the left side that provide the necessary frame for the fire pit and water fountain.
Moreover, they prevent water from putting out the fire and reaching the steps.
Long two-level pool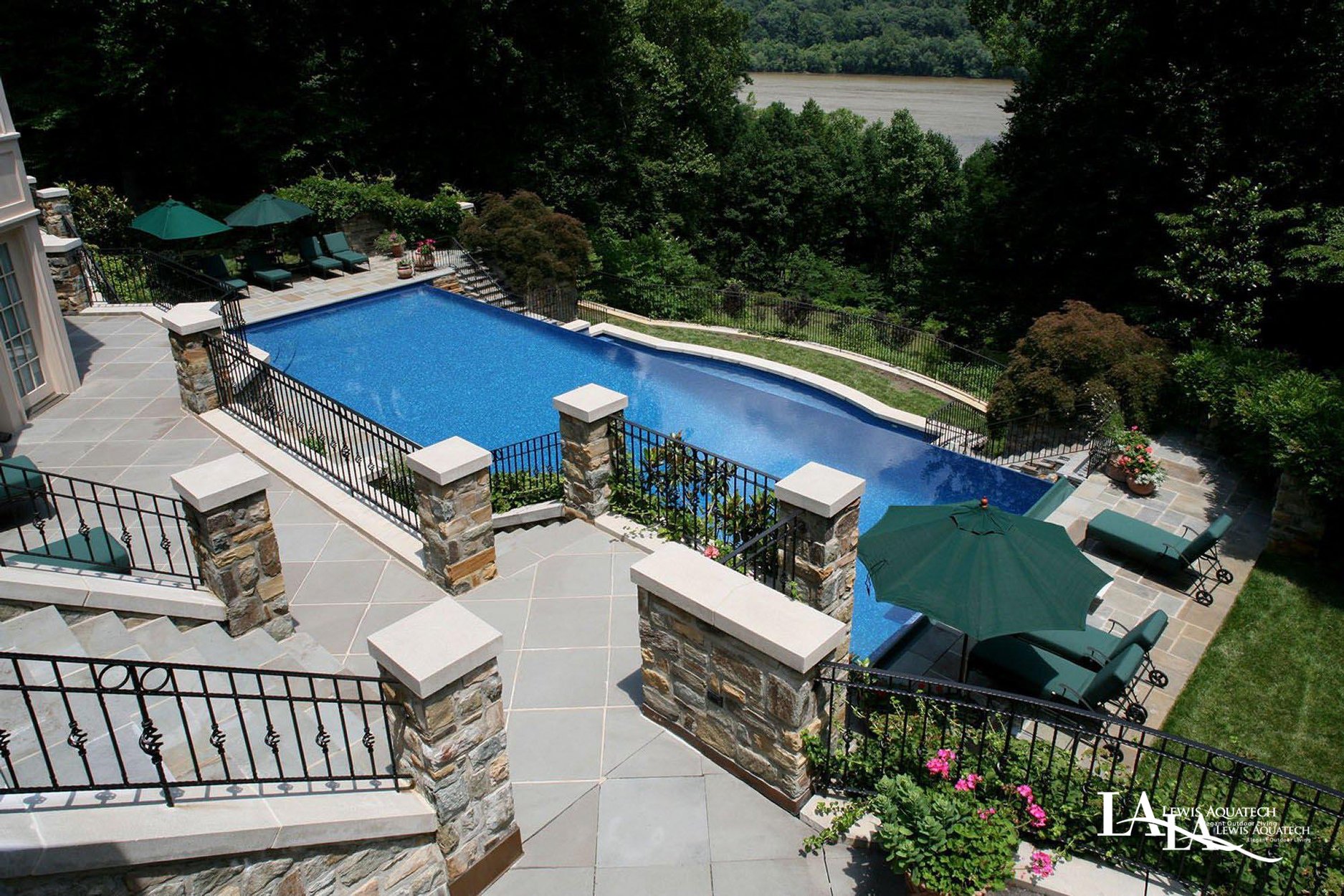 Image via Lewis Aquatech
The lower level of this pool is not clearly seen but if you take a close look you will notice the curved shape near the stairs.
The upper level has a vanishing edge to create a sleek appearance. The length is suitable for lap swimming while the lower level is great to relax on an inflatable float.
The pool adds an elegant architectural detail to this landscape that would otherwise be made of a patio and plants.
Freeform swimming pool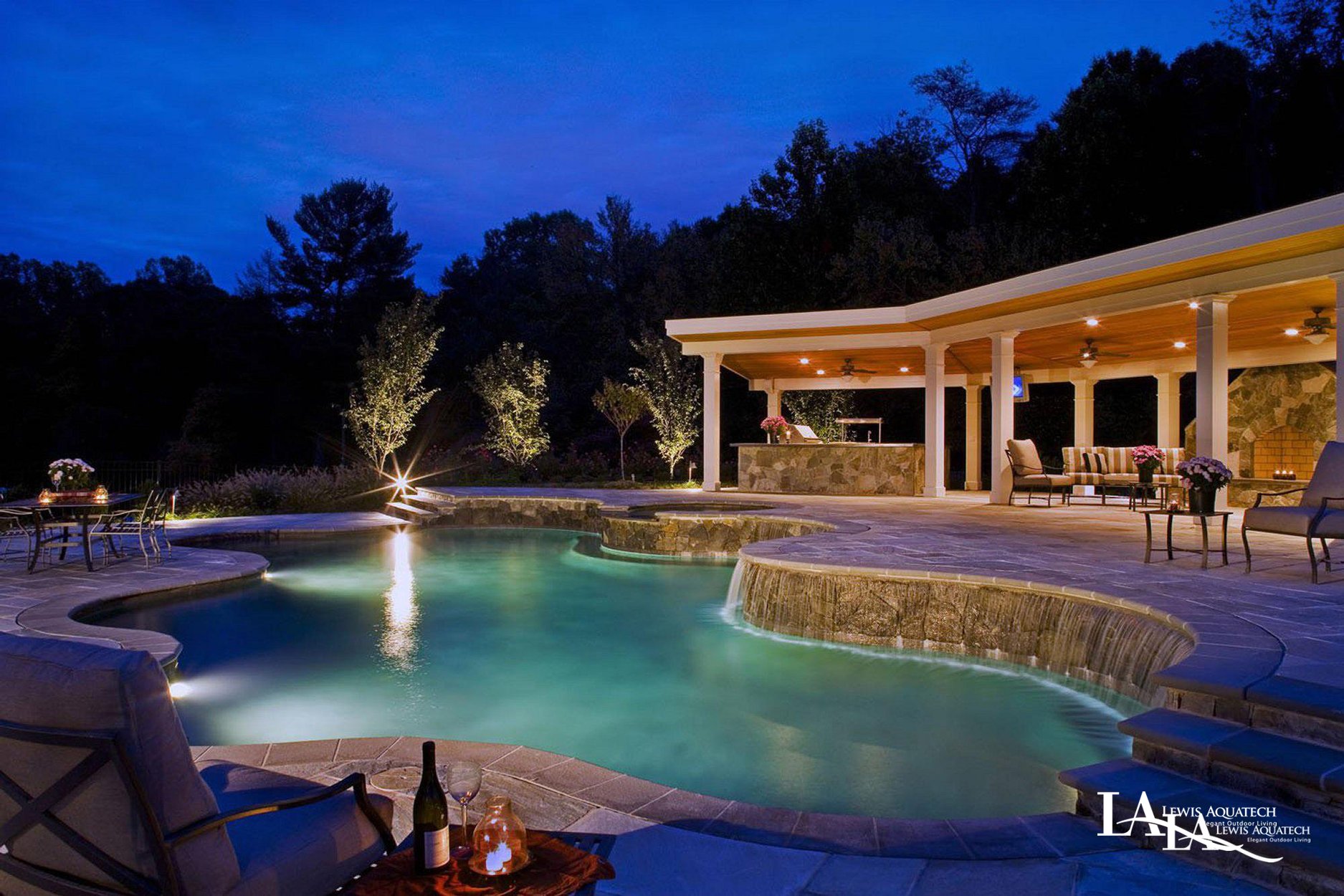 Image via  Lewis Aquatech
The curvy shape is one of the strength of this design. It blends well with the sharp edges of the covered area to the right.
Another perk is the lighting that creates a relaxed atmosphere and makes the water look greenish/bluish.
Look close to the edges of the pool and you will notice thin streams of water that seem to be running down from the rock.
The nozzles replicate this effect quite accurately. Add the natural stone look of the raised edges and you obtain the appearance of water pouring out of rocks.
Narrow lap pool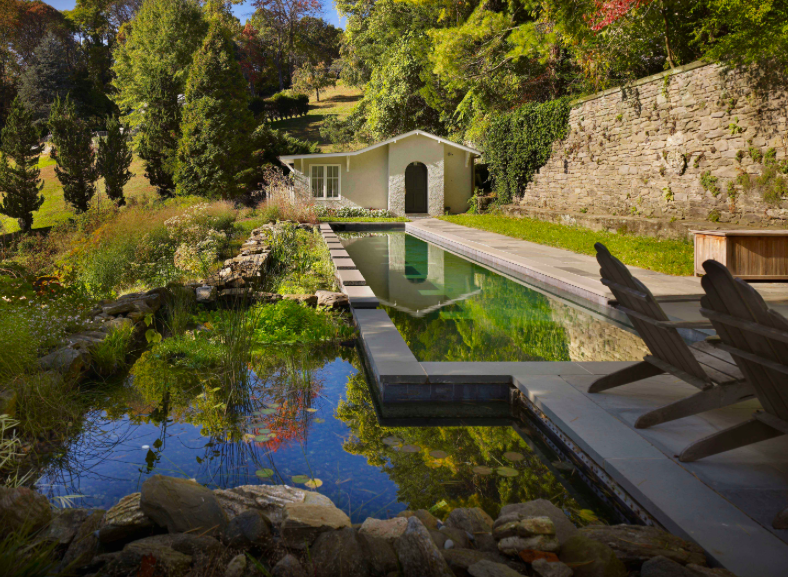 Image via Armond Aquatech Pools
This pool is suitable for long and narrow yards. You don't need a luxury house to build this design. People who train at home will find it to be a valuable investment.
The pool is wide enough for 2 people to swim side by side at the same time. It's surrounded by vegetation and a small pond to make the pool blend with the trees and hills around the house. The swimming pool is made of gunite.
A typical project built by this company starts at $60k but clients usually end up spending $100k-$150k.
Vanishing edge pool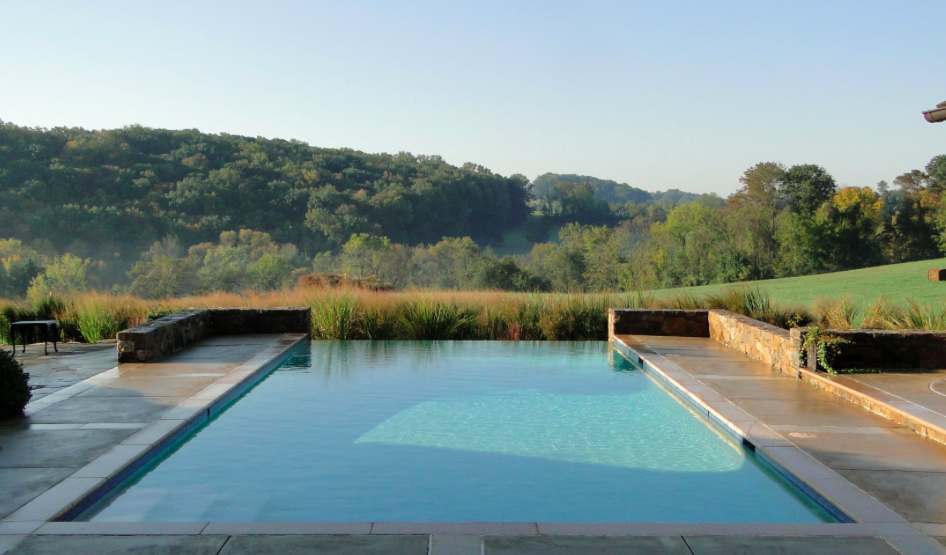 Image via Armond Aquatech Pools
Pools with vanishing edges are very popular these days especially if they're built in areas with breathtaking views. This one is a medium sized edge pool with a rectangular shape.
There are no special lighting effects but nobody prevents you from installing some light fixtures. The pool has access steps in the left corner to make a smooth transition to deeper water.
Also known as infinity pools, these models cost about 20% more than regular ones.
You might need a separate collector tank if the catch basin isn't big enough to support the bather load and make-up water.
Luxury swimming pool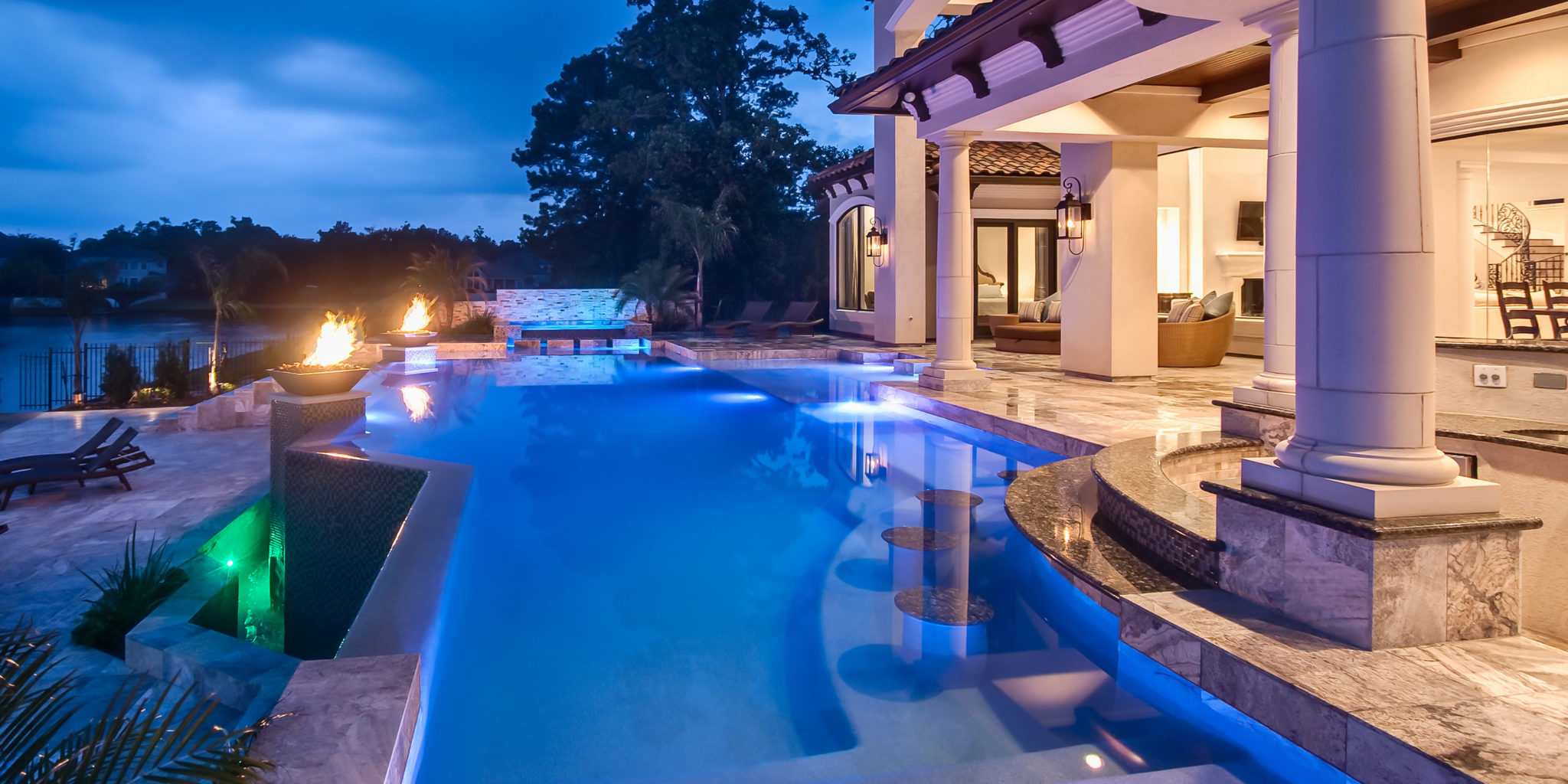 Image via Downunda Pools
This pool has an interesting shape that combines straight and curved lines. It looks like there are 3 seats submerged in the water so that you can relax comfortably with a drink in your hand. The tiles are high quality and pricey.
The 2 fire pits on the edge of the pool make the design more interesting and modern. The lights that make the water look blue contribute to this effect and instantly catch the eye of a buyer who visits the house after dark.
Expensive models come with a control system that owners can use from inside their home or via a mobile device.
You can control that purification system, the lighting and the fire features among other things.
Pond-like swimming pool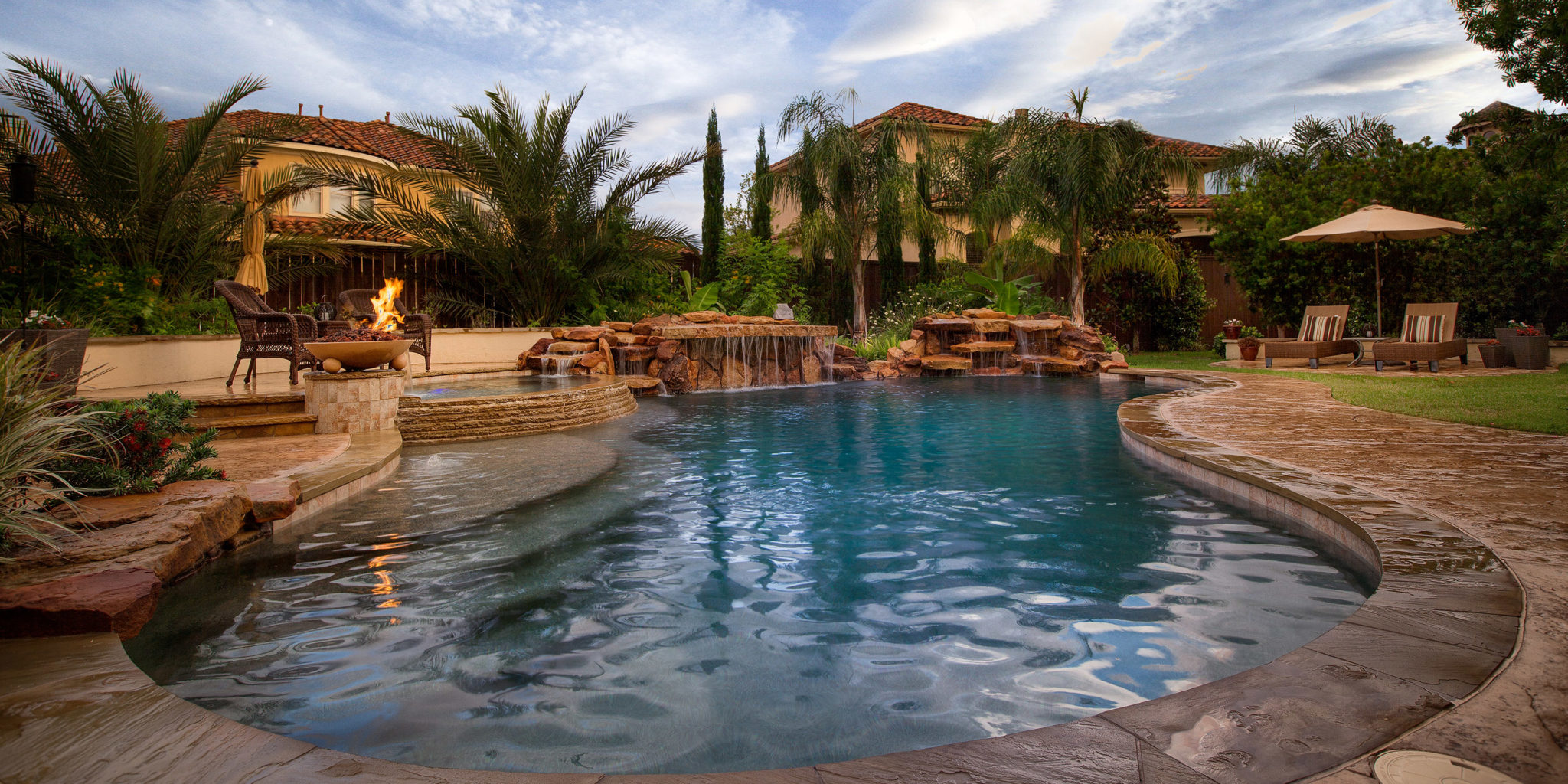 Image via Downuna Pools
This model reminds of equatorial wilderness, much like a lake in the middle of a thick forest.
The pool has a freeform design surrounded by natural stones with waterfalls.
The stones "bleed" water that gently falls down into the pool.
Access is eased via the underwater steps. It's obvious that the pool cannot be used for lap swimming, but yet again it was not built with this purpose in mind.
The main idea was to create a luxurious natural landscape centered around a high end swimming pool.
Indoor pool with spa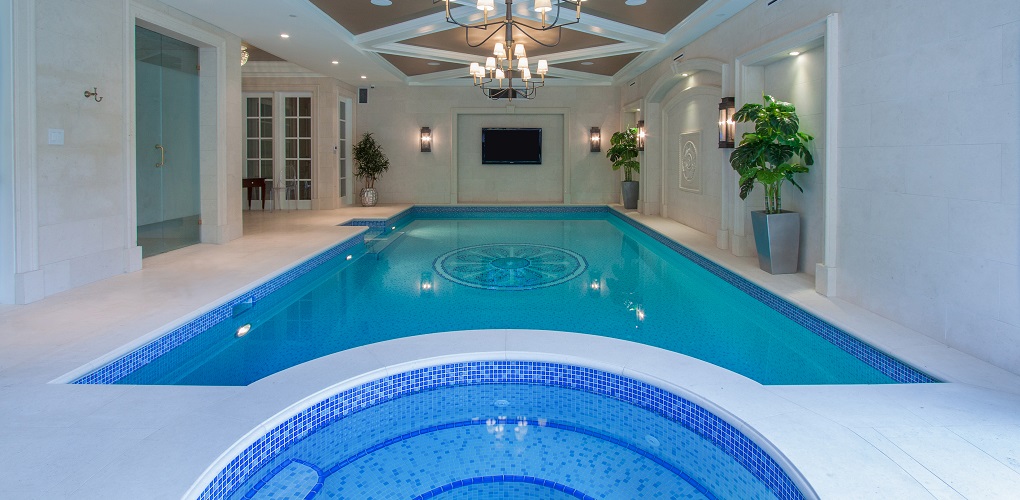 Image via Alka Pool
Some might argue that the indoor location of the pool is a disadvantage but it depends on what you're looking for.
The pool seems to have the right size for recreational swimming, but not training sessions. It has an attached round spa for when you are done with your workout. The pool mostly belongs in spa clubs or luxurious houses.
There is a second option though if you must have an indoor pool. You could build an insulated cover structure over an in-ground pool.
Infinity pool with sheer descent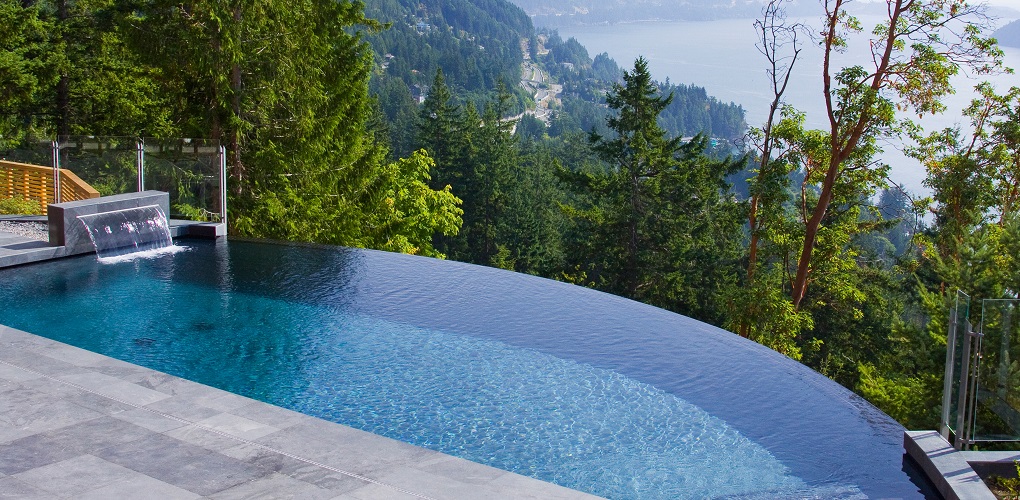 Image via Alka Pool
This a small pool with a vanishing edge and a small waterfall. This time, they didn't try to make it look as natural as possible.
The surrounding view takes care of that while the pool itself provides some contrast. Its modern look combines with the natural environment suggesting two worlds that collide.
The pool is shaped as a circular based arch. You can see that two types of tiles were used: dark blue for the outer edge and lightly colored ones for the bottom.
As for the cascade, the water comes directly from a cement structure through a wide nozzle. Notice how the stream is continuous to match the smooth surface of the water.
Swimming pool with rocks and waterfall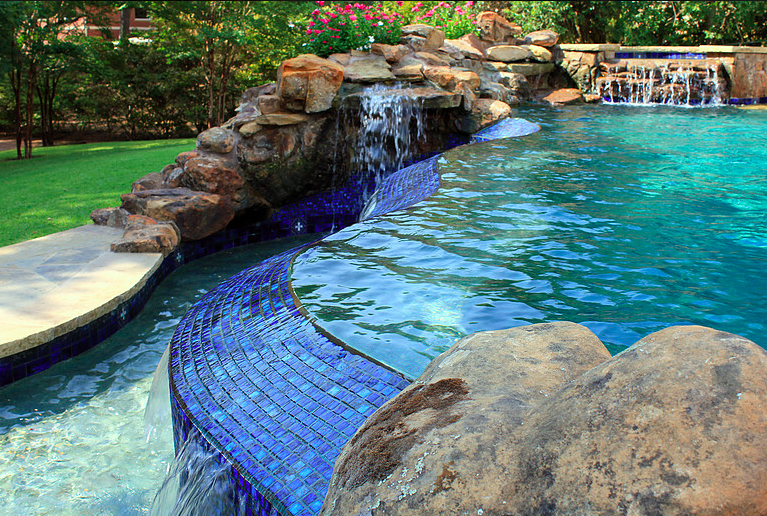 Image via Specialty Exteriors
The designers tried to recreate a real river bed with multiple levels.
A wall with tiny tiles separates the upper from the lower part of the pool. One can swim in the upper level because the lower one is too small for that.
The waterfall theme is present in this design as you can see the water pouring down natural rock walls.
The flowers soften the rough edges of the stone walls and so does the curved shape of the edge that separates the two levels.
The two big rocks from the right corner of the image reinforce the mountain stream natural look.
In order to pull off something like this, you need a significantly big property with surrounding vegetation.
Small pool with spa and hardscape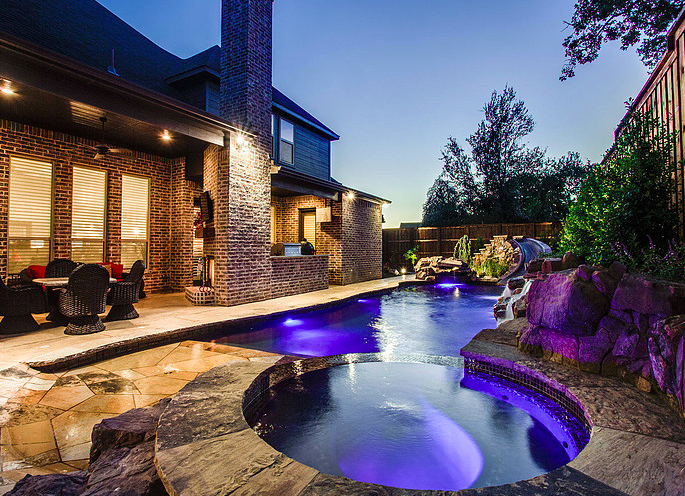 Image via Specialty Exteriors
This is a small rectangular pool with an attached round spa. The purple lights significantly improve the appearance of the design. Anyone who sees the pool at night with the lights on will wish to have one that looks the same. The lighting somehow reminds you of a laguna.
The yard is not very large, so this pool would fit in any averagely sized yard.
The fence is masked by stones and vegetation in an attempt to recreate a natural environment.
You can even see a couple of water streams going down into the pool.
Edge pool on the beach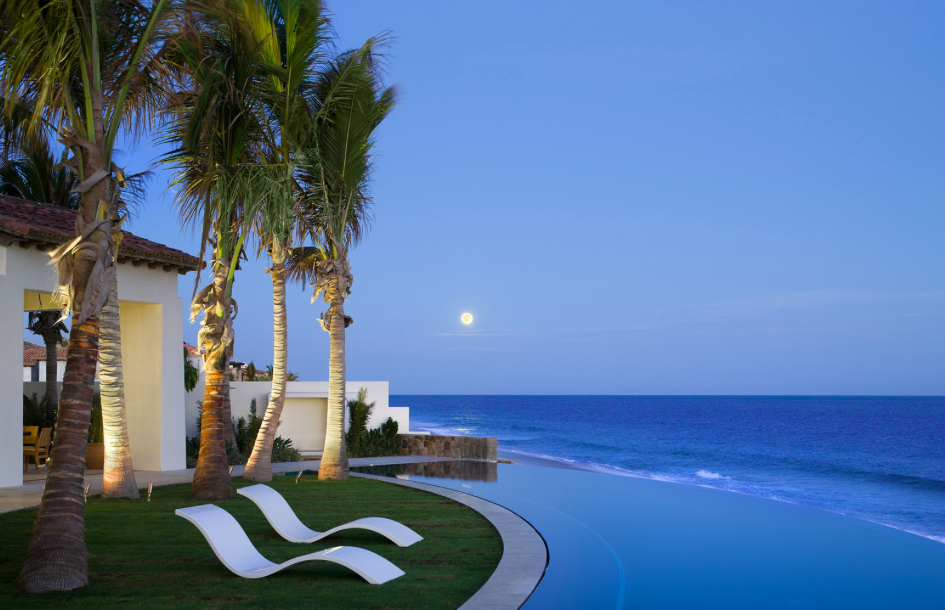 Image via Ike Kligerman Barkley
Some people might wonder, why would you need a pool if you live on the beach?
Well, for a number of different reasons: the water is not warm enough all year round, there are waves that make it hard for you to chill out on a float, you can't swim in salty water etc.
Besides, a vanishing edge pool actually looks great facing the beach. This one is shaped like a double arch and the water is exactly at ground level.
There are no surrounding walls to prevent splashes, but this is a price to pay if you want such a neat appearance.
Small modern pool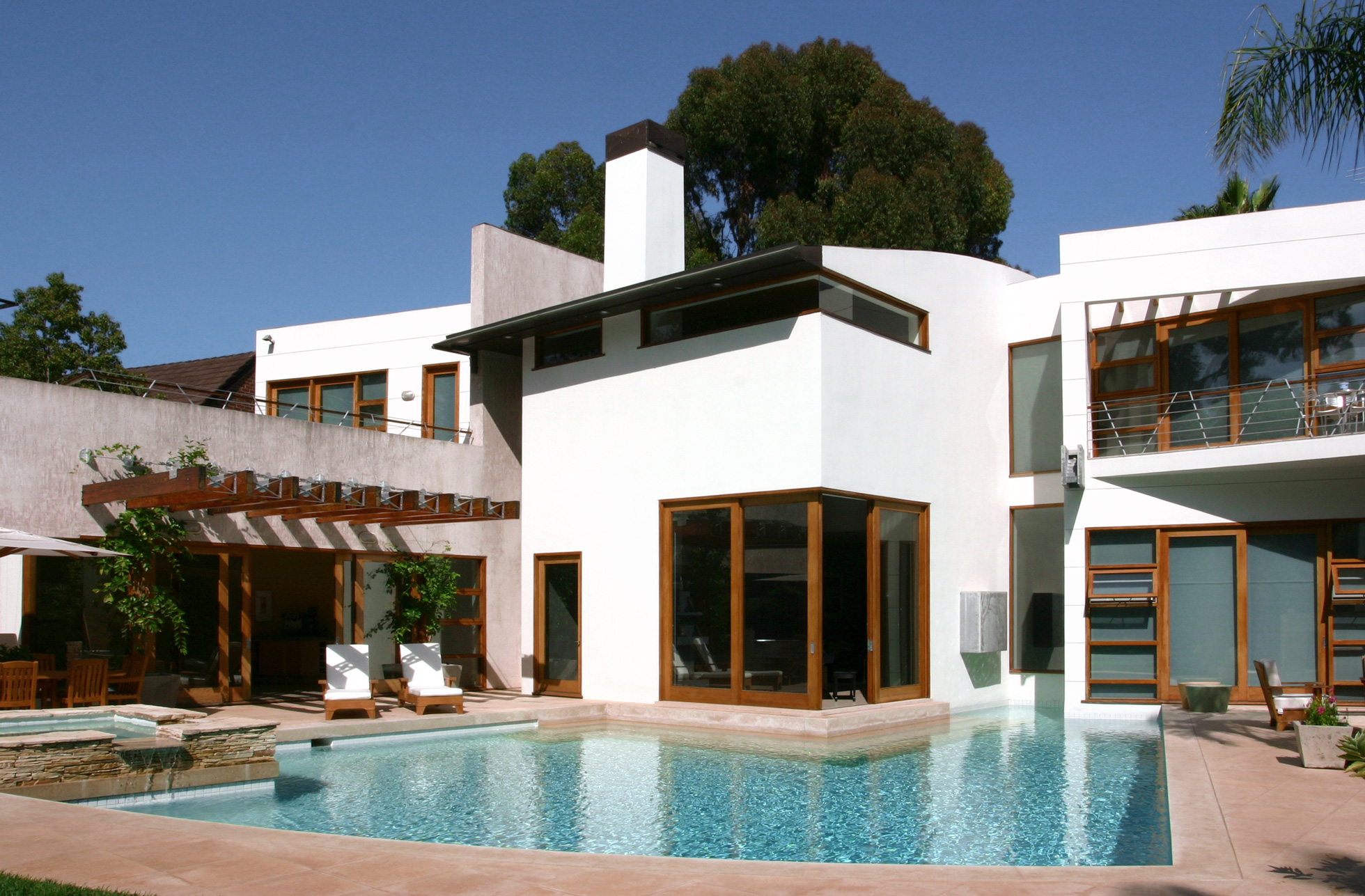 Image via Abramson Teiger
This pool is roughly shaped like an L and "embraces" a part of the house.
You can see the spa enclosed by walls on the left side of the picture.
It's evident that the pool is meant for lazy afternoons when you want to enjoy the sun floating on water.
One issue might be the proximity of the doors to the pool itself because splashed water could smudge the glass and might even get inside if the doors are open.
Apart from this, the pool is just the right size: small enough to fit a regular yard and big enough to play around a bit.
Vanishing edge small pool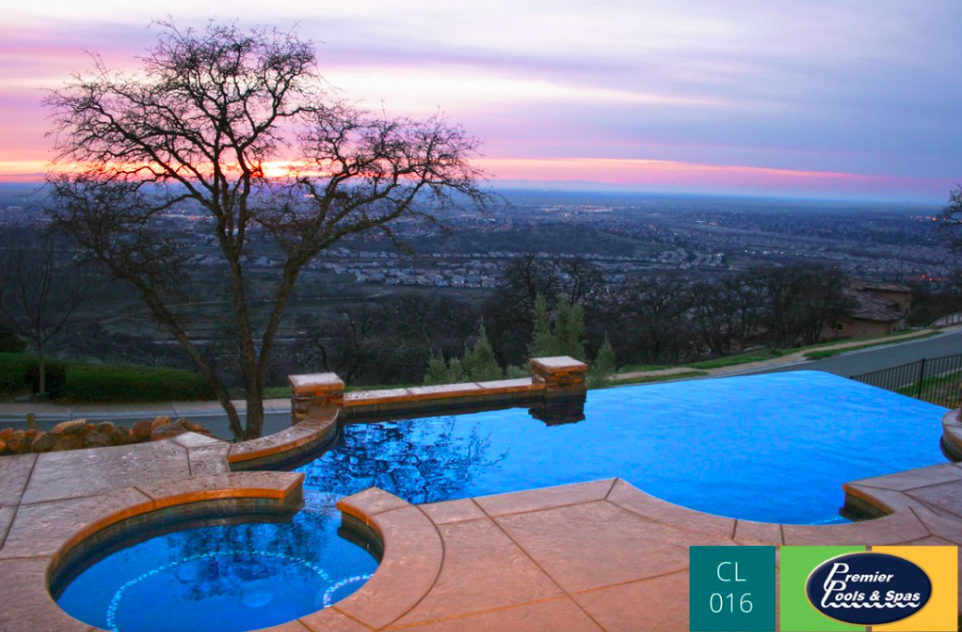 Image via Premier Pools and Spas
This is a small pool with vanishing edge and a spa. The only thing you can do in it is stay on the edge and relax.
It has a rectangular vanishing edge, so it's easier to use your arms to support your weight.
If you want it to truly be comfortable, you could make seats inside the pool and keep the depth at a level that's good enough to cover 3/4 of your body while easily maintaining your feet on the bottom.
Swimming pool with stairs and sculptures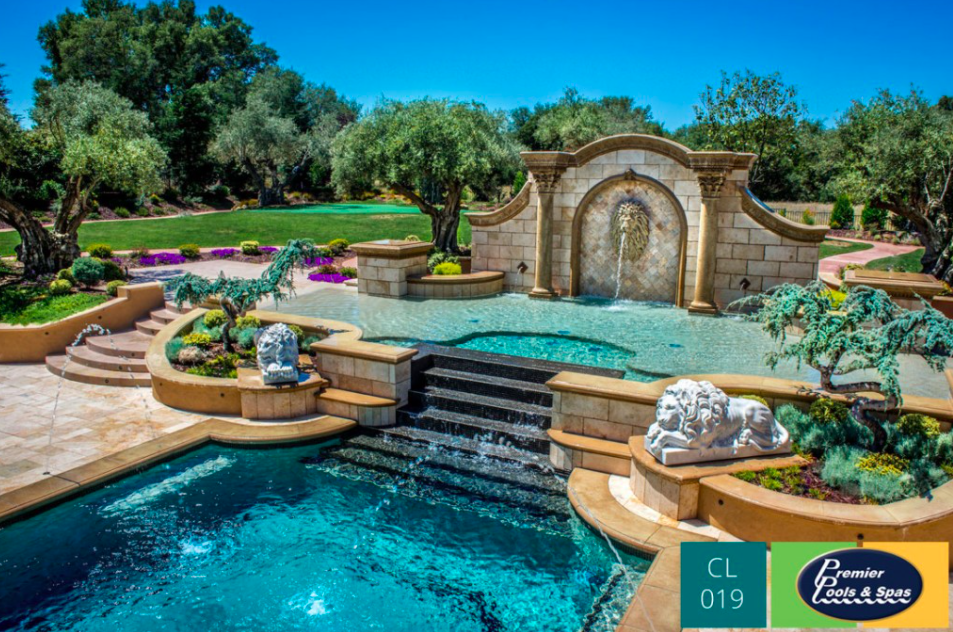 Image via Premier Pools and Spas
This design is installed on an estate because you can't find the space required for something like that in a regular backyard. The upper level has shallow water and prepares you to make the transition to a full size pool.
The black color of the steps creates a contrast with the light colors that surround them. 
The main feature of the design is an elegant ornamentalism that mixes with opulence and luxury.
There are a few water streams that go up in the air and fall into the pool to support the aesthetic part. You'd think the pool is not used for bathing.
Even though you can't swim in it, you can still relax on the steps  and splash around.
Grecian swimming pool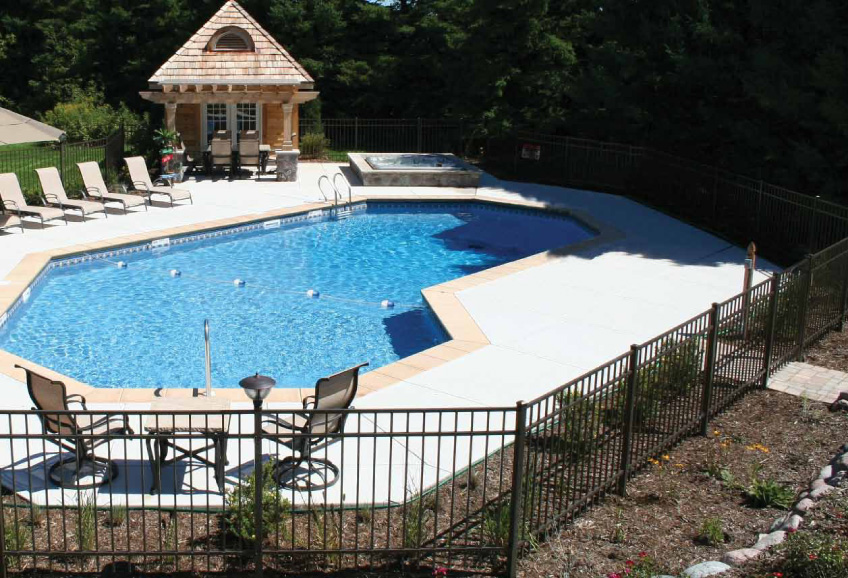 Image via Designer Pools and Spas
This design is dominated by straight lines without forming a regular form. The water is below ground level to minimize the amount that reaches the patio.
There is a ladder with handrails that facilitates access. This is not a luxury model and it can be easily built in an ordinary backyard. You could also build the small spa beside the pool as you can see in this image.
Small freeform swimming pool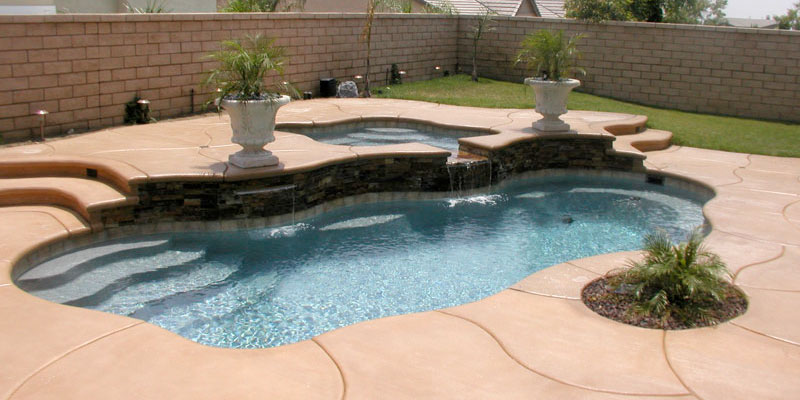 Image via Designer Pools and Spas
Here's a small freeform pool with steps. At the top level, you can see a smaller one that basically acts like a reservoir for the small waterfall that goes into the large pool.
If you don't like the waterfall, you can skip it and use the space to add some patio furniture instead. Not only that it's a cheaper option, but it's also done faster so that you can enjoy the pool until the summer ends.
Conclusion
It's true that most of these models are luxurious but this doesn't meant you can't adapt them to your own situation.
You could lose the landscape and build just a simple rectangular pool with awesome lights that create an amazing visual effect.
Maybe skip the fiber optic cables and stick to traditional lighting options. If you must have an infinity pool you could reduce its size to cover the extra costs of a vanishing edge feature.
Truth be told, it looks really cool and at some point you have to stop thinking in terms of money and focus on what makes you happy. You're allowed to spoil yourself every once in a while.
You will need a building permit to build or install an in-ground swimming pool on your property. you'll need a site plan in order to obtain the building permit.
Note: Here's how we can help: 24hplans has a team of highly-trained, professional architects and drafters who can prepare any kind of site plan in the shortest amount of time possible, so that you can easily obtain that building permit and get on with your project. Use the promotion code: 24hplans-20off to get a 20% discount off any package. — Please note this is a limited time offer, exclusive to the readers of our blog. This offer is not being advertised anywhere else.