Sunrooms, sun porches and sun lounges, they all mean the same thing. It doesn't really matter how you call it, we are talking about a room with large windows, and sometimes even a glass roof called conservatory designed to allow plenty of natural light in.
Sunrooms are normally additions built and adjoined to the side of a house that faces south, the more south-facing exposure you can get the more light and warmth will get inside the room.
If this concept sounds good, we might have just given you an idea for your next home improvement or a fun DIY project! 🙂 Let us be your source of inspiration and share the following 15 sunroom designs to get you started.
Sunroom with blinds
Image via Homedit
At a first sight, blinds may seem to be against the very concept of sunrooms but if you take a moment to think, you will realize it's actually a brilliant idea. Maybe there are moments when you want some privacy.
It's obviously hard to get that when most of the walls are made of glass. Blinds solve this problem elegantly and also improve the looks of the room.
You can't say that they don't go perfectly with the furniture in this photo. The cost of a 15×15 ft. sunroom starts at $15,000.
Before we introduce the next design, let's quickly mention some boring, yet absolutely necessary element to consider for your project.
It's important to note that when building a sunroom, in many cases it may be necessary to provide a site plan to obtain various home building permits from your city hall or township. You can turn to 24h Plans to get a custom site plan drawing prepared for your dream home in less than 24 hours by our team of experienced architects and drafters. Use the promotion code: 24hplans-20off to get a 20% discount off any package. — Please note this is a limited time offer, exclusive to the readers of our blog. This offer is not being advertised anywhere else.
Above ground sunroom with single slope roof
Image via Great Day Improvements
This design is a bit different from all the other sunrooms because it's high above the ground.
The main advantage is that you get extra space underneath to turn into a deck or patio. Add some outdoor furniture and you will have a place to spend your afternoons shaded by the burning sun.
The frame is made of white aluminum that supports the glass. The room has only 2 outer walls, which can be a bit of an inconvenience if you were looking for even more light.
However, the fact that they are made entirely of windows compensates to a certain extent.
This project is relatively expensive because extra materials and labor hours are needed to build the pillars and the roof. For example, a simple high elevation deck costs at least $4,000.
Make sure to add the costs of the roof (at least $5 per sq. ft.) and the costs of the windows ($120 for a 37 x 72 inch energy efficient window).
Mansard sunroom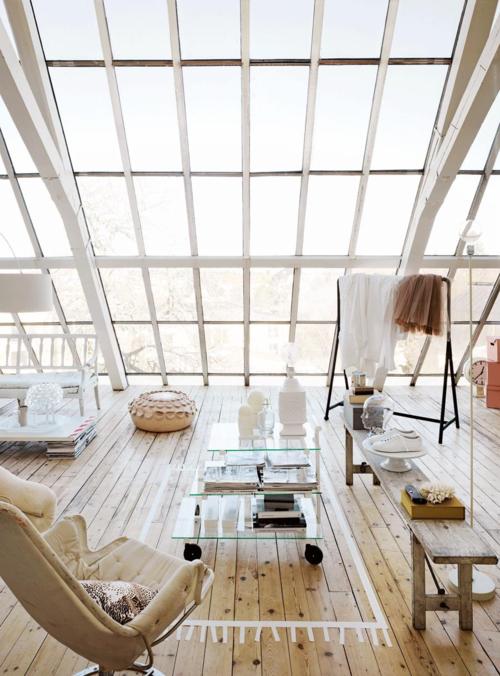 Image via Architecture Art Designs
Who said sunrooms must be on the ground floor? Here's a perfect example that the affirmation is false. You keep costs to a minimum if your loft is already habitable.
Otherwise, you have to consider a loft conversion and then add windows like the ones you see in the image above. A loft conversion costs at least $25,000 depending on its size, level of insulation, season (labor is cheaper after the summer ends because the demand decreases) etc.
Aluminum sunroom frame with gable roof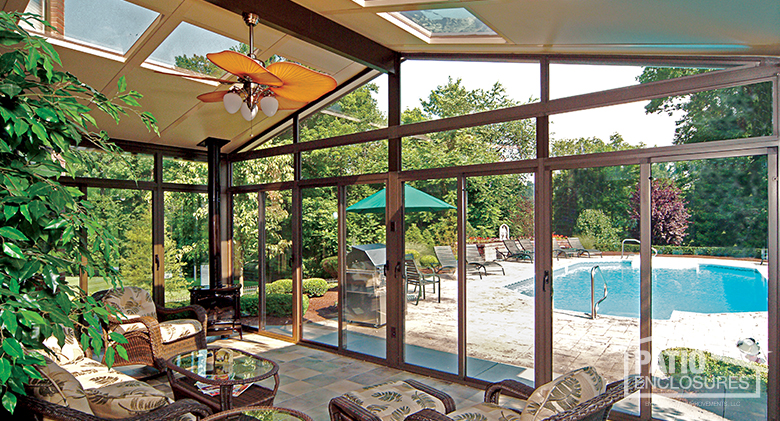 Image via Great Day Improvements
Here's a big design built on the ground. The frame is made of bronze aluminum and the rest is glass. The windows on the roof are awesome if you live in areas where the sky is usually clear. The floor is made of some kind of natural stone, which costs $10-$30 per sq. ft.
This design allows you to supervise your kids while they're having fun in the pool. Take a seat in your sunroom and ask your partner to bring a cold beverage because it's time to relax.
Besides, you will be able to stay away from the smoke that fills the area at grill parties. Let the men take care of the meat and gather your female friends to have a chat in a smoke free (and children free) zone.
If you are looking for a top of the line aluminum sunroom, expect to pay around $20,000.
Small square sunroom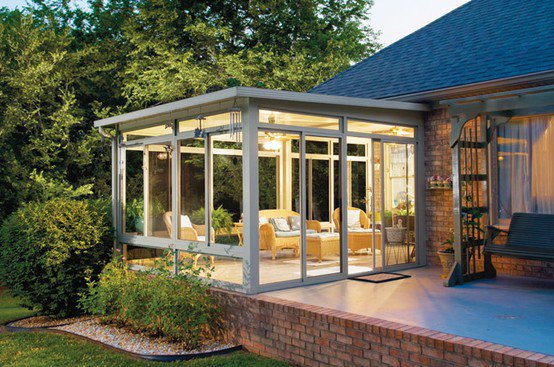 Image via Architecture Art Designs
Here's a simple squre shaped sunroom design. It looks like it's prefabricated, which is good news for your pocket. It's properly lit so that you can use it at night, too.
Privacy might be an issue but you can hire a landscape designer to take care of that (plants, privacy screens, walls etc.) It's a cost effective option for those who madly desire a sunroom but are on a tight budget.
Vinyl sunroom with gable roof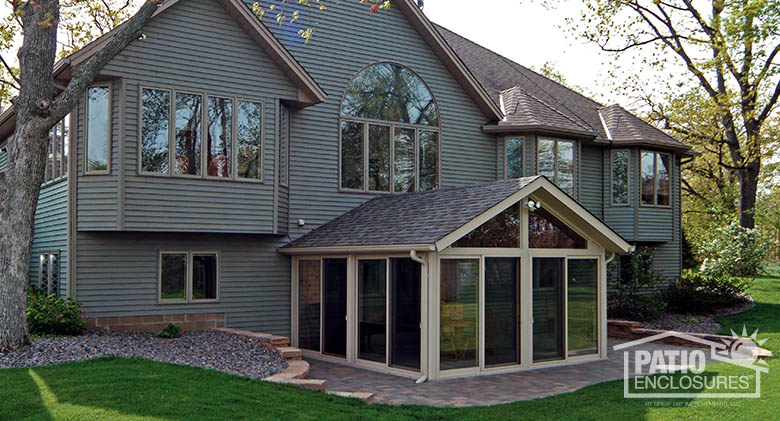 Image via Great Day Improvements
This simple gable roof sunroom is perfect for small yards. It doesn't cover a lot of your green space so that your children and pets have enough room to play. The floor is made of stone thus making it basically unusable in cold seasons.
The frame is made of vinyl, meaning that you can buy it as a prefab model. The price of a 10×8 ft. prefab sunroom with glass walls starts at $15,000 and it goes up with the size and quality of materials.
If you want to turn it in a 4-season sunroom, expect a huge bump in price in the tens of thousands ballpark.
Here's an idea on how to tweak this design to adjust it to all year round sunny weather. Instead of a costly roof, you could opt for a flat one that acts as a deck.
You can add an exterior staircase or you can make an entrance directly from inside the house, whichever works best for your lifestyle. This way, you get a place to get a tan and an area to chill out when it's too hot or too rainy.
Sloped glass roof sunroom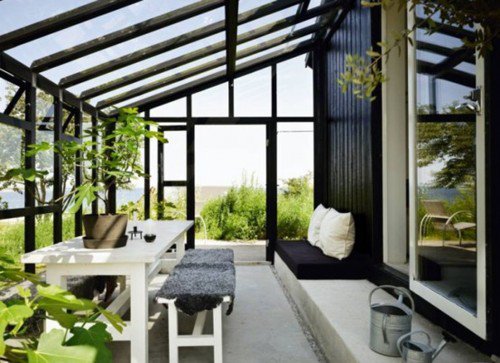 Image via Architecture Art Designs
This is a sunroom built as a home addition. It offers extreme visibility and this might actually be a problem when the sun shines right on top of the room.
The best weather is when it's warm enough to wear T-shirts and shorts without feeling you have to take your clothes off to cool yourself a bit. If temperatures are quite high, you should consider installing blinds or tinted windows.
Sunroom for parties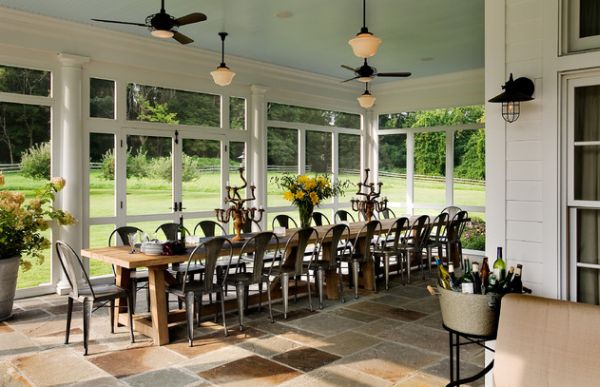 Image via Homedit
If you are the kind who throws parties every other week, this design is perfect. You need a big table to seat everyone and a lot of natural light if you aren't a fan of late night parties. The next time all your relatives are in town, you will have no problems inviting them all over for lunch.
Notice how the design is similar to a dining room. It offers a lot of sunlight and enough privacy at the same time. The industrial chairs establish a contrast with the traditional parts of the design (the fans, the table, the wooden frame etc.)
The floor is made of natural stone thus making the sunroom unusable during the winter. You have to choose another material and at least insulate the floor ($1.10 per sq. ft. of standard insulation).
Greenhouse-style sunroom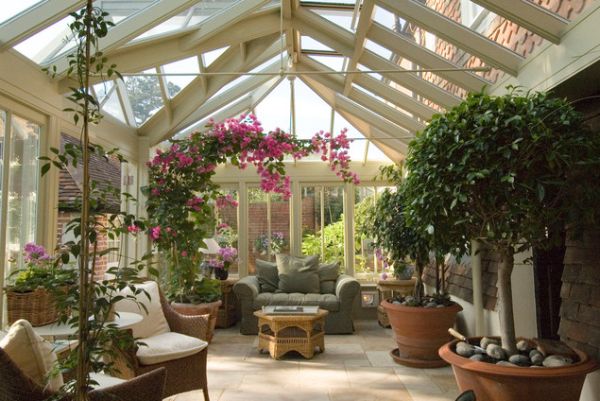 Image via Homedit
This design is perfect for people who like growing all sorts of plants that require a lot of sunlight. Sometimes, putting the plants outside is not a viable option because of improper weather conditions.
Having a sunroom solves this problem especially if it's the 4-season type. You can make the sunroom look like a very comfortable bit of nature with colorful flowers and cozy sofas.
Your afternoons will definitely become more enjoyable and so will the nights you spend under the clear sky. The sunroom you see in the image is quite large and consequently expensive (tens of thousands of dollars). It would be awesome if you installed some blinds to provide shade during hot days.
Sunroom with fireplace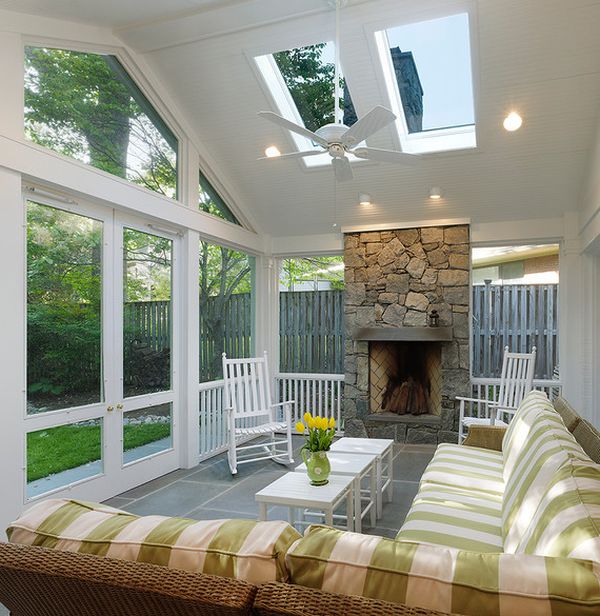 Image via Homedit
Here's a small sunroom with tiny roof windows. The frame and the ceiling are entirely white giving a sense of calmness to whoever stays there. The fireplace contributes to the overall coziness.
If you live in an area where a real fireplace is totally useless, you can buy an electric one. The rustic aspect is lost but it still warms you up on the inside. Just make sure to build a path for the smoke to get out if you decide to go with the real thing. In this case, you would be forced to equip the room for the winter because if you're going to need a real fireplace, you will have to find a way to keep the heat in.
Sunroom with small pool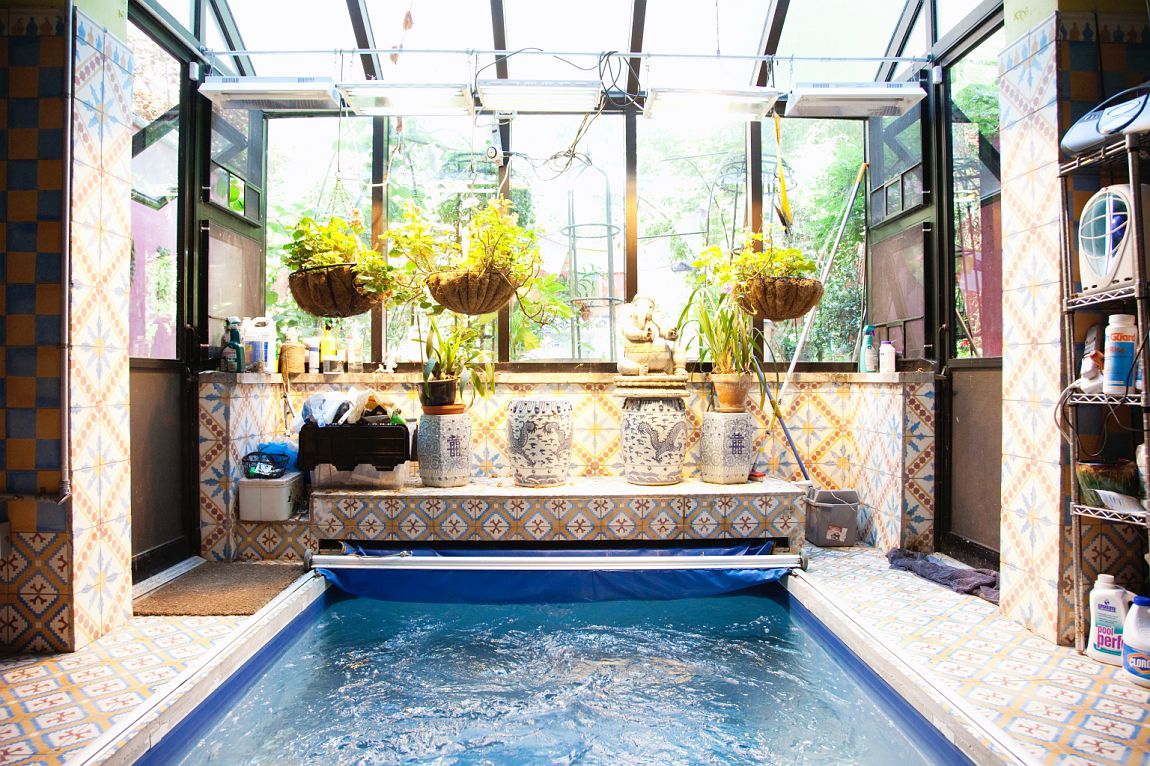 Image via DigsDigs
The best feature of this design is its in-ground small pool. It's not big enough to swim but you'll have some pretty relaxing moments.
The flowers and the tiles suit a certain taste. If that's not really your style, you are free to opt for something modern (for example black and white tiles) or something classic like natural stone. Wood is out of the question for obvious reasons and you have to heat the room properly.
Cubic sunroom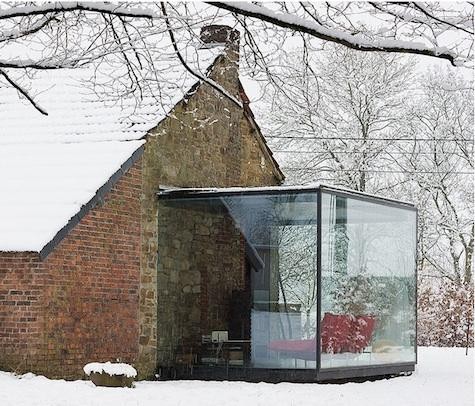 Image via DigsDigs
This design is unique through its simplicity. In spite of being a simple glass cube attached to a house, this sunroom receives maximum amount of natural light.
The photo suggests the sunroom is totally usable in cold weather, probably because of installing a special type of energy efficient glass.
You can use it as a home office or as a quiet place to relax while admiring the nature that surrounds you.
You have to consider the costs related to foundation  (building a deck is probably a good choice), insulation, labor and the actual price of the glass.
As for labor, this design is quite unusual and you have to take the time to find the right contractors to put it together because not everyone has the skills and vision to build this sunroom.
If you live in a warm area you no longer have to deal with insulation costs, but you might have to think about how to make the structure waterproof (unless you live somewhere in the remote desert and you see rain once a year).
Sunroom gym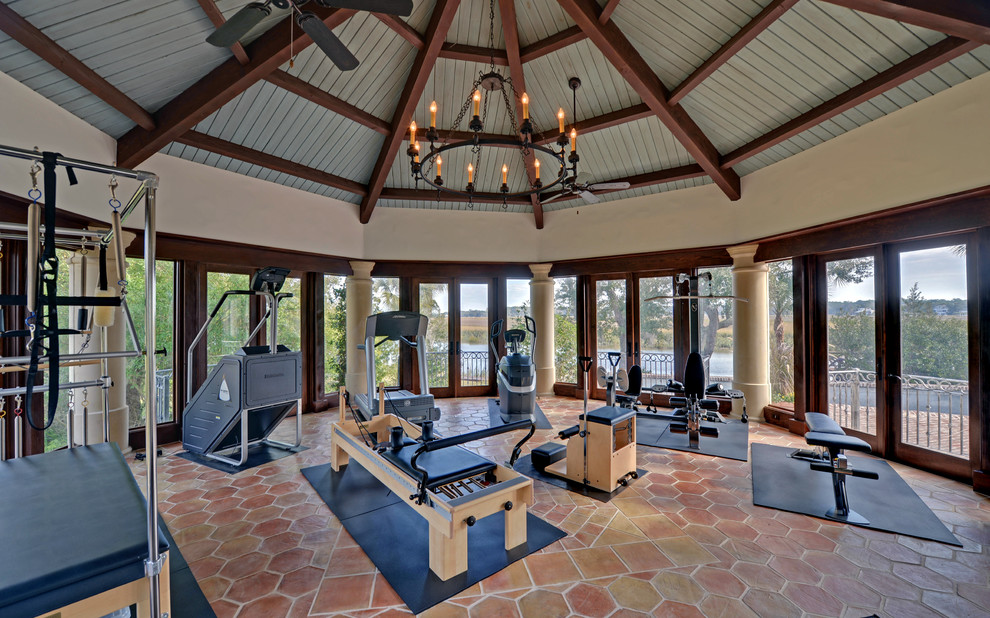 Image via DigsDigs
How awesome is it to have your own personal gym and enjoy a beautifu view while working out? Maybe more of us would exercise regularly if that were the case.
Even though you don't have a view, it's still great to have sunlight and fresh air instead of artificial light and A/C. You might feel overwhelmed by the size of this sunroom but you can adapt it as you please. A sunroom this big costs +$50,000, not to mention the price of the gym equipment. The floor is made of natural stone but you can opt for wood. The problem is that wood suffers damages considering the heavy equipment it supports. You will see scratches and even fissures quite fast. Stone is more durable and it goes well with the mats you see in the picture above.
Minimal sunroom design for yoga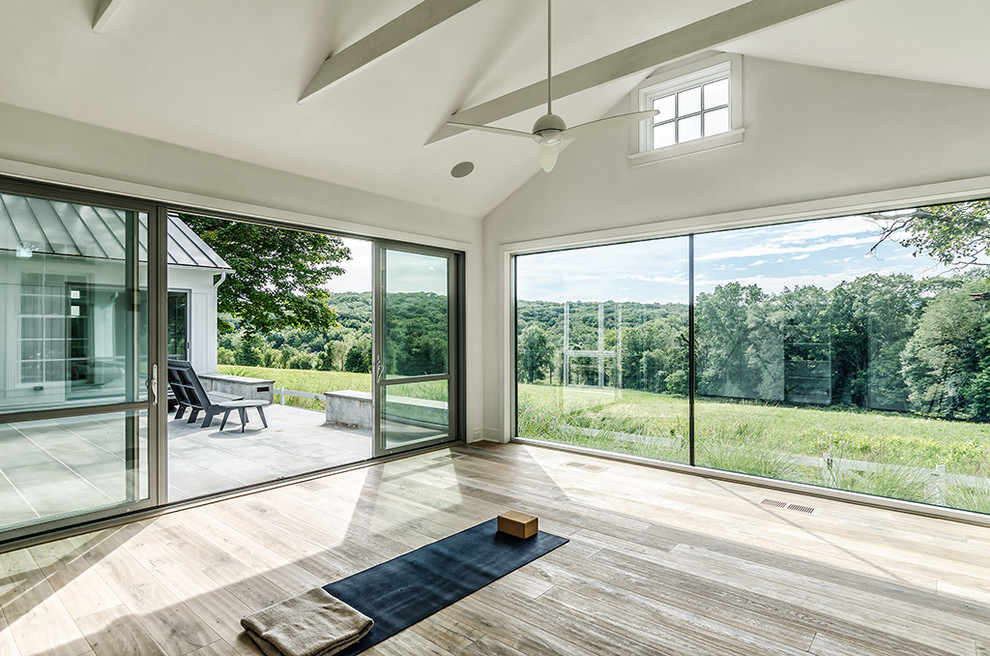 Image via DigsDigs
Here's a simple sunroom with wooden floor and very big windows. You barely feel separated from the outer world. It looks like the entire design was especially made for yoga practitioners.
Considering that proper oxygenation of the brain is essential during yoga sessions, the large sliding doors provide natural ventilation.
The shade of the wood used for the floor goes well with the color of the frame. This sunroom is either built per-se or a room of the house was modified to meet the criteria.
If the first option is true, you should expect an investment of several tens of thousands of dollars. Don't forget that you absolutely need a permit to build this sunroom and for a permit you have to submit a professionally made site plan.
In the other case, you have to focus your attention on replacing much of the walls' surface with glass. It can be a tricky thing if you are dealing with load-bearing walls, which is why you need an architect to review your project.
There is a third option though: buying a prefab sunroom for at least $15,000. You have to prioritize your desires and take a look at your budget before committing to a certain project.
Tuscan sunroom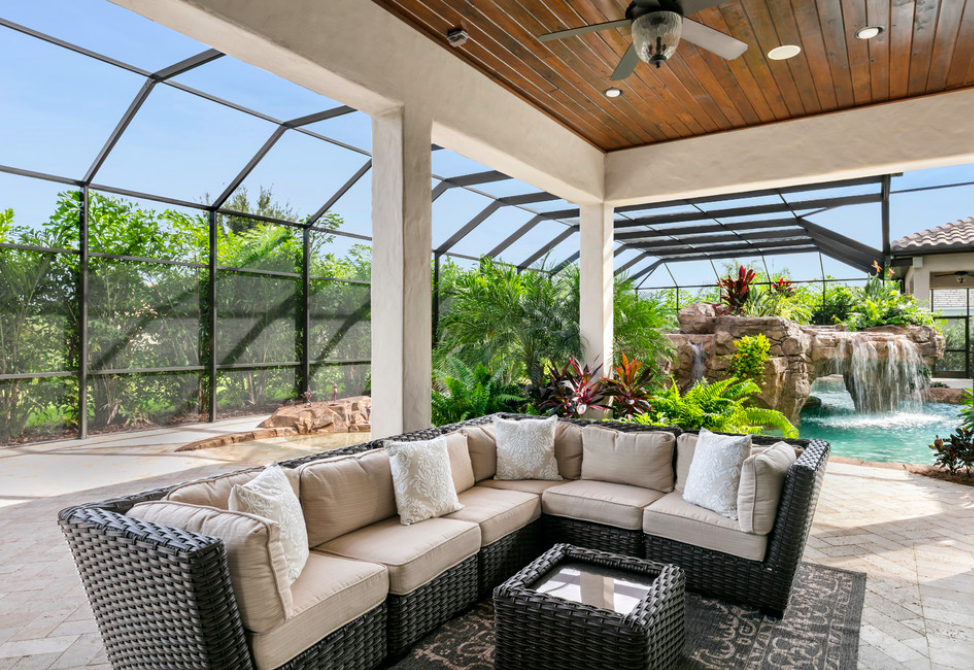 Image via Houzz
And last, here's an impressive sunroom design that's huge in size and features a pond in the back. For this, you need an architect, a landscape designer, carpenters, pool builders (the water basically falls in an in-ground pool with a system that recirculates it), electricians, plumbers etc.
You have already probably figured that the costs go through the roof. You will pay at least $70,000 but you will get a truly amazing sunroom.
Conclusion
You've seen all these big or small, minimal or classic, simple or complicated sunroom designs. I leave it to you to choose the one the perfectly fits your needs, but regardless of your choice, you will need to submit a site plan to local authorities for obtaining a permit to make significant changes to your property. 24hplans can help you with that, so don't hesitate to call.
Building a sunroom normally requires obtaining a permit. For that to happen, you will most likely have to pay a fee to the city hall. Apart from that, there is one more thing to consider for getting the green light: permits are usually not released if you don't submit a site plan. Here's how we can help: 24hplans has team of highly-trained, professional architects and drafters who can prepare any kind of site plan in the shortest amount of time possible, so that you can easily obtain that building permit and get on with your project.
Use the promotion code: 24hplans-20off to get a 20% discount off any package. — Please note this is a limited time offer, exclusive to the readers of our blog. This offer is not being advertised anywhere else.