It's very likely a site plan has been produced for your property. You'll need it to apply for a building permit for things like an addition, deck or shed. If you're selling your property, your realtor might want to have a plot plan to help market your home.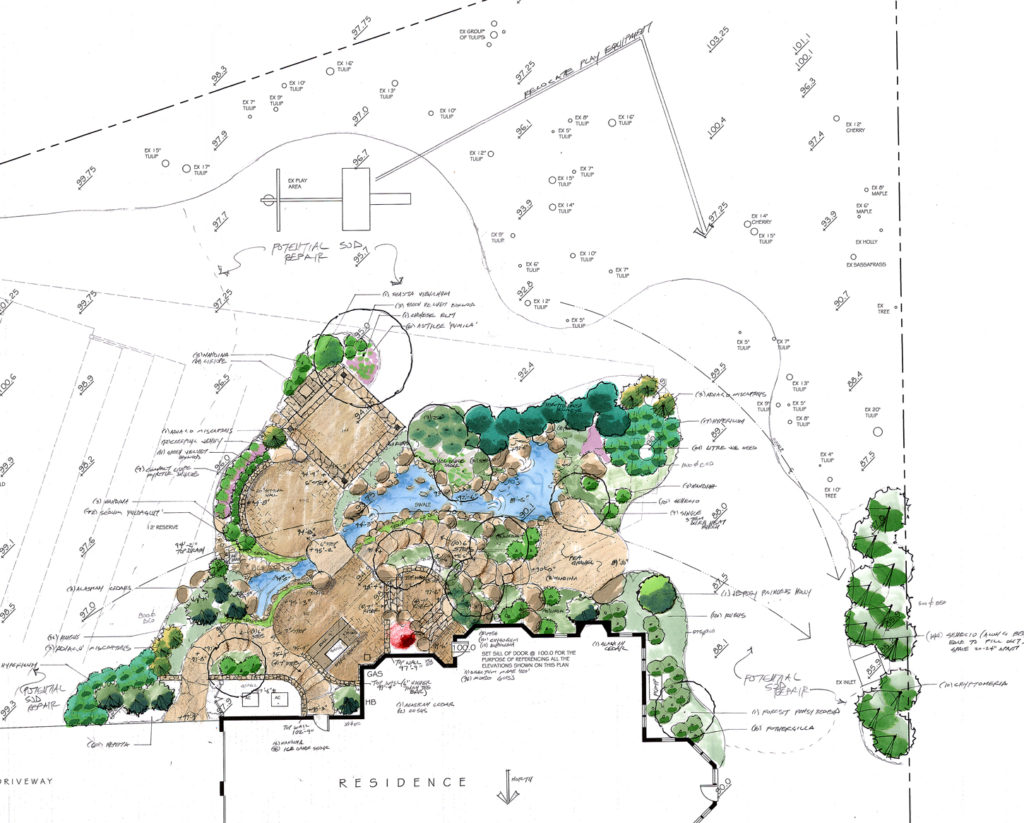 A site plan, also called a plot plan, is a drawing of your property that shows its dimensions, structures and physical features.
Where to Find a Site Plan
Here's where you might locate your plot plan. If it doesn't turn up, or if you need a new one to reflect changes made to your property, the good news is that one can be produced very affordably. We'll show you where to get one made.
With Closing Documents: Site plans are used to affirm a property's boundaries and setbacks. They're provided at closing to the seller, so should be among the papers you received.
From your Bank or Title Company: A site plan contains information mortgage lenders and title companies require. Either should be able to provide you with a copy of your site plan.
Your County Office: The site plan is one of the documents submitted to the county when a home is built or a property is sold. It might be possible to download the site plan from the county website. If not, it can be mailed or picked up. Expect to pay a small fee to get it.
Builder or Developer: For the kinds of reasons that have been mentioned, building companies and subdivision developers produce site plans and keep them on file.
The Seller or Seller's Realtor: If you've kept in touch with the seller or know who represented them, it's possible they will have a copy of the site plan they can provide you with.
Do you Need a Site Plan Produced?
You will if:
None of the above have one.

The property has been altered significantly since the last site plan was made.

You need a building permit to make a significant change to the property. Alterations requiring a new site plan include a home or garage addition, deck or patio, shed, in-ground pool, pond, retaining wall and other permanent changes.

You're planning to sell the property. A site plan is a marketing tool that shows potential buyers what's being offered. It will also be required by the title company, lender and county when the sale is recorded.
Where to Get a Site Plan Made
Your options are:
A surveying/engineering company, at a cost of $1,200-$1,500.

A site plan company like 24hPlans that specializes in producing affordable site plans that start at less than $125. We have several options that can be customized for your specific purpose.
Expensive and affordable site plans are identical (surveys are certified) in all other respects but cost.
When a Survey is Needed Instead
A site plan can be prepared that reflects legal boundaries and other property features, but it is not sufficient to prove them. –That's the purpose of a land survey.
There are several land survey types, each prepared for a specific purpose:
Boundary Survey:

This survey shows dimensions and boundaries and is used when land is being divided, or the legal boundaries are in dispute.

ALTA/ACSM Survey:

An American Land Title Association or American Congress on Surveying and Mapping survey might be required by a lending company or buyer. These comprehensive surveys are a combination of the boundary survey and a site plan, certifying legal boundaries and showing buildings and other features. It is also called a Location survey.

Construction Survey:

This drawing is used to determine where a home will be built and where utilities, driveways, walls and other features will be located. A Subdivision survey is a construction survey on a much larger scale.

Topographic Survey:

These detailed surveys show slope, ditches, waterways, embankments, contours and similar physical features. They are used when determining where a building should be placed to avoid the flow of water, if and where retaining walls should be installed and whether the property is suitable for a walkout basement. A Site Planning survey is a combination Topographic and Boundary survey.
If you're unsure whether a site plan is sufficient or a survey is required, your county building department will have the answer. In most cases, a site plan will do the job.
We're here to provide professional site plans of the highest quality and accuracy at very affordable cost.
Note: Here's how we can help: 24hplans has team of highly-trained, professional architects and drafters who can prepare any kind of site plan in the shortest amount of time possible, so that you can easily obtain that building permit and get on with your project. Use the promotion code: 24hplans-20off to get a 20% discount off any package. — Please note this is a limited time offer, exclusive to the readers of our blog. This offer is not being advertised anywhere else.