Pella windows are produced in an impressive array of materials and styles, with prices that range from affordable to premium.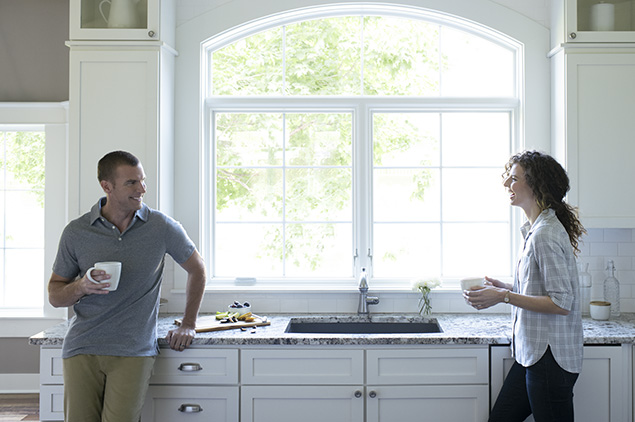 Marvin fills a niche with wood windows that combine quality, selection and competitive pricing in the upscale range. Marvin also makes fiberglass windows that compete with Pella, but Marvin doesn't offer any vinyl windows.
Did you know? Pella makes 8 series of windows including Encompass by Pella, aka, ThermaStar (via Lowe's).
Marvin makes 5 Marvin-branded series plus Integrity and Infinity replacement window brand.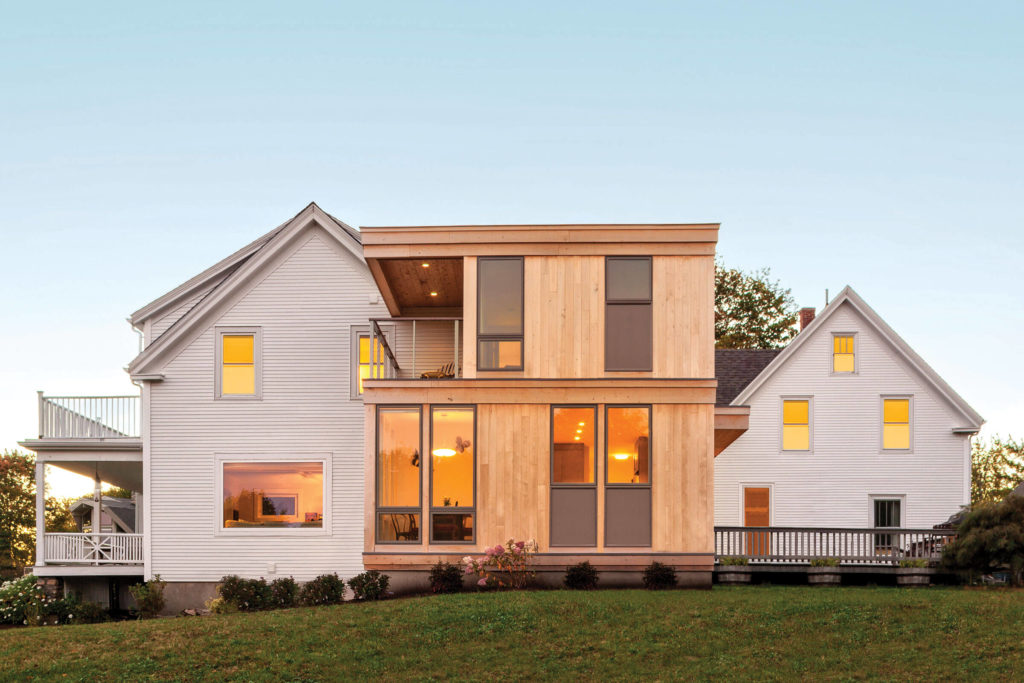 We include Integrity and Infinity fiberglass windows in this guide because they compete directly with the Pella Impervia fiberglass series. The Tilt Pac series are for sash replacement only and have limited application. See details below.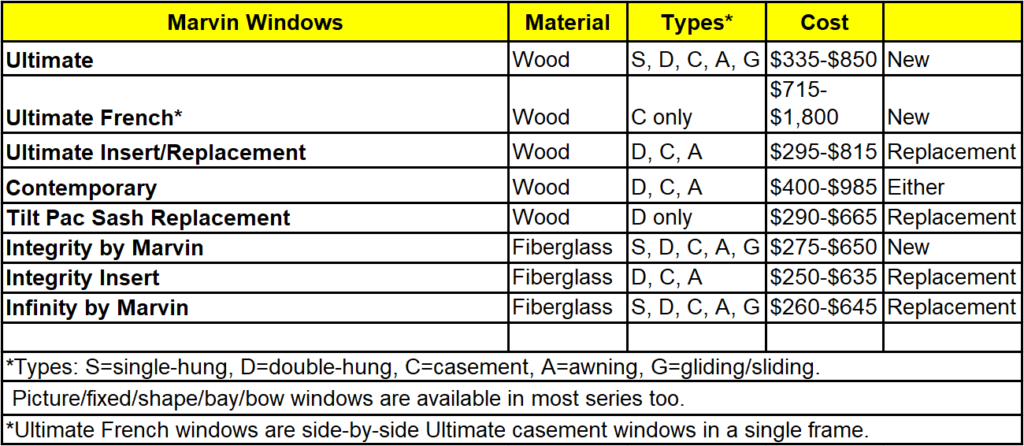 Did you know? There's a difference between windows built for replacement and those built for new construction.
New construction windows
have a nailing fin around the perimeter of the frame used to attach the window to the home's framing from the outside. This is possible when there is no siding on the home. The window has a more air-tight fit, and installation if faster, so cheaper too.
If you're replacing the siding too, then new construction windows can be installed between the old siding removal and new siding installation.
Replacement windows
are designed to fit into the opening once the old window is removed. That's why they are often called insert windows. They are installed from inside the house with fasteners through the side of the window and into the homes framing without disrupting the exterior siding.
Every Pella window series
can be built either way. Pella 250 and Lifestyle Series and Encompass by Pella sold at home improvement stores are sold in new and replacement styles, so be sure to get the right windows for your project.
If you're ordering windows, the sales representative will ask whether you need new or replacement windows, and they will be built appropriately.
Marvin distinguishes replacement windows
. Marvin Ultimate Insert and Integrity Insert are essentially the same as standard Ultimate and Integrity windows, but are built for replacement projects.
Infinity by Marvin
are only built as replacement windows.
Window Installation Costs
Installation costs are higher on replacement windows. The old window must be removed first. If the opening needs to be repaired due to rot or warped framing, the labor and materials required for the repair raise the cost.
These installation costs include labor and supplies.

ROI or Cost-to-Value Return
How much will new windows increase the value of your home? Data from national home remodeling and sales surveys put the range at 73% to 80% of the window replacement cost.
The best cost-to-value is for basic and moderately priced window lines:
Pella – Encompass by Pella, 250 Series (Vinyl), 350 Series (Vinyl), Impervia (Fiberglass), Lifestyle Series (Wood)
Marvin – Integrity, Infinity, Tilt Pac
Higher-priced series like Pella Architect series (premium) and Pella Reserve series (most premium) and Marvin Ultimate and Marvin Modern windows bring a slightly lower overall ROI.
$15,000 spent on windows will likely raise the re-sale price of your home by $10,000 to $12,000 in the first 10 years. After that, the value begins to depreciate slightly each year.
Pro Tip: If you're selling your home, only replace the windows if they are in such poor condition, they might turn off buyers!
As an alternative to replacing the windows before listing your home, you can advertise in the listing information that you will give the buyer enough cash back at closing to cover the cost of windows.
The allowance should be enough to purchase windows of the same or better quality than the old windows were when installed.
Pella Vs. Marvin Window Comparison
There are two big differences in these brands:
Selection: Pella makes 3 vinyl window series; Marvin does not make vinyl windows
Super-premium windows: Pella Architect Series and Reserve windows are superior to any Marvin windows. Marvin Ultimate windows compare most directly with Pella Lifestyle windows.
Pella Windows
Pella's selection is unsurpassed by any brand. Most series has a number in addition to the standard name. The numbering gives you an idea of where the window ranks in Pella's lineup in terms of quality and cost.
Pella Reserve Series (Formerly Architect Reserve Series) – Most Exquisite, Premium Wood and Aluminum-clad Wood Windows: $$$$-$$$$$
"Pella Reserve wood and aluminum-clad wood windows provide uncompromising attention to detail. From historic putty profiles and the traditional look of individual windowpanes to sleek corners and expansive glass, traditional and contemporary Pella Reserve designs are created with meticulous care and attention."
These unique windows are custom built for every job. Architect Reserve windows are mostly used in either high end renovations of older homes to achieve historic authenticity of for most exquisite modern home designs.
Pella Architect Series (Formerly Pella Architect 850 Series) Wood Windows: $$$-$$$$
"Intricately crafted designs featuring detailed craftsmanship and nearly endless possibilities."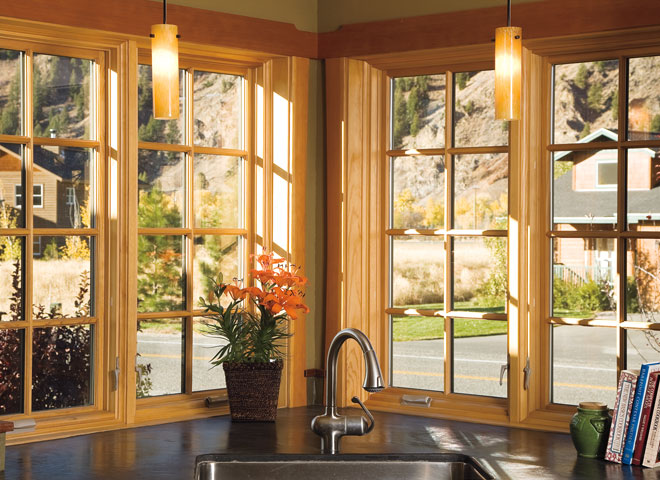 The Pella Architect Series wood windows, previously called Architect 850 Series, are considered as Pella's premium wood windows for fine architectural design inspired homes.
The series is produced in two lines:
Traditional: Classic styling, bolder frames and rich finishes give these windows the look and feel of fine furniture.
Contemporary: Narrower frames work well for homes with modern, even minimalist, styling. The understated frames provide maximum glass space and splendid views out the windows.
Here are your options with the Architect Series:
Materials: Pine, Douglas fir, mahogany, white oak, red oak, cherry and maple (Traditional); Pine, Douglas fir and mahogany (Contemporary)
Colors: 13 stain and paint interior colors; 27 options in exterior aluminum cladding.
Features: Standard and Custom sizes; Multiple glass, grille and screen options; Traditional and contemporary hardware finish choices.
Warranty: Lifetime limited.
Compare with: Marvin Ultimate and Marvin Modern.
Pella Lifestyle Series – Wood Windows with aluminum-clad exteriors – Integrated Blinds: $$-$$$
Pella Lifestyle series are set apart by their exceptional energy efficiency and sound control with integrated blinds and shades. Available in dual or triple-pane glass for maximum energy efficiency these windows offer energy-efficient options that meet or exceed ENERGY STAR® guidelines in all 50 states.
Lifestyle series feature integrated blinds and shades, built in security sensors and the patented Rolscreen® retractable screen.
To keep costs down, Pella offers these windows in pine only and just three styles, casement, awning and double-hung.
Material: Wood with aluminum-clad exteriors
Colors: Unfinished, primed plus 10 stain and paint interior colors; 13 options in exterior aluminum cladding.
Features: Integrated blinds and shades, optional built in security sensors and the patented Rolscreen, Standard sizes in ¼" increments; Standard and specialty glass; 6 grille and 2 screen options; traditional and contemporary hardware finish choices.
Warranty: Lifetime limited.
Compare with: Marvin Ultimate.
Pella Impervia Fiberglass Windows: $$
Pella's fiberglass window is stronger than vinyl and designed to look like painted wood. The look is contemporary rather than traditional.
Impervia offers durability and competitive cost. They are built in ¼" increments. Custom sizes are not available.
Pella Impervia windows are made in all styles including bay/bow, and fixed/shape windows.
Material: Fiberglass
Colors: 5 interior and exterior colors; Dual-color windows are available, with separate color inside and outside.
Features: 8 hardware finishes; 6 grille styles and 2 screen types.
Warranty: Lifetime limited.
Compare with: Marvin Integrity and Infinity fiberglass windows and Marvin Contemporary wood windows.
Pella 350 Series: $$-$$$
Pella 350 series, Pella's top vinyl windows, is offered in most window styles and 1/8" increment standard sizes. Custom sizes are available too. The insulated frames are certified by Energy Star to reduce heat transfer, and energy-efficient glass including standard Low-E, triple-pane glass is available.
Materials: Vinyl
Colors: White or almond interior options. With white interiors, you have a choice of 9 exterior colors.
Features: 3 hardware styles in 6 finishes; 6 grilles and fiberglass screens.
Warranty: Lifetime limited.
Compare with: Marvin does not make a vinyl window, but the fiberglass Marvin Infinity performs similarly.
Pella 250 Series
"Pella 250 Series window frames are 52% stronger than ordinary vinyl and resist warping and twisting.13 They are made to last with Pella's fade-resistant vinyl formula, which is performance tested for excellent weathering, durability and color retention."
Pella 250 series are popular replacement windows. These windows are also available as new construction. Double-pane glass is standard, but triple-pane glass and foam insulation upgrades are available for climates with extreme weather. The Pella 250 Series are now offered in casement, awning, double-hung, single-hung, and sliding window styles.
Materials: Vinyl
Colors: Matching interior and exterior frames in white or almond plus 9 additional color options with white interiors.
Features: 3 glass and 12 grille style/pattern options. Fiberglass screens.
Warranty: Lifetime limited.
Compare with: Marvin Integrity fiberglass windows are the closest comparison.
Encompass by Pella / ThermaStar
Pella dealers sell the Encompass line. Lowes and other building supply stores sell windows branded ThermaStar. The lines are identical. Encompass is produced with limited options to keep the price competitive. Windows are made in 1/8" increments – no custom sizes.
Materials: Vinyl
Colors: Solid-color frames in white or almond.
Features: 2 hardware styles in white or almond; 2 glass options in addition to standard 2-pane glass; 6 grille style options; Fiberglass screens.
Warranty: Lifetime limited.
Compare with: There isn't a good Marvin comparison. This window competes with similar brands sold by home improvement stores including Jeld Wen V-2500 (Menards), Jeld Wen Best Line (Home Depot) and Crestline (Menards and online sellers) vinyl windows.
Marvin Windows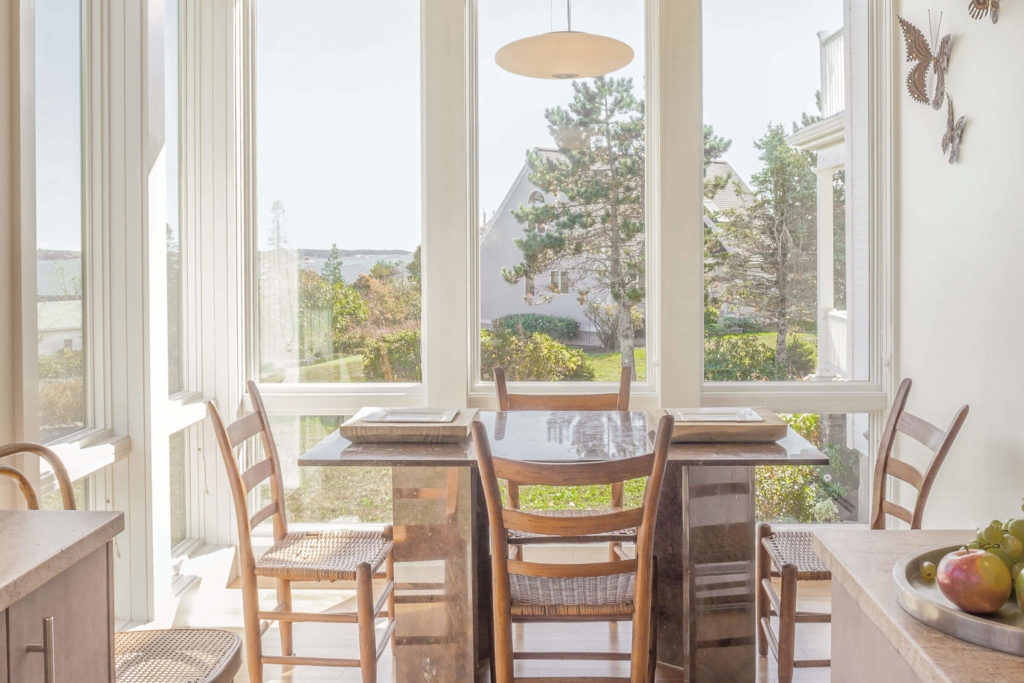 Marvin's focus is on quality wood windows with a good range or options. Here's an overview of Marvin Window series.
Marvin Ultimate
Marvin's best window is made in all styles plus bay/bow and fixed windows. You've got interesting options too like the casement window in standard crank styles plus push-out casement and side-by-side French casement windows.
The same basic window is produced in a replacement line, the Marvin Ultimate Replacement insert window in casement, awning and double-hung styles.
The Marvin Ultimate Next Generation window, available only in double-hung style, combines a beefy, traditional frame with advanced performance features like Energy Star compliance, an aluminum interlock that stops drafts, automatic locking when the sashes are closed and huge sizes to 5'x10'.
The Marvin Magnum double-hung is also an oversize window, but with the standard Ultimate features and options.
Marvin Ultimate window options include:
Materials: Pine, cherry, Douglas fir, vertical grain Douglas fir, mahogany and white oak.
Colors: Clear interior sealer plus 6 stain and 3 paint colors; Window exteriors can be primed for you to paint or stained in one of three colors. Keep in mind that non-clad exteriors require careful and regular maintenance. Exteriors can also be clad with aluminum. 19 colors are available. Marvin offers custom colors using color-match technology too, but at a premium price not reflected in our price tables.
Features: 2-pane and triple-pane glass plus specialty and decorative glass options; Simulated and true divided light grilles in more styles and colors than Pella offers; 9 hardware finishes. Integrated shades in 15 colors.
Warranty: Lifetime limited.
Compare with: Pella Designer 750 and ProLine 450 Series windows
Marvin Modern Series
Marvin Modern series windows employ thinner frames to optimize sight-lines. Casement and awning windows can be chosen with cranks or with push-out operation. Special-shape Contemporary windows can be built to be operable or fixed.
All woods, interior/exterior colors, features and options are the same as Marvin Ultimate windows.
Compare with Pella Architect Series Contemporary windows, though these cost significantly less.
Marvin Tilt Pac Sash Replacements
If the window frame is in good condition, but sashes and glass need replacing, sash kits are an affordable option to full replacement windows.
Old sashes are removed, a new track is secured within the existing frame, and the replacement sashes are installed. Standard and custom sizes are available.
Sash kits aren't compatible with all existing frames, but a Pella agent can quickly determine if the Tilt Pac is an option for you. Homeowners often use them when one or a few windows, but they can be used throughout a home.
Materials: Pine
Colors: 7 stain and 3 paint colors; 12 exterior aluminum cladding choices plus custom color match.
Features: Insulating glass is standard, and 12 textured/decorative glass options are offered; More than 20 grille patterns, and hardware in 4 finishes.
Warranty: Lifetime limited.
Compare with: Pella does not make a sash replacement kit. In terms of style and features, they're most similar to the Proline 750 Series.
Marvin Integrity Windows
Ultrex is Marvin's patented fiberglass window material. Marvin claims it is about 15% stronger than vinyl and wood.
Integrity windows by Marvin are produced in solid Ultrex windows and windows with wood interiors joined to fiberglass exteriors. Both new construction and replacement insert windows are available.
Materials: All-fiberglass and wood/fiberglass combination.
Colors: Wood interiors are offered in bare pine and prefinished white. 3 interior Ultrex and 6 exterior colors are available.
Features: The range of grilles (7), glass choices (2) and hardware finishes (5) is limited to the most popular Marvin styles.
Warranty: 10-year limited.
Compare with: Pella Impervia.
Marvin Infinity
Infinity by Marvin are a full line of fiberglass Ultrex replacement windows. Additionally, each style is produced in substyles.
For single-hung and double-hung Infinity windows, your options are Standard, Cottage Style and Oriel Style. For Infinity gliding windows, equal-sized and unequal-sized sliders are offered.
Infinity casement windows are produced in Standard single windows, Two Wide Mull side-by-side and Picture Mull, a fixed window with casement windows on either side.
Materials: Fiberglass
Colors: 3 interior and 7 exterior colors.
Features: Low-E2 and Low-E3 energy-efficient glass options plus 3 specialty (tempered, laminated and sound-transmission reducing glass) and 6 decorative glass options. Hardware is available in 8 finishes.
Warranty: Lifetime limited.
Compare with: Pella Impervia.
When Pella is a Better Choice
We recently rated Pella a better overall window company than Andersen. Its quality and selection stand out. Here's where Marvin can't match Pella.
Selection: If you want to explore a full range of wood, vinyl and fiberglass options, Pella has more choices.
Vinyl: There are many reasons that vinyl windows are the best-selling windows in North America. They're low-maintenance, attractive and affordable. Marvin has yet to introduce a vinyl window.
Super-premium Windows: When getting the finest wood windows available is a higher priority than cost, Pella's Architect Series 850 and Reserve are right at the top of the list.
Warranties: Marvin windows are backed by good warranties, but Pella's are slightly better. A key difference is the labor warranty. Pella pays for the labor to repair or replace defective windows for 2 years; Marvin doesn't offer a labor warranty.
When Marvin is a Better Choice
We like the niche that Marvin has created with Marvin Ultimate windows. They're more affordable than Pella's best windows. Yet, Marvin Ultimate windows are good-quality products in an impressive array of woods, finishes, exterior colors and options.
When you want a premium window at a mid-range cost, Marvin Ultimate wood windows are worth considering! 😉
Pro Tip: Talk with reps from both Marvin and Pella before making your decision. Produce a list of questions you want to ask based on this article and other research you've done.
Ask about the experience of their installation crews. Ask the Marvin representative if the local dealer offers a labor warranty since the manufacturer does not.
Note:
24hplans has team of highly-trained, professional architects and drafters who can prepare any kind of site plan in the shortest amount of time possible, so that you can easily obtain that building permit and get on with your project. Use the promotion code: 24hplans-20off to get a 20% discount off any package. — Please note this is a limited time offer, exclusive to the readers of our blog. This offer is not being advertised anywhere else.