Custom homes allow consumers to control everything from size to layout and interior design.
In most cases, the buyer already owns a land lot on which the house will be built.
It's important that the architect sees the lot or at least a site plan before starting the design process. Expect to meet with him several times, because good communication between the architect and the buyer is the key for a successful collaboration.
If your dream is to have a one-of-a-kind house, you have no other choice but to get a custom made home plan. You will have to pay an architect to design your plan, and then contract a builder to actually build the house. You could look for professional home builders that offer both design and build services in order to simplify the whole process.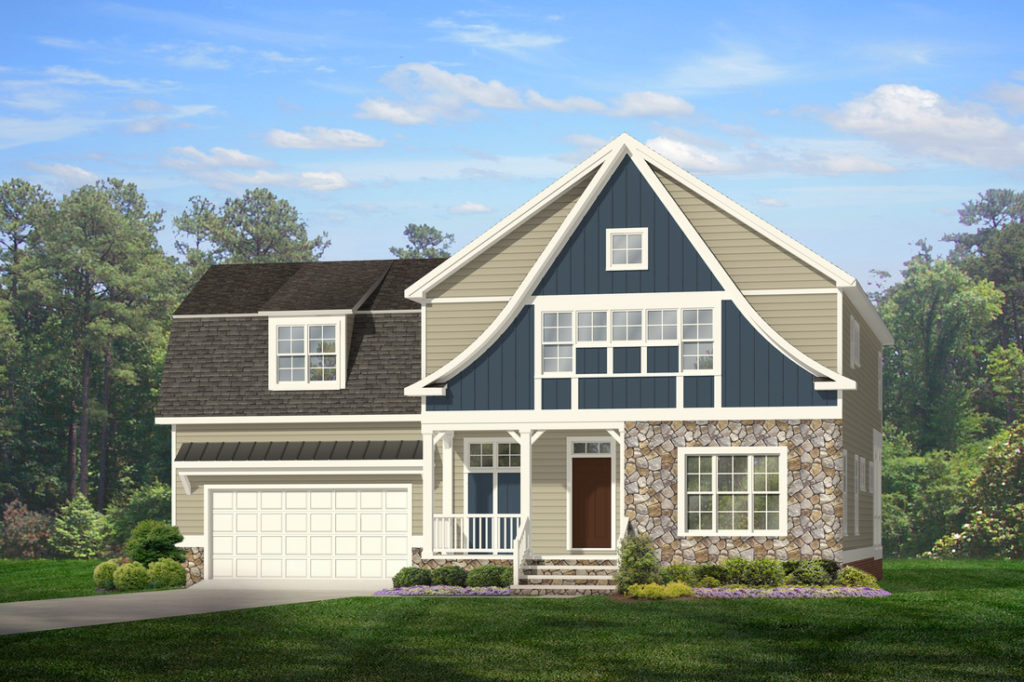 When asked "how do you want your house to look like?", many people lack the words to enunciate their desires or they don't even have a specific image in mind. We are going to jog your imagination by presenting 15 models of custom built home. 
The trend is for custom builders to build high-end homes, but you will find decent companies who will take a project estimated at less than $1 million.
All of the following designs can be built with that sum or less. The construction cost of a custom home ranges between $200 and $400 per sq. ft. depending on multiple factors such as the average price in that area, the quality of the materials, specific design requests that are tricky to build etc.
The cost of hiring an architect to make the plan of the house ranges between $0.75 (western Texas) and $3.5 (southern California) per sq. ft. depending on what state you live in. Other factors that affect the price of hiring an architect relate to his experience. 
Architects can charge an hourly fee or a percentage of the value of a project (5-15%). An intern architect with 3-5 years of experience charges around $65 per hour whereas a project manager with more than 10 years of experience charges close to $100 per hour.
Acacia Avenue Custom Home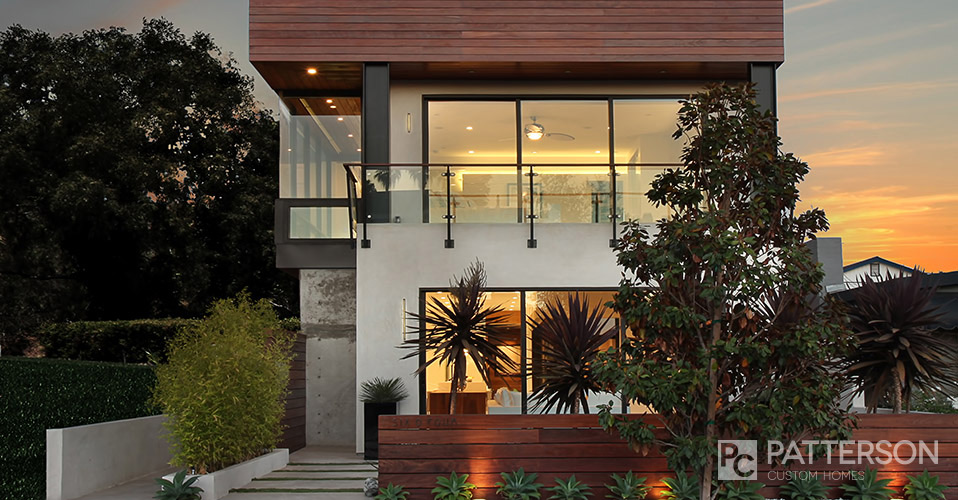 Image via Patterson Custom Homes
What better way to start the list than with a contemporary design? Built in the Corona del Mar neighborhood of Newport Beach, this custom home has 2 levels above ground, one of which is represented by the roof deck that was beautifully decorated for the taste of anyone who enjoys modern designs.
This compensates for the small are of green space in front of the house, thus making it perfect for small land lots or neighborhoods where houses are tightly packed.
The large windows play a major role in this design that's mainly comprised of straight long lines. This rectangular appearance is sweetened by curvy interior elements. If you take a look inside, you will notice the central concept of openness alongside more transparent glass surfaces.
It's important to note that in many cases it may be necessary to provide a site plan to obtain various home building permits from your city hall or township. You can turn to 24h Plans to get a custom site plan drawing prepared for your dream home in less than 24 hours by our team of experienced architects and drafters. Use the promotion code: 24hplans-20off to get a 20% discount off any package. — Please note this is a limited time offer, exclusive to the readers of our blog. This offer is not being advertised anywhere else.
Bayshore Drive Custom Home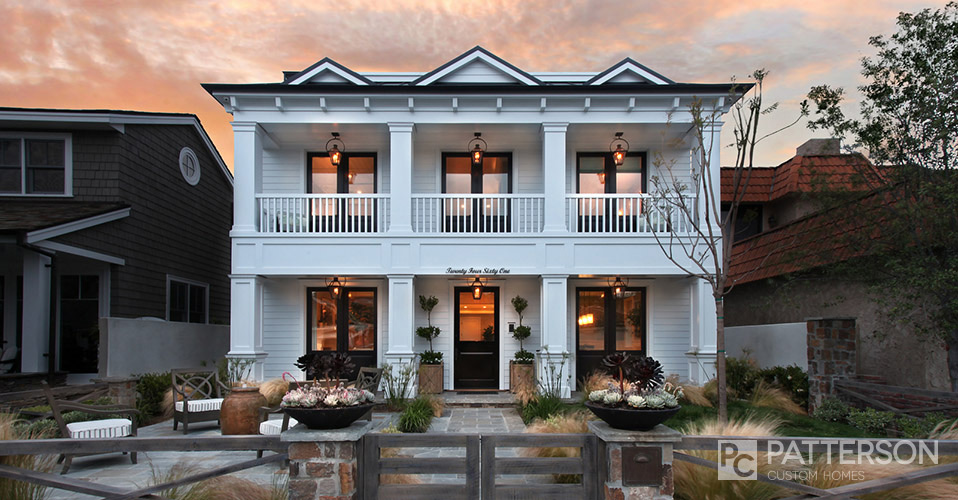 Image via Patterson Custom Homes
This house is built in a more traditional and elegant style. The big windows are replaced by doors that open fully to let natural light in.
There are 3 sets of doors on each level. The first floor has a classic balcony with a white handrail. The mansard style roof is decorated with 3 triangle shapes. Even though it can't be seen from this angle, this house features a rooftop deck. Add some cozy outdoor chairs and you have an amazing place where you can watch the sky.
The ground floor is based on an open plan and the bedrooms are upstairs. The master bedroom has a walk-in closet, which is great news for virtually any woman on this planet.
South Bayfront Custom Home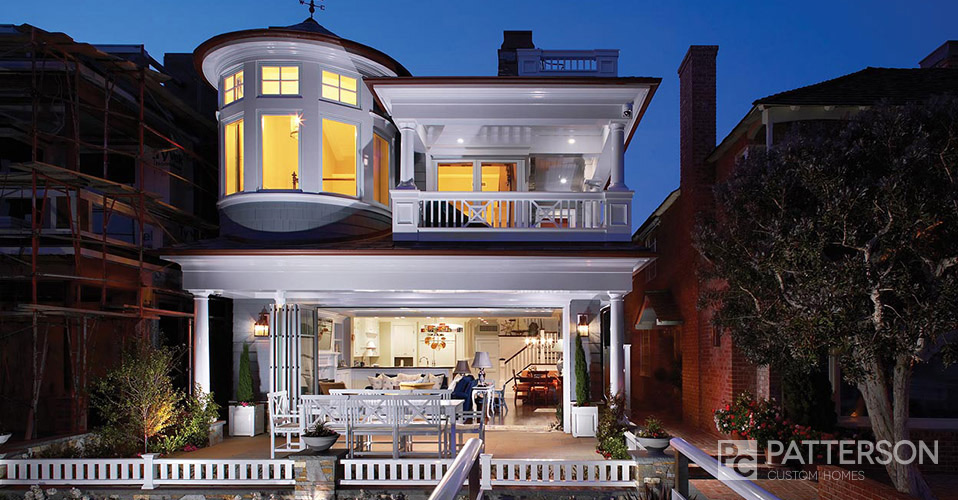 Image via Patterson Custom Homes
Perfect for locations with amazing views, the front of this house can completely open thus ensuring proper natural light and ventilation. This might be a problem in areas with a lot of dust because you will have to sweep and clean the furniture quite often.
Otherwise, this feature is perfect for small summer parties where the line between the indoors and outdoors disappears. Round and square shapes are harmoniously combined to obtain this eclectic design. The inside stairs are made of wood and have a traditional shape to make the transition between the ground and first floor.
Poppy Custom Home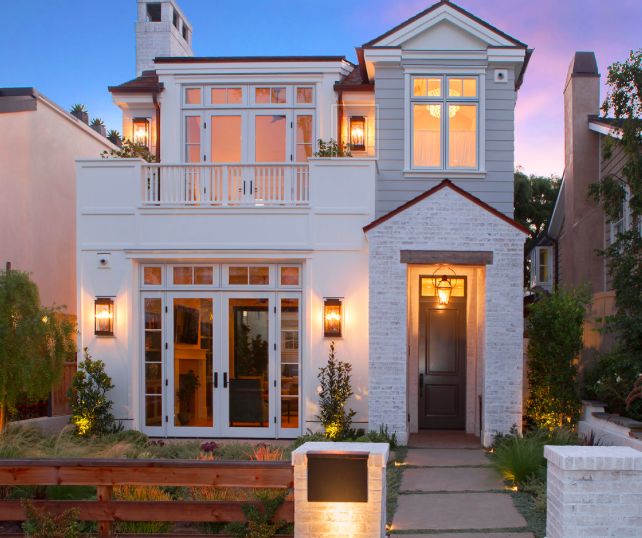 Image by Patterson Custom Home 
This custom home is special through how all the elements mix together to create a well balanced design. Each feature taken separately is dull but together they add value to the house. We are talking here about the white washed brick, the light grey plank siding, the white brick chimney, the wood shingle roof and the white columns.
The house is rather narrow but the other side of the rectangle is long. The hanging lantern near the door adds a bit of mystery to this custom house. However, the rooftop is by far the most interesting part of this design. It has an actual fire pit and a grill where you can throw awesome grill parties without having to deal with the people passing by on the street.
The Pacific Custom Home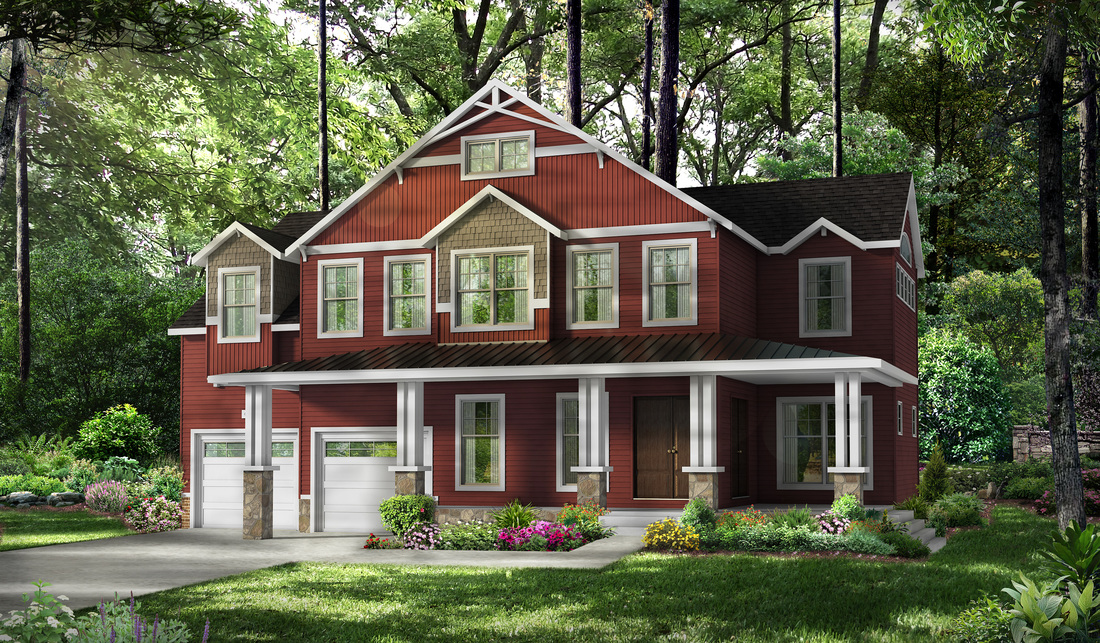 Image via RV Custom Homes
Covering 3,045 sq. ft., this custom house has 4 bedrooms, 3.5 baths and an open floor plan. The price is estimated somewhere around $450,000.
The wraparound front porch appeals to those who enjoy spending time outside. The garage can accommodate a single car and you have plenty of storage room left. The master bedroom is located upstairs featuring a big master closet and a master bathroom. There are 2 more bedrooms that share 1 bath. Bedroom number 4 is located downstairs and has its own bathroom. This one could be turned into a small office or game room.
The Whitewater Custom Home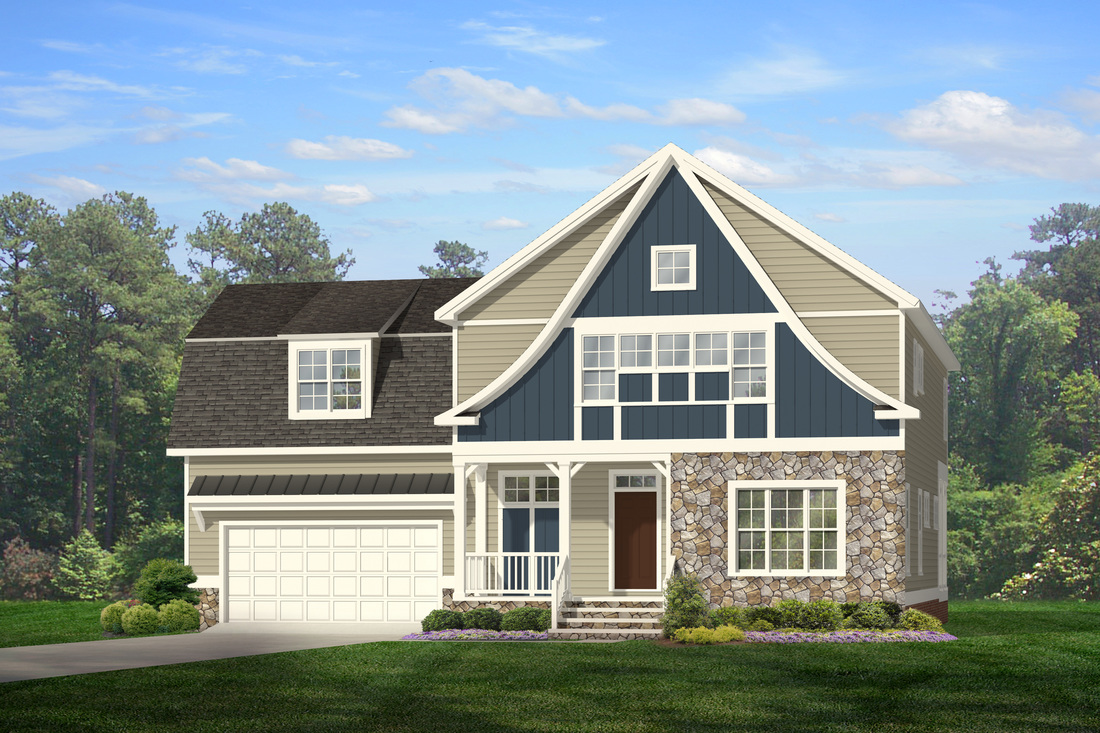 Image via RV Custom Homes
This house also covers about 3,000 sq. ft. and features 4 bedrooms with 3.5 baths. The house looks like it's made of 2 pieces glued together. The garage has a gambrel roof while the main house has a simple gable style roof. 
What's special about it is that the master suite comes with a coffee bar and a lot of closet space. The porch is covered thus making it suitable for rainy areas. There is a spare room that you are free to turn into a nursery or use it for whatever purpose you can think of. The garage can accommodate 2 cars, which is great news for families who have more than 1 car.
The Fairmont Custom Home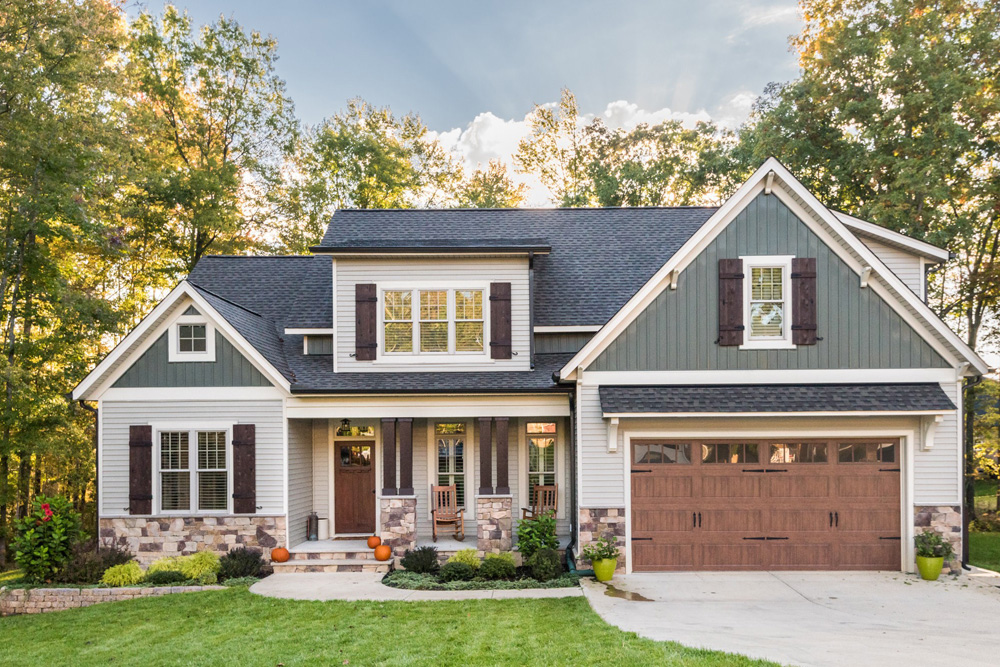 Image via Anderson Custom Home
Having a perfect size for a single family, the Fairmont custom home measures 3,122 sq. ft. featuring a ground floor master suite and a personalized kitchen with high end stainless steel appliances.
At the top floor you will find a game room for the entire family to enjoy together. As for the exterior looks of the house, this facade is quite common in the US but it has some special features.
The windows have ranch blinds thus combining the country style with the other elements that suggest the house belongs in the quiet suburbs of a big city. A great perk of this design is the big amount of storage space you have at the top floor. It's actually bigger than the size of a bedroom.
The Rio Custom Home

Image via Enjoy Your Build
This single story house covers a total of 2693 sq. ft., out of which 1804 sq. ft. are dedicated to living space and 509 sq. ft. are meant for a garage that accommodates 2 cars.
As you go through the door you will enter a small foyer that makes the transition to the family room. There are no walls to separate it from the kitchen. The master suite and one of the bedrooms are accessible through the family room. The 3rd bedroom cannot be accessed unless you go through bedroom no. 2. They share a common bathroom. The outside of the house makes it stand out in a neighborhood through its square shapes combined with round motifs and columns.
The One Nest Small Custom Home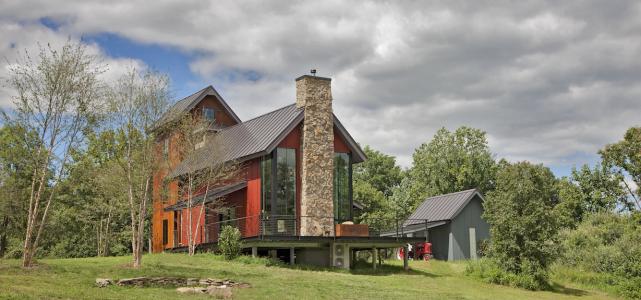 Image via Custom Builder Online
The design makes this house perfect for those who want to live in a remote mountain area. Covering only 1000 sq. ft., the house is still very cozy and suitable for a single family. You don't need a big lot of land because the design takes advantage of vertical space.
The double glass doors at opposite sides of the dining room allow cool breezes to pass through thus ensuring proper natural ventilation. A spiral staircase gives you access to the tower where you will find the master bedroom and the smaller ones that can be used by children.
Two Story Custom Home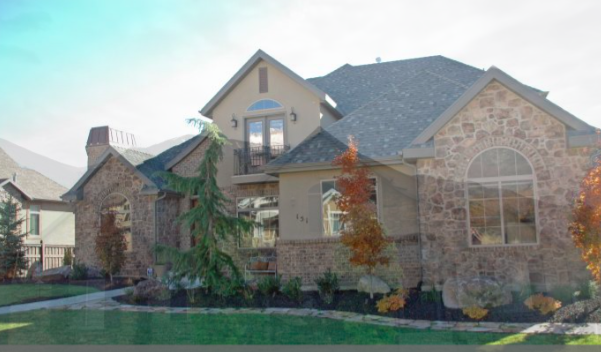 Image via JC-Design
Combining natural stone with simple siding sets this design apart. The size of the house makes it suitable for big land lots so it's  surrounded with plenty of green space. If you hire a talented landscaper, the curb appeal of your property will be on the rise.
The small balcony at the top floor makes you imagine how refreshing it will be to open the doors first thing in the morning after a good night's sleep. The main disadvantage of this design is the lack of a garage.  However, remember we are talking about custom built homes, so you'll be able to add a garage if you need one.
Winder Circle LA Custom Home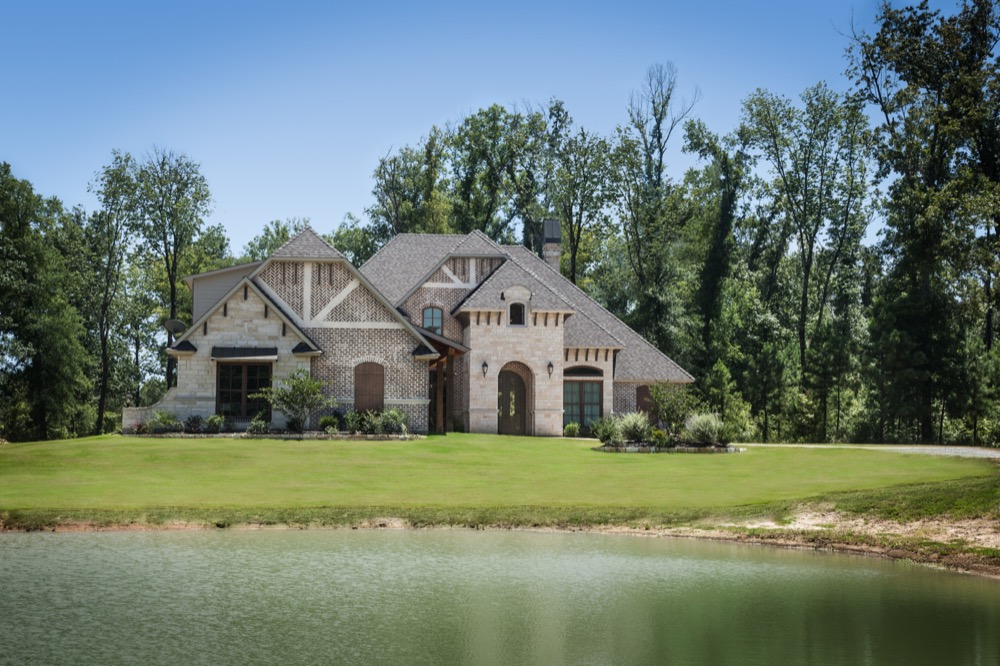 Image via Martin Homes
If you are looking for a design that makes people want to take photos, this is the right choice. Built entirely of brick, this house is rustic and belongs in the middle of nature, maybe near a lake or pond.
Even though this is not exactly your style, you could still build one to rent it, provided that the area is visited by many tourists. The house looks obviously massive and it doesn't allow a lot of natural light to pass through. You could easily get rid of this disadvantage by adding more windows.
The Hydeaway Custom Home
Image via The Press Democrat
This single story house has 2 bedrooms, 2 baths and covers 1,900 sq. ft. The price per sq. ft. is estimated at $360 excluding the costs for permits, engineering and design.
The only disadvantage is that you need a quite long land lot and you will have to put some effort into making the house energy efficient because the wide glass doors and windows can cause a major heat loss during the winter.
Puyallup WA Custom Home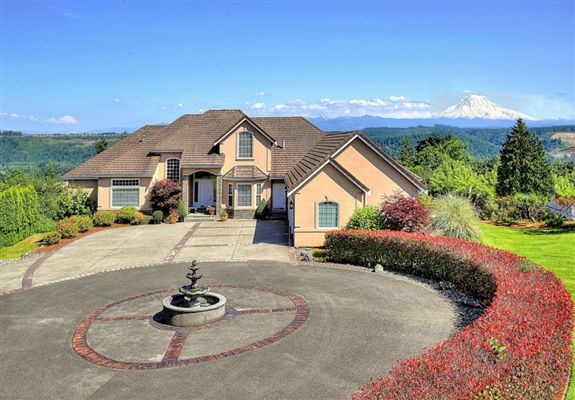 Image via Luxury Portfolio
This house has a terrific panoramic view of the Cascade Range, Mt. Rainer and Orting Valley. The size is very impressive: 6450 sq. ft., which is why the price is close to $1 million. It has 4 bedrooms and 4.5 bathrooms thus being perfect for a family with 3 grown kids.
The main floor has a master bedroom with a private deck, a sitting area with a gas fireplace and a gorgeous bathroom with walk-in shower. The basement is habitable,  so you are free to turn it into whatever you want (gym, media room, game room etc).
Unique Contemporary Custom Home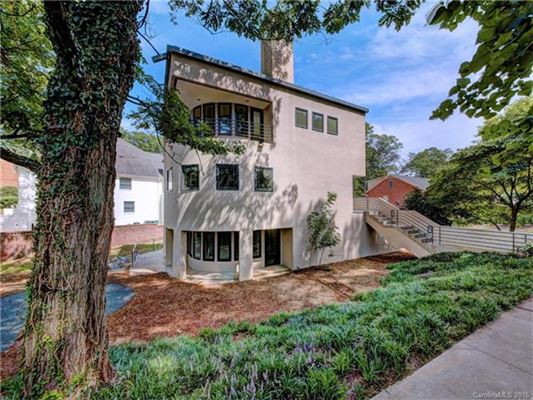 Image via Luxury Portfolio
Here's a custom built house in Charlotte, NC, that covers 2423 sq. ft. and costs roughly $700,000. You have to admit the shape is quite interesting as it combines straight lines with curvy shapes. The house has 3 bedrooms, 2 bathrooms and a garage big enough to fit 2 cars.
The curved porch and balconies catch the eye of visitors. And guess what, this house has an actual elevator. How cool would it be to use an elevator in your own home? Well, for $700,000 you will find out.
Wake Forest Custom Home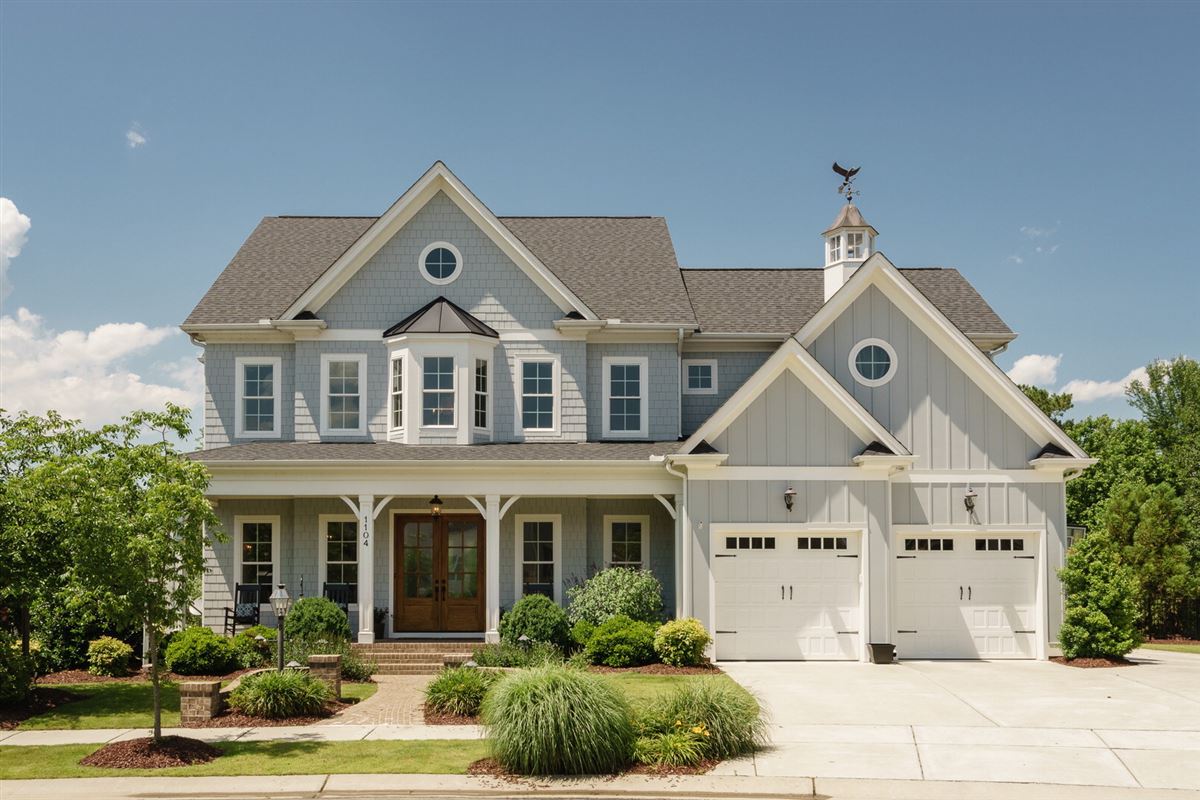 Image via Luxury Portfolio
And last, we have this custom home in Wake Forest, measuring 4700 sq. ft. The price is estimated at $770,000. It has a 2-car garage and a lot of tall narrow windows. The design is common in American towns, so if you are looking to fit in a new neighborhood, this is a sure fire way. The house has 4 bedrooms and 4.5 bathrooms.
Conclusion
All the above houses were built for the taste of a specific family, so it's unlikely you will like everything about a certain design. That's why you have the freedom to build it as you please. It's true the costs are 20-30% higher, but you will get the house of your dreams.
Note: Here's how we can help: 24hplans has team of highly-trained, professional architects and drafters who can prepare any kind of site plan in the shortest amount of time possible, so that you can easily obtain that building permit and get on with your project. Use the promotion code: 24hplans-20off to get a 20% discount off any package. — Please note this is a limited time offer, exclusive to the readers of our blog. This offer is not being advertised anywhere else.