Summer is just around the corner and it's the perfect time to start a home improvement project. If you didn't have enough money to buy a house with porch and patio, it's time to make some additions.
Here are 20 porch and patio designs to choose from or to at least give you a place to start your search for the perfect porch/patio.
Wraparound porch
This porch is great for sunny areas because it gives you enough shade to chill. It also provides cover from the rain allowing you to read a book outside while watching the rain pour.
Wraparound porches are usually see on Victorian, Colonial and Vintage style houses. They can also give some depth to tall and narrow homes.
The plan costs around $150 and the building costs go as high as $25,000. This price includes only the materials you need to build the deck.
If we add the contractor's fees, the price goes over $45,000. This should not come as a surprise taking into account the size of the porch. Lots of materials go into its building and it takes longer to finish the job.
Images via Builder House Plans
It's important to note that in many cases it may be necessary to provide a site plan to obtain various home building permits from your city hall or township. You can turn to 24h Plans to get a custom site plan drawing prepared for your dream home in less than 24h hours by our team of experienced architects and drafters.
Use the promotion code: 24hplans-20off to get a 20% discount off any package. — Please note this is a limited time offer, exclusive to the readers of our blog. This offer is not being advertised anywhere else.
Parallel front porch
This is perhaps the most common type of porch and it's seen all over the US. It costs less than $20,000 to build and it highly increases the curb appeal of the house. This is particularly important if you want to sell it in the future.
If you want to fit some small chairs and a table, remember that the porch should be at least 8 feet wide. The plan costs $130.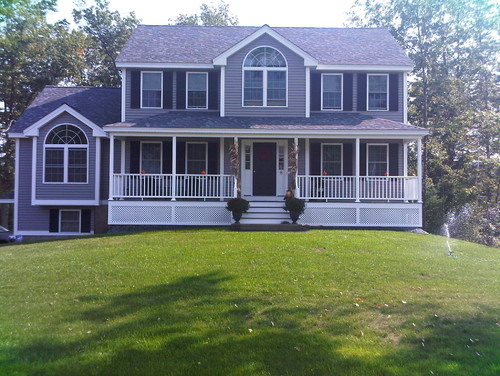 By mallgirl316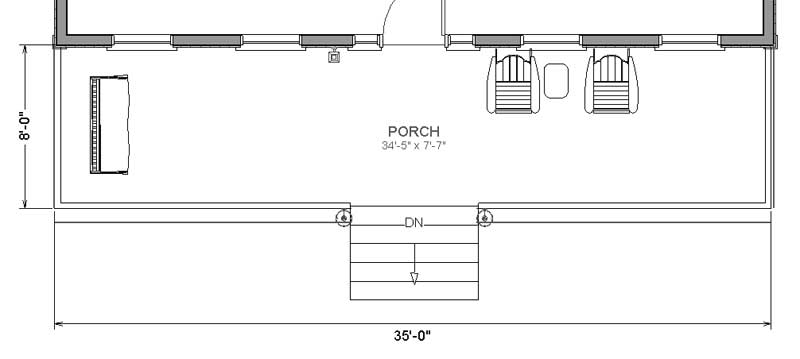 Image via Simply Additions
Screened porch with a gable roof
This plan costs $130 and the cost to build is $6500 provided that you do the work yourself. If you want to save a few hundreds of dollars you can use substituted treated decking instead of cedar.
This design is spacious and the glass walls allow you to feel like you are outside. You can dine, read, and hang-out with your friends when the weather doesn't allow you to go outside.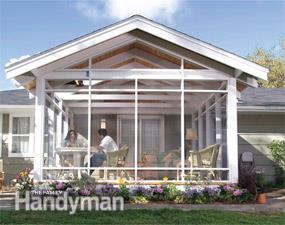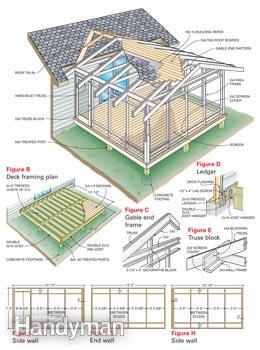 Images via Family Handyman
Screened Porch with a Shed Roof
This design is more suitable for smaller houses. The nets make it an insect free zone which is live saving during hot summer nights. A 4/12 pitch roof is attached to the roof of your house. The plan costs $70 and the cost-to-build for a 12 ft. x 16 ft. screened porch with shed roof is $13,000.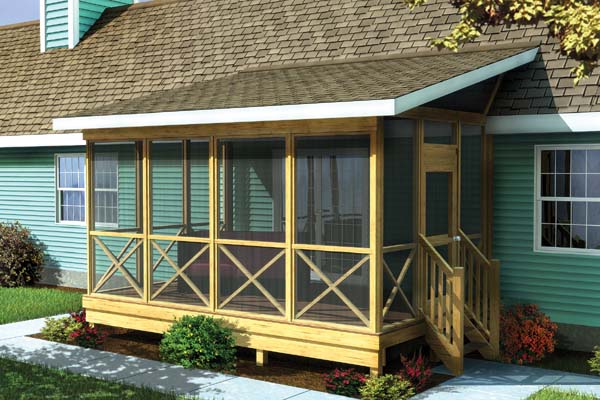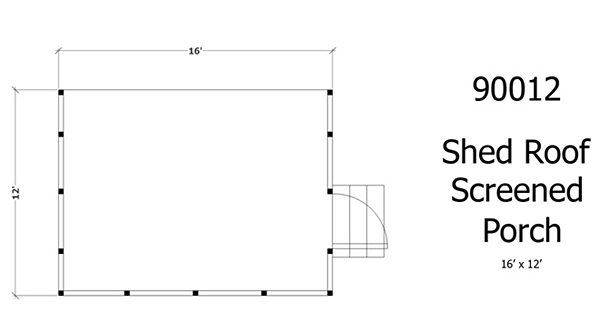 Images via Family Home Plans
Gazebo shaped porch
This is a very stylish design that definitely gives a facelift to an old and boring house. Expect to pay at least $15,000 for this type of porch, but it's worth the price.
How many houses did you see featuring this type of porch?
None or very few. This makes it a unique design that increases the value of the house. The disadvantage is that the porch is not protected from the rain at all. The plan is very cheap, only $20.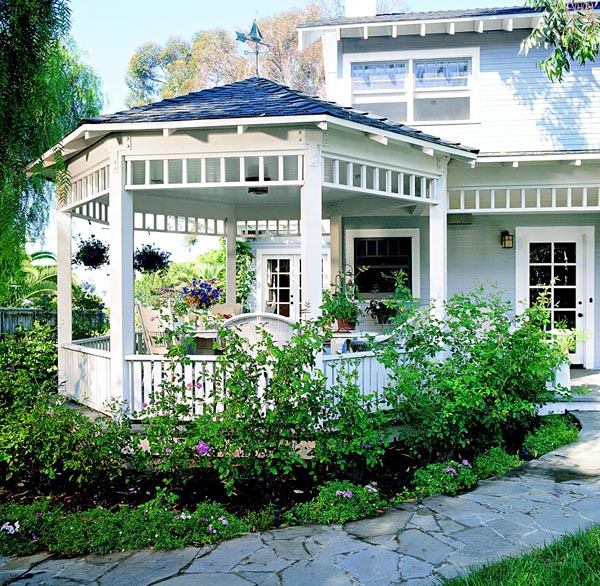 Image via Family Home Plans
Small front porch with wrought iron railings
The iron railings give an imposing feel to this porch design. It is true that the porch is small and you can't fit much furniture in there, only 2 chairs on either side of the door.
The plan doesn't cost more than $50 given its size and simplicity. The steps and the floor are made of bricks, which speaks of the durability of the porch. The usage of bricks increases the price of the porch up to $4000.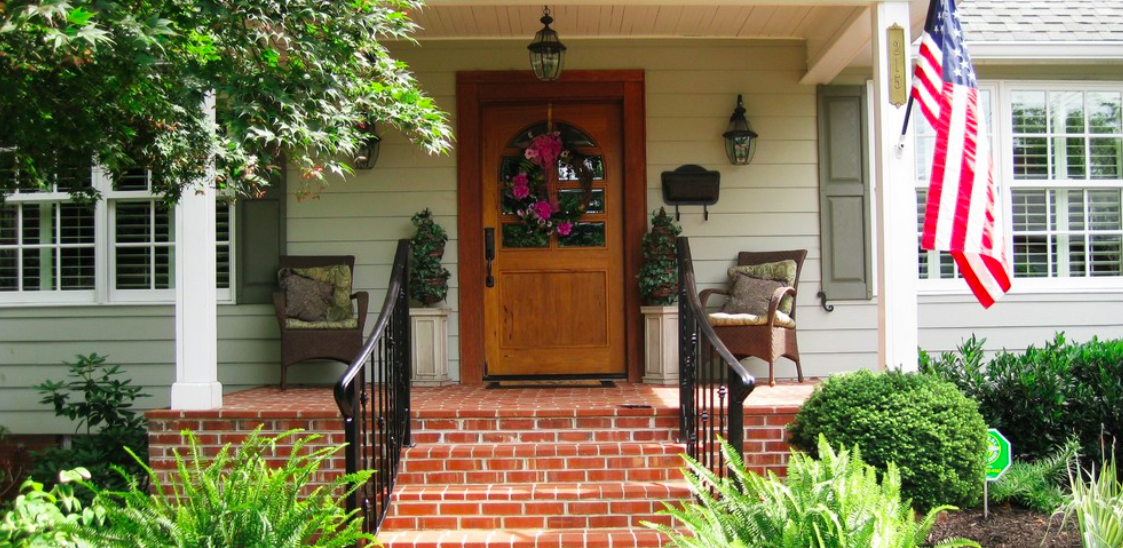 Image via Heritage Iron and Decor
On grade patio
This design shows how elements should be arranged on a patio to leave enough room for circulation.
The shape is rectangular which makes it easy to build. It is big enough to fit plants, chaises and a 6-person table. Measuring about 700 sq. ft., a patio of this size takes about $15,000 to build.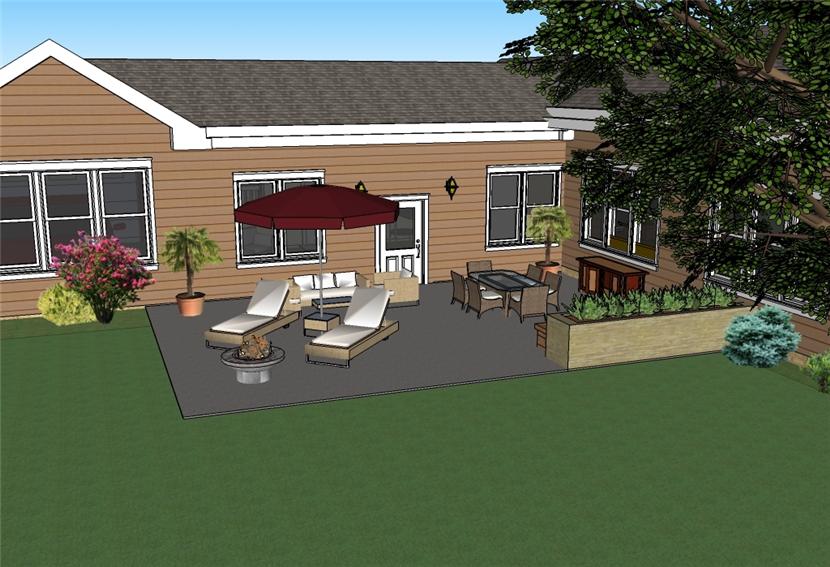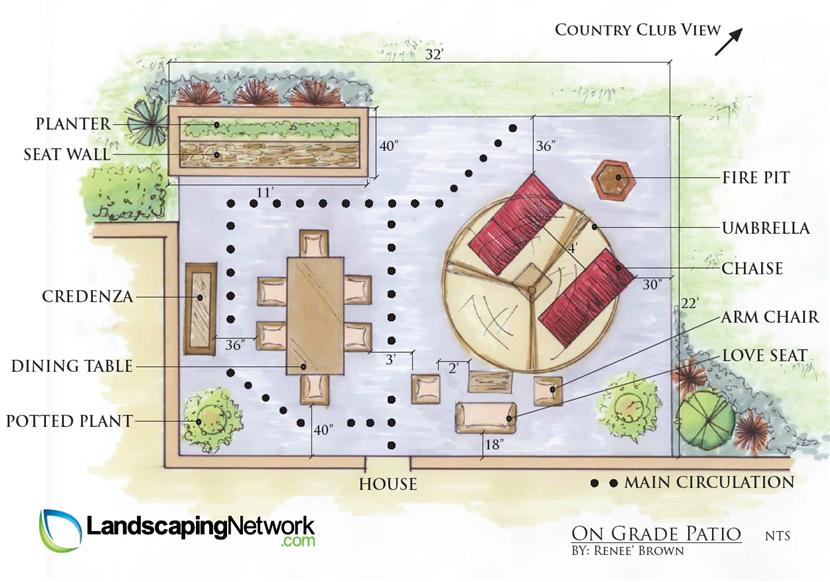 Images via Landscaping Network
Split level decks
In this design, there is a patio and a deck connected through a few steps. The deck is in turn connected to the house veranda.
As you have probably guessed, this design is expensive due to its complexity and size. If you have a big yard, installing split level decks would highly increase the price of the property and would make your neighbors jealous.
The deck costs about $2000 whereas the installation of a 200 sq. ft. patio with brick pavers costs about $3000. The plan for both of the structures does not go over $100.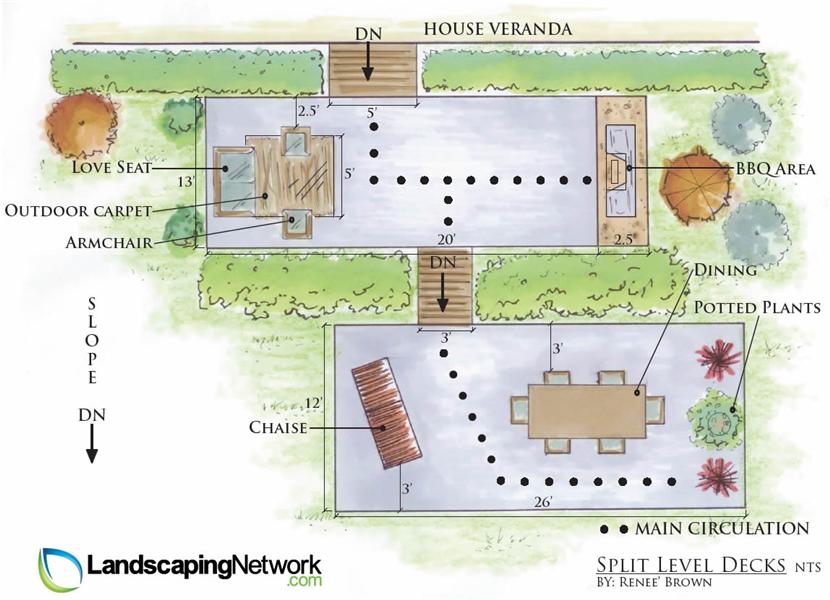 Images via Landscaping Network
Free form patio with soft edges
A free-form patio comes in many sizes but this particular design is a large one. There is a pergola in the middle to shelter you from direct sunlight. The patio is made of concrete which is moderately expensive: approximately $6 – $10 per sq. ft. For example, a 16 ft. x 18. ft. living room patio that is meant to be a relaxation oasis costs about $2,500 to build. Concrete is incredibly versatile and easily to install and maintain although cracks appear after a few years.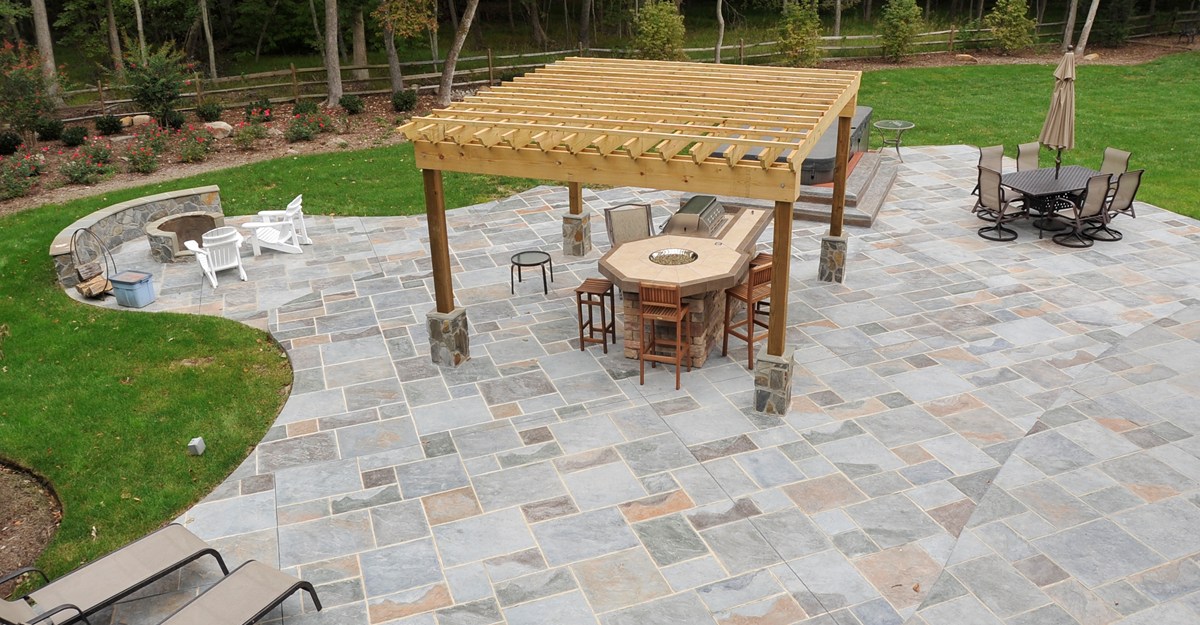 Image via Concrete Network
Patio design with pergola
A 415 sq. ft. paver patio with a cedar pergola having stone wrapped posts costs about $13,000 to build. The price of the plan is included.  As you see there is a special place for a barbecue grill making this the perfect place for a Sunday afternoon.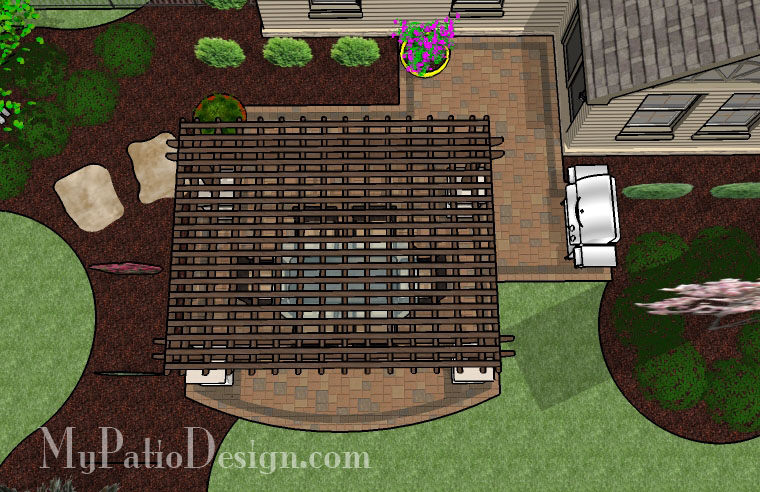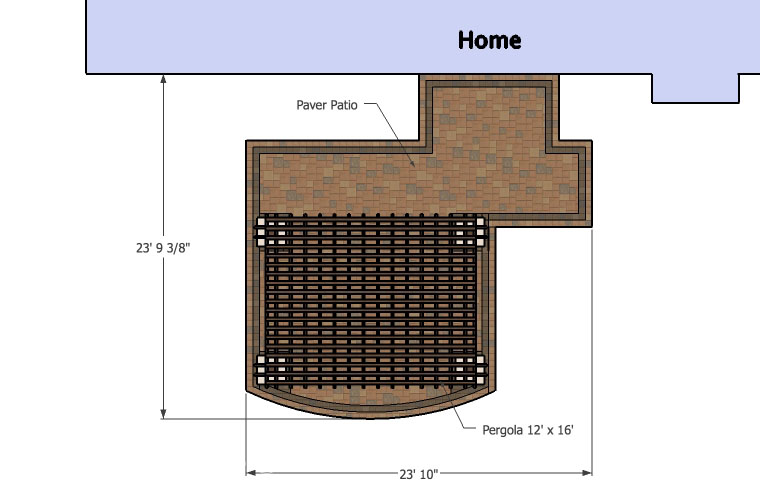 Image via Schneider's Landscaping
Paver patio with fire pit
This is a smaller patio with a cozy element: a fire pit. There are several types of fire pits depending on the fuel: gas, wood or charcoal.
A small fire pit costs $50 – $250 while a bigger one goes as high as $500. The material used is paver. The average price for paver is $10 per sq. ft. This 335 sq. ft. patio costs around $8000 to be installed and the price of the plan is included. The seating walls with columns certainly give your yard a stylish vibe.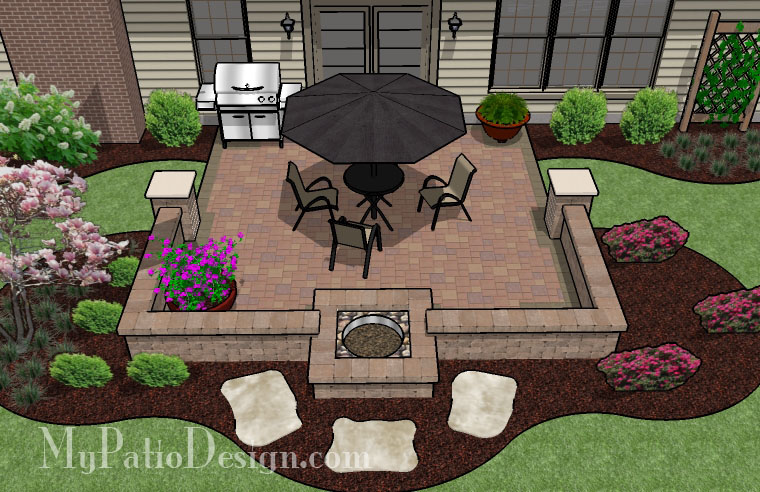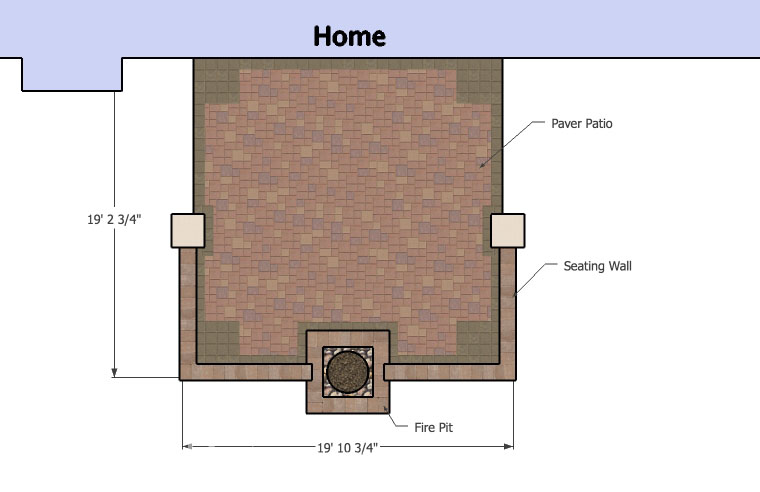 Image via Schneider's Landscaping
Brick patio
Here's another small patio measuring 290 sq. ft. It is made of bricks and a paver circle that's half surrounded by sitting walls with stone columns. There is a special paver pad for a grill.
The cost-to-build is somewhere around $6,500. The cost of brick is lower than the one of stone. Your children will love playing outside while you work on your laptop or read a good book.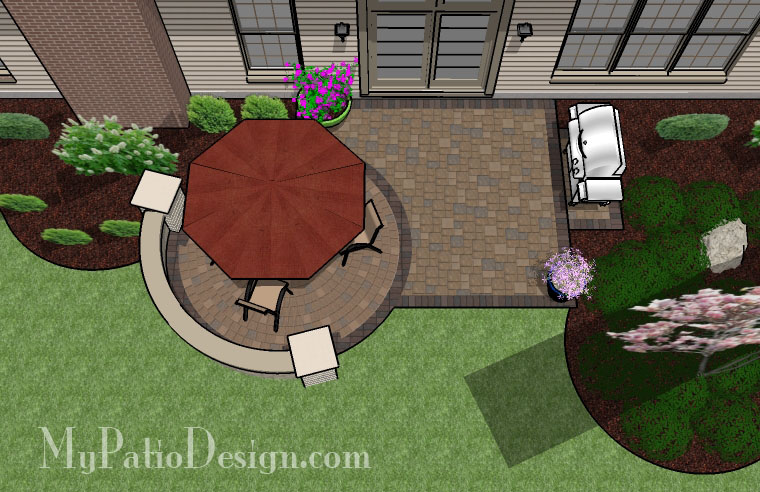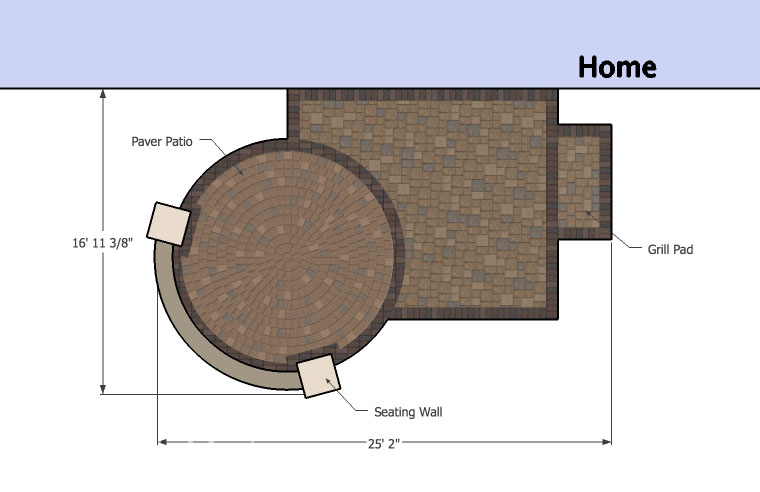 Image via Schneider's Landscaping
Patio with circle pavers
This patio is great for a small party. 4 people can sit in the left circle, let's say the men drinking beer and taking care of the BBQ grill, whereas the women can stay under the umbrella catching up on the latest gossip. The patio measures 414 sq. ft. and costs $6,500 to install.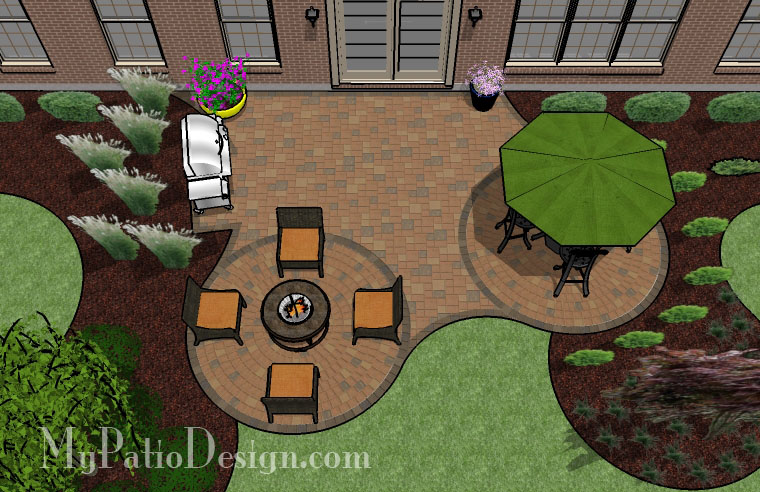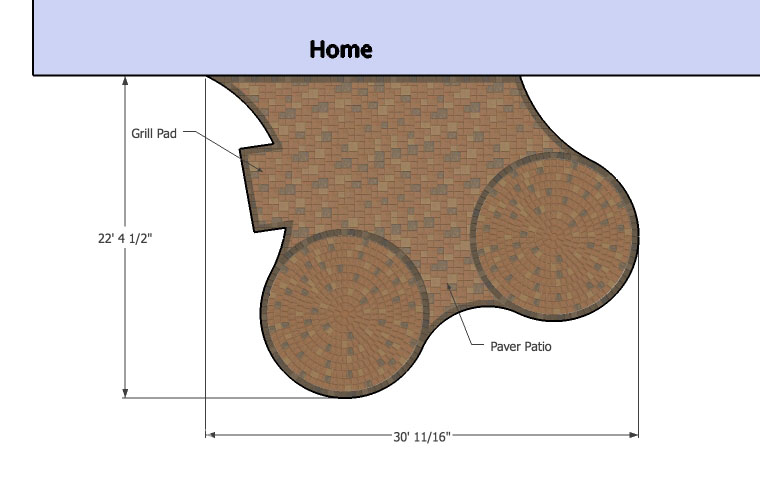 Image via Schneider's Landscaping
Raised patio
Do you already picture yourself going down those steps with a glass of wine under a clear night's sky? Do it now and you will understand what we're talking about.
This design is more functional and beautiful than a deck. The elevation gives it a certain beauty and you can easily place a table with 6 chairs in there. It's quite expensive though considering all the stone used to create the elevation. The price is $8 – $12 per sq. ft. of stone.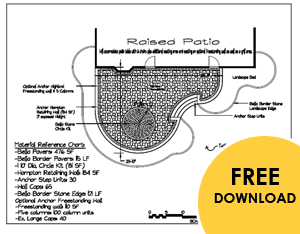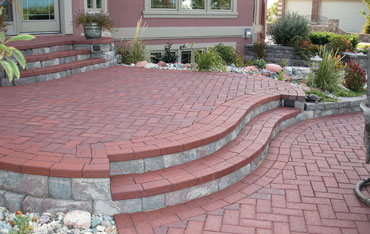 Images via Hardscape STL
Patio with hot tub area
If you have $10,000 to spare, this design is worth the money. You have your own Jacuzzi in the backyard. The stone seat walls can be made as high as you want to give you privacy (the price increases though because you need more stone).
There is a dining area and a small coffee table with 3 chairs where you can smoke a cigarette with your friends. The patio measures 433 sq. ft.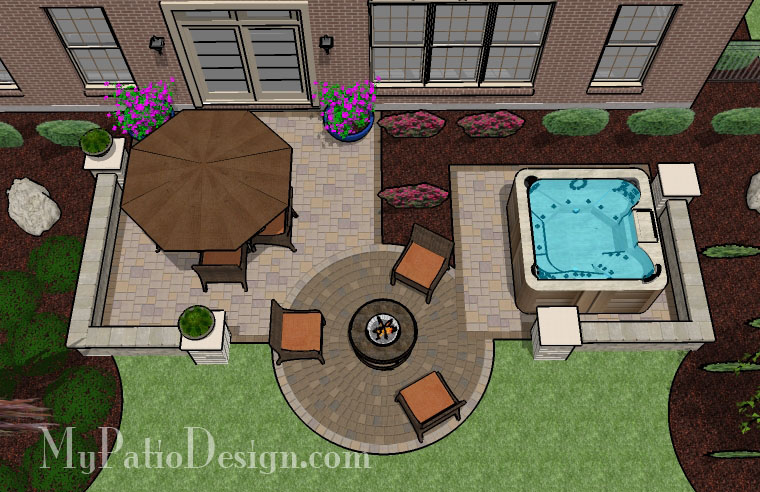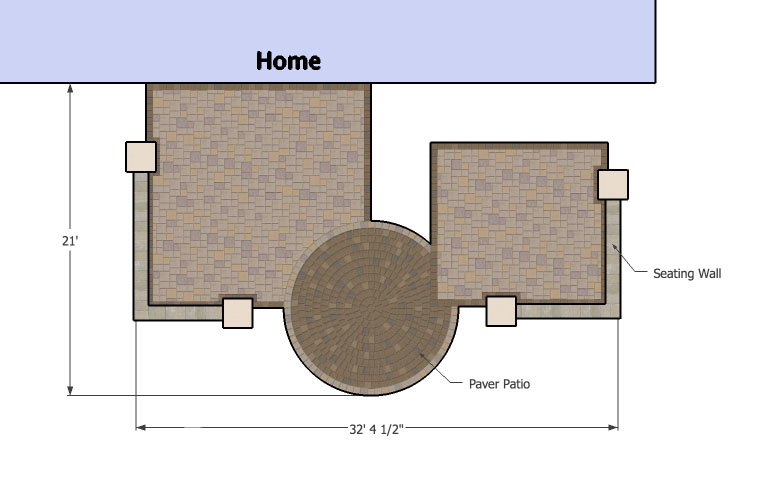 Images via Schneider's Landscaping
Round and square patio
Do you consider yourself a rebellious personality who wants to do things in an original way? Here's a suggestion: how about you combine a round patio with a square one? The square leads to the circle. A 21'' high seat wall that ends with boulders frames the design very nicely.
You have space for a fountain and a few chairs. The patio in the image below measures 19 ft. x 14 ft. The cost to build this design is a bit under $5000.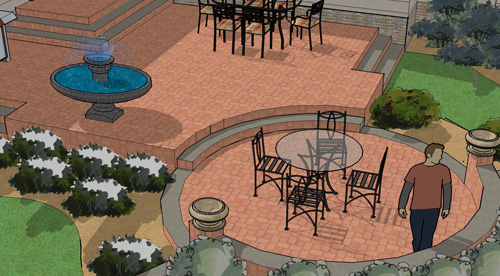 Image via Landscape Design Advice
Wooden garden patio with gazebo
If you have a huge garden with lots of trees and plants that make you feel you live in a forest, this patio with a wooden gazebo will add some style to the wilderness.
The flower pots hanging in there beautifully complete the design while the chaises invite you to lie down.
The gazebo alone costs around $1000. If we take into account the 2-level wooden patio, you would pay anywhere between $6 and $15 per sq. ft.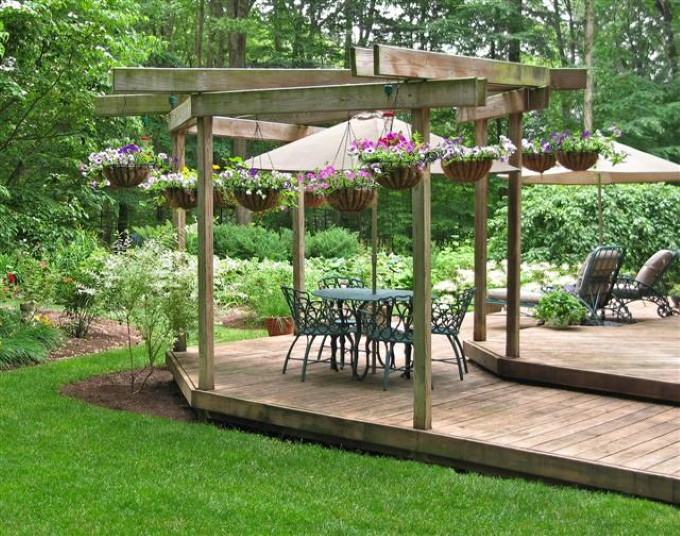 Image via Dndon
Small wooden garden patio
Here's another design that makes us think we are in a jungle. All the green stuff aside, you are seeing a simple small patio made of wood with a corner bench and a small table.
There is enough place for 2 chaises where you can lie with a glass of margarita in one hand and a magazine in the other.
There is no doubt this patio should be part of any modern home in sunny areas that allow you to grow such beautiful flora. If you keep the number of sq. ft. low, you could build this with less than $3,000.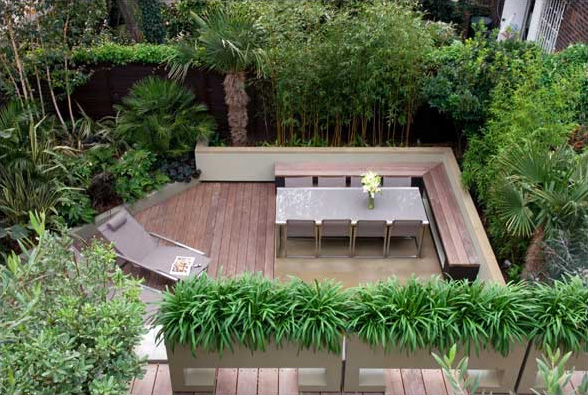 Image via Spring Wood Paper
Combination of deck and patio
You think a simple patio doesn't cut it, how about you add a deck? Eat on the deck and place a swing on the patio under the gable roof to enjoy the silence of the night and the sound of the rain with a cup of hot chocolate to warm your hands in the cold season.
The deck plan costs around $80 and the patio plan costs as little as $30 (it's a quite small patio as you see and there's no furniture in the picture). The roof however, well.. you should get ready to pay an extra $800 for the roof and supporting columns.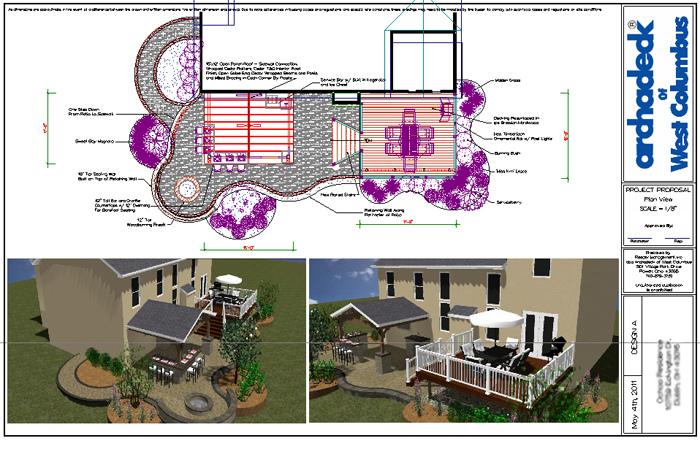 Image via Columbus Decks
A patio + screened porch + deck combo
This design really has it all: a rustic screened porch, a second story double deck and a paver patio on the ground. Is is raining? Stay inside and watch it pour.
Do you want to eat outside? Sit at the table on the deck and enjoy your meal while watching the sunrise. Do you have kids who want to play outside? Let them do so on the patio in front of the deck. You will be able to supervise them from the table upstairs.  You can't deny there is a certain fluidity about this design.
The average price for a second story double deck is $50 per sq. ft. while the paver patio costs $15 per sq. ft. on average.
The screened porch can be built with $5000 if you use wood. The plan for the screened porch costs $130, the patio plan costs about $50 and the double deck plan should be around $150.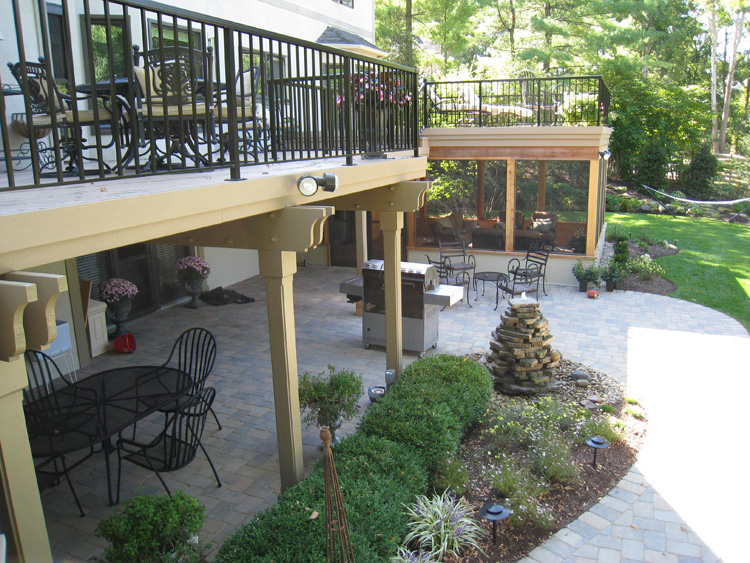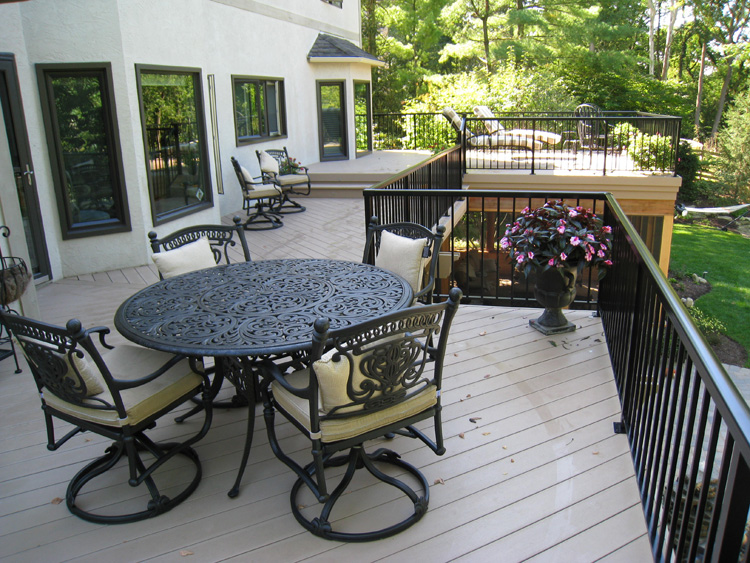 Image via Columbus Decks
Were these 20 designs enough to let your imagination roam free? We certainly hope so! 😉 We can't wait to hear your comments and thoughts on these design and ideas!
Take-home tip: always ask for several quotes before settling for a contractor.
Note: Here's how we can help you get your project approved by your local building department: 24hplans has a team of highly-trained, professional architects and drafters who can prepare a customized site plan according to your requirements. All in the shortest amount of time possible.
Armed with a professional site plan, a floor plan, or a photo-realistic 3D render from 24h Plans, you can easily obtain that building permit and get on with your project.
Use our exclusive promotion code: 24hplans-20off to get a 20% discount off any package. — Please note this is a limited time offer, exclusive to the readers of our blog. This offer is not being advertised anywhere else.