Building a deck expands your living space outdoors. Just think about all the parties you will throw and all the quiet nights you will spend hanging out with your friends and family on your beautifully-designed and well-built deck! 😉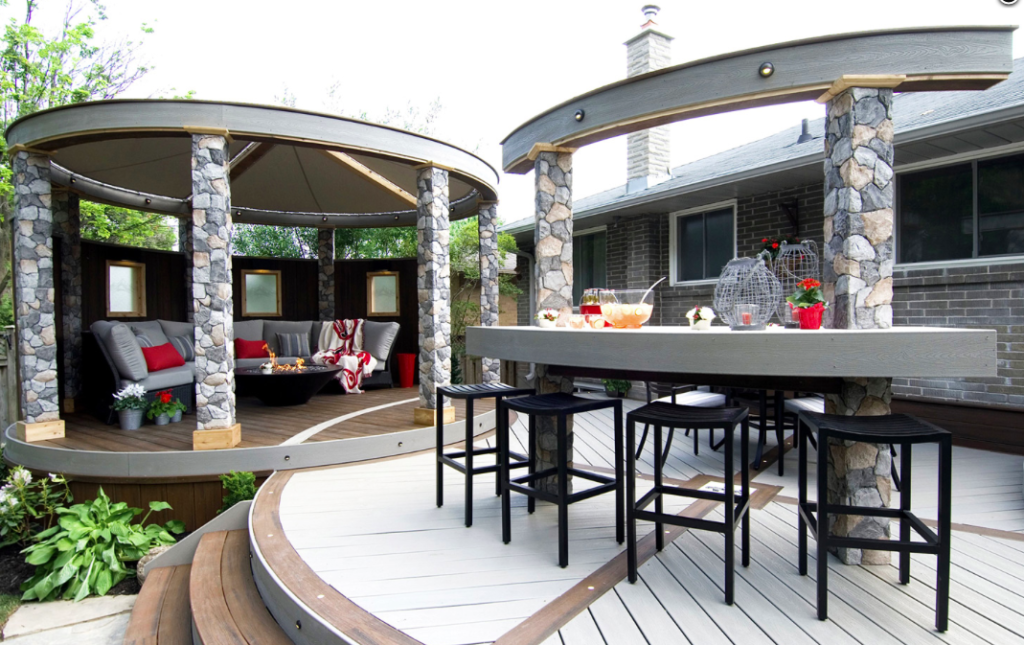 Here are 15 great examples of deck styles to get your wheels turning. We will also present the costs associated with each deck design, whether you hire a pro or choose to go the DIY route, so you can keep your feet on the ground while your design thinking and imagination are going wild! 😉
Low Budget Deck Design for DIY Enthusiasts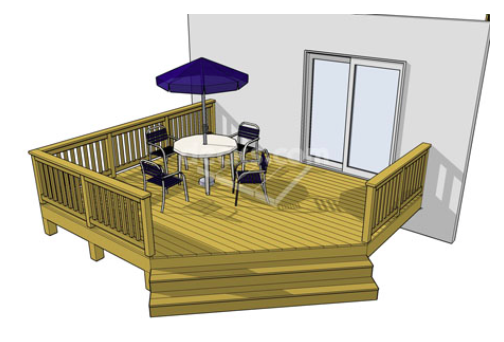 Image via Decks.com
If you have a small backyard and you don't want to cut a lot of green space, this deck is the best choice. Building a deck is more convenient than a patio if you're working on uneven terrain or rocks.
You can build a deck as small as 16'x14′, so that you minimize material costs. The least expensive option is pressure treated pine. The materials would cost roughly $2,000. Another great option is redwood that adds about $300 to the material costs. This low elevation deck gives you the space to add a table and a few chairs where you will be free to enjoy a cold beer with your friends.
Deck with octagon pergola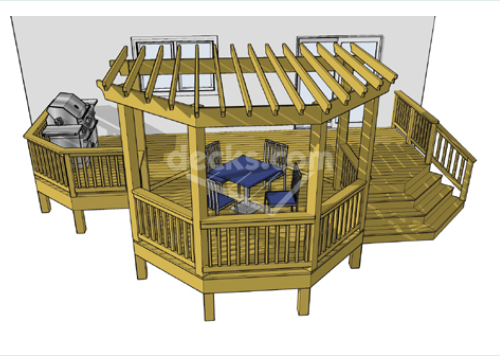 Image via Decks.com
You need more space than earlier to build this deck considering that the smallest size available is 26'x18'6″. The small space on the left easily fits an averagely sized grill. The outdoors furniture goes under the 12'x12′ octagon pergola that not only looks great, but also shades you from the burning sun.
It's not necessary to put chairs and a table in there, you could opt for benches that surround 5 sides of the octagon or a small outdoor sofa with a coffee table in front of it. There are all sorts of options, all you need is imagination and of course, money. The materials required to build this 364 sq. ft. deck cost at least $4,000, if you use pressure treated pine and as much as $10,000 for exotic hardwood.
It's important to note that in many cases it may be necessary to provide a site plan to obtain various home building permits from your city hall or township. You can turn to 24h Plans to get a custom site plan drawing prepared for your dream home in less than 24 hours by our team of experienced architects and drafters. Use the promotion code: 24hplans-20off to get a 20% discount off any package. — Please note this is a limited time offer, exclusive to the readers of our blog. This offer is not being advertised anywhere else.
3-Level Deck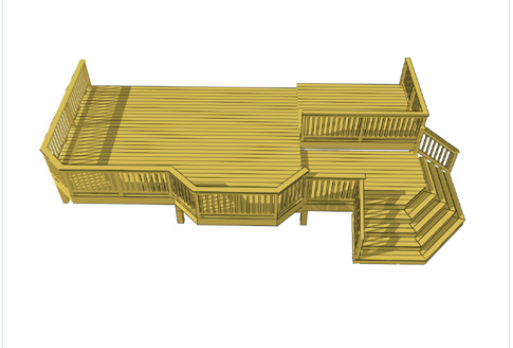 Image via Decks.com
This 208 sq. ft. low elevation deck gives you a lot of space to decorate as you please. This design combines a big middle deck and 2 smaller ones. The angled corner on the bottom right is beautifully surrounded by a cascading staircase. You are free to leave it almost empty for a party. Just make sure to add a table with beverages and a state of the art sound system.
People will have enough space to dance or to just hang out with a drink in their hand. Another idea is to place a grill on the left and a sofa on the right. Maybe buy a cheap pergola or umbrella to keep you cool while eating your burger.
A cedar deck this size costs a bit more than $4,600, a price similar to one made of redwood. Composite and exotic hardwood are the more expensive options ranging from $6,500 to $9,500.
Deck with Jacuzzi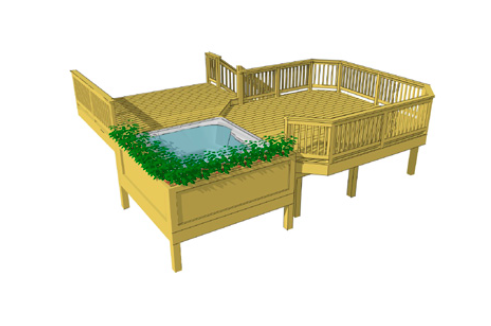 Image via Decks.com
Here's a 414 sq. ft. 2 level deck with a recessed hot tub. Note how the walls and plants offer the desired privacy. The top deck measures 10'x13′ while the bottom offers 14'x14′ of entertaining space.
The stairs are not visible from this angle but they are located in the corner opposing the hot tub. They are supposed to be hidden between the house and the lower deck.
Expect to pay $4,000 for a pressure treated pine deck or as much as $10,300 for exotic hardwood. This choice is made according to your budget but also to what you care most about: durability, looks, etc.
High elevation deck with jacuzzi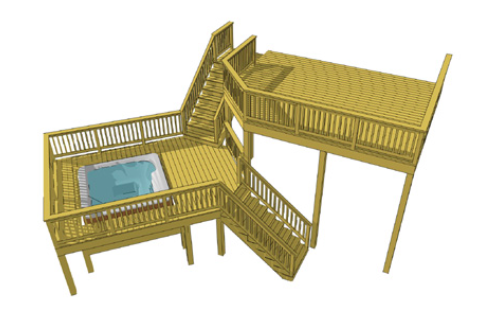 Image via Decks.com
Here's a high elevation deck with a recessed hot tub. Notice how the tub is placed on the lower deck for more privacy. On the top deck you could bring a couple of chaise lounges to get a tan if you live in a sunny area like Florida or you could place a few chairs around a table under an umbrella.
You are free to throw a small Jacuzzi party where people who don't want to get wet can stay upstairs and enjoy the warmth of the sun. The entire deck measures 510 sq. ft. and costs at least $5,500 to build. If you want to use composite or exotic hardwood the costs vary between $8,800 and $12,600.
Curved deck with built-in seating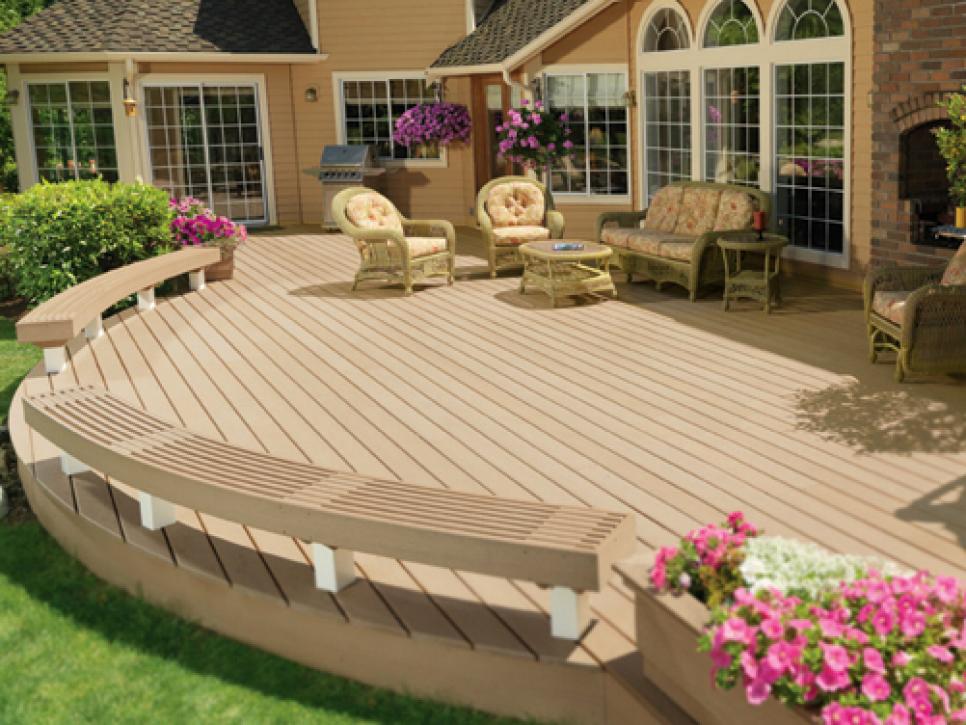 Image via Hgtv
Built-in seating makes this deck very versatile. When you have guests, you won't have to bring chairs from inside because you already have these benches at the edge of the curved deck. The flowers make the entire design beautiful and elegant. It's important to choose the right type of furniture. For example, in this photo the sofa set makes the design warm and cozy. Notice the grill in the back and the hanging flowers that embellish the entire deck. It takes a professional eye to frame it all so beautifully.
High single level deck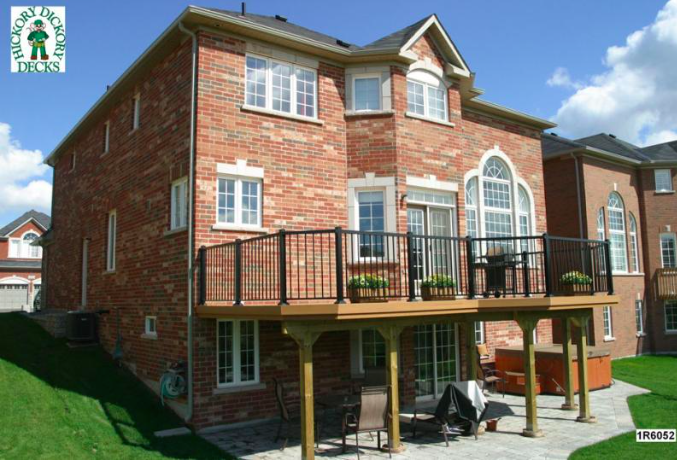 Image via DIYDeckPlans
The dimensions of this deck are 25'x15x8′ covering 298 sq. ft. It has a medium to high elevation basically providing the owner with 2 extra separate spaces. You have a nice deck on top and a shaded area underneath.
This is perfect for the days when the sun is a bit too enthusiastic in heating our planet. If you have a pool nearby, you get the best of both worlds by placing a chaise lounge on top and one underneath the deck. When it's chilly below, you move on the deck to get warmed up. The plan is very cheap and the actual construction costs go up to $4,000.
High deck with spiral stairs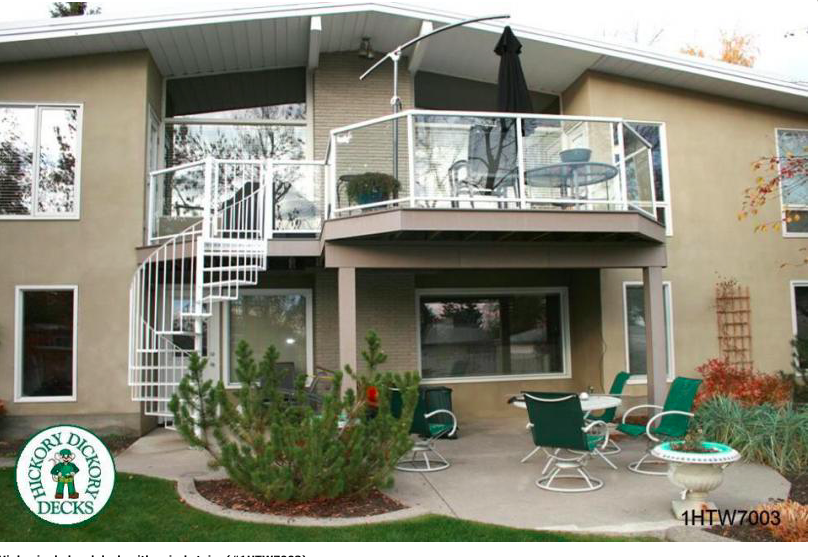 Front view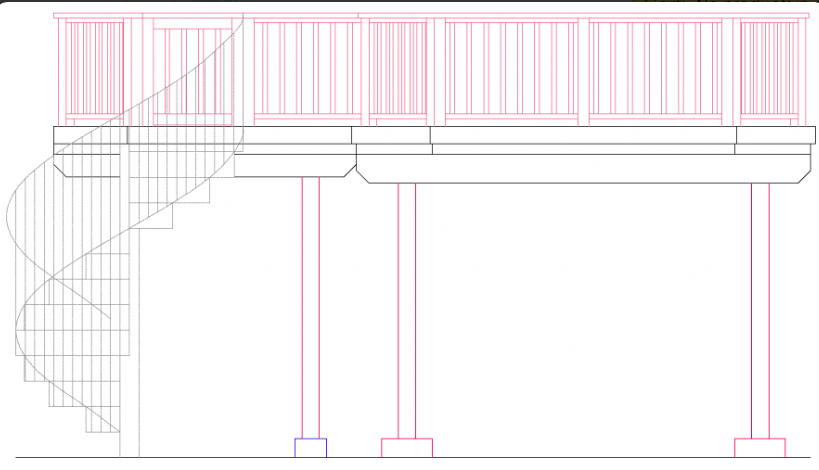 Top view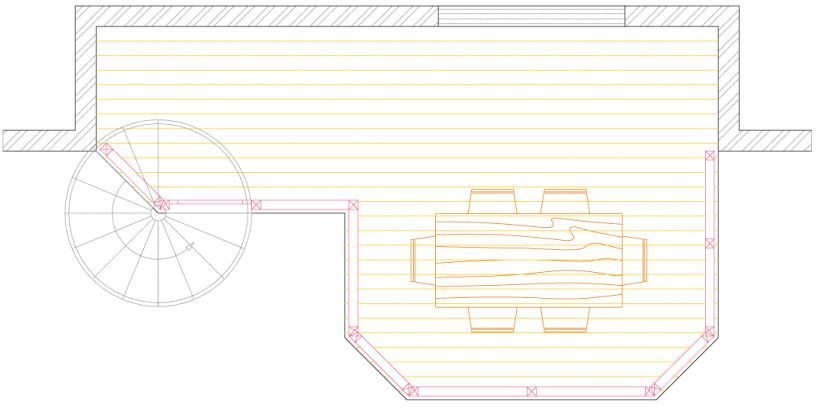 Images via DIYDeckPlans
This is a high elevation 186 sq. ft. deck with custom made spiral stairs. It looks more like a balcony than a deck but it's gorgeous nonetheless. The stairs certainly add something unique to the entire design. Underneath the deck, there is a patio where you can add some extra chairs and a table as you see above.
The plan costs $17 while the materials necessary to build the wooden frame range between $2,500 and $4,000. The price per sq. ft. of patio is $6-$10. If you want to add color to the concrete, expect to pay as much as $15 per sq. ft. As for the spiral stairs, you will pay $700-$800 for a model measuring 4′ in diameter.
Deck with stairs and privacy screens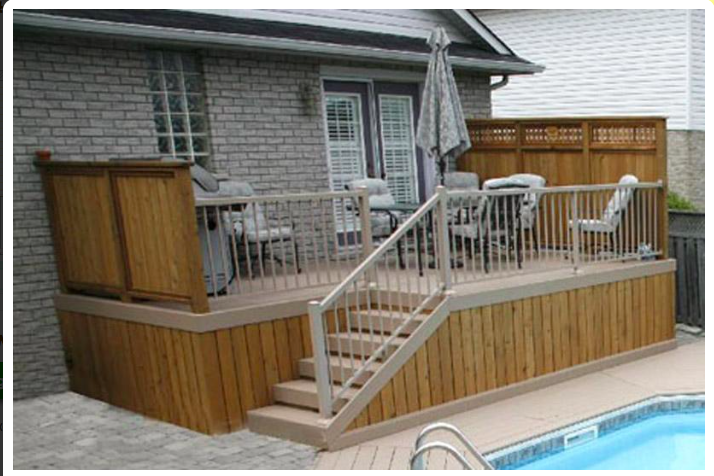 Top view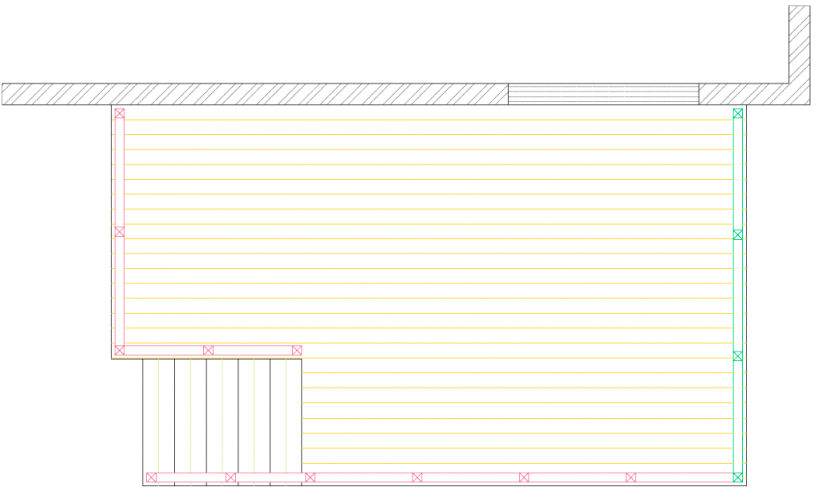 Images via DIYDeckPlans
This is a mid-height 216 sq. ft. deck with privacy screens and stairs. Considering the pool nearby it's obvious why anyone would want the privacy screens. Even if the space below the deck would not be enclosed, it would have still been difficult to use it in any way due to the low height of the deck.
Either way, the deck looks sturdy and it offers a very comfortable space to relax near the pool and maybe enjoy a delicious grilled meal. You could add a chaise-lounge instead of the table and chairs to put the privacy screen at good use. The plan costs $17 and the materials cost $3,000-$4,000.
Spa deck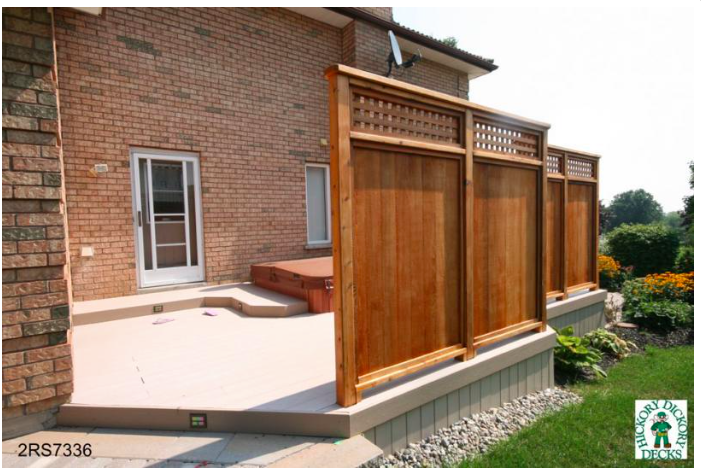 Top view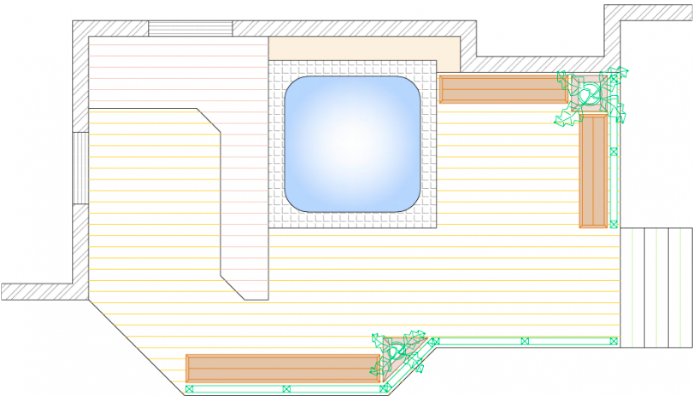 Images via DIYDeckPlans
This is a two-level, mid height deck measuring 248 sq. ft. It has a recessed hot tub and two benches where people can rest. There are 3 access points to the deck area. The privacy screens come in handy especially if you want to have a special time with your significant other in the hot tub after the sun sets.
If you choose cedar, expect to pay around $3,000. On the other hand, composite is more expensive and the costs could rise up to $4,000. Feel free to decorate the space with plants in order to give it a more personal look. You could actually enclose the space by adding a pergola between the wall and the privacy screens.
Deck with pergola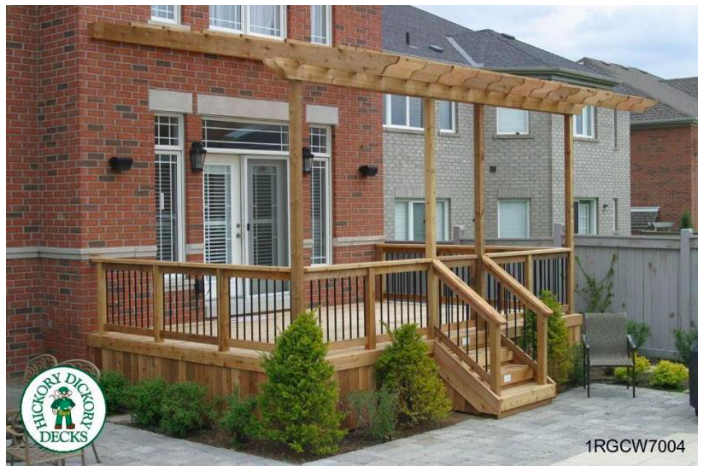 Images via DIYDeckPlans
Here's a simple design meant to make the transition from the door to the patio. You can build this deck at the back of your house or in the front, in which case you should probably consider painting it. It looks good if you don't add any furniture but if you want to increase its usefulness, a few chairs look great as well.
The plan for this 240 sq. ft. deck costs $17 and the materials cost anywhere between $3,000 and $6,000 depending on the type of wood used for its construction. Pressure treated pine is the cheapest while exotic hardwood is the most expensive one.
Deck with circular pergola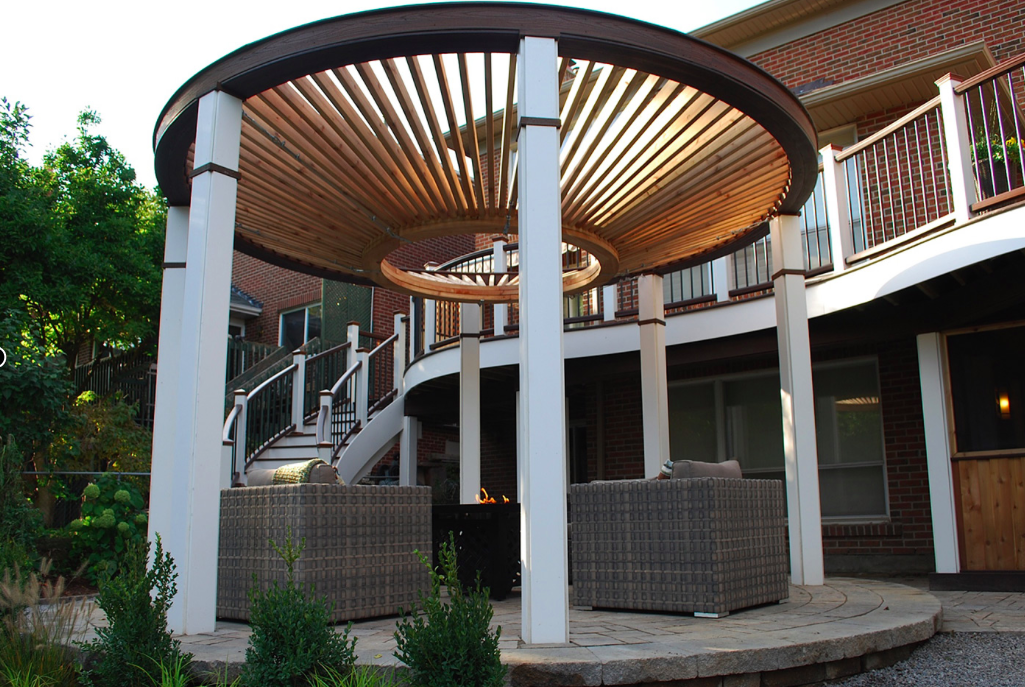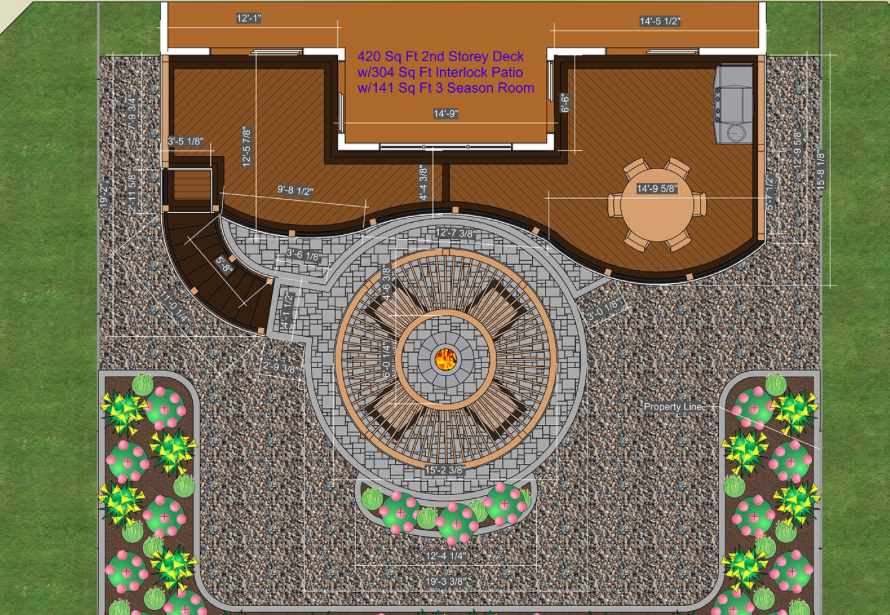 Images via PaulLafranceDesign
This is a complex design featuring a 420 sq. ft. deck, a 304 sq. ft. interlock patio and a small 141 sq. ft. season room. The circular pergola is the main point of interest. The deck is connected to the patio through stairs. The deck itself has a high elevation and costs roughly $8,000 to build.
The main disadvantage of this design is that it cannot be implemented harmoniously at smaller scales. You could adjust the dimensions but everything will look cluttered and you would be forced to give up on certain elements to declutter the design.
However, giving up on the pergola will still leave you with a beautiful deck and patio which is more than enough to turn people's heads when they walk down the street.
Multilevel curved deck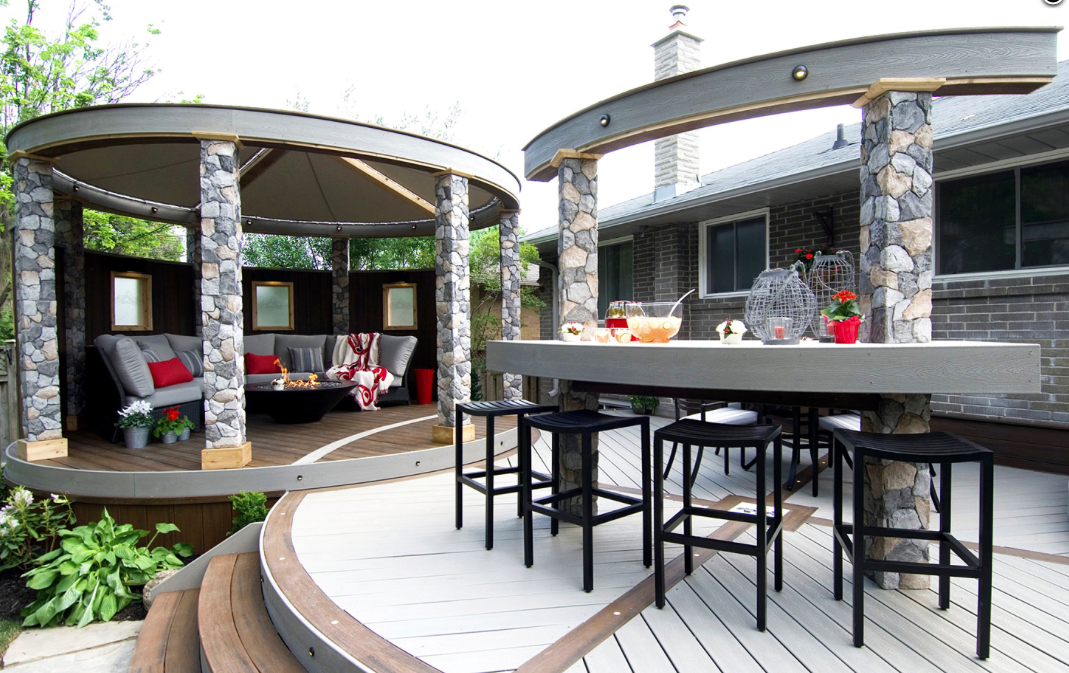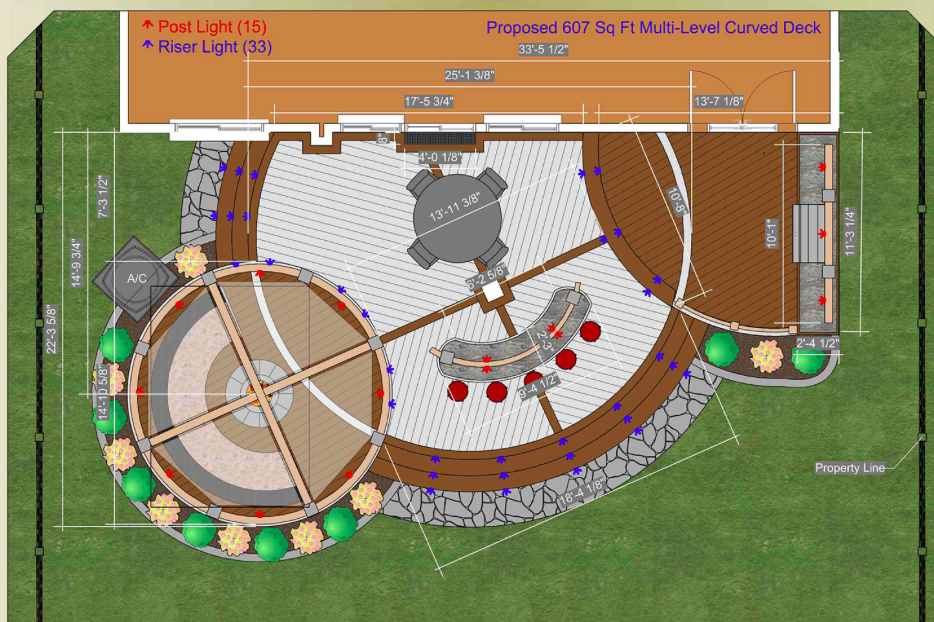 Images via PaulLafranceDesign
Here's another complicated plan that probably costs several hundreds of dollars. We all have to admit though that it looks awesome. Once again, this 607 sq. ft. multilevel curved deck is meant for big yards and deep pockets as it takes +$10,000 to build it. A carpenter charges $40-$80 per hour, so don't underestimate the labor costs associated to building this amazing deck.
If you are planning to sell the house, this investment will definitely increase its value. It can actually turn an average house into a very expensive one, considering that you hire the right realtor for the job.
The covered deck to the left is perfect for quiet evenings with your friends while the bar makes this deck ideal for party people. Either way, the design is definitely for those who know how to add something special to their day to day lives.
"Round-square" deck design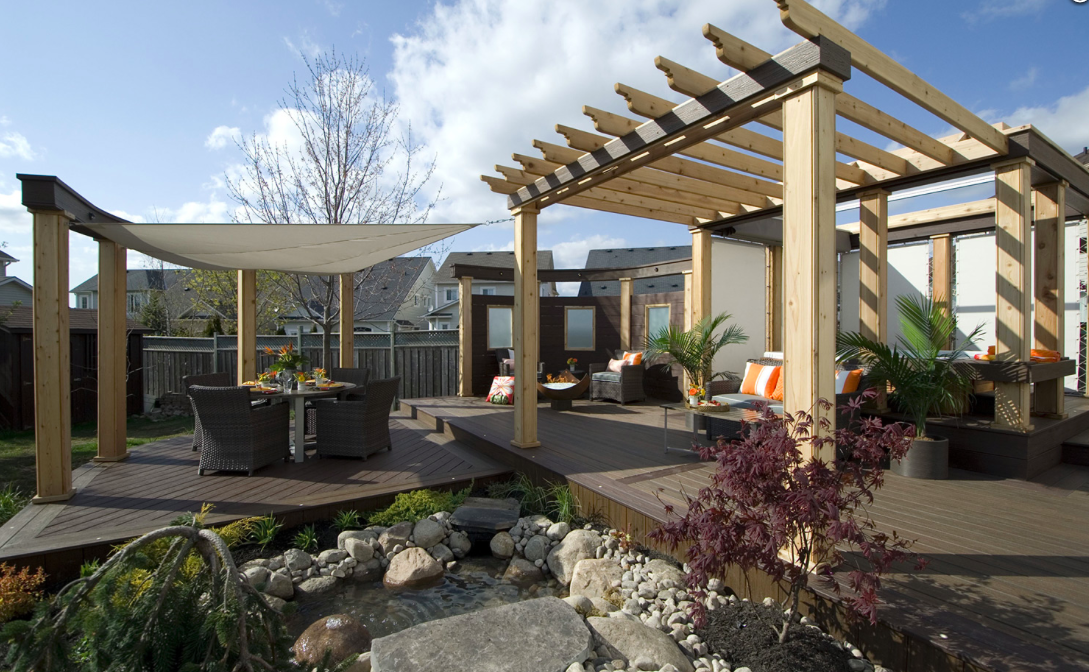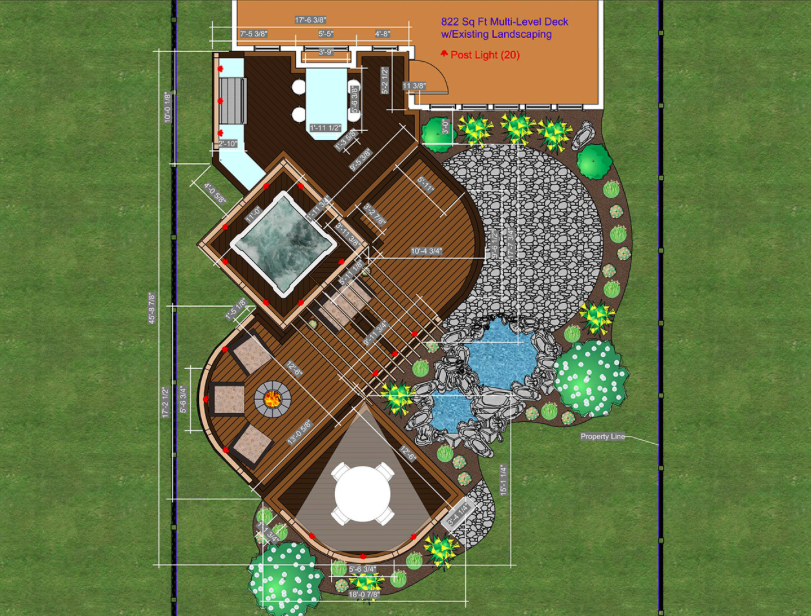 Images via PaulLafranceDesign
This deck is literally huge. It covers 822 sq. ft. of your yard and it has several privacy screens and pergolas. If you choose to build this design you basically have your own outdoor living room. Bring a gigantic TV and everyone will come to see the game at your place when it's nice weather.
Choose hardwood to build the deck especially if you want to rent or sell the house. Every single detail is important for a client and it's essential to make him feel like every piece is high quality and meticulously built.
Even if you go with light colored wood, you should consider staining it because darker shades make the deck look more classy and high end.
"Lounge" deck design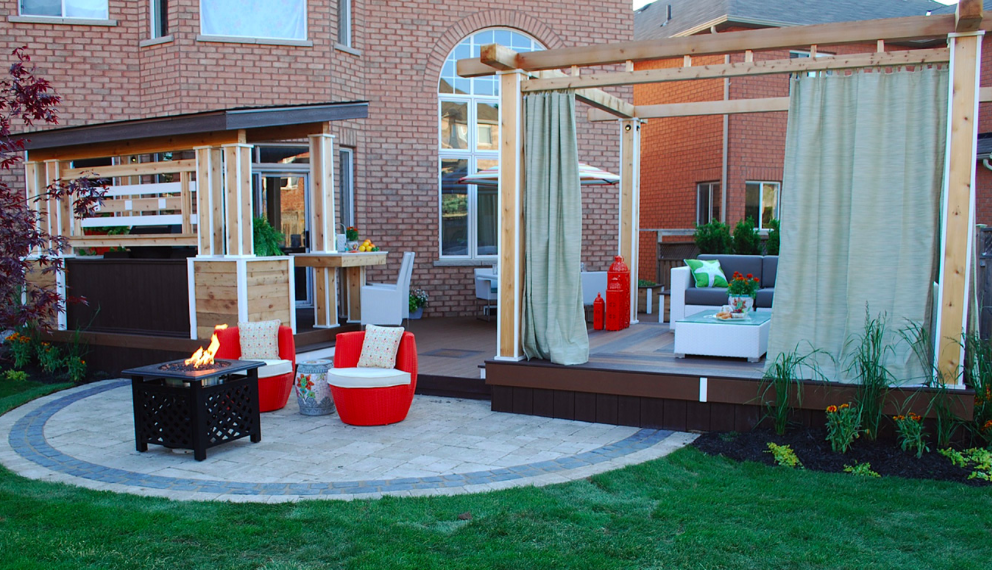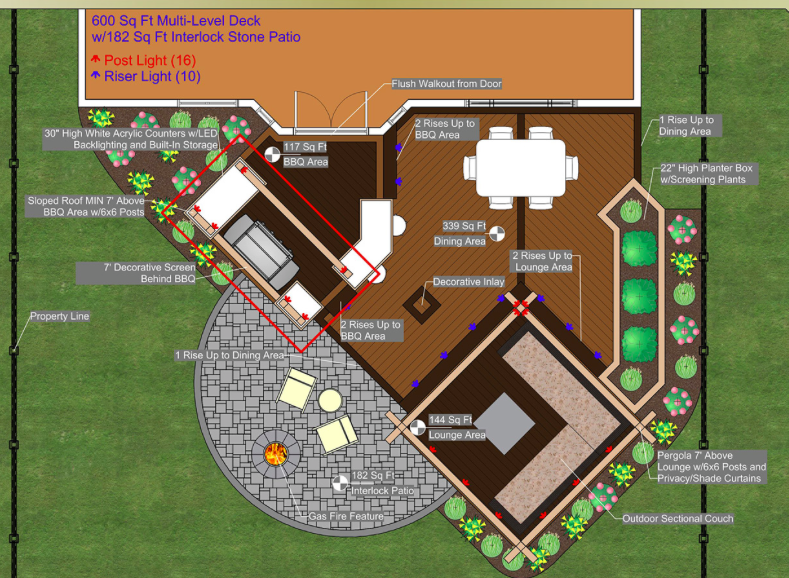 Images via PaulLafranceDesign
The design is simple yet elegant. You have a multilevel deck in front of which you see a patio with a fire pit. The deck measures 600 sq. ft. and costs $9,000 – $20,000 to build (labor costs included). According to HomeAdvisor, the average price paid by homeowners to build a deck larger than 500 sq. ft. is $14,504, so this is probably the real price ballpark you should expect.
Redwood is an excellent choice because it is fire and pest resistant, it lasts for decades and it doesn't warp easily. Redwood accepts stains and paints without problems. You should know though that as time passes, the color fades to a stylish silver-grey. The sq. ft. of redwood costs on average $7.75.
Conclusion
There are enough designs here to get you started on your quest for finding the most suitable deck for your house. It's always a good idea to consult a few professionals before deciding on a particular design. If you can't afford it, at least ask for the opinion of your family and friends.
The more people see your design, the less likely you'll be to spend your money on something that's terribly wrong for your house. You might find solutions for problems that you didn't even know existed.
Note: Here's how we can help: 24hplans has team of highly-trained, professional architects and drafters who can prepare any kind of site plan in the shortest amount of time possible, so that you can easily obtain that building permit and get on with your project. Use the promotion code: 24hplans-20off to get a 20% discount off any package. — Please note this is a limited time offer, exclusive to the readers of our blog. This offer is not being advertised anywhere else.