Every year, net zero homes are built across North America at costs about 10% higher than the price of energy-hungry homes built to code. That is a fact.
via Heartland Homes
With energy savings of $125-$200 per month, zero-energy homes quickly recoup the extra cost involved. From that point, the ROI is 100%-plus!
The Cost of a Zero Energy vs. Standard Homes
Many are skeptical of the claims that zero-energy homes can be built affordably.
The details are below, but here's the bottom line, for today's average 2,400 new-construction home:
Standard home: $240,000
Net zero energy home: $263,500
Here it is by the square foot, so you can apply it to any size home you are considering:
Standard home construction costs: $100/square foot
Net zero energy home construction costs: $109.80/square foot
Let's see how this is done. We'll look at:
Green or Energy Star vs. Net-zero homes
Costs common to all home construction
Upgrades that allow a home to be energy-neutral
Ways to save money on net zero home construction costs
Green Homes vs. Zero Energy Homes
So that we understand what we're discussing here, homes can be considered green or certified as Energy Star homes without being zero energy homes.
Here's a quick comparison of green vs. zero energy homes.
Green homes include some or all these features:
Can be new or existing homes, while zero energy homes are mostly new construction
Maximum insulation levels
Energy Star building materials like window frames, triple-pane low-E glass, insulated doors and solar-reflective roofing.
Energy Star certified HVAC system, appliances and lighting.
Here are the complete Energy Star Certified Homes Program Requirements. Select your state and county for the details such as efficiency requirements for HVAC equipment, insulation levels and more.
Net zero energy homes are judged by one criterion as the name implies: Whether their net energy level is zero or lower.
Common Home Construction Costs
Your net zero energy home can have the amenities you enjoy in a traditional home and still eliminate energy costs. You don't have to freeze in winter and swelter in summer or drink rainwater for the rest of your life.
Here are common components and their average costs.
City water hookup, $2,000
City sewer hookup, $3,000
Excavation, prep and slab foundation: $24,000
Standard framing, and insulation: $61,000
Plumbing: $17,000
Electrical: $14,000
Finished exterior: $40,000
Finished interior: $61,000
HVAC/Water heating: $19,000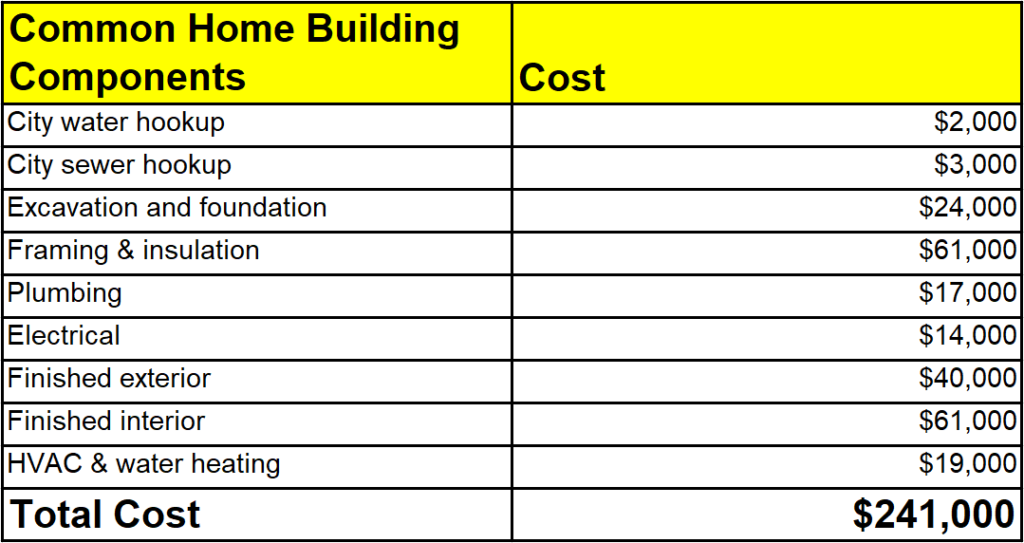 In the above example, a 2,400 square foot home costs $241,000 or almost exactly $100 per square foot, consistent with the results of the most recent National Association of Home Builders survey on construction costs.
The costs don't include the price of the land and site development and common one-time costs such as a site survey or a site plan ($100-$1,500), architectural and engineering fees ($3,500), building permits ($4,000) and impact studies ($2,000).
Note: Construction costs vary widely across the country. They're very high in urban centers; less in rural communities. Regardless of building costs where you live, net zero home construction will cost 8% to 12% higher than standard-code construction.
Net Zero Home Upgrades and Cost
Now, we'll list the upgrades used in most zero energy homes and their cost above the standard construction costs listed above:
2×6 or 2×8 wall framing: $1,500
Extra insulation: $1,000
Photovoltaic (PV) solar energy system: $21,000
Total upgrades: $23,500
The PV system cost factors in the current 30% federal tax credit. The credit drops by 2% each of the next two years, but will likely be renewed and revised by congress after that.
With $23,500 in upgrades, it costs less than $10.00 per square foot more to build a home that uses no energy:
$0 energy cost every month for a net zero home
$125-$200 energy cost per month for standard homes.
10 to 16 years to recoup the additional cost of building a net zero home
How to Save Money on Zero Energy Home Construction
If you'd like to recover the cost more quickly, these steps will do it.
Reduce: Many households are embracing a philosophy of "less house is more" if it's better for the environment. If the average home were reduced in size by just 240 square feet, the cost savings at $100 per square foot would pay for the PV system and other upgrades.
Rebates: Taking advantage of tax credits helps. Your energy company probably also offers rebates and energy credits for the installation of an energy-saving PV system and Energy Star appliances. They'll be paying you NOT to use their energy any longer!
Find rebates and credits where you live in the Database of State Incentives for Renewables and Efficiency.
EEM Mortgage: If you're buying a home, some lenders offer Energy Efficient Mortgage options backed by the US Department of Housing and Urban Development.
The gist of the program is that you will qualify for a larger loan to cover the upgrades for an efficient/net-zero home. The money you save on monthly energy bills will more than cover the extra cost of the mortgage.
Complete details of the EEM program are found on this page from HUD.
Note:
24hplans has team of highly-trained, professional architects and drafters who can prepare any kind of site plan in the shortest amount of time possible, so that you can easily obtain that building permit and get on with your project. Use the promotion code: 24hplans-20off to get a 20% discount off any package. — Please note this is a limited time offer, exclusive to the readers of our blog. This offer is not being advertised anywhere else.