How much does it cost to demolish a house? What methods are used for home demolition? What factors affect home demolition cost? — These are the topics covered in this comprehensive guide to home demolition costs that includes important information homeowners need to know about the project.
Complete Home Demolition Costs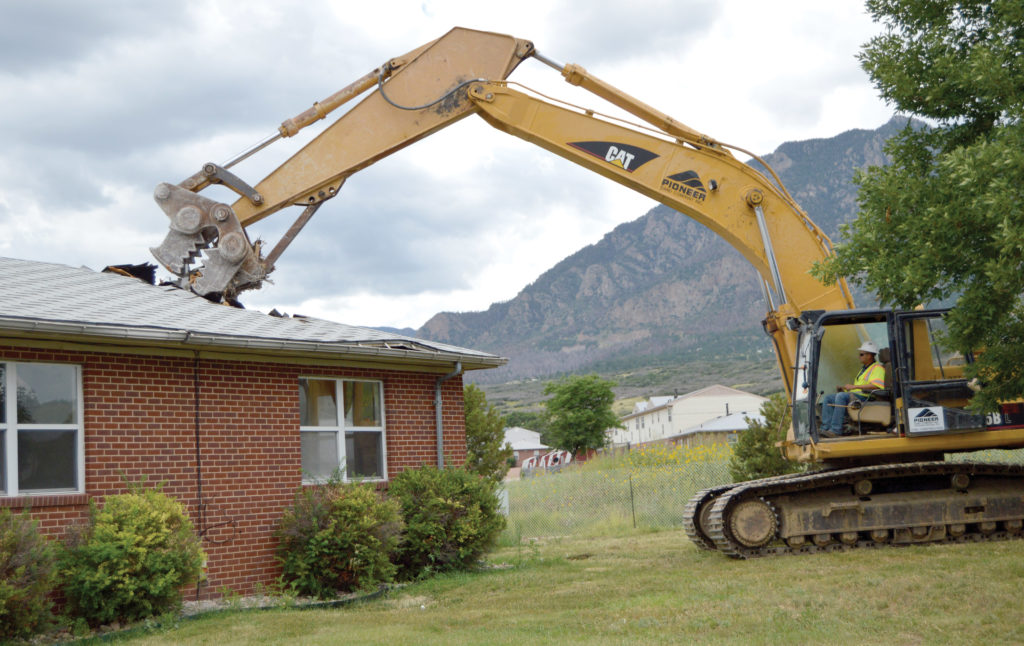 via Fort Carson Mountaineer
You've got a great piece of property but the old home or building on it must come down to make way for what you want to build. Here are the steps to take and itemized building demolition costs for each.
Demolition permits and inspections costs: A qualified building inspector will inspect the home or building to determine the safest, most effective manner to demolish it given the structure's condition, materials used in its construction and surrounding buildings or streets. An engineer might be required to develop the demolition plan, and that will put the costs at the high end of the spectrum.
Range: $220 to $850
Average: $350
Note: When planning the budget for the new home you'll construct on the property, see our Guide to Itemized Construction Costs 2017 for the most comprehensive, detailed and accurate list of costs.
Note: A few cities charge demolition fees of $5,000 or more because they want homes, especially those with classic design and architecture, to be renovated, not demolished.
Demolition bond cost: Many communities require a bond from the property owner to ensure that the demolition and cleanup processes are fully completed and the city or county isn't left with a half-demolished building or pile of rubble to deal with. Once the projected is completed satisfactorily, the bond is returned.
Range: 15% to 30% of expected demolition cost
Average: 20% of expected cost
Disconnection of utilities cost: Gas, electric and water must be shut off for obvious reasons before demolition. Any well must be capped. The electrical service connection must be removed; gas and water pipes need to be capped or shut off at the street. Some utility companies provide this service for free to ensure safety and to protect their infrastructure.
Range: $0 to $1,350
Average: $325
Building demolition cost – to the ground: This is the fastest and cheapest way to raze a building. It uses heavy hydraulic equipment to tear the building to pieces and load the debris into large roll-off containers or directly into a truck for disposal. For either demolition or deconstruction (below), costs will rise toward the upper end of the spectrum when lead paint ($$$), asbestos ($$$), other hazardous materials ($$-$$$), extensive mold ($-$$), termites ($), rats ($) or other problem situations are encountered because special abatement steps must be taken for each. This range covers all potential costs.
Range: $2.65 to $12.15/sq. ft.
Average: $5.80/sq. ft.
If the property contains a buried fuel tank, such as for an oil-burning furnace or boiler, the extra cost for removal will be $1,500-$10,000 depending on the size of the tank and whether it has leaked, requiring the removal and replacement of affected soils. These costs are not included in this home demolition cost estimate.
Building deconstruction cost – to the ground: This process is also called "hand demolition" and is used when the owner wants to salvage usable materials from the building to recycle or repurpose. The process is slow and labor-intensive, so the cost is much higher than the cost of conventional demolition.
Range: $8 to $18/sq. ft.
Average: $12.50/sq. ft.
Selling the salvaged materials can offset some of the cost. Donating usable materials to Habitat for Humanity or similar organization can also recoup some of the deconstruction costs through tax deductions. Many homeowners choose a middle ground that reduces the cost by 10% to 30% – removing by hand the most valuable materials such as brick siding, hardwood flooring and trim or copper plumbing and demolishing the remainder of the building indiscriminately using heavy equipment.
Foundation removal cost: Concrete slabs cost less to remove and dispose of than crawlspaces or full foundations, and those differences partly account for the cost spectrum. Additional factors include the potential need for lead paint or asbestos abatement.
Range: $1.55 to $6.00/sq. ft.
Average: $2.65/sq. ft.
Total Demolition Costs for Home & Foundation
Home size is trending larger again after shrinking slightly for a few years following the recession of the mid-2000s. Today's average of about 2,500 square feet is approximately 1,000 square feet larger than homes built in 1973, so let's use 1,500 square feet as our model and build a list compiling the costs we've itemized above:
Average home demolition cost: $13,350 or $8.90/sq. ft. (plus a $2,670 refundable bond)
Lowest home demolition cost: $6,520 or $4.34/sq. ft. (plus a $1,300 refundable bond)
Highest home demolition cost: $29,425 or $19.62/sq. ft. (plus a $5,885 refundable bond)
Average home deconstruction cost: $23,400 or $15.60/sq. ft. (plus a $2,670 refundable bond since bond costs are calculated on standard demolition costs even when deconstruction will be the method used)
Demolition Timetable
How long will it take to demolish a house? Here's an overview of the time frame for most property owners:
Applying for permits and being approved: Up to 6 months, but 4-6 weeks is average
Utility work: 1-3 weeks
Building demolition: 1-3 days
Building deconstruction: 7-21 days
Foundation removal: 1-2 days
Our 2017 Itemized Construction Costs guide includes a time frame for each phase of your building project, so you'll know how much it will cost and how long it will take.
If this information on home demolition costs has been helpful or interesting, perhaps your friends and followers would enjoy it too if you passed in on to them.
Note:
24hplans has team of highly-trained, professional architects and drafters who can prepare any kind of site plan in the shortest amount of time possible, so that you can easily obtain that building permit and get on with your project. Use the promotion code: 24hplans-20off to get a 20% discount off any package. — Please note this is a limited time offer, exclusive to the readers of our blog. This offer is not being advertised anywhere else.