Planning a new driveway is a more complex project than many homeowners expect.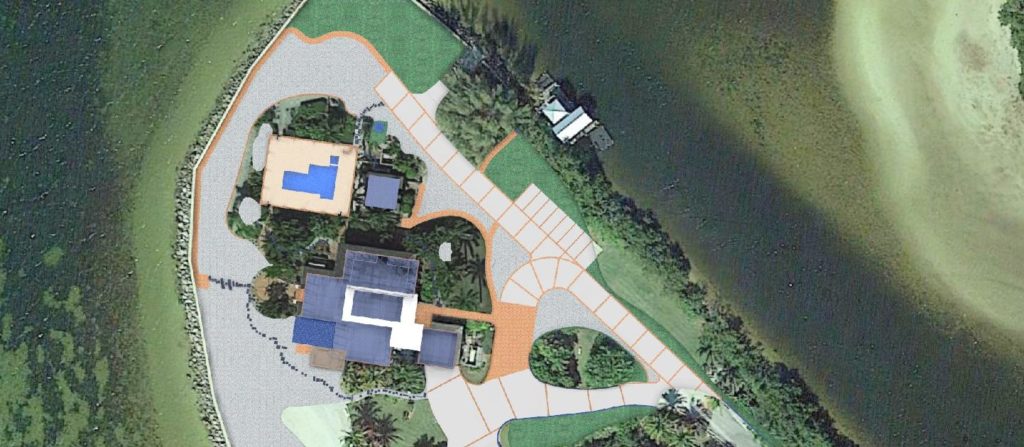 New Driveway Construction Site Plan example via Calvino Architects
This driveway planning guide explains how to get a driveway permit, select the best driveway for your home and find a qualified contractor to install it.
Note: If your property is part of a homeowner's association, or HOA, find out what type driveways are permissible in your neighborhood.
Step One: Prepare a Detailed Site Plan
A site plan, also called a plot plan, is a scale drawing of your property showing its major natural and manmade features plus how you intend to alter it – in this case, the location for the proposed driveway.
A driveway site plan should include all of these that apply:
Property address, tax ID # and/or legal description
Property owner and contact information
Property boundaries and the location and name of streets
Scale of drawing such as 1:20 (1 inch = 20 feet) or 1:50
The location of a home or proposed home
Detached, permanent buildings such as a garage or pole building
Location of a well and/or septic tank and drain field (leach field)
Current concrete or asphalt drives or parking pads
Low or wet areas, ponds, creeks or seasonal waterways
Easements, such as a utility easement (common) or an easement that allows access to a landlocked property behind yours (rare)
The proposed driveway and its distance from property lines
Note: You'll need to include the site plan with your application for a driveway permit. It shows that the driveway meets local setback requirements.
The most affordable professionally produced site plans are available from 24h Plans. Our qualified draftsmen and computer-generated imagery (CGI) artists deliver site plans with the level of complexity and detail required for a permit in your city or county.
Our plans start at about $100, which is 75% to 90% less than site plans created by architects and civil engineers.
Cost: $100 to $1,000+
Step Two: Apply for a Driveway Permit
A permit can be printed from your local codes office website or obtained in person. It's typically a one-page document asking for the home's address and your contact information. Some ask for the name of the driveway contractor.
Most driveway permits specify that a site plan must be attached. Some provide an area with graph squares for you to draw your own plan.
However, if you don't make careful measurements and the driveway you install isn't in the location specified on the drawing, consequences could include fines or the expense of moving the drive.
Having an affordable site plan created is a safeguard against expensive hassles.
Cost: $0 to $25 for the application. The permit costs more.
Step Three: Receive the Driveway Permit
An inspector will verify the information you've provided and visit the property.
The purpose of the onsite inspection is to:
1) Determine that the proposed driveway meets setback requirements
2) Determine it doesn't encroach on any easement, and
3) Ensure that the driveway location allows for good visibility for anyone exiting the driveway or approaching it
If the site passes inspection, the inspector usually marks its location with wood stakes.
Cost: $75 to $200 for the permit. In some areas, the city or county also installs a culvert in the ditch and covers it with gravel. That raises the cost to $500 to $1,500.
Step Four: Consider Driveway Material Options
In all cases, topsoil is removed, and a suitable sub-layer such as crushed stone or aggregate is installed. Here are your common options and their cost:
Gravel: A layer of stone is followed by 4 to 10 inches of compacted gravel, depending on site conditions. Cost: $1.75 to $3.00 per square foot.
Asphalt: This is the top choice in cold regions, though concrete is used too, since it handles freezing and thawing cycles better than concrete.
Two layers of asphalt are installed. Cost: $3.50 to $6.00 per square foot. Add stamping for a flagstone or paver appearance for $1.25 to $2.00 per square foot.
Concrete: This material is best for warm climates because it doesn't soften in the heat, as asphalt does. Four to six inches of concrete with a psi of 3,000 to 4,000 are poured.
Cost: $5.85 to $9.00 per square foot. Add staining or stamping of the concrete for $1.25 to $2.50 per square foot.
Pavers: can add distinction and character to any home. Topsoil is removed. Edge restraints and pavers are installed. Slag or similar material is poured over them to fill in joints. The excess is removed, and the pavers are tamped down.
Cost: $12.00 to $20.00 per square foot.
Material
Cost/sq. ft.
Extras/sq. ft.
Gravel
$1.75-3.00
Asphalt
$3.50-$6.00
Stamping-$1.25-$2.00
Concrete
$5.85-$9.00
Staining: $1.00-$2.25
Paver stone
$12.00-$20.00
Removing an old driveway costs $1.85 to $3.50 per square foot
depending on the material and its thickness.
Step Five: Hire a Contractor
Get estimates from several driveway installers with a reputation for quality and customer service.
Estimates that are 15% or more below the others might indicate the contractor uses less or inferior materials or uses labor that isn't fairly compensated. Those 20% or higher than others indicate price gouging.
Ask for addresses of driveways installed five to ten years earlier, and drive by them. Look for cracks, settling, erosion and general appearance.
Select a driveway contractor with a good reputation and quality visible in their workmanship.
Just a Driveway – or an Entire Home?
If your project includes home construction, two other guides are "must" reading.
Our 10 Steps to Planning a Successful Home includes planning steps and a list of required documents and their cost.
Our Itemized Cost Guide to New Home Construction has costs for every phase from excavation to framing to finishing the home.
When you need a permit, you probably also need a high-quality site plan produced by professionals is essential. We deliver professional site plans starting at about $100.
24hplans is here to help. Contact us today at 347-708-0105 or use our convenient Chat option. Or order a site plan, and we'll deliver a professional product that will meet the requirements for site plans in your county and state.
Note: Here's how we can help: 24hplans has team of highly-trained, professional architects and drafters who can prepare any kind of site plan in the shortest amount of time possible, so that you can easily obtain that building permit and get on with your project.
Use the promotion code: 24hplans-20off to get a 20% discount off any package. — Please note this is a limited time offer, exclusive to the readers of our blog. This offer is not being advertised anywhere else.