Are you in the process of designing and building your dream home, cottage, or ranch? If so, you are probably overwhelmed by the sheer number of home designs and styles that modern residential architecture has to offer. But, never fear! Here are the top fifteen architectural styles to help you zero-in on that perfect house design to suit your personality and taste. 😉
House styles give our streets and neighborhoods a personality. Have you ever wondered, "What house style is that?" Here's the lowdown on what is going on in American streets.
Cape Cod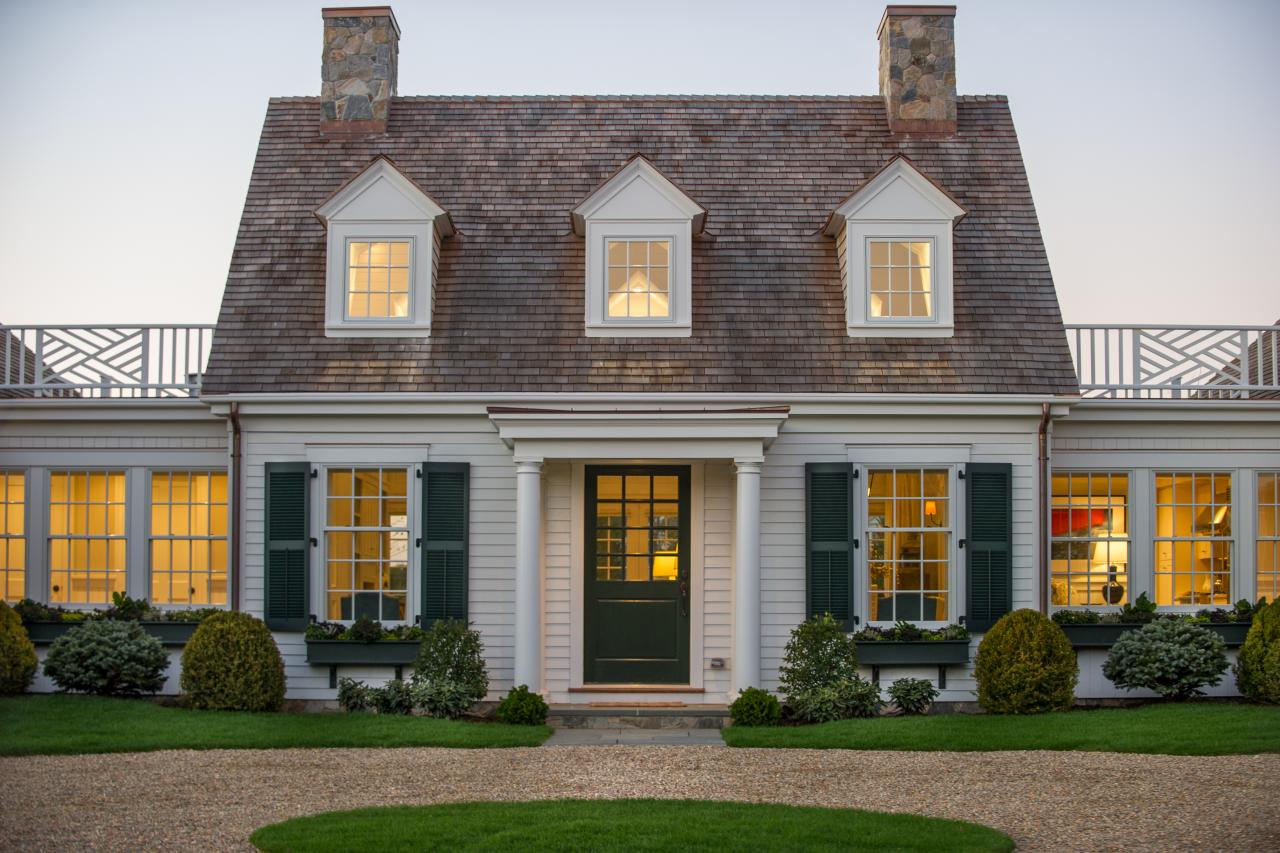 By iDesign Arch
If you ever drew a simple box house in kindergarten with a door in the middle and a window on either side that was a Cape Cod house, America's original house style. This simple utilitarian style was useful for the gales that occasionally blew off the Atlantic Ocean onto settlers trying to live on the Massachusetts coast.
If one side of the roof was extended nearly to the ground for extra space it was known as a saltbox. All the living space was on the first floor and small bedrooms for the kids were crow-barred upstairs. Cape Cods were the workhorse of 20th century tract housing.
Cons: Not much space. The ideal starter home, Cape Cods were often built onto, including breezeways leading to unattached garages and carports after automobiles became a household staple.
It's important to note that in many cases it may be necessary to provide a site plan to obtain various home building permits from your city hall or township. You can turn to 24h Plans to get a custom site plan drawing prepared for your dream home in less than 24h hours by our team of experienced architects and drafters. Use our promotion code: 24hplans-20off to get a 20% discount off any package. — Please note this is a limited time offer, exclusive to the readers of our blog. This offer is not being advertised anywhere else.
Colonial Revival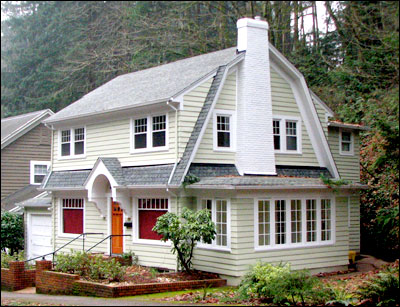 By Antque Home Style
This was the style of choice for many post-World War II suburban developers targeting young families. Colonial Revival draws its inspiration from the Georgian style of the late 1700s that was the world's first mass-produce architectural style.
A typical Georgian house was perfectly symmetrical and designed around a central hallway with five bays (windows) across and two rooms deep.
Later the Federal, or Adamesque style evolved that was identical in form to the Georgian except the detail was not as heavy. For instance, entry doors of a Federal-style house would feature a sunburst transom or sidelights.
Variations of the Colonial Revival style include Dutch Colonials with broad gambrel roofs that resemble barns. For those uninterested in architectural integrity Colonial Revival houses can easily be outfitted with garages, porches and additional rooms.
Cons: Owning one of these bedrocks of American suburbia means you will be living in a house that looks just like everybody else's.
Greek Revival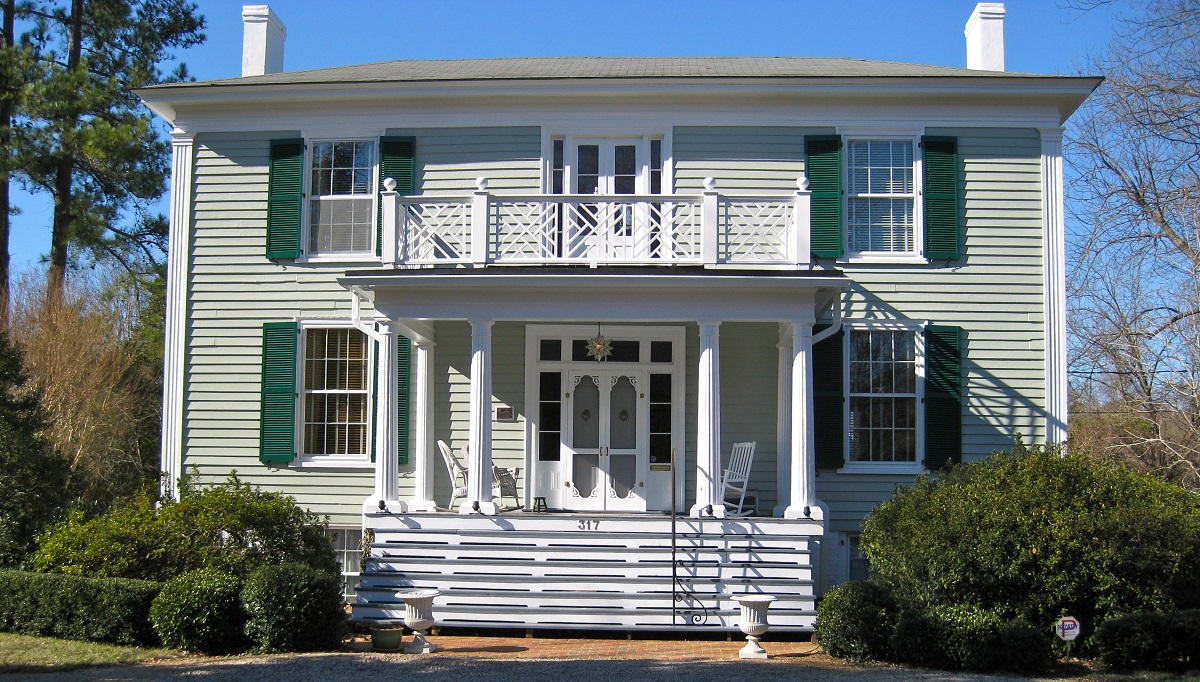 Before Greek Revival architecture flourished in America in the first half of the 19th century the country was still building houses derived from the British.
After two wars with England disillusionment naturally set in and a stylistic revolt began. Builders began borrowing from the ancients for everything from state houses to baronial mansions to rowhouses.
Greek Revival especially became the style of choice for Southern Plantations with the familiar temple-like front. Those familiar columns could be square or round, fluted or smooth.
There are three orders of columns: Doric with no capitals, Ionic with scroll-like capitals and Corinthian with ornate carving of acanthus leaves spilling out of the top.
On downtown streets Greek Revival townhomes look an awful lot like their Federal-style predecessors although the sidelights on the door are generally narrower and the transom is rectangular.
Cons: This is the most formal of styles and replacing those columns can be costly. And you better like white.
Gothic Revival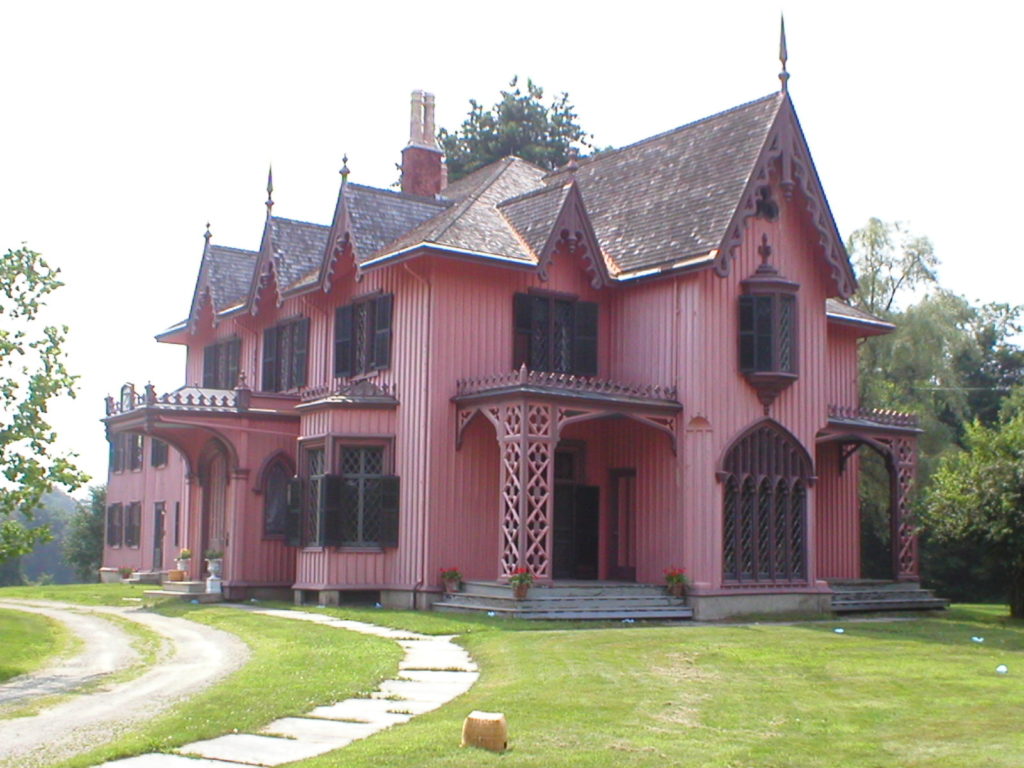 By Architectural Styles
These replicas of the Middle Ages are easily identified by pointed arches, tracery and an emphasis on verticality. When the Gothic style was applied to residential housing it often took the form of wooden cottages that are now referred to as Carpenter Gothic.
These charming structures are effusively decorated with jig-sawn wooden detailing and feature one or more steeply-pitched gables with accompanying bargeboards projecting from the edge. While any material could be used on a Carpenter Gothic house it is most associated with vertical board-and-batten siding.
Cons: These highly distinctive icons of the Victorian age will certainly lock the homeowner into one time and place of American architectural style. Not everyone loves living in the Addams Family house. 🙂
Queen Anne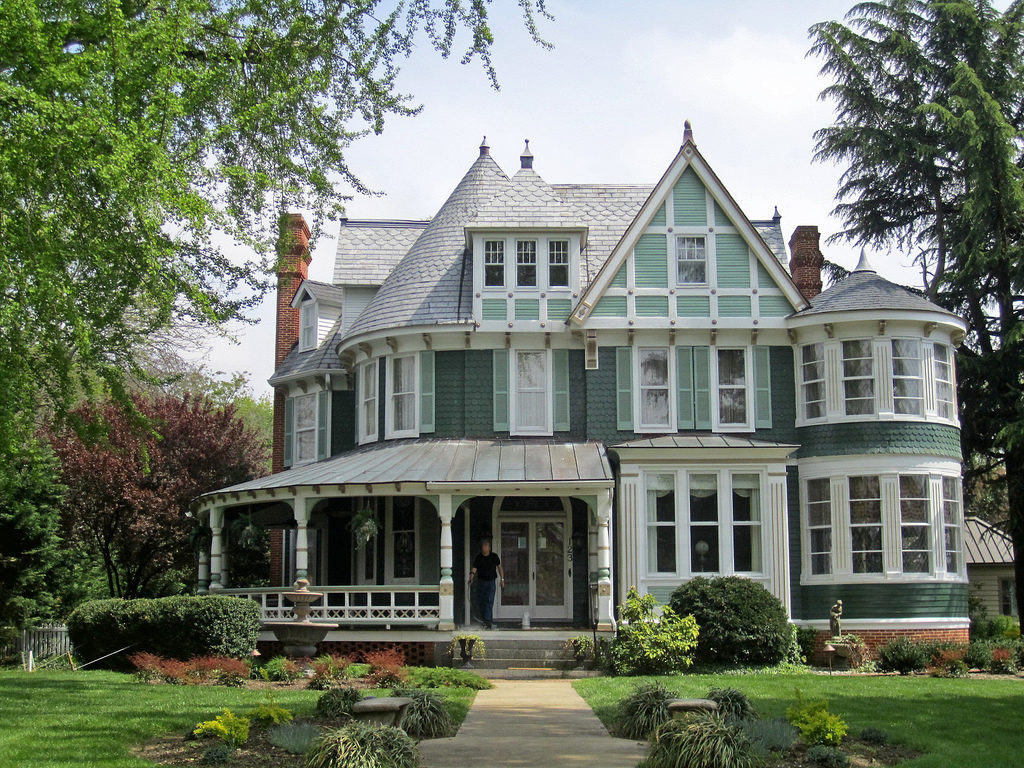 By Paul McClure
A Queen Anne house, popular from 1880-1900, has come to represent "Victorian" in the 21st century consciousness. Think rambling, eclectic floor plans; asymmetrical massing; wraparound front porch; turrets and a roof with gables and dormers dancing across from every sightline.
These exuberant Queen Anne shapes were made possible in part by the new balloon framing that revolutionized house construction and freed builders from the constraints of heavy timber framing and boxy forms of the past.
Cons: Wow, these houses cost a lot of money to maintain – as homeowners quickly discovered in 1890 which is why they stopped being built by 1900. Plus, when you move into a Queen Anne the house already has a personality, so you will not feel free to impose your own on decorations and remodeling.
Shingle Style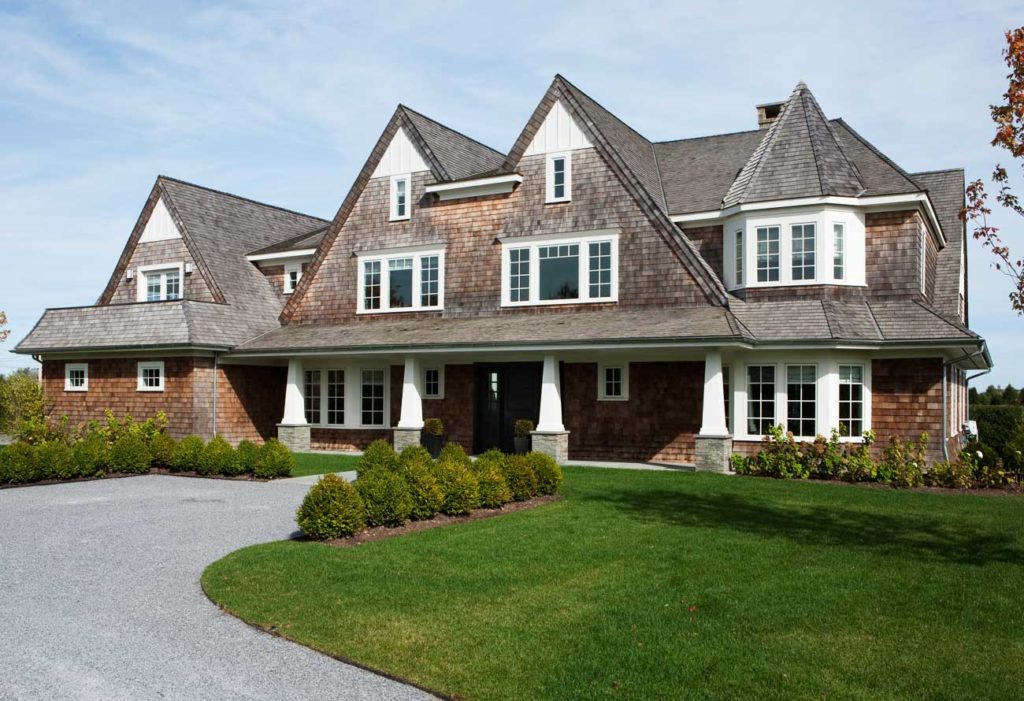 By Charles Rich
Start by taking your showy Queen Anne Victorian and stripping off all the fancy fixings. Keep the impressive porch and a turreted tower or two and add a few sly eyebrow dormers upstairs. Then clad everything in weather-beaten cedar shakes. Make sure you have plenty of land because these Shingle Style houses look great on a sprawling estate.
Cons: Replacing those fantastic-looking wooden shingles will be an eye-opener in the 21st century.
Richardsonian Romanesque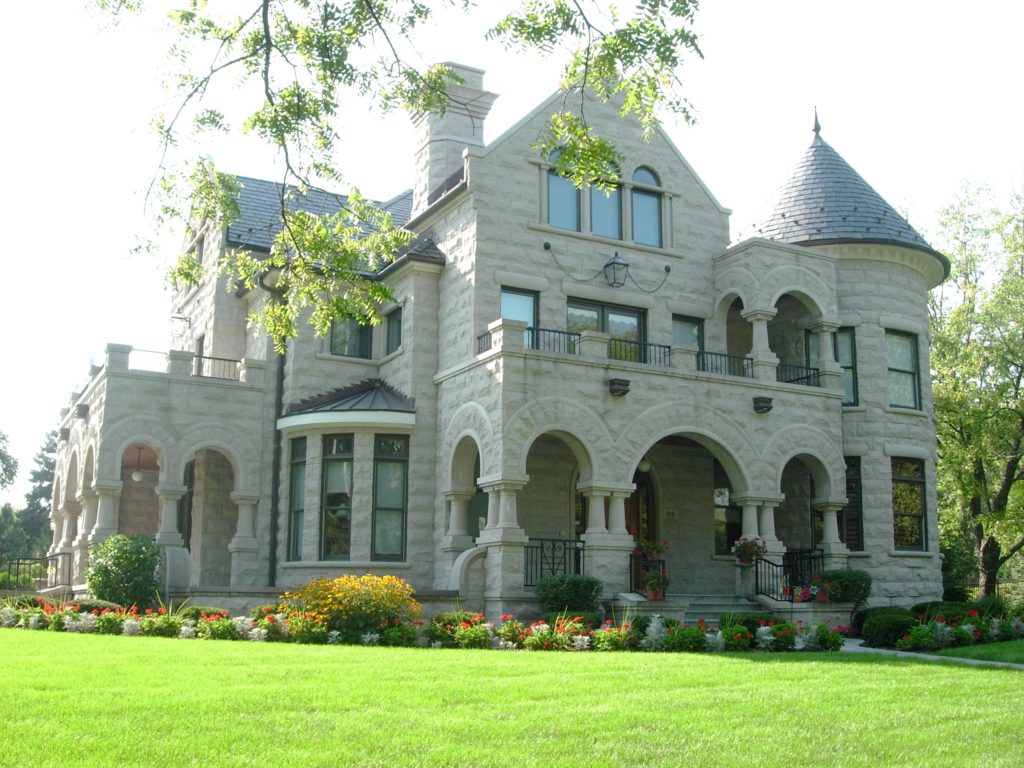 By Anderson Architecture Center
If you see houses, often in once affluent sections of old American cities, with imposing entry arches, heavy stonework, a recessed entrance and possibly a corner tower you are looking at a Richardsonian Romanesque house.
Henry Hobson Richardson, working out of the Boston area, was the most influential architect of the post Civil War era. He borrowed heavily from Romanesque ideas based on the rounded arch and his impressive designs were favored for important civic buildings like city halls, courthouses and railroad stations. Captains of industry with deep pockets commissioned impressive single-family houses based on Richardson's design principles.
Cons: You will get to know your local masons on a first name basis with one of these houses. A you will feel like all your partie must have a guest list that include at least the governor and every banker in town. 😉
Second Empire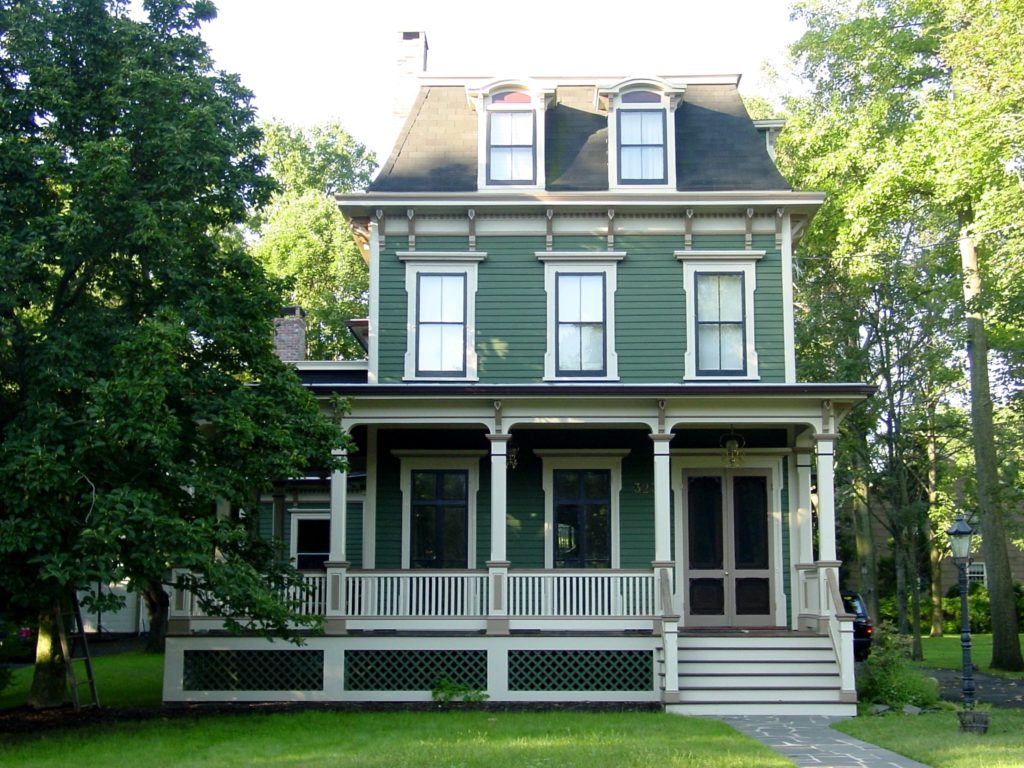 By Historical House Colors
Every time you see a house with a mansard roof – the somewhat rectangular roof with near-vertical slopes – you are looking at a French Second Empire style house, popular from 1860 until 1880.
Aside for that signature roof, which provided extra living space instead of storage attics, there was nothing defining about the Second Empire style. It was not even a creation of the French artistic vision.
It was tax dodge since French property owners were assessed taxes based on the number of floors in the house and that vertical roof created extra bedrooms without extra floors.
Cons: Taking care of a vertical roof, for starters.
Italianate
By Historical House Colors
The stylish Italian villa was a big hit when it was introduced into pattern books by Alexander Jackson Davis in the middle of the 1800s. An Italianate building featured decorative window caps, slender windows and simple balanced proportions.
Italianate was the dominant architectural style for downtown America after the Civil War and many of these buildings can still be seen in small towns and cities that used the wrecking ball sparingly during urban renewal craze of the 20th century.
Cons: The harmonious proportions of the Italianate style have proved timeless, so this is not a house style you will want to tinker with. Defining wooden roof brackets always seem to be in need of paint.
Spanish Revival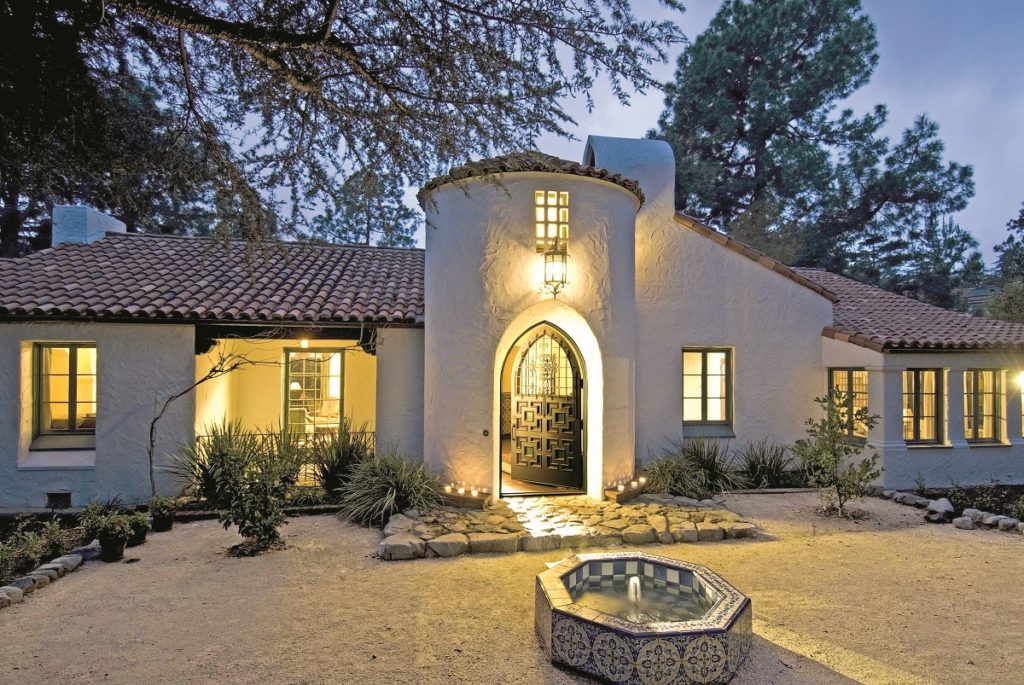 By Old House Online
If the red tile roof is not a giveaway, a Spanish Revival house is immediately recognized by its sensuously curved parapets and rich stucco finishes.
Also known as Mission Revival, ornate ironwork can also be a feature of this style. A close cousin of this popular house choice in the American Southwest is Pueblo Revival with exposed vigas (wooden beams) and low-pitched roofs. Both styles blend harmoniously into the rugged desert landscape.
Cons: Tile roofs are expensive to replace, but they look so good on a Spanish Revival building that you will find the money. 😉
Prairie Style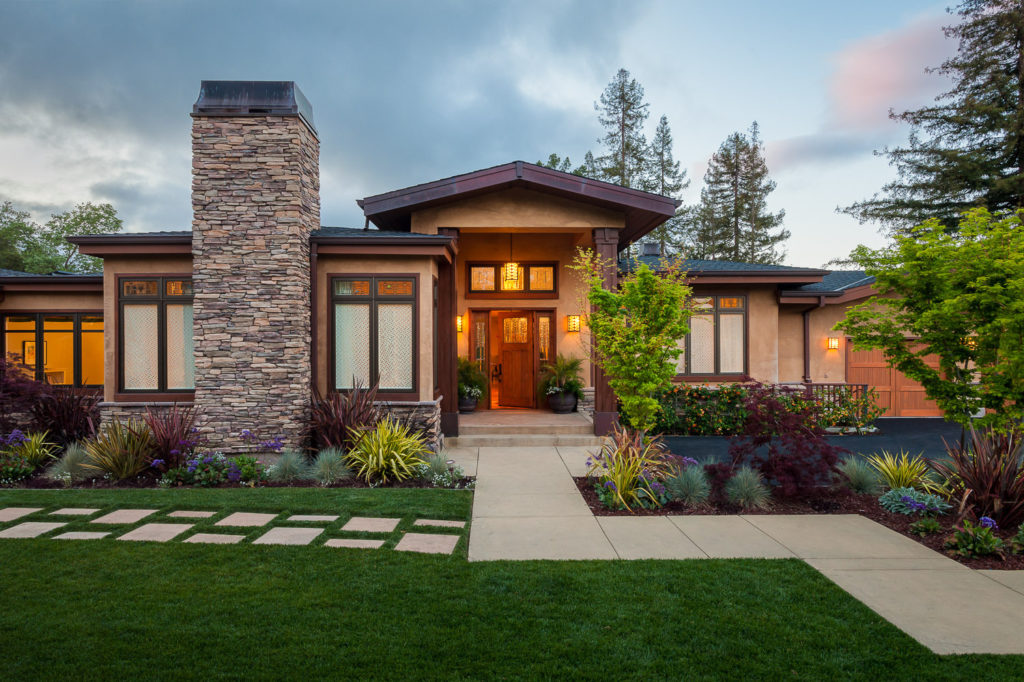 Source unknown
Prairie Style, of which Frank Lloyd Wright is the most visible and famous proponent, is considered the first truly American style of architecture. But even the Prairie Style, with it emphasis on organically blending into the landscape, drew from the Arts and
Crafts movement in England that flourished after 1860 as a rejection of mass-produced goods in the Industrial Revolution. As championed by Wright, the Prairie style's dominant feature is strong horizontal lines that seem to melt into the endless flat prairies of the North American Midwest.
Appealing for many home buyers are the open floor plans of a Prairie Style house that encourage light and freedom of movement.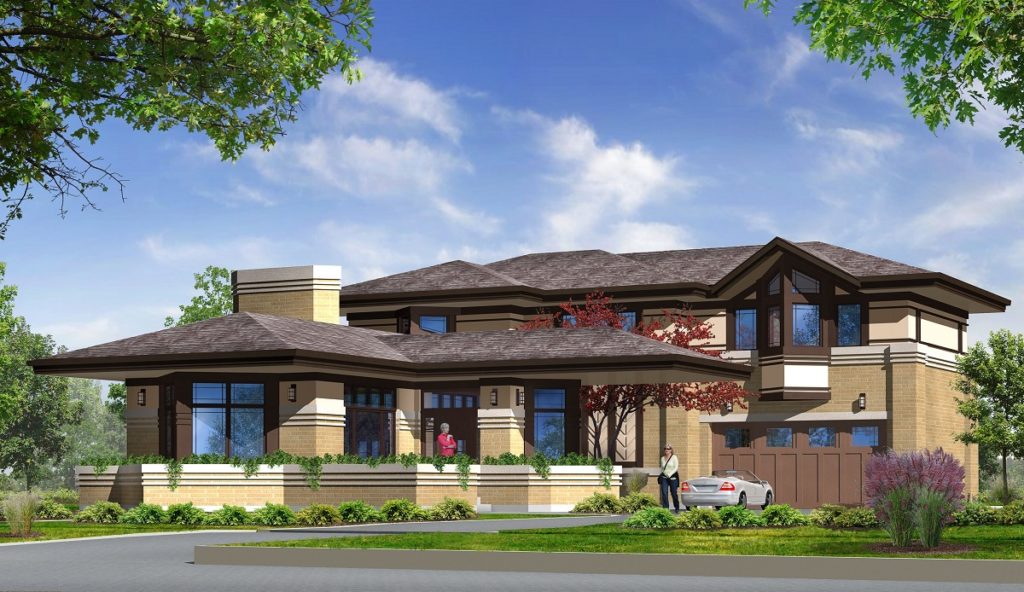 By Prairie Architect
Cons: Frank Lloyd Wright never thought anything about maintenance budgets as he built houses with horizontal overhangs and corner windows. As the homeowner of a Wright-inspired house plagued with a leaky flat/low-slope roof, you can be sure you will. 😉
Tudor Revival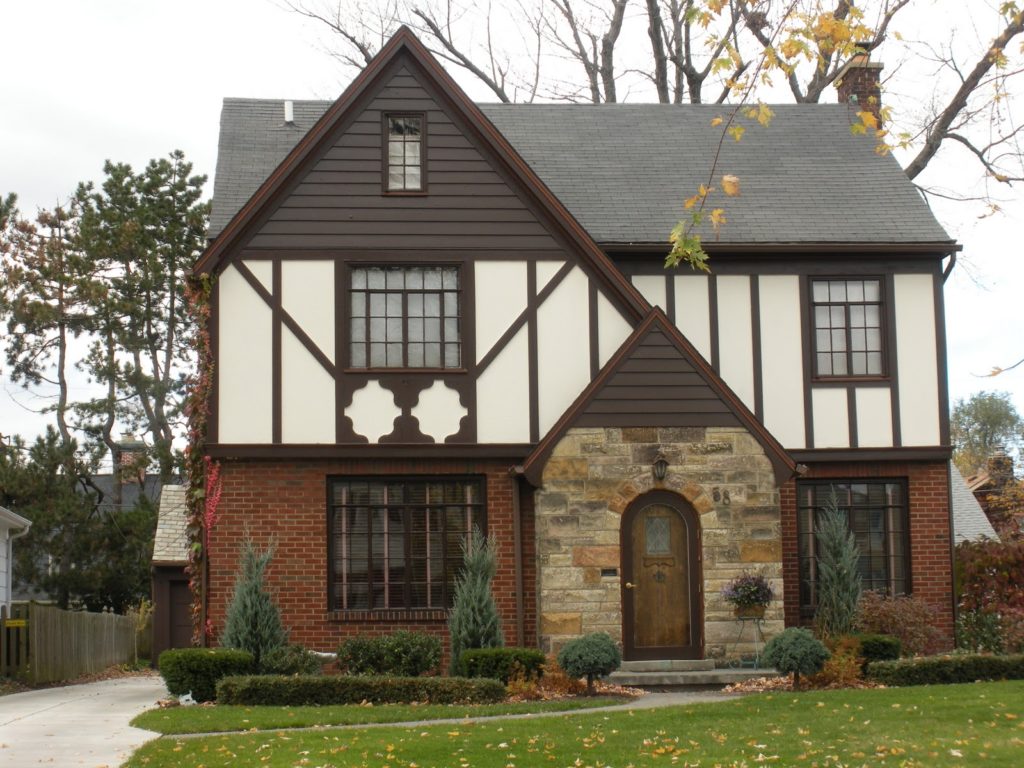 By River City Sammon
These transplants from "Merrie Old England" are easy to spot as they are all dressed up with half-timbering woodwork. The heavy entry doors call to mind knocking on your neighbor's castle in the 1500s.
Chimneys are often massive and given such decorative touches as herringbone patterned brickwork and chimney pots. If you find an early 20th century American neighborhood with winding lanes instead of a boxy street grid, you can almost guaranteed to find a rambling, asymmetrical Tudor house on one of the blocks.
Cons: The medieval manor houses are often dark inside – a true Tudor has small, leaded glass windows. And it you want to replace that Tudor with authentic materials like heavy timber beams, if you have to ask the price you won't be able to afford it.
Craftsman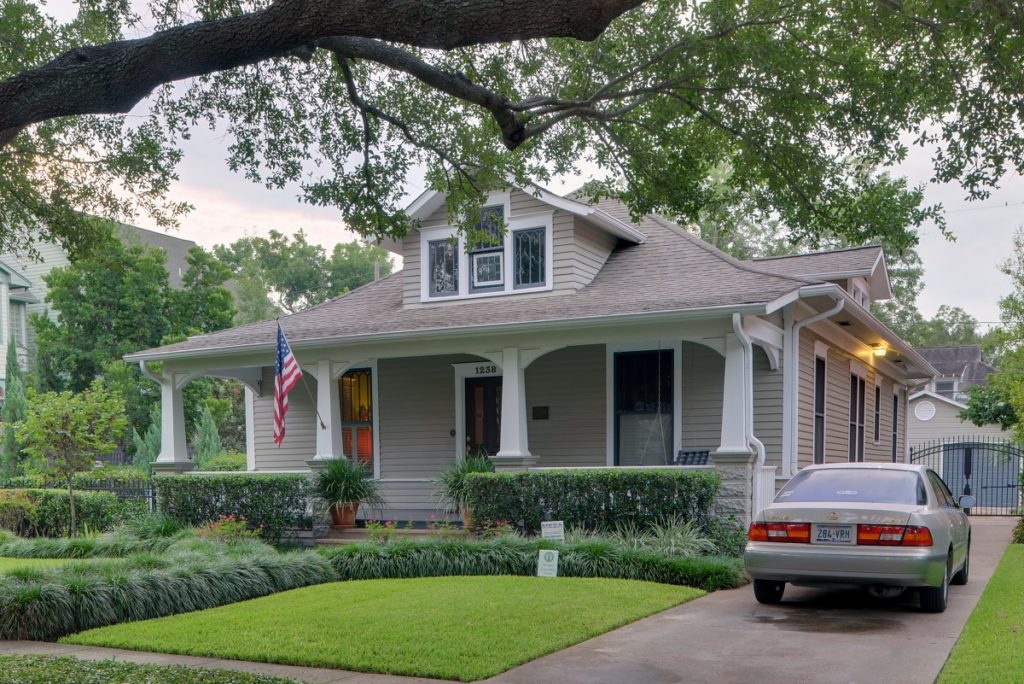 By Nashville Home Viewer
Most architectural styles cannot point to a real father but Craftsman bungalows can. Brothers Charles Sumner Greene and Henry Mather Greene borrowed from the principles of the English Arts & Crafts movement to reintroduce the devotion to workmanship in rustic-feeling houses they built in Pasadena, California.
The Greene bungalows were almost always one or one-and-one-half stories with a low-pitched roof and overhanging eaves revealing exposed rafters. Its dominant feature was a large front porch, often with a roof supported by stout, square and tapered pillars.
The generous porch could be adapted into an outdoor living room if need be. A bungalow would be constructed of natural-looking wood or stone or stucco. The Craftsman bungalow was the dominant small house style of the post World War II suburban boom where it was often called a "ranch" house.
Cons: When Americans dream of owning a house, the cozy bungalow is not what they are planning on. But as the economy prices millennials out of the first-time home buyer's market these classic "starter homes" are increasingly the goal. The worry about cramped space will come later.
American Foursquare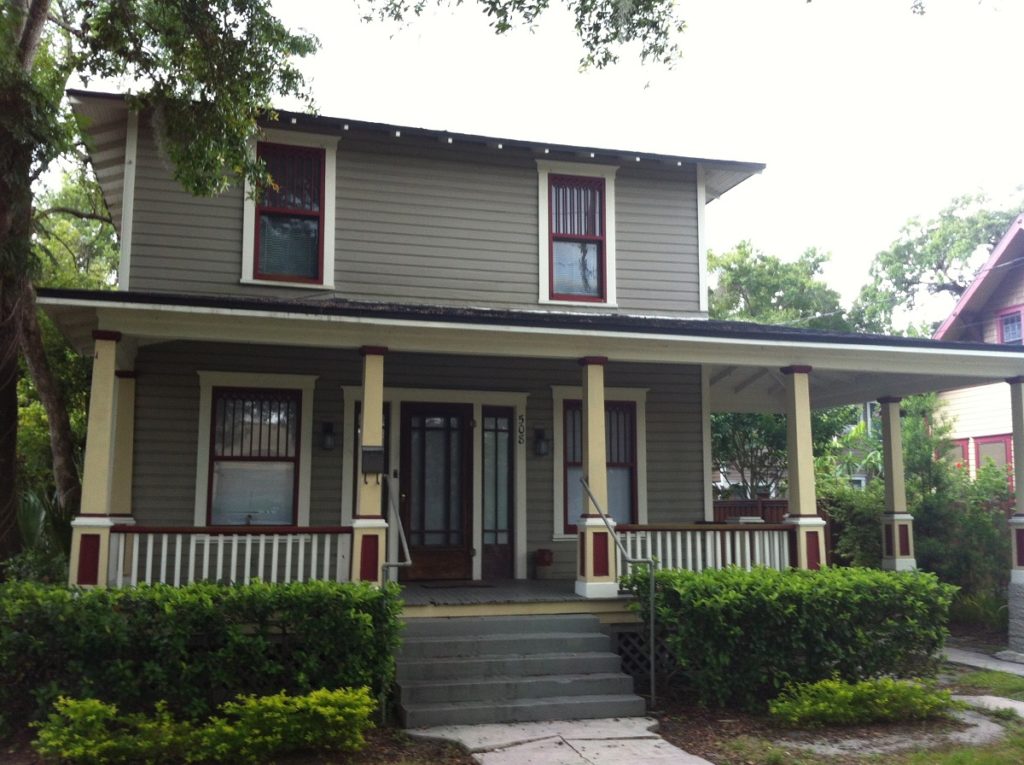 By The Craftsman Blog
The American Foursquare is the Mr. Potato Head of neighborhood housing stock. As representatives of the backlash against pretentious Victorian styles, essentially a Foursquare is a simple box boasting four rooms on two floors, all neatly arranged.
They were quick and easy to build with almost any material, fit snugly on most lots and young families were eager to buy them and raise kids. The house-length front porch where families could gather and catch up on the news from their neighbors is a Foursquare hallmark.
Once the house was built owners were free to outfit the place anyway they saw fit, unburdened by architectural traditions. Roof brackets like an Italianate? Go for it. Greek Revival Ionic porch pillars? Why not?
A pedimented Colonial entrance? Put it on. The Foursquare says "home" for generations of Americans. When Sears and Montgomery Ward began selling houses in kits, 75% of them were American Foursquares.
Cons: Can't think of any. Affordable. Malleable. Big enough to raise a family with a dog. Personifies solid American values. Still can't think of any!
Modern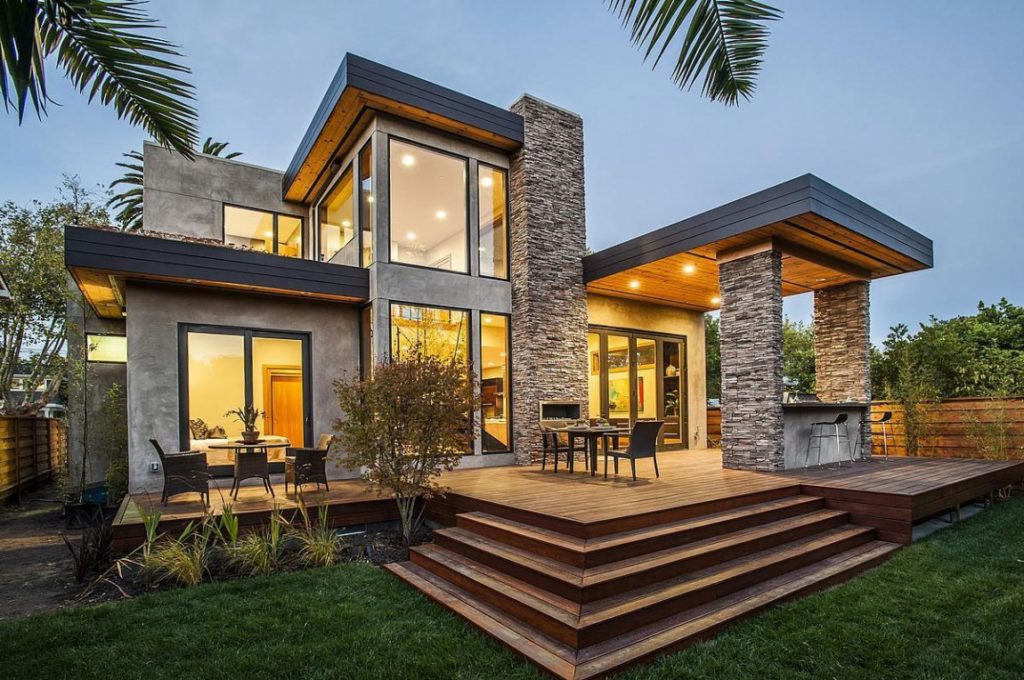 Source unknown
Curving walls and shiny metal construction materials. Daring windows and terraces. Clean lines and functionality.
Modern designed houses are beholden to no architectural conventions. And if Modern designs seem too tame and predictable for you, move on to Postmodern. If you want your house to make a one-of-a-kind statement Modern is the way to go.
Cons: Your traditional furniture is going to look horrible in a Modern style house so get ready to have all custom-made stuff. And at resale time you are going to find out just how many people do not like modern art. 😉
Note: Here's how we can help: 24hplans has team of highly-trained, professional architects and drafters who can prepare any kind of site plan in the shortest amount of time possible, so that you can easily get obtain that building permit and get on with your project. Use the promotion code: 24hplans-20off to get a 20% discount off any package. — Please note this is a limited time offer, exclusive to the readers of our blog. This offer is not being advertised anywhere else.