Are you ready to create the kind of kitchen space that will really impress with its versatility, design, and style? If so, our guide to kitchen renovation and remodeling with focus on DIY upgrades will be a great starting point for you!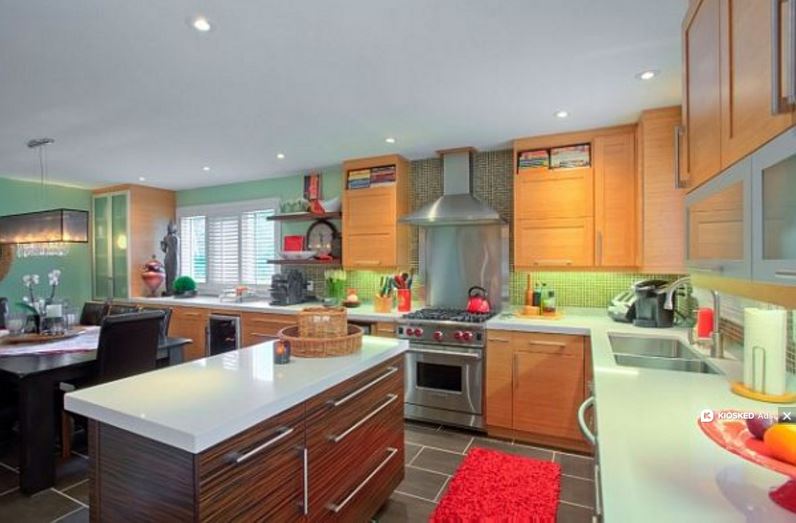 Your kitchen may be the most important room in your home, especially with so many professionals working from home due to the global pandemic — It is a now a multipurpose space for working from home, connecting with family, entertaining, and is the heart of a healthy and vibrant lifestyle.
When it comes to remodeling decisions, most kitchen upgrades offer anywhere from a 55%-75% return on the initial investment in terms of possible cost-to-value return at resale, assuming you make the right choices. However, it is hard to put a price tag on the utility and enjoyment you and your family can derive from a newly remodeled kitchen space.
Whether you've got a micro-loft or mansion; your kitchen has to look great and function efficiently. So, what's trending in the latest kitchen designs? Which kitchen remodeling projects deliver the best value for the money? Which projects can be tackled by a crafty DIY enthusiast? How can you get the most out of your renovation budget? What will you do to make your kitchen amazing this year?
Getting Started Planning your magnificent kitchen makeover starts with:
Clearing out the old to create a clean slate
Getting up to date on emerging design trends
Deciding what you want your kitchen and remodel to do for you
Creating a budget
Visualizing your new look
A midrange kitchen remodel can run from as little as $20,000 for a minor midrange remodel to over $68,000 for a major remodel in with midrange options. The average spent is between $25,000 and $50,000 per midrange kitchen remodel, depending on all the project specifics and your home's location.
Hanley Wood's Cost vs. Value Report estimates an upscale kitchen remodel can run up to $135,500, with only a 54% cost-to-value return on the initial investment when it comes to selling your property and trying to recoup the cost of the initial investment. Once again, the enjoyment factor in not captured by this report.
A Realtor Magazine's 2019 Remodeling Impact survey and accompanying Return vs. Joy report (PDF) ranks both a kitchen upgrade, and complete kitchen remodel as delivering some of the highest 'Joy Scores' of 10 out of 10. This makes kitchens one of the best spaces to remodel if you are planning to stay at your home for a while and looking for ways to increase the enjoyment of your house, especially now when so many of us are stock at our homes.
Did you know: If you are planning on selling your home any time soon, you should know that a kitchen can instantly make or break a home sale.
So what's in, what's out, and what are the hacks for a higher ROI remodel project?
16 Kitchen Upgrade Ideas
1. Countertops

Aside from cabinets, kitchen countertops can be one of the costliest (based on the cost of materials) investments in your kitchen space. It is also one renovation item that few property owners should ever consider taking on themselves. Installation (professional labor) costs are typically around 20% to 40% of the total cost of a new countertop, depending on the material selection and overall project difficulty. That's the percentage of the total countertop cost you can save if choosing to go the DIY route
However, do note that there are many online and in-store design and concept visualization services and tools that can be leveraged for free. These can be used even if you purchase your materials somewhere else or find your own contractor for the install.
For the fashion conscious, a kitchen island and countertops can be covered with quartz or quartzite, not the common granite. For those on a budget and who are greener minded, consider recycled countertops like butchers block from sustainable forests, and/or concrete.
Cost: Countertop costs can range from around $15 per square foot installed for laminate to well over $100 per square foot for high-end quartzite.
ROI: New countertops may not add much tangible value to your home unless the previous ones were damaged or dysfunctional. However, they will make you feel a million times better about your kitchen, and can absolutely make a world of difference in real estate for sale ads, and when showing a house for sale. If your goal is to rehab and sell the house, then granite tops will provide the best ROI in terms of what the buyers expect to see.
2. Kitchen Islands
If truly amazing is a must; then consider going all out with a unique kitchen island. Double it as an entertainment bar and pro serving station by building in a bonus sink, cooling station for garnishes, wine, and making fresh sushi. Or add heat lamps and a warming drawer to keep brunch hot and fresh, and your plates up to par with restaurant quality! 😉
The National Kitchen and Bath Association also reports that "desk or home office space has been created in a majority of new kitchens being designed by their members — approximately two-thirds of them. This space is also likely to include a docking station for recharging mobile devices."
The basics of a kitchen island are the cabinets, and countertop. Size and quality of materials are the biggest variables, followed by installation. Use the cabinet and countertop costs in this report to calculate a rough estimate for your custom island.
Alternatively, inexpensive portable kitchen islands can be found from IKEA from $400 to $800.
Cost: $500 to $5,000
ROI: Adding an island may not increase your home's appraised value, but it will definitely make a massive difference in appeal. You'll love using it. Prospective buyers will be drawn to your home listing and given the importance of the island today it could absolutely generate higher purchase offers and create bidding wars over your property.
3. Upgrade Kitchen Cabinets – DIY Option!
Many property owners will find that they can get away with simply upgrading current cabinets, rather than splurging on brand new ones.
According to the National Kitchen & Bath Association this part of the kitchen can soak up as much as 30% of the total budget. So, this is a great place to save big. Think refinishing or replacing cabinet doors and hardware. To really take it to the next level visually (without breaking the budget) consider smart under cabinet ambient lighting, and tablet holders for an affordable, but hi-tech look.
Cost: $1,000 to $6,000+
ROI: 70% +. The ROI on making existing cabinets look brand new can be huge. You can essentially get a brand-new kitchen at the fraction of the cost. Expect to get virtually all of your money back in a sale or lease.
4. Replace Kitchen Cabinets – DIY Option!
Installing kitchen cabinets is another major task which most DIY enthusiasts will be glad they hired out for, instead of tackling it themselves.
Via BiggerPocket some real estate investors are reporting that Ikea kitchen cabinets have worked just fine for them.
Individual cabinet doors from Ikea start around $10 to $100. However, these can be a contractor's worst nightmare. They reportedly arrive in many boxes, with many parts. Think of it as a kitchen sized Rubik's cube. That can destroy your budget if your installers are working by the hour.
Alternatives include purchasing stock cabinets from home improvement stores, semi-customizing stock cabinetry, and fully custom-built cabinets. Individual stock cabinets may start at under $100 per piece. The sky is the limit for high quality custom carpentry and exclusive materials.
Hot new kitchen colors include black, white, and retro pastel colors. HGTV says "gray is the new white."
Cost: A new set of cabinets can run from $3,000 to $20,000+
ROI: Up to 70%. There is really no tangible home value difference between low end and high-end cabinets. The return is in the personal enjoyment, and in the appeal and emotional value which can drive more, and higher offers when marketing a property for sale.
5. New Kitchen Appliances- DIY Option!
New kitchen appliances can make a massive visual difference. The best part of making an investment in new appliances is that you can take them with you when you move.
New energy efficient and smart appliances can help owners and renters to cut energy bills, reduce grocery bills, enjoy more productivity in their lives, and live more environmentally friendly. Top of the line fridges can now run tens of thousands of dollars.
Note that many of their top tech features still require manual input. That means they may really be most productive for those with a housekeeping staff to operate them. In terms of style, stainless steel is heading out, and colored appliances are back in.
Note that those simply staging homes for sale can often rent appliances short term for showings. Look for appliance outlet stores and special sales days to get even more out of your budget.
Cost: $1,000 to $20,000+
ROI: 100%+. The return here is really a matter of the personal use you get out of them. However, with energy savings and portability property owners can find they see all their investment returned, and more.
6. Flooring
Realtor Mag proclaims that installing or refinishing hardwood floors can in some instances return over 100% of the investment, while new hardwood floors return over 90% of the money invested. — This can make hardwood floors one of the best home improvements to make anywhere in the house.
There are some obvious concerns of putting wood flooring in the kitchen, but it does seem to be a popular choice this year. Decorator's Wisdom predicts whitewashed and gray hardwood floors will be top trends this year.
Cost: Refinishing a wood floor can average $1,000 to $1,500 for 300 square feet. New wood flooring can range from less than $5.00 per square foot to over $15.00 per square foot installed. Remember to budget for labor, additional materials for edging, waste, and underlay, and equipment and tools.
ROI: 90% to 100%
7. Paint
Just need a simple way to brighten up your kitchen without going broke? Consider painting. Serene blues and retro greens are still on trend this year.
Cost: Less than $500 to $1,500+
ROI: 80% – 100%. Can make a substantial difference in how property condition is evaluated, as well as how you feel every time you are in your kitchen.
8. Backsplash
Adding a stunning backsplash can be a relatively easy DIY project, with a big visual impact. It certainly upgrades the perceived value of a home.
Just be careful about being too adventurous with color if you plan to sell your property in the future. This is not going to be a fun item to replace if you must redo it.
Shop carefully and compare not only price per piece, but the size of the pieces and coverage you get for your dollar. Note that vertical versus the traditional horizontal installation of backsplash tile is trending.
Cost: $1,500 to $4,500. Budget at least $35 to $75 per square foot. Solid single pieces called granite slabs can run up to double these prices i.e., granite or sheets of steel versus tile.
ROI: 0% to 70%. Installing a backsplash may not increase your home value, but it does help with marketability, and home maintenance. It can be a great focal point for advertising, as part of a larger remodel can result in a higher sales price.
9. Electrical Outlets
Sometimes it is the small things which make the big difference in appeal. The details really show how much is put into a remodel. Changing plates and switches can say a lot. Even better, add new outlets with USB charging stations to meet our growing need to keep a large variety of devices running.
There are plenty to choose from online for less than $50. This shouldn't take more than an hour or two for a licensed contractor or local handyman to install. New plug-in adaptors from Sharper Image and Bed, Bath & Beyond simply plug in to existing outlets and provide a new plate with USB connectors.
Cost: $50 to $500 per outlet
ROI: 100%. You can take portable ones with you. The up to date USB feature can really make future renters and buyers feel this home is customized for their needs, and adds value. When it comes to personal use this upgrade can be invaluable for productivity, and ensuring you don't run out of battery when looking up a recipe or playing music for guests. That's priceless.
10. Disposals
Garbage disposals may not seem like a notable feature to many homeowners reading this, yet they can be a top selling feature in low- and middle-income rentals and condos. If you've never had one before, they seem like a big upgrade. That's some great bang for your buck considering respectable brand name garbage disposals can be found for less than $300.
Cost: Less than $200 for replacement parts to over $800 to install new.
ROI: 0% – 100% depending on whether replacing or adding a new disposal. Yet, having your home free of food smells from the garbage, and the extra touch of having this appliance and help make a sale.
11. Dishwashers – DIY Option!
The same said for garbage disposals applies to dishwashers. Many people will never use them, but they do like saying they have one, and filling that big empty square under the countertop. With rare use they may last far longer than other appliances and can be moved with you. Home Depot, Sears, and Lowe's, all offer reasonable models for a few hundred dollars, and for far less than a new fridge.
Cost: $500 to $1,500+
ROI: 0% to 100% depending on whether replacing or adding. Replacing a broken dishwasher can pay for itself. Adding a new one may not boost your property value, but it can carve a lot of stress and wasted time out of your life versus doing the dishes by hand. It is a must for those that love entertaining.
You don't want your new countertops and kitchen island buried under dirty dishes, or to be chained to the sink when you've got guests over. 😉
12. Lighting
Decorative lighting fixtures really make a room, and the kitchen is certainly no exception to this. You might not get a dollar back in resale value, but increased energy efficiency can drive down monthly housing costs.
For a simple solution to really make your home pop, maximize enjoyment, and to wow guests; check out the Philips Hue. — This smart bulb lets you choose from "16 million colors," control your lights from your smart phone, and change colors depending on your mood and the moment.
The Philips Hue starter kit starts just under $200 at Walmart online, and syncs with Apple HomeKit technology. Save on paint and color with the rest of your remodel, and just change the light.
Cost: $150 to $250+ per light.
ROI: Enjoyment, feeling your best at every moment, visual appeal, potentially selling a home faster, and lower electric bills.
13. Windows – Not a DIY Option (Experience Required)
We are huge fans of appropriately timed window replacements and smart kitchen remodeling.
Credits:
Pella
It's definitely worth considering if you'll be spending a lot of time looking out of the kitchen window, and you know that you need to upgrade to feel more comfortable with more energy efficient windows in your kitchen.
Did you know? A kitchen remodel can actually return as much as 85% of your investment, but we would warn you not to spend more than 20% of your home value on it.
We recommend budgeting between $550 and $850 per midrange vinyl window professional replaced. Wood clad window will cost twice as much as vinyl windows to install/replace.
Cost: $550 to $850 per vinyl window professionally replaced. For premium wood clad windows plan to spend between $1,100 and $1,700 per window professionally replaced for you.
Fiberglass framed windows will fall somewhere in between $750 and $1,250 per window replaced, depending on the brand and type of window being replaced.
ROI: 80% upon reselling your home, plus monthly energy savings.
14. New Sinks – DIY Option!
An Interior designer Christine Baumann says "Apron-front sinks have never gone out of style," and more options and color choices for these sinks are becoming available.
Iron, stainless steel, copper, and concrete are all being seen this year. They make a great focal feature, though are perhaps best installed in tandem with new countertops.
Cost: $250 to $1,500+
ROI: 0% to 70%. When it comes to an appraisal a working sink is a working sink. Yet, you are going to feel way better about showing off your kitchen with a magnificent sink feature.
15. Accessorize – DIY Option!
For those planning on moving soon, or who are on a tighter budget, consider simply accessorizing. On the low end you can run to the dollar store or Walmart and grab some cheap, but new kitchen towels, mats, and cookbooks. For the higher end kitchen consider shelves or open cabinetry to show of designer tableware from Versace or Donna Karan.
Cost: $500 to $10,000
ROI: 0% to 100%. The accessories tell visitors and potential buyers a story about the value of your home, and whether living there is going to elevate their lives, or not. These add-ons won't increase your property value unless you include them in the purchase price. Yet, their personal use, and cosmetic appeal will normally pay you back what you invest, providing you shop smart.
16. Kitchen Extension, Bump-Out, Opening up your Kitchen Floor Plan – Not a DIY Option!
Is your old kitchen a bit too small to accommodate a growing family or a need for more space, as would be expected from a modern kitchen? If so, opening up your floor plan and/or extending or bumping out a part of the kitchen by moving the exterior walls of the house might be some of the more daring options to consider.
Note that anytime you move a wall that carries weight and acts as a support structure for the rest of the house, you will need to get a building permit and get your local building inspector involved. Having a floor plan to demonstrate the effects of a planned upgrade will make it easier to obtain the required building permits from your city hall or building board. If the exterior walls also need to be bumped out to create more interior space inside the house, then a site plan will likely be required as well for obtaining the building permits for your project.
Cost: $10,000 to $150,000.
The cost of expanding a kitchen space can vary wildly, depending on whether the exterior walls of the house also need to be bumped out, and whether any of the load-bearing walls will need to be moved. Getting a professional architect and a structural engineer may be required for the builder to properly plan and carry out a project where load-bearing walls are being moved.
ROI: 50% to 80%.
What will you do with your kitchen?
Note: Here's how we can help: 24hplans has team of highly trained, professional architects and drafters who can prepare any kind of site plan in the shortest amount of time possible, so that you can easily get obtain that building permit and get on with your project. Use the promotion code: 24hplans-20off to get a 20% discount off any package. — Please note this is a limited time offer, exclusive to the readers of our blog. This offer is not being advertised anywhere else.