Home additions are a worthy investment and an excellent way to increase space for you and your family without having to move. They also provide a higher cost-value ratio compared to other renovation projects—however, this can vary depending on the addition and current market.
One of the best things about a home addition is the ability to customize a new space to fit your needs. So, whatever your reason—a growing family, a need for a remote office space, a desire to build a rental income space—building an addition can be an exciting solution. Keep reading to get inspired and determine home addition projects that are right for you and your home!
1. Bump-Out Your Kitchen During a Remodel
On the list of projects that yield the highest resale value, kitchen remodels will generally always reign among the top. One of the least invasive ways to boost a kitchen's footage during a remodel is through a bump-out.
A bump-out entails pushing out a kitchen by a few feet—2 feet maximum if the bump-out is cantilevered (unsupported by posts). In this case, construction involves removing a section of the existing exterior wall and adding more or longer flooring. Then, a new wall is built along the expanded floor's perimeter and the expansion is covered with roofing.
Due to the modesty of the project details, bump-outs aren't full room additions, rather, expansions of existing rooms. In kitchens, bump-outs provide opportunities for a cozy breakfast nook, a more functional space for appliances, or extra area for supplemental counter space like an island.
Pros:
Less costly and time-consuming than a full addition
Cantilevered bump-outs don't require foundation work
Does not usually require additional heating or cooling
Cons:
Walls will need painting
Can be difficult to match existing floors, thus prompting new floor installation throughout the entire kitchen
Cost:
The cost to add a kitchen bump-out varies greatly from $5,000 to $30,000 depending on the square-foot basis. For a two-foot cantilever bump-out, the price averages out roughly in the middle, say $17,000, plus the cost of your kitchen remodel.
ROI:
Since bump-outs are considered "micro-additions", we can presume they generate a similar return as other small-scale projects, like minor remodels. Given that the national average ROI for a minor kitchen remodel is 81%, this small kitchen expansion can prove to be a wise investment.
2. Add to Your Garage
In keeping with projects that provide a high return, let's turn to the garage. Both garage door replacements and installations rank high in that category because they improve curb appeal and functionality. However, if you're looking to add square footage to your home, there are several ways to go about doing so with a garage.
You can add an attached or detached garage to your property, if it doesn't already include one. Or you can expand your garage from a 1-car to a 2-car garage. Some might even choose to upgrade to a 3-car or 4-car garage. The possibilities are endless.
That said, project details and costs are subjective. When it comes to constructing any type of garage, customary elements include building walls, inserting flooring, matching present siding and roofing, adding insulation, and installing garage doors. Additional features might include lighting, windows, and entry doors, as well.
Pros:
Provides an opportunity to build a living space above the newly constructed garage
Protects cars from snow in colder climates
Detached garages eliminate the risk of carbon monoxide entering the home
Detached garages are optimal if you don't have space next to an entryway
Cons:
Will likely need to hire and pay an electrician
Detached garages usually require a driveway installation
Cost:
Garage construction costs depend on the type of materials, the garage structure you select (attached or detached), the garage size, and how many cars you wish to fit. The smallest size possible for a 2-car garage is approximately 20 by 20 feet. Although, a 24 by 24-foot garage is most common and comfortable for 2 cars, according to most homeowners. The national average for a 24 x 24-foot attached 2-car garage is around $35K. However, if you want to increase the allotted space for cars (i.e., expand to a 3 or 4-car garage) or if you construct a detached garage, anticipate paying much more.
ROI:
Homeowners who take on a garage addition of any sort may expect to see around a 65% return on their investment in relation to home value, given various factors.
3. Build a Roof Dormer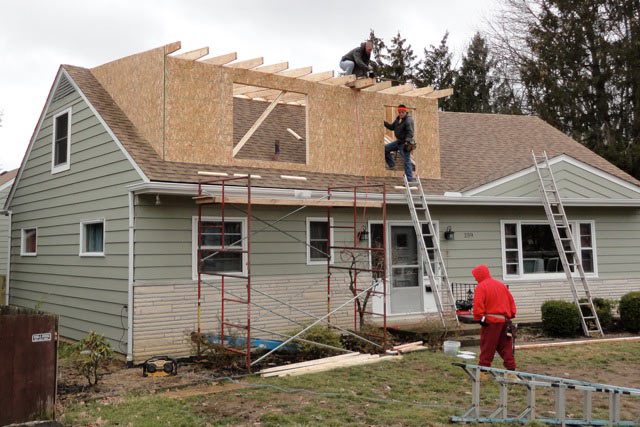 A dormer is a small, roofed addition with a built-in window that projects from the side of the main roof. Dormers are quite versatile as they come in several different styles and homeowners may choose to add more than one dormer. The variation of possible dormers makes adding one a complex process to articulate. Fortunately, this guide on how to add a dormer provides a general overview which we've summarized below.
The first task of a dormer addition consists of framing the dormer and attaching the sheathing. From there, the dormer needs to go through a "dry-in" process which involves installing roofing materials and windows. After that, some of the final steps include applying siding, insulating walls and ceilings, and hanging drywall. Don't forget to prime the walls and ceilings before you paint them to your liking.
Pros:
Allows for more light and space in the top-floor
May be converted into a small upper-level room
Can enhance the architectural details of a house
Cons:
Homes with truss-framed roofs don't have the attic space for a dormer addition
Dormer windows will eventually need replacing
Only optimal during a dry time of year as the roof will have an opening exposed to the elements
Cost:
Adding a dormer to a home comes at a variety of price points based on styles. Different types such as gable dormers, shed dormers, and hip dormers range in cost from modest, mid-range, and luxury, respectively. Ultimately, a dormer addition can put you in the hole anywhere from $5,000 to $20,000 on average — although other external factors can drive up the costs.
ROI:
With proper execution, adding a new dormer can help improve the curb appeal and enjoyment of your home, with the cost to value return in the 50% to 60% range.
Note: It's important to note that in many cases it may be necessary to provide a site plan to obtain various home building permits from your city hall or township. You can turn to 24h Plans to get a custom site plan drawing prepared for your dream home in less than 24 hours by our team of experienced architects and drafters. Use the promotion code: 24hplans-20off to get a 20% discount off any package. — Please note this is a limited time offer, exclusive to the readers of our blog. This offer is not being advertised anywhere else.
4. Splurge on a Sunroom
Sunrooms are bonus leisure rooms best-known for their ample light and outdoor views—oftentimes called "Florida Rooms" because they provide a relaxing area to retreat to in a home. Alternate names for sunrooms include "Four-Season Rooms" (if the room needs heat) or "Three-Season Rooms" (if there is no heat).
Generally, sunrooms are enclosures added on the back or side of a house and use wood bases to support the large glass panels that let sunlight (the rooms signature feature) shine in. In some sunrooms, homeowners may opt to install skylights, screens, and sliding glass doors as well.
Pros:
The abundance of natural light may reduce the need for and cost of using electric lights
Being comprised mainly of glass can help match the aesthetic of almost any home
Cons:
Reduced privacy might require curtains or other blinds
Possible increase in your property taxes
Cost:
On average, expect to spend anywhere from $20,000 to $75,000 on a sunroom addition. Of course, this will vary depending on the size of the room and what features you plan on incorporating into the space.
ROI:
A sunroom will not only attract buyers, but you should see a 50 percent return on the money spent on this project.
5. Add an Extra Bedroom
Bedroom additions are a great way to increase the amount of livable space for your family. When building a second bedroom, you can either build out or build up. To save money and time, consider building up.
Pros:
Allows you creative freedom to customize the new space to your personal taste
Cons:
Increased space might impact heating and cooling costs and can increase property taxes, making it a gamble if you decide to sell later on
Cost:
It's hard to base a bedroom addition cost on national averages, which vary greatly. You can expect to pay between $25,000 and $125,000 depending on the scope of your project.
ROI:
You can expect a positive ROI when you built out an added bedroom, as it adds immediate value thanks to the new, extended perimeter of your home. If you're in the market to sell your home, expect about a 50 percent return on investment.
6. Add a Second Story
A second-story addition is beneficial for families looking to expand their livable space. A lot of factors go into planning for and building a second story, so it's best to consult a professional who can walk you through each step of this large-scale renovation.
Pros:
Increases square footage and provides flexibility to design room to fit your family's needs
Cons:
Depending on your contractor, the addition may not look as seamless as you imagined, which can hurt your resale value if the exterior doesn't match
Cost:
The low-end cost to add a second story to your home is around $150 to $200 per sq. ft., but it can go up to as high as $300+ per square foot — this largely depends on the size of the addition, elements you include, local cost of labor, and other complexities that go into this project.
ROI:
A second story addition provides a 70 to 80 percent ROI, which makes this complex project valuable.
7. In-Law or Apartment Suite
An in-law or apartment suite is an excellent addition to provide for the elders in your life. When developing this space it's important to implement at least a full bathroom, and a door that allows for privacy from the rest of the home. Look into requirements for multigenerational additions before beginning your project to be sure it satisfies all building codes.
Pros:
Increases the value of your property as a whole, and can make entertaining guests enjoyable as they have their own space.
Cons:
Will likely need to consult with your HOA and review local building codes before building.
Cost:
An in-law suite addition can cost upwards of $40,000 to $125,000. The price can vary based on elements of the addition—such as whether it's a garage, attic, or basement conversion—you choose. While this number may sound intimidating at first, the price of this addition can ultimately save your family money in the long run.
ROI:
An in-law suite addition increases the livable square footage of your home, and can provide up to 80% return on investment, which can make this family-friendly project worth your time and money, especially if livable space is in demand.
8. Add a Bonus Room
If you feel that your attic, basement, the space above the garage, or an extra room in the home could be utilized better, consider reconfiguring the space into a bonus room. This room can function as anything you see fits you and your family's needs, whether it be an office space, closet, home theater, or game room.
Pros:
It's a versatile space that can function for almost any of your needs.
Cons:
Can require a lot of work in regards to HVAC and electrical tasks to ensure its a habitable space.
Cost:
At a minimum, you can expect your bonus room addition to cost around $15,000-$25,000. This addition is on the pricey end of the spectrum due to the amount of work required to transform an unfinished space.
9. Master Suite Addition
A master suite is a space for you to relax and enjoy yourself, and this investment can bring you an immeasurable amount of added comfort into your living space. This project allows you designated space away from the rest of the home.
Pros:
It's so popular it received a "Joy Score" of 9.7/10. This is a rating that measures a homeowner's satisfaction and happiness with a project, proving that it's a solid investment.
Cons:
If your neighborhood is filled with empty-nesters and two to three bedroom homes, this addition could provide you with a less ROI than other neighborhoods with more homes.
Cost:
A 24×16 square foot master suite addition can cost between $75,000 and $130,000. Ultimately, the price will depend on if you want a luxury, or modest addition, as well as materials and elements you choose.
ROI:
It's projected that you will see a 50% to 60% return on investment after completing this addition. And that doesn't factor the enjoyment you'll experience from the finished result.
10. Attic Addition
Utilizing your attic space for an extra bedroom, playroom, or loft, can be a great option for larger families with young children. Just be sure when completing this project you make it easily accessible, otherwise your money will go to waste.
Pros:
Bonus space for your family's needs and maximizes your home's square footage.
Cons:
There are a handful of building codes you have to follow, as well as ensure your support structures are stable enough to withstand additional weight.
Cost:
According to the National Association of Realtors, the median cost for an attic addition is roughly $75,000 to $100,000 depending on the scope and location.
ROI:
You can expect to see a project such as this provide you with an approximate 53% return value (PDF), which is not all that bad considering the cost of the project and improved usage of the house.
11. Family Room Additions
Do you have enough space to accommodate a growing family? If your answer is no, then you might benefit from a family room addition. The extra square footage provides a communal space to gather as a family, as well as the versatility to dedicate specific areas to individual activities—like a desk or reading nook.
The first step of building a family room is determining the location and size of the addition. From there, consider whether or not you need a permit to move forward with the project. Once you know the specifics, you can more accurately estimate the cost and timeline.
A home addition requires a lot of work. Be sure to consider the materials and labor that goes into an addition of this size—like new flooring, carpeting, wall-paint, furniture and more.
Pros:
The extra square footage provides a comfortable, central space that represents your family and helps everyone live more intentionally
You can easily accommodate extra guests for holiday entertaining
Cons:
In an open floor plan, it can be a bit noisy at times when you need to get things done
Cost:
The typical price range to build an addition is between $20,884 and $67,773. As with any addition, this will vary depending on which elements you include.
12. Porch Additions
Who doesn't love sitting outside, relaxing with a nice cup of tea? A porch addition provides a space to enjoy nature and serves as a functional area for entertaining. When considering this project, be sure to keep a running list of all the elements you'd like to include—this helps you from overspending.
Pros:
Provides an aesthetically pleasing space to relax outdoors
Cons:
Requires routine maintenance to ensure materials stay
Cost:
On average, expect to spend about $21,000 for a 16' x 20' wraparound porch. On the high-end, you can expect to pay $30,000.
ROI:
A porch addition not only adds value to your home, but it also improves resale value.
13. Patio Additions
Outdoor additions are a great way to increase the value of your home while enjoying some fresh air. Depending on your location, you might want to consider spending more money for an enclosed patio addition, that way you can avoid unfavorable weather or annoying bugs.
Pros:
Creates an inviting space to entertain guests outside
Cons:
Can hurt the resale value if patio looks out of place to sellers
Cost:
An enclosed patio will cost, on average, $16,304. When you include the cost of labor and materials, and how they vary, you might spend between $3,000 and $40,000.
ROI:
The average ROI of a patio addition is between 30 and 60 percent—additionally, screening in your porch can boost your ROI.
14. Deck Additions
A deck is an excellent way to provide yourself the space to enjoy the outdoors. You can choose to build a deck off the lower floor of your home, added to an upper level, or even on a rooftop.  With options between composite and stained wood, your options to spruce up your backyard and home are endless.
Pros:
If you have a stunning backyard view you want to spotlight, a deck is a viable option as it's lifted off the ground and will offer a wider view.
Cons:
Over time wood can start to deteriorate, crack, and rot, and composite can look cheap, and is not resistant to mold or mildew. Therefore both requiring routine maintenance and eventual replacement of planks.
Cost:
An average deck installation can cost around $15,000 for composite materials and $9,327 for wood. If you're looking to get into the nitty gritty, that averages out to around $33 per square foot, making the cost of your project also vary based on the size you desire.
ROI:
You can expect to see around a 75% return from a deck addition, and an added opportunity for a good view of nature.
15. Bathroom Additions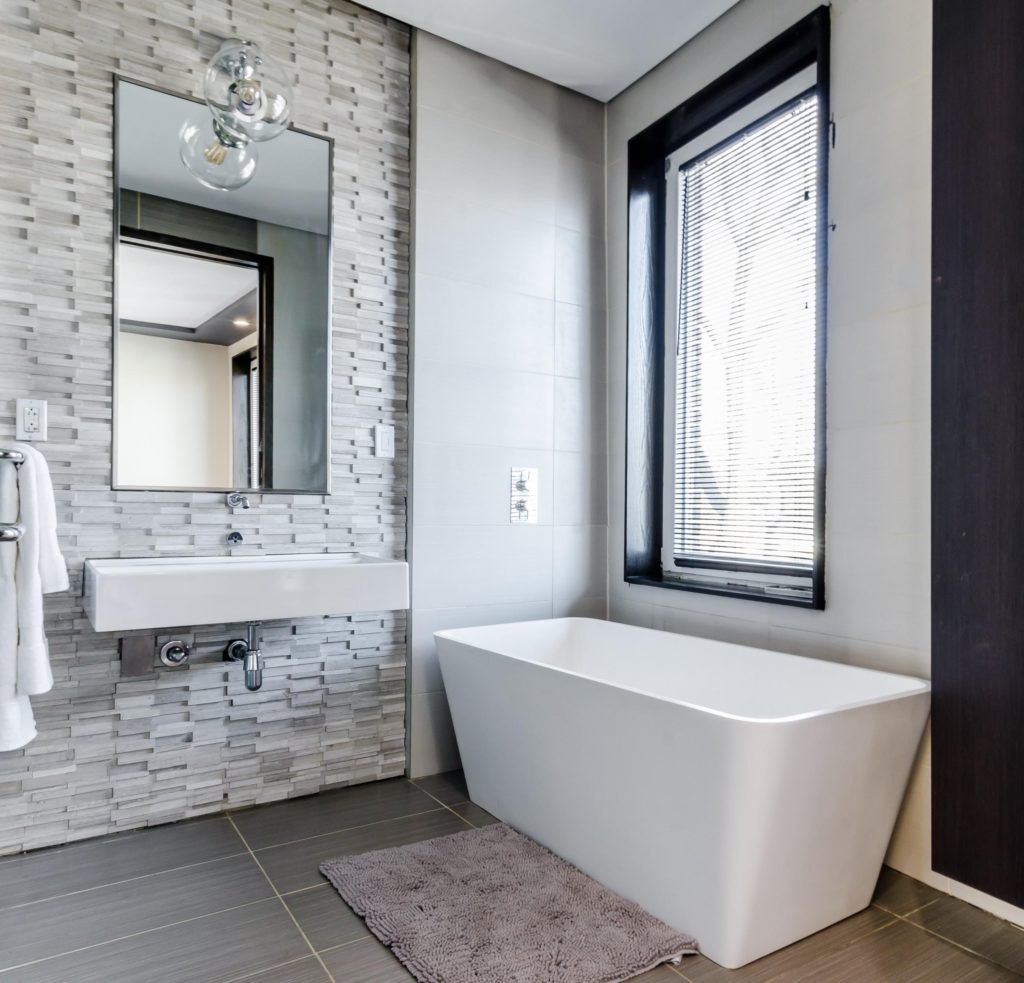 Recent research shows that home additions are still a popular project among homeowners. Many people choose to add an additional bathroom to improve comfort and convenience in a home, especially for larger families.
Building a new bathroom is exciting and there are so many elements you can incorporate to make this room stand out. Materials and fixtures can increase the cost, so plan your budget in advance and try your best to stick to it.
Pros:
Increases home value and the improved functionality can attract buyers when you go to sell
Cons:
Adding a bathroom requires permits and inspections, which can be costly and delay your project timeline
Cost:
Bathroom addition prices vary greatly depending on your project, but expect to pay anywhere from $3,000 to $25,000. For a 100-square-foot, high-end bathroom addition, the cost is well over $75,000, so budget accordingly.
ROI:
The ROI of adding a bathroom really depends on your location. In some areas, like the west, you might get around 67 percent, compared to the east where the ROI is about 47 percent.
16. Prefab or Modular Addition
It's not easy to add on to a prefabricated home, so hiring a professional to help might save you time and money, and help you avoid common issues that pop up during traditional additions.
For optimal results, consider an upper-level expansion for your modular addition—that way you can feel confident in the new space blending with the original architecture.
Pros:
Cost-effective, customizable alternative to traditional additions
Quick installation timeline with minimal disruptions
Cons:
Depending on your contractor, the quality of the materials might not blend as seamlessly as you imagine with your existing exterior
Cost:
The cost of prefab/modular home additions varies greatly, but most people generally spend between $100,000 and $300,000. For high-quality materials and fixtures, prices can jump to $400,000.
While expensive, modular additions are certainly worth the investment. Plus, you can easily manage your spending habits and create a financial plan so you can afford a larger renovation project. A budget helps you prioritize your money, and if you update your budget more frequently, you can really control your urges and save appropriately. An easy way to monitor your funds is by switching your account to an online-only bank. The digital world of banking provides the flexibility and accessibility you need to succeed in saving your money.
17. Basement Addition
A finished basement is an impressive selling point for buyers. The key to this project is planning out every aspect well in advance. You need to factor in zoning restrictions for your location to make sure you can move forward with your addition ideas, and that way you won't run into any problems down the line.
Pros:
A basement addition opens up the potential to use this space as a rental unit and as a form of income property
Cons:
Adding or finishing your basement can take months, which can disrupt your daily life and routines
Cost:
It's hard to determine an exact cost due to the many variations that accompany this project, but it generally costs between $15,000 and $25,000.
ROI:
A basement addition is a worthy investment, giving you, on average, a return of 70 to 75 percent of your initial investment.
18. Mudroom / Laundry Room
Mudroom additions create a functional space to enter your home. When paired with a laundry room, they are even more beneficial and can improve aesthetics and organization in your home.
When building a mudroom, narrow down the exact features you'd like to include in your project so you can accurately estimate the cost. A mudroom experiences a ton of foot-traffic, so make sure you choose materials that are easy-to-clean and durable.
Pros:
An easy-to-clean space that improves functionality and increases storage in a home
Can save space in smaller homes if you combine laundry and mudroom
Cons:
Might require you to change your existing layout, which can be costly and time-consuming
Cost:
The national average cost of a mudroom addition is about $12,000. You can expect this to vary by region and also vary depending on design choices, labor costs, among other factors.
ROI:
A mudroom certainly enhances the value of a home and the increased square footage adds to an increase in your ROI.
19. Add a Carport
A carport is the next best option for those without an enclosed garage. For homeowners living in warmer climates, carports are an easy solution for protecting your vehicle from harsh weather, without having to spend money on a new garage.
Before building, consult a pro for assistance with choosing materials. As an expert, their knowledge can help you understand what elements are right for your home and might even help you save money.
Pros:
A budget-friendly way to keep your car safe from the sun destroying paint, trees falling from high-wind and other harsh weather, and other hazards
Cons:
Since it's open, it's less secure than a garage
Cost:
The average cost per square foot to add a carport onto your home is between $5 to $15. In total, you can expect to spend anywhere between $5,000 and $25,000 including cost for materials and labor—you can of course save money if you are able to DIY the labor portion.
ROI:
Adding a carport has an excellent ROI—in fact, you can achieve almost a full 100 percent return with this project.
20. A Solarium Addition
A solarium is a glass-enclosed greenhouse that is built onto your existing home—similar to a sunroom. Solariums are great for people looking to grow plants and vegetables year-round. The interior of a solarium is climate-controlled, making it the perfect addition for gardeners.
A greenhouse addition requires a lot of technical planning before you can start building onto your home. You need to analyze your home and make sure you choose a location with a lot of sunlight and an area that is level and drains well. Your chosen location should be free of trees, or you might have to consider removing or relocating your landscaping.
Your greenhouse won't be successful if you use cheap materials during the building process. Instead, invest in materials that will protect the room and your plants against harsh weather, and maintain a perfect temperature for plants to thrive. Check out these gorgeous solariums to inspire your own ideas for a sunny addition.
Pros:
A solarium provides a relaxing sanctuary where you can enjoy the sun and outdoor environment without having to go outside
Cons:
The glass roof requires regular maintenance, which can be costly if you need to hire professional cleaners
Cost:
The cost to build a greenhouse varies depending on permits, materials, size, and more. On average, you can plan to spend around $17,000 if you are enlisting a professional's help, or $13,500 or less if you build it yourself.
ROI:
A greenhouse improves the attractiveness of your home and boosts your overall property value—however, if you're considering selling your home relatively soon, this project might not be worth your investment, since not all buyers find value in these rooms.
Note: Here's how we can help: 24hplans has a team of highly-trained, professional architects and drafters who can prepare any kind of site plan in the shortest amount of time possible, so that you can easily obtain that building permit and get on with your project. Use the promotion code: 24hplans-20off to get a 20% discount off any package. — Please note this is a limited time offer, exclusive to the readers of our blog. This offer is not being advertised anywhere else.
Image Credits:
Photo by Andreas von Einsiedel/Getty Images
Photo by Vivint Solar on Unsplash
Photo by Diverse Pursuits Management, LLC
Photo by Francesca Tosolini on Unsplash
n/a
n/a
Photo by Charles 🇵🇭 on Unsplash
Photo by Douglas Sheppard on Unsplash
Photo by Francesca Tosolini on Unsplash
Photo by Antonio Caverzan on Unsplash
Photo by Sonnie Hiles on Unsplash
Photo by Im3rd Media on Unsplash
Photo by Chastity Cortijo on Unsplash
n/a
Photo by yann maignan on Unsplash
Photo by Douglas Sheppard on Unsplash
Photo by Brian Mihealsick
Photo by Annie Spratt on Unsplash