A smart landscape design transforms a dull lot into an extraordinary setting you'll love. However, before the first shovel full of dirt is turned, you've got to get a permit from your community. Your HOA might want to approve the project too.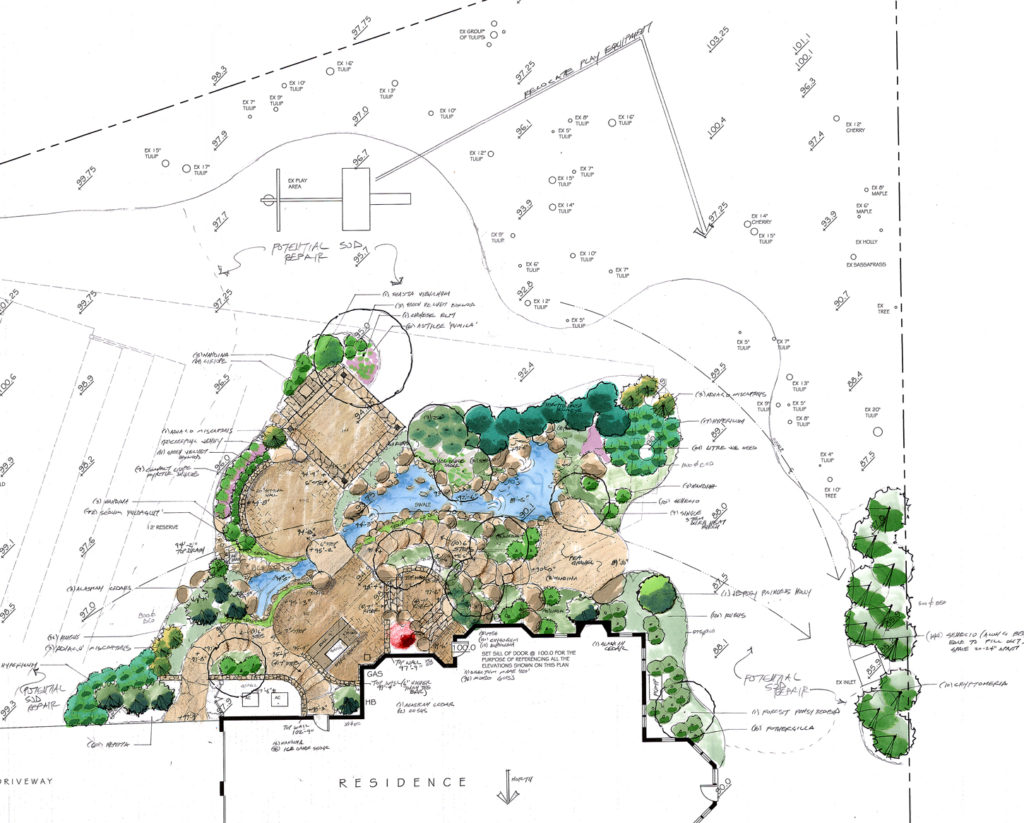 This post guides you through the process, so you'll stay out of trouble with the local "powers that be" and ensure your project is the success you planned.
Step 1: Develop a Site Plan
The local planning/development/building department wants to know the current lay of the land before it approves changes. That's the purpose of a site plan.
A site plan is a scale drawing of your property that shows all the important features:
North arrow
Property lines
Lot line dimensions
Dimensions between structures
Graphical scale showing the scale ratio of the drawing
Trees
Additional features such as driveway and walkways, a pool and landscape features can be added. It just depends on the level of detail required to make everyone happy.
How do you get a site plan? There are several options from affordable to pricey. If you want to spend the most money, hire an architect, surveyor or engineer to create the site plan.
When you want the same quality at a more reasonable cost, have 24hPlans create your site plan using our full-featured AutoCAD software.
The only difference you'll notice between certified plans and ours is the money you save! Our site plans are accepted by communities around the US every day because they are clear, accurate and detailed.
OK, site plan from 24hPlans. Check.
What's next?
Step 2: Have a Landscape Design Created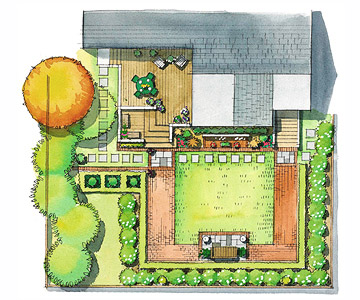 You need a landscape design drawing for the local authorities to approve and to guide the landscape crew that ultimately transforms your lot into the fantastic setting you envision.
You've got two familiar options here: Costly and affordable.
The expensive route is to hire a landscape architect for a turnkey project – consulting with you on the what you want done, sharing ideas and making suggestions, and then producing a color, 3D render of what the completed project should look like. Average cost for the entire package is +/-$4,000.
The affordable alternative is to hire a landscape designer as a consultant only. Working with a copy of your site plan, the consultant will listen to your goals, make suggestions and ultimately help you decide the best landscape components and methods to bring your vision to life.

From the sketches and notes made during that consultation, you can have a photo-realistic 3D render produced by 24hPlans using the same or similar equipment as landscape designers use.

The total cost of this approach is $100-$300 in consulting fees, plus an affordable 3D render from 24hPlans.
Pro Tips: Have a couple copies of your site plan printed, so you and the designer can use one of them to sketch in possibilities for plants, rocks, a pergola, gardens, deck or patio, walls, a pond or fountain – whatever you envision for your ideal landscape.
As you develop your plan, consider how you intend to use your yard. Each use will affect the design in different ways:
Relaxing
Cooking and/or eating
Entertaining
Playing
Swimming
Gardening
Sunbathing
Kids and pets
By the way, if you'd like to know the average costs for 18 popular landscape projects you might be considering, we've detailed them here.
Step 3: Apply for a Building Permit
If you're replacing a few bushes or planting a tree, you likely don't need a permit. However, any significant modifications to your landscape will require approval and a permit.
Before your community grants you a permit, the decision-makers will want to know what the property currently looks like and what it will be when transformed. For this reason, it will request a copy of your site plan and landscape rendering to get the "before" and "after" views.
HOA note: If you're part of a homeowner's association and are unclear on its landscaping guidelines, submit your site plan and 3D rendering to the HOA first.
An HOA can be more difficult to get approval from than local planning boards.
Pro Tip: If you wait to clear the landscape design with the HOA and it denies it, you risk having to change plans, get a new drawing made and then re-submit your application for a permit.
Step 4: Find a Contractor to Implement the Landscape Design
Once you have your drawings and the project has been approved, you're ready to get estimates from local landscape contractors. Invite them to the property to discuss the design and get their opinion on the best way to implement it.
Most experts recommend getting at least three estimates to find a quality landscape company at a competitive cost.
What happens if you change the design?
Minor changes, an extra bush or tree in the landscape or making a wall a foot or two longer might not require any change in plans. Call the office that approved your permit for a determination.
If major changes must be made, the answer depends on the reason for the change. If the landscape design consultant you hired recommended something that cannot be done, then they should pay to have new drawings made and pay for any application to change the permit.
However, if you get a great idea at this point in the process and want to implement it, you'll be responsible for all associated costs for the change. Paying a little extra to get the long-term benefits of your updated design will prove worth it.
Final Considerations
Make sure anyone working on your landscaping is licensed and insured, so you'll be protected if a worker is injured or property is damaged.
Whenever digging takes place on your property, you should know where utilities are. In most states, you can dial 811 to access a free service that marks all utility lines. If that service isn't available where you live, call your local utility company.
Note:
24hplans has team of highly-trained, professional architects and drafters who can prepare any kind of site plan in the shortest amount of time possible, so that you can easily obtain that building permit and get on with your project. Use the promotion code: 24hplans-20off to get a 20% discount off any package. — Please note this is a limited time offer, exclusive to the readers of our blog. This offer is not being advertised anywhere else.