There are many reasons to upgrade your current home with an addition rather than sell and buy a home with the features they want. Which of these fit you?
You like your current home, property and neighbors.
It is close to the kids' schools, favorite shops, doctors, etc.
You've priced homes with features you want, and they're out of the budget, but an addition isn't.
You want the chance to customize the upgrade.
Home Addition Planning Steps and Executing the Project
This Home Addition Planning and Cost Guide covers important topics to assist you in settling on a plan, determining a budget, getting paperwork together, choosing a general contractor or acting as your own and much more.
We're going to assume you will serve as the general contractor of the project. That means you will complete the building permit application and "pull" the permits for construction, electrical, mechanical, plumbing and water/sewer.
You will hire the subcontractors and schedule them so that in order, the excavation, foundation, framing, rough plumbing and rough electrical, exterior siding/windows/roofing (can be done while interior work is occurring), interior drywall, painting, flooring, finish electrical/plumbing/carpentry, cabinets and countertops, appliances, fixtures, etc., work is done.
Even if you hire a general contractor, knowing what should be happening will help you stay on top of things. You'll still be the GC's boss, so to speak.
Determine the Addition's Purpose
Here's a key question: What is lacking in your home that an addition would fix? Deciding the "why build an addition" issue is step one in any home addition project.
Common reasons for an addition might help you think through this issue:
Your home needs more bedrooms or another bathroom.
An owner's bedroom/bathroom suite, aka master's suite, is high on your wish list.
Your household has become multigenerational, and an "apartment" addition would be ideal.
You enjoy entertaining, and a gourmet kitchen and dining/gathering space is the goal.
Too much of the home is dedicated to bedrooms, and the family wants more living space.
You need a home office for working from home or launching a business.
You want a specialty room – home theater, gym, art or music studio, storage to reduce clutter elsewhere, etc.
Keep your goals in mind as we discuss building up vs. building out.
Building Up vs Out: Pros and Cons
Build Up: If you have a single-story home, then taking off the roof and building up is an attractive option. Why? Because foundations are much more expensive than roofing materials.
Additionally, if your lot is tight, there might not be room to build out and maintain necessary setbacks from the property line.
It is also possible that there are utilities and infrastructure beneath the area you'd need for building out, and moving those features cost even more than the excavation and truckloads of concrete and finish work required for a foundation.
Don't Build Up: If you want a gourmet kitchen or first-floor bedroom suite for yourself or aging parents, then building up won't get that done. Putting a home office with an exterior staircase and entrance for clients isn't practical either.
If you can convert a first-floor family room to the bedroom suite or office and then build up and include a family room on the upper floor, those options can work. But now you're adding an expensive remodel to your home addition costs.
Build Out: As noted, if the room must be on the first floor, building out is the preferred option where possible.
You might also want to build out if the house is cramped and building a second floor would make it feel like, well, literally, you're "living on top of each other."
Building out is also better if you want both more first-floor space and an expanded basement for a home gym, studio, rec room, theater, mancave, etc.
Don't Build Out: If the lot lines are close or moving utilities is prevented or cost-prohibitive, then this option might not work. There are more details about lot line issues in the next section.
Find Out What's Possible Where You Live
It's important to understand local ground rules for home additions and alterations where you live.
First, check with your city or county code compliance or zoning office by calling, stopping by or checking its website.
The rules and regulations will specify what you are permitted to do in terms of the addition height, size relative to the size of your property and how far off the property line construction must be. The last item is known as the "setback" distance or "setbacks."
Once familiar with these requirements, you'll know what type of addition is possible. Additionally, a local general contractor will know these requirements too. We talk about working with a general contractor (GC) or handling the management of the project yourself in the next section.
Secondly, and not to be overlooked if your house is in a homeowner's association, follow the HOA's requirements for additions.
Planning and executing your home addition within these boundaries will save you hassle and money.
Hire a General Contractor or Be Your Own
These are your options.
Since few homeowners have the time or knowledge or want to undertake the hassle of managing the addition project, most hire a builder, aka general contractor or GC. Let's consider both options:
Hire a General Contractor IF: You simply do not have the time to manage the project and you won't mind paying about 20% more for the addition – the average markup charged by GC's. That would turn a $150,000 project into a $180,000 project.
Alternatively, if your budget is a firm $150K, then you'll have to scale down the addition's size, quality/features or some of both to pay for the GC.
Hiring a general contractor means less hassle. The GC will hire subcontractors for each phase and oversee the quality and accuracy of the work. That's what they get paid to do as well as getting permits and other documents needed, such as a site plan drawing (discussed below).
Note: While GCs mark up the work by up to 25%, it's not all profit. Contractors have a lot of overhead (wages, several types of insurance, vehicles, warehouse space, etc., it's a long list). The best estimates, based on national surveys, of the profit margin for contractors is 5-7%, so on a $180,000 job, the profit would be $9,000 to $12,600
Be Your Own GC IF: You have some knowledge or experience of construction and the building trades. This will also require many hours for planning, getting estimates and scheduling the trades to come in to do their work in the proper order.
For example, you can't drywall before electrical and plumbing are roughed in. And you can't do the finish electrical and plumbing until the drywall is complete.
It is a challenge to line up subcontractors to keep the work flowing with as few delays as possible, but if you can do this, you'll get more home for the money you spend – or get the home addition you want for less spent.
Here are renowned building expert Bob Villa's thoughts with pros and cons on serving as your own GC.
You will also need plenty of time during the day to call contractors, meet them at your home, check up on the progress of their work, etc.
We've acted as GC on two complete home builds. During the first, we mentioned to a builder that we were doing it to "save money on the home." And we did. But the contractor was wise enough to say, "you won't just save the money, you will earn every dollar of it because being the GC is demanding."
He was right, so think this through carefully, read up on the subject and watch videos for being your own GC and those that are for hiring a GC. They will help you decide if you have the time, energy and skill set for it.
For being your own GC: https://www.youtube.com/watch?v=hq94V3gCwZ4
For hiring a GC: https://www.youtube.com/watch?v=9yQBvzly0EI
If you do decide to be your own GC, this video has great tips for hiring contractors for each component (framing, plumbing, etc.) of the project.
Get it In Writing
If you're hiring a GC, they will provide a contract, which you might want to have an attorney to review. You can offer your own contract too.
When you're hiring individual contractors, a contract should be prepared for each.
There are good, free contractor agreements forms available online.
How Much Does a Home Addition Cost
A lot. But you already knew that.
The cost of a home addition ranges from $105 to more than $300 per square foot. It's conceivable to spend $500 per square foot, right?
Bathrooms and kitchens cost more per square foot than bedrooms, living rooms and similar space without appliances and fixtures.
So, let's narrow things down in three cost tiers for additions:
Low Cost: Affordable materials, a bedroom or bathroom, but not both. Not much option to splurge.
Midrange Cost: Average-quality materials, a bedroom or bathroom, but not both. You can splurge "here," but you'll have to cut cost "there."
High Cost: Top-quality, a bedroom and bath and/or high-end materials and appliances. The sky's the limit.
This chart shows your options in each price range. In the Basic range, you're limited to materials in the low to average cost range, but you'll have to decide where you want to spend more – which must be offset by spending less somewhere else.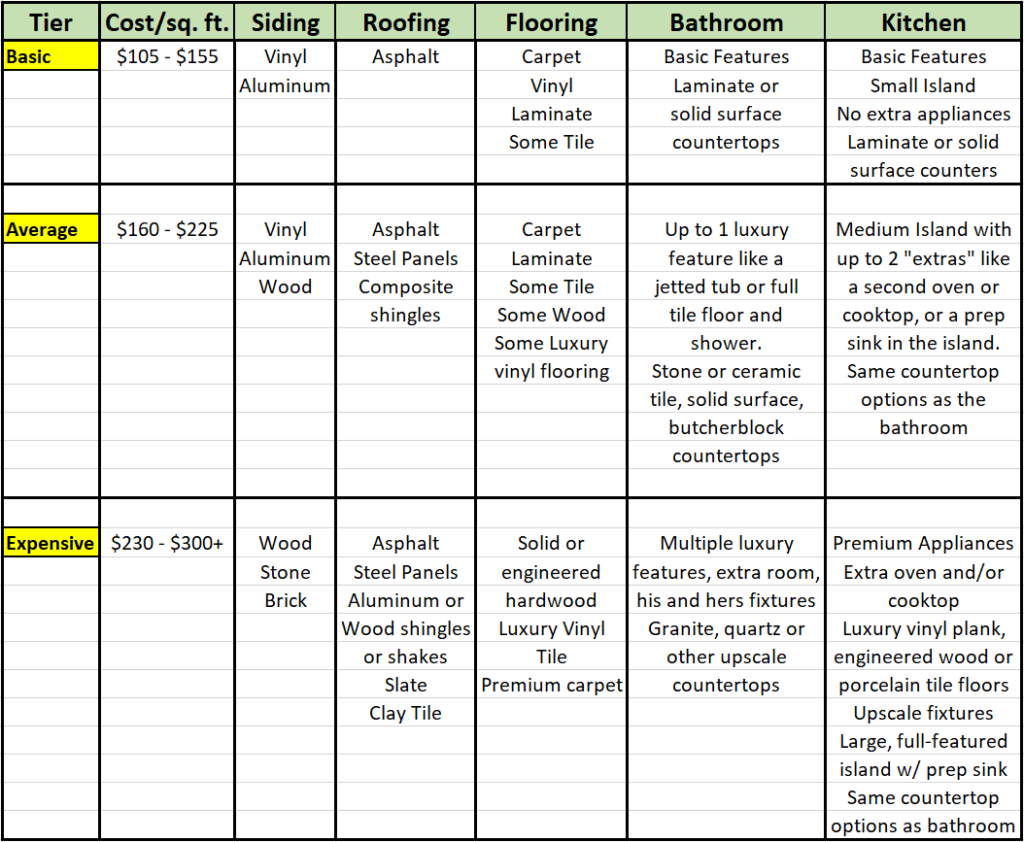 In the Midrange tier, you can have a few high-end features, but again, there will be trade-offs.
In the High Cost range, you have more options, and if the budget is unlimited, no trade-offs are necessary. However, even in this range, most homeowners do make tough decisions about where they want to splurge and where they need to reign in spending.
If you'd like to see where your money goes, our New Home Construction Cost Guide details each part of a home – excavating, framing, roofing, exterior, interior, etc., broken down by percentage of the budget. Costs are generally lower for new construction than putting on an addition, but the percentages remain close to the same.
What's your Budget/Where Will the Money Come From?
Most homeowners are on a budget, and that will set limits on the size of, and/or the quality of the materials that can be used in the addition.
How will you pay for the addition? The most common options are these:
Cash is always better than going into debt for the addition.
Conventional mortgages through a bank, credit union or mortgage lender are a good choice if you don't have a mortgage but need a loan for the addition.
Cash-Out mortgage refinancing allows you to use equity in your home for the addition. It gives you a new, larger first mortgage. The old loan is paid off, and the difference is used to pay for the addition. FHA refinancing is available for some homeowners with lower credit scores, but rates are higher.
VA cash-out refinancing is available to vets through the Veterans Administration.
Home equity loans & Home equity lines of credit (HELOC) are two options for using credit in your home without refinancing.
Construction company payment plans are offered by large home builders to clients with good credit. It's worth comparing rates. Builders and their third-party lenders might offer better rates than other lenders to help secure your business.
Peer to peer loans, or P2P, are a creative option. They anonymously match borrowers with individuals or a group of individuals who want to earn interest on their money.
Pro tip: Don't spend your entire budget. Unless you've planned well, there might be extra, unforeseen costs. Most building experts recommend keeping up to 15% of your available cash/loan in reserve for these potential expenses.
Allocating your Money for "Must Have" Features
If you're on a budget, then you'll have to make decisions about where to spend the money. If quartz countertops are a non-negotiable, a "must have," then you might need to skip the prep sink and extra cooktop in the island or opt for luxury vinyl instead of hardwood.
What you want to avoid, though, is an imbalance – something like quartz countertops and high-end cabinets with sheet vinyl flooring, or hardwood flooring but laminate countertops. It's ok to combine affordable with midrange or midrange with high-end, but avoid combining affordable with high-end materials.
So decide the non-negotiables in your plan, and then make the hard budget decisions about the rest of the materials and features of your home addition.
Finalizing the Addition Plan & Budget
By now, you should know the cost of the project and where the money is coming from. And you should have made the decision whether to hire a general contractor or act as the GC of the project.
If you hire a GC, then the contractor will give you an estimate on your addition plan. If the estimate falls within your budget, you're good to go. If not, then you'll have tough decisions to make.
At some point, you'll have to say, "OK, the planning and budgeting are done. No more changes. This is what our addition is going to be, let's get going."
Getting a Building Permit – Checklist and Cost
Once the basics are determined, apply for a building permit. Minor changes to the addition plan – where to put a window, what flooring to use, and similar, can be made. The building department doesn't care about those details. However, the footprint of the addition cannot change without going back to the building department to alter the plan and permit. There are fees for changes.
To obtain a building permit, these are the documents you'll need and their cost.
Site Plan: About $100 to $1,000+ This is a "footprint" drawing of your property. It is also called a plot plan. It shows the current home and other structures, driveway, adjoining streets and other details. It will also show where the addition will be, and the addition can be shaded or shown differently to differentiate it from the existing home.
Here are the site plan requirements for the City of Plano, TX as a good example of requirements.
The most affordable option for a professional site plan is 24H Plans. CGI artists and draftsmen specialize in site plans used every day to obtain building permits around the country. Plans start at $99, while local architects and engineers have fees multiple times higher for the same drawings.
Floor plan and exterior elevation drawings of the addition: $0 to $1,500+. Some contractors offer drawings as part of their fee, so it isn't really "free" in that regard. Many homeowners use graph paper to make drawings of their addition – the footprint and floorplan on one drawing and the elevation view on another.
We've submitted entire home construction projects using handmade drawings, and they've been accepted. Many building departments accept them, but drawings must have the necessary information or there will be a delay until it is provided.
These plans should show the structural details about the framing, such as using 2×4 or 2×6 construction, spans between studs and the location of doors and windows.
Plumbing and electrical features can be included on the floor plan drawing or a separate drawing.
Roof Framing Plan: $0 to $200 showing how any new roof ties into the old roof, if applicable.
These are the basics. Your city or county might want additional forms, engineering letters or drawings.
Contact your building department  or view the website to obtain a checklist of what's required.
What to Expect During Construction & Home Addition Timeframe Options
You should expect a certain amount of controlled chaos. Parts of your home will be unusable for some or all of the construction phase. For example, if the roof is taken off over the kitchen, the kitchen will be out of commission for at least 1-2 weeks while the upper story is framed and an upper floor is installed over the kitchen.
One home addition contractor put it this way, "Building an addition is like getting a suit tailored while you're still wearing it. You and the tailor will both be in each other's way, and it can be a frustrating process."
Plan ahead the early days of a home addition project, when things are really "torn up", can be a good time to be away, staying with relatives or on vacation, but still in close communication with who is doing the work. If the kitchen will be out of use for a long stretch, then find alternate options for cooking like a crockpot or toaster oven in the basement or on the back deck. Be creative. Be patient.
Before construction begins, talk to the GC or the individual contractors to know what to expect, and then develop a plan to deal with what is coming. Get everyone in the household onboard with the plan, and keep the goal in mind – a great new addition that will make your home a nicer place to live.
How much time does it take to build an addition?
Here are common timelines for home addition construction:
Up to a Year: Dream stage – Deciding the "why" and "what" of your home addition. Reviewing inspiring websites and home magazines, attending building/home shows, going on Parade of Home tours, etc.
Up to 2 Months: Determining your financial situation, what your budget is, what size loan you can get/afford.
1-3 Months: Getting your documents together and applying for a building permit.
Up to 1 Week: Excavation, if building out. As much of the new construction as possible will be done before the house is opened up where the addition joins it.
Up to 1 Week: Demolition – Taking off the roofing materials if building up. Roofing rafters and sheathing might be salvaged for re-installation. Some roofing materials, such as clay tiles, slate and steel panels, can be salvaged. Shingles cannot be saved.
1-3 Weeks: Framing the Addition.
2-4 Weeks: Rough plumbing, rough electrical, roofing, windows, siding. The exterior work might take a little longer, but it shouldn't impede interior work.
2-3 Weeks: Insulation, HVAC if included, drywall.
2-4 Weeks: Cabinets, countertops, flooring, finish electrical and plumbing, painting, finish carpentry.
Up to 2 Weeks: Final details, if necessary.
Total Construction Time: 9-18 weeks if there are no major delays. Size and scope of the project will affect the time it takes to complete.
Conclusion:
Whenever you need a building permit, you probably also need an accompanying site plan. We deliver professional site plans starting at about $100.
24hplans is here to help. Contact us today at 347-708-0105 or use our convenient Chat option. Or order a site plan, and we'll deliver a professional product that will meet the requirements for site plans in your county and state.
Note: Here's how we can help: 24hplans has team of highly-trained, professional architects and drafters who can prepare any kind of site plan in the shortest amount of time possible, so that you can easily obtain that building permit and get on with your project.
Use the promotion code: 24hplans-20off to get a 20% discount off any package. — Please note this is a limited time offer, exclusive to the readers of our blog. This offer is not being advertised anywhere else.